All You Need To Know About the UGG Return Policy
Not every pair of UGGs is destined to make you feel warm and fuzzy inside. If your latest UGG buy was plain disastrous, chances are you are looking into ways to return the item. To do so, you will need in-depth knowledge of the UGG return policy. An additional distressing factor is the UGG website's glitchy error screen that can wreck the return process.
We know that reading up on company return policies is a taxing job that can practically drain the life out of you. If you're feeling slighted by those poorly worded terms and conditions in common return policies, you can to fix all your return woes!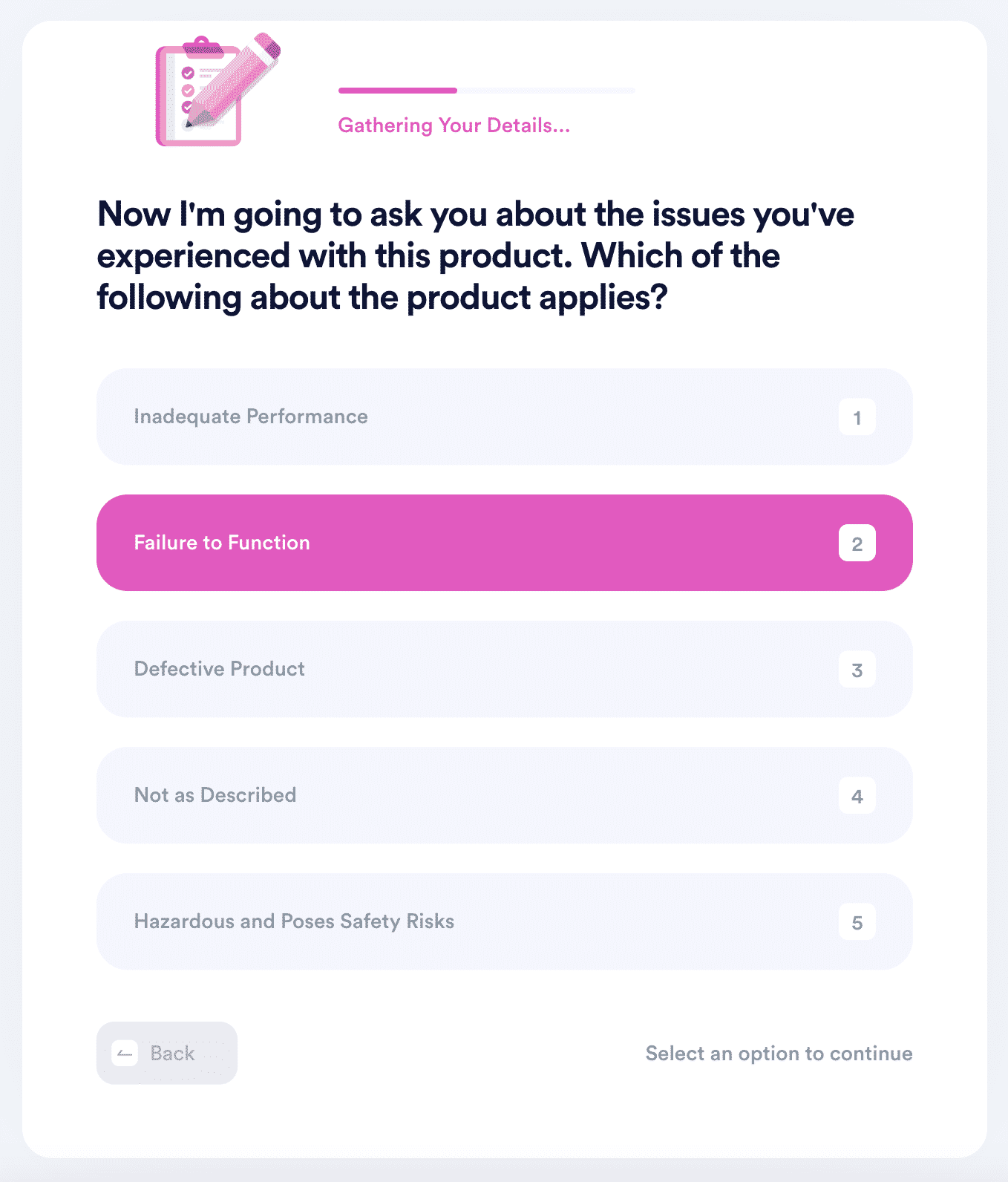 Help Me Understand UGG's Return Policy!
UGG transactions happen via retail and ecommerce outlets. You will find some variations in return terms based on whether you want a retail or an ecommerce return.
Ecommerce Returns
You can return your UGG item within 30 days of the date appearing in the original invoice. Ecommerce returns are eligible for both refunds and exchanges. To qualify for an ecommerce return, the original purchase must be from one of the three sources stated below:
Website
UGG call center
Authorized UGG retailer
Retail Returns
You qualify for a retail return if you purchased from a retailer other than the UGG call center or website.
The UGG return policy doesn't specify any time window for retail returns. The policy strictly mentions that no retail return will be eligible for refunds. Instead, UGG will offer you an exchange or a website credit after processing your return.
Product Prerequisites Before a Return
UGG's standard return policy allows returns only if you satisfy the following conditions:
The item is new and unused—any sign of wear and tear is not acceptable
It is free from dirt and debris accumulation
The item is part of the current line of products featured on UGG's website
You can produce a proof of purchase
UGG will reject any return request that violates the above requirements.
How To Deal With a Defective UGG Item
If the UGG item you received is faulty or a defect creeps in after a period of use—you can ask for a warranty return. By default, UGG products have a 365-day warranty only for damage due to defective materials or unsatisfactory workmanship. Warranty returns of products that are older than a year are inspected on a case-to-case basis.
How To Carry Out an UGG Return
You can access the UGG return option on their website. This is a general overview of the steps required to process the return:
Locate the Return tab on the website
Provide the invoice number or other proof of purchase
Give item details—size, color, model variant, etc.
Specify the reason for return, if required
Print the generated confirmation
Ship the item according to instructions
UGG products come with a prepaid shipping label to be used for potential returns. You are free to use a different shipment method as long as it is trackable.
What About a Gifted UGG Item That Came With No Receipt?
If you are stuck with a gifted UGG item with no purchase proof, the basic return policy will be ineffective. UGG offers an alternative to deal with this predicament. Follow the steps below to return your UGG gift:
Visit the website and click the RETURN A GIFT option
Provide the item description, personal details, and shipping info
Wait for the website to complete your return
Print the confirmation generated, if any
Ship the item
Is the Return Mechanism Always Functional?
The short answer is—no. You need to be wary of the occasional Error page that pops up while navigating past the Return button. It looks something like this: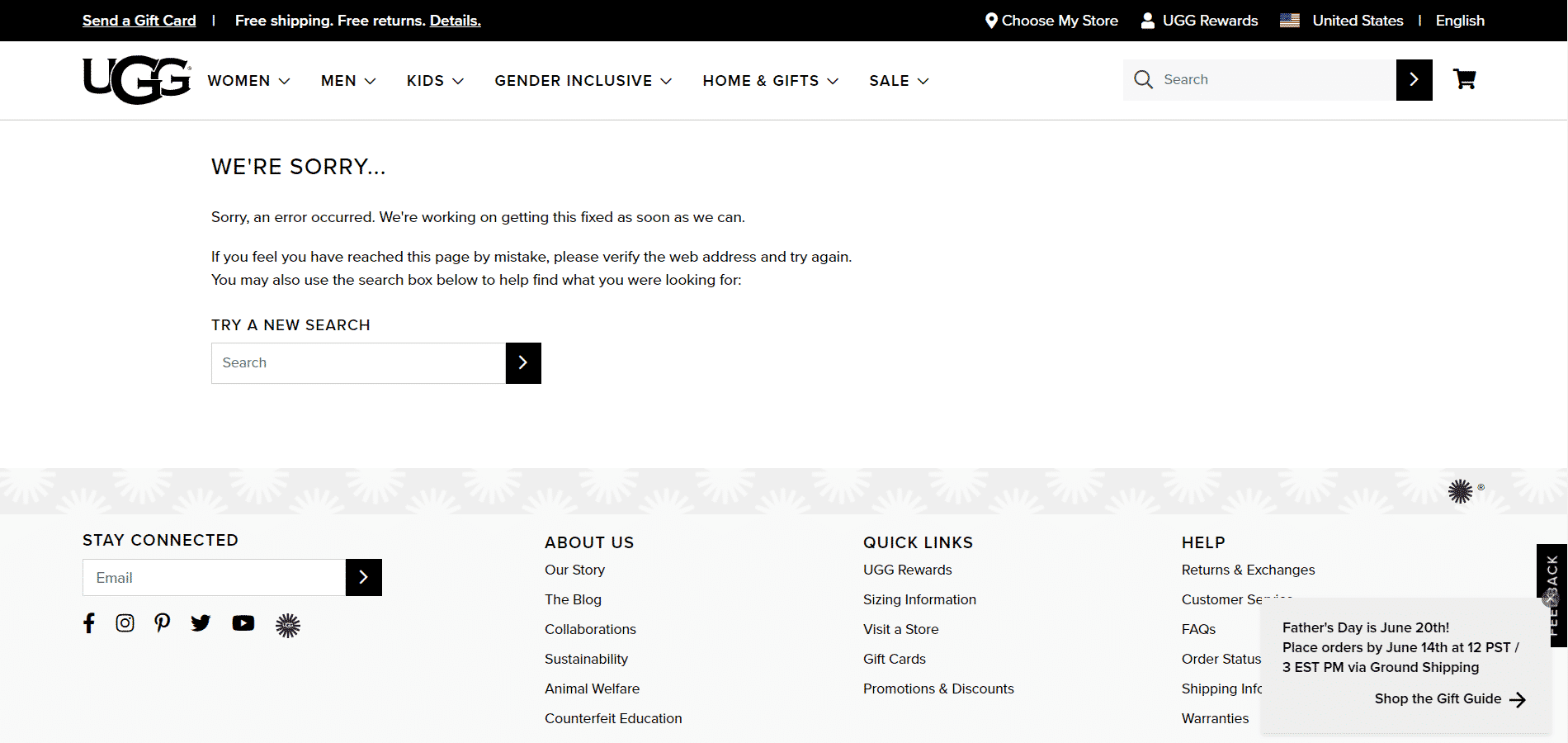 Source: UGG
This error screen is an insufferable dead end that exposes you to the risk of missing your return window and losing your fair chance at a refund. DoNotPay can help you avoid this annoying situation with our fail-proof return assistance.
Use DoNotPay To Enjoy a Hassle-Free UGG Return Process
A stressful UGG return can eat away hours and days of your life, but DoNotPay offers a comforting solution to that! The app's robot lawyer feature barely seeks two minutes of your time to place an official return request with UGG. You can also add a deadline to your request to accelerate the return processing on UGG's end.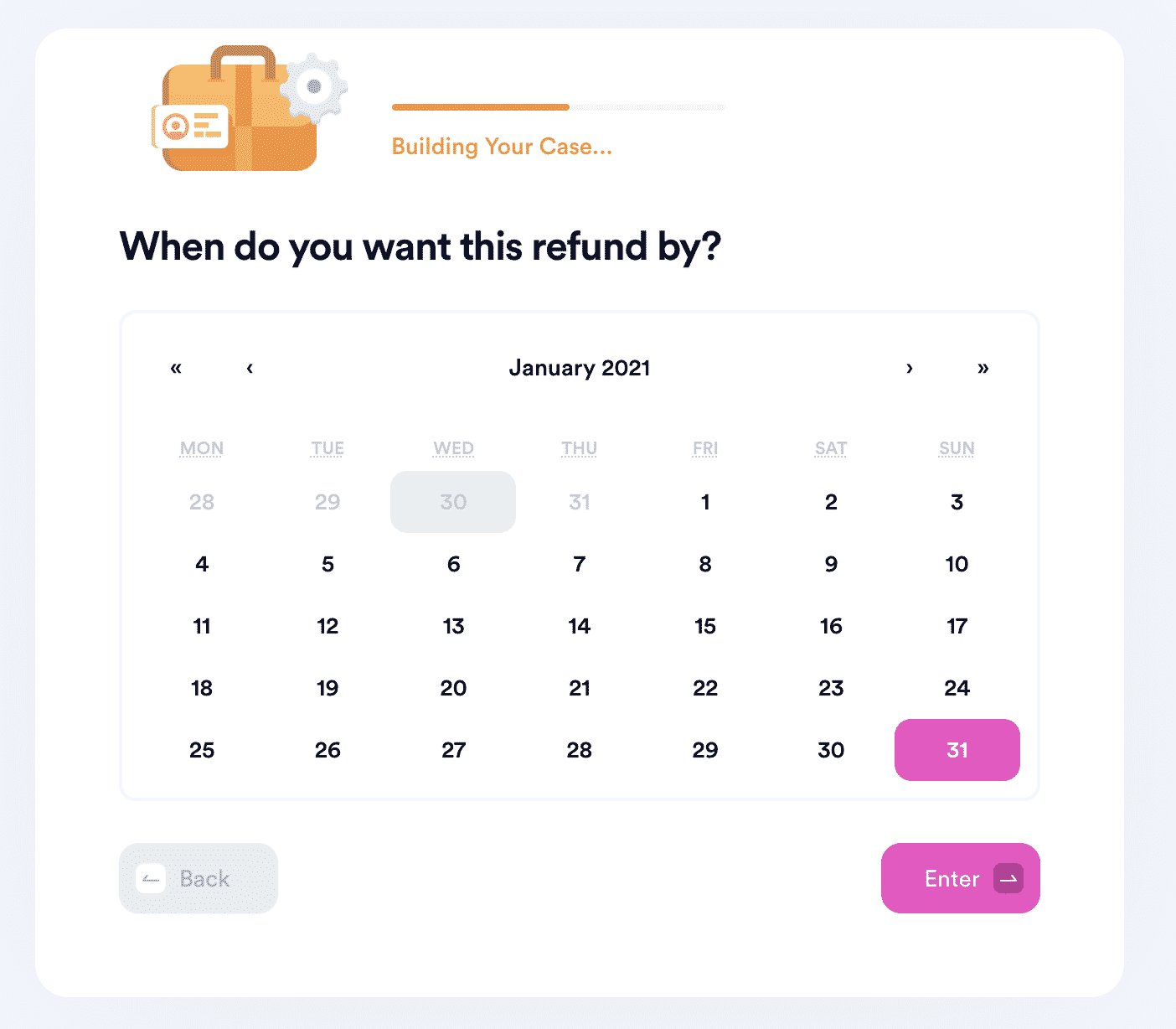 Follow these instructions to place an UGG return request with the help of DoNotPay:
Navigate to Item Return Request
Share order details
Finish by hitting Submit
The above steps will generate your return request and send it to UGG. DoNotPay will specify if you want a refund or a replacement as well, and we will include a deadline for UGG to process your request by.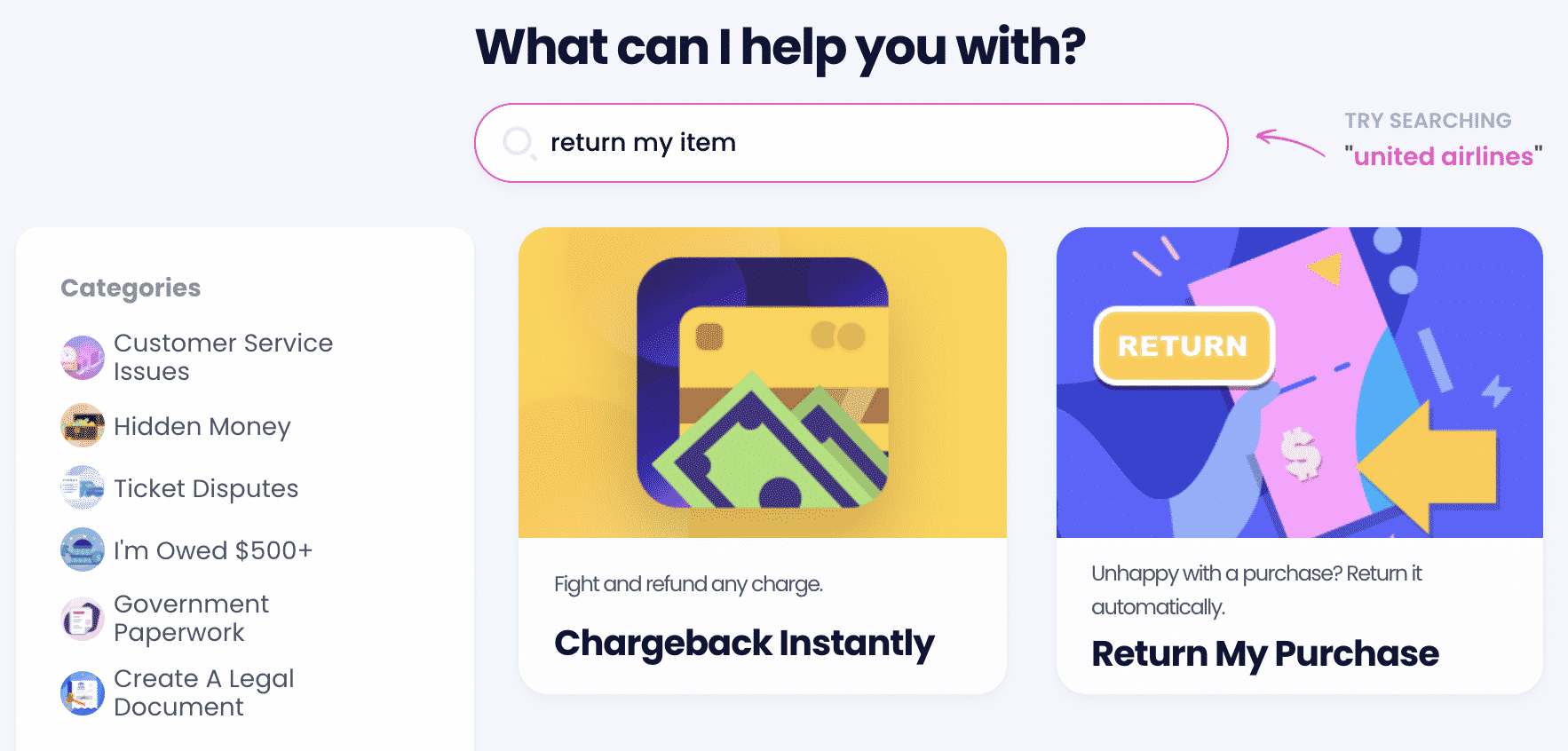 DoNotPay has walkthroughs to guide you through the return policies of several companies. You can check out some of them here:
How Long Before I Get My Refund or Exchange?
Once UGG receives the item in undamaged condition, they ask the customer to wait for 5–7 business days to get their refund or exchange. Shipping is free for exchange items, but duties, taxes, and brokerage may be applicable for certain products.
If you notice any undue delay for your refund or shipment, DoNotPay can help you draft the necessary demand letter to speed up the internal process. If at any point you feel wronged by the company, we can also help you file a claim in small claims court. DoNotPay is committed to untangling your life with our multifaceted services!
Returned Your Faulty Item? Discover Other Nifty DoNotPay Products!
Apart from being your shortcut through returning your faulty items to merchants, our app can do so much more! From helping you request a refund, get extended warranties, file insurance claims, and find clinical trials in your vicinity to assisting you in creating legal documents, notarizing them, and faxing them—DoNotPay can do it all.
Do you think you're eligible for a victims of crime compensation program? Our app can help you apply for it. Do you want to get revenge on persistent robocalls, report someone for stalking or harassment, or get your noisy neighbors to be quieter? We got your back!
You Don't Have To Waste Time in Endless Lines
Returning an item may require you to wait in endless lines, but if you sign up for our AI-driven app, you will be able to skip all kinds of queues! You won't have to spend ages waiting in lines at the DMV or in customer support phone queues because DoNotPay will provide an easier way to get what you need.
If you want to skip the hassle of waiting on the phone when canceling a service, requesting refunds or compensation from airlines, requesting a college fee waiver, or connecting with a loved one in prison, you can count on DoNotPay to provide easy solutions.