Everything You Need To Know About the Sunglass Hut Return Policy
If you bought a product from Sunglass Hut and you are not completely happy with your purchase, you need to tap into the details of the Sunglass Hut return policy. Returning items can be complicated, but not with the help of our guide! will help you understand the return process and create a return request on your behalf.
Understanding the Sunglass Hut Return Policy
Sunglass Hut guarantees customer satisfaction and allows 30-day returns for all products. If you are not thrilled with your purchase and would like to return the product, the company offers a refund or an exchange.
You need to have proof of purchase in both cases. The proof of purchase can be:
Order confirmation email
Shipping email
Packing slip
Receipt
If you broke your glasses within 12 months of your purchase, you can replace them with a new, equivalent pair. If the same model of sunglasses is not available, you can get another pair at a 50% discount. The Sunglass Hut Replacement Discount may be used only once.
How To Return Products to Sunglass Hut
How you return your Sunglass Hut item depends on the purchase method. Products bought online can be returned via mail or in person, while in-store purchases can only be returned in person. If you need to opt for the mail-in return, you can initiate the process by:
Emailing customer service
Calling customer service
Using DoNotPay
Make a Return in Person
To return your item in person, you need to bring:
Proof of purchase
Product packed in its original box with accompanying accessories
Your return will be processed in three to five days after the product is delivered.
You will be repaid the full price to your original payment method or get an exchange. If you used a gift card for your purchase, the store will issue a new card of the same value.
Initiate a Return via Email
You can contact the customer care center via email and ask a representative to create a Return Label and Authorization so you could mail the product you wish to return. Send your return request to onlinesupport@sghcares.com.
Initiate a Return via Phone
To start the return process via phone, call customer service at 1 800 786 4527 to get the Return Label and Authorization. The Sunglass Hut customer support office is available Monday through Friday, from 8:30 a.m. to 5:30 p.m. EST, and on Saturdays from 9:00 a.m. to 5:30 p.m. EST.
Mail Your Product to Sunglass Hut
Follow these steps to mail the unwanted product:
Make sure that the item is not damaged
Pack the product in the original box with all accompanying accessories
Attach your proof of purchase
Include your order number, name, telephone number, and address
Mail the product
To mail your parcel for free, you should choose UPS and send the package to the address on the return label. You can also opt for a different carrier, in which case you will be responsible for the shipping costs. To return the product with the carrier of your choice, mail the product to:
Luxottica NAASC
SGH.com Eyewear Returns
101 Greenwood Industrial Pkwy, Suite 385
McDonough, GA 30253
It may take three to five days to get your return processed.
The Sunglass Hut Return Policy Without a Receipt Explained
If you don't have a receipt, you can visit a local Sunglass Hut store and return your item in the original packaging. You won't get a refund, but the company will offer:
Product exchange
Store credit
If you opt for store credit, it will match the price of the product you are returning.
Can't Do Everything by Yourself? DoNotPay Can Help You With Sunglass Hut Returns
If you can't find your way around all the details of the return process, DoNotPay can assist you in getting a refund or an exchange.
We will create a return request for you, which won't take more than a couple of minutes of your time. Our app will also submit the request and get you a free return label, so you don't have to pay the shipping fees.
All you need to do is follow these steps:
in your preferred browser
Choose the Item Return Request feature
Share photos of the product if possible
Submit your request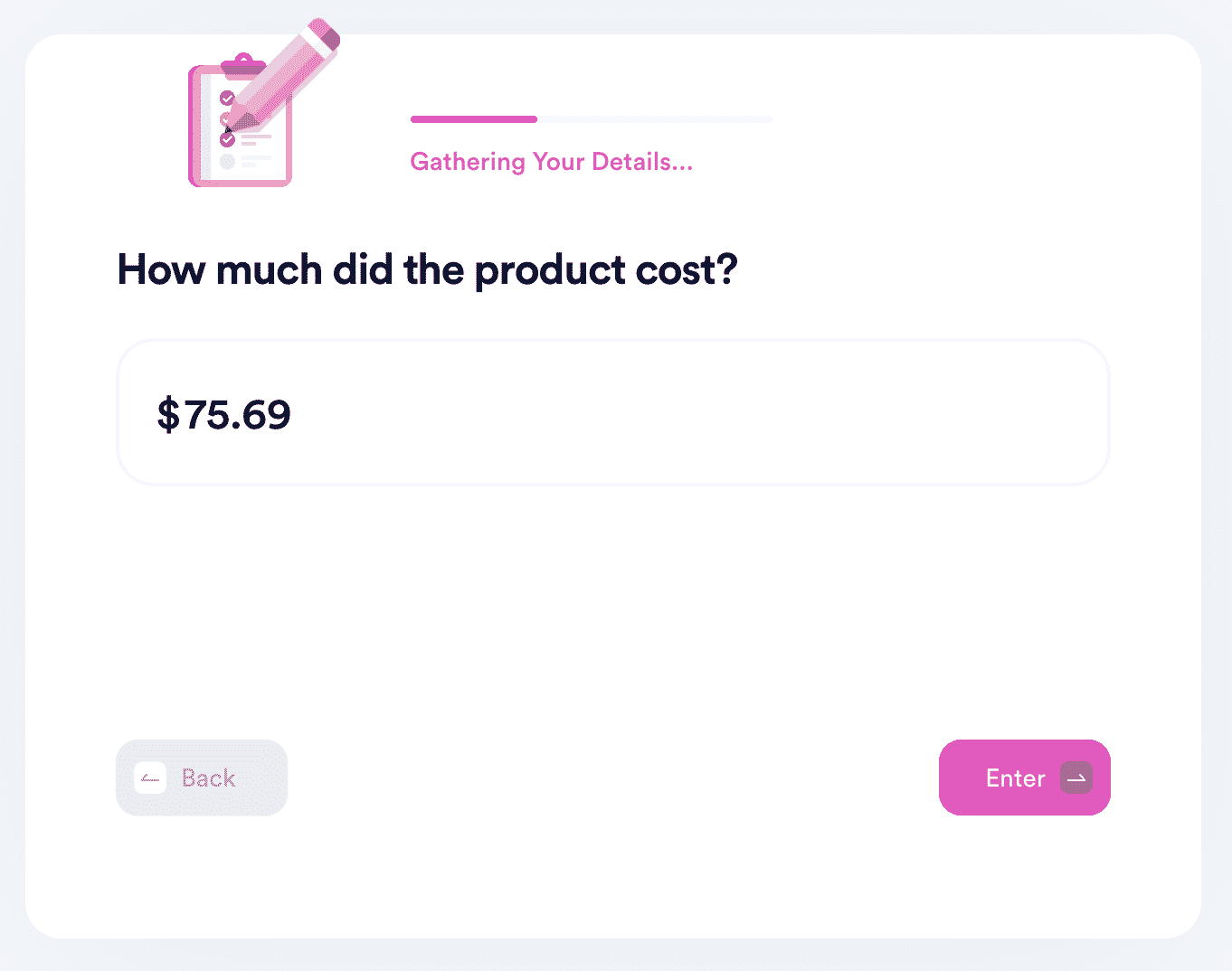 Are you dissatisfied with other products, but you are not sure about the company's return policy? Check out some of the merchants DoNotPay can help you with in the table below:
Want To Save Money and Avoid Bad Purchases? Look No Further!
Aside from helping you send a return request to any company, DoNotPay can also assist you in getting a refund in a flash! We can also help you request a refund for any late, missing, or damaged delivery.
Do you want to stop wasting your money on useless services? Our app can help you cancel them and provide you with a virtual credit card that terminates free trials before companies get to charge you!
If you want to discover some forgotten assets you may have, we can help you find them in just a couple of minutes. With DoNotPay, you can both save money and earn it!
Once you sign up, you can report text and email spammers, annoying robocalls, and real-life stalkers and harassers and earn off them. We can also help you sue any company or individual in small claims court if you feel like they did you dirty.
Getting Rid of Bureaucratic Procedures Has Never Been Easier
The process of composing a return request letter is tiring, which is why you should turn to DoNotPay for help. Our app will assist you if you want to avoid similar bureaucratic hassles, such as:
Sign up for DoNotPay to utilize all of our nifty products!