How Does the Lowe's Paint Return Policy Work?
If you purchased liquid paint and didn't like the product or it didn't turn out as you expected, you should learn more about how Lowe's paint return policy works. can help you return the paint and get a refund or an exchange with minimum stress and maximum efficiency.
Everything You Need To Know About the Lowe's Paint Return Policy
Lowe's allows you to return most of the products they offer in their retail stores and online shop, including liquid paint. In case you are not satisfied with the paint you purchased at Lowe's, you can return it for a refund or an exchange with a comparable can of paint.
Lowe's may also decide to issue in-store credit that matches the price of the paint. This way, you can buy another product at Lowe's for the amount you were offered.
Customers can return exterior or interior Lowe's liquid paint within 30 days from the moment of purchase.
If you want to get a refund or an exchange for the paint you don't like, your return request must meet the following conditions:
The paint or the container is not purposefully damaged
You need to return the paint in the original container
You have a matching receipt, order barcode, or alternative proof of purchase
The paint needs to be returned in a nearly pristine state, i.e., "like new"
The company reserves the right to limit the guarantee they offer for liquid paint products.
What Happens if You Don't Have a Receipt?
If you don't have a receipt, you can use your credit card information, phone number, checking account, or MyLowe's account to retrieve the proof of purchase.
Your credit card should contain information about the purchase that you can use instead of the original receipt. The same goes for the checking account. In case you used your phone to approve the purchase from a credit card or your account, that information should replace the receipt. If you have a MyLowe account, you can use your order history to get a return barcode.
Lowe's will check your ID and information like a phone number to verify your purchase in the system. The store can refuse to approve returns without a receipt at its discretion.
Lowe's also has the right to limit the number of returns made without a receipt.
Can I Return Lowe's Paint if It's Used?
Lowe's accepts returns of liquid paint containers that are unsealed, as long as you used only a portion of the paint before returning the product. If that portion matches a small test amount of paint, your return request is likely to be accepted.
Lowe's reserves the right to exchange the paint for a matching product or issue in-store credit instead of monetary compensation if it determines you used a large portion of the paint.
How To Start the Lowe's Return Process
There are two methods of returning Lowe's liquid paint:
In-store return
Mail return
Return Your Lowe's Paint to the Shop
You can visit a local store where you purchased the liquid paint and head to the customer service desk with your paint. To get a refund or exchange your product, you will need a valid ID and the receipt or other acceptable proof of your purchase.
Return Your Lowe's Paint via Mail
To start a return via mail, you need to visit the Check Order Status page on Lowe's website. Enter your email address and order number and select the order type. Once you fill the form and check the status of your order, you can prepare your paint for shipping.
There are a few steps that you need to complete to ship the product properly:
Box the paint container you want to return
Place everything that arrived with the product, like instruction manuals, in the box with the product
Print the shipping label
Print the return label
Attach the shipping label on the outside of the box
Place the return label inside the box
Ship the item
| | |
| --- | --- |
| Can You Start the Return Via | Yes/No |
| DoNotPay | Yes |
| Email | No |
| Phone | No |
| Letter | No |
| In Person | Yes |
| Online | Yes |
| Mail | Yes |
How To Generate a Return Request With DoNotPay
To avoid unnecessary hassle, you can subscribe to DoNotPay and make your return in record time. Our app will ask you a couple of questions to learn more about the problem you are experiencing and send a return request in your stead. This way, you don't have to go through the nuisance of dealing with returning the product. We also make sure that you get a return label so you can ship the product back to Lowe's for free.
To make a return request, follow these steps:
and create your account
Choose the Item Return Request option
Answer a few questions
Submit your request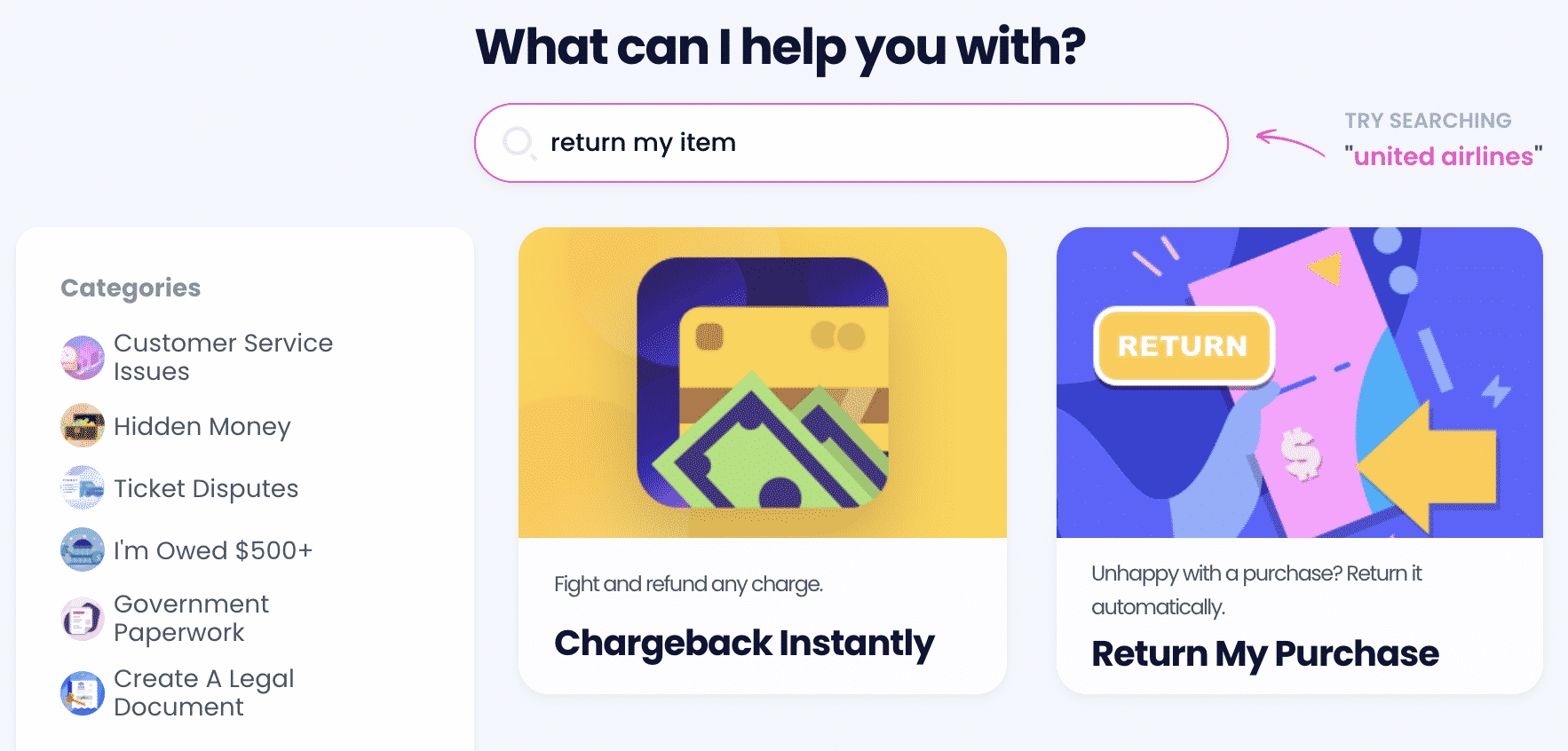 Can DoNotPay Help With Return Requests for Other Companies?
Have more products you wish to return? DoNotPay can help you with return requests for a great number of companies and retailers. Check out our learning center and learn more about the return policies of different merchants, including: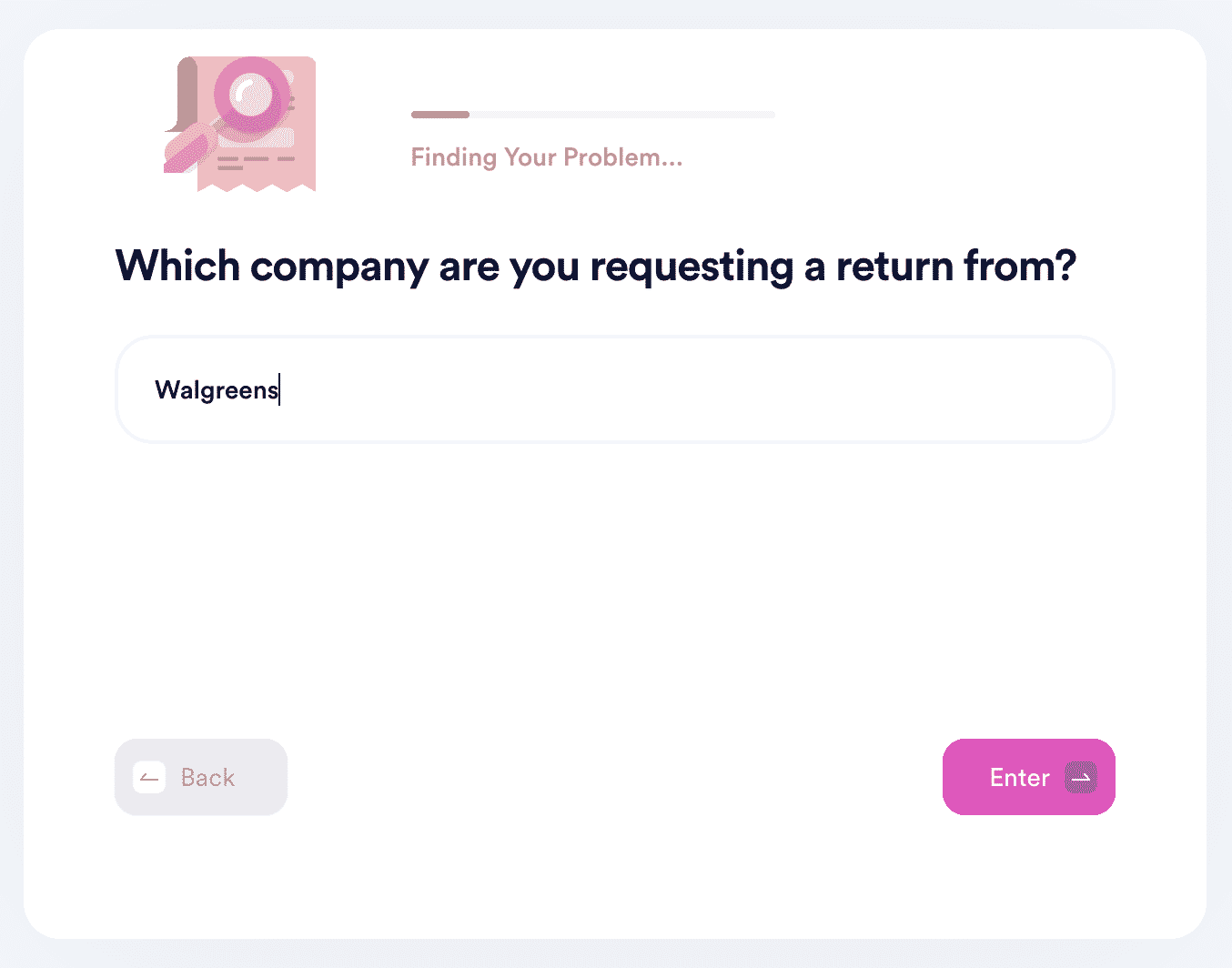 Want To Save Money and Avoid Bad Purchases? Look No Further!
Aside from helping you send a return request to any company, DoNotPay can also assist you in getting a refund in a flash! We can also help you request a refund for any late, missing, or damaged delivery.
Do you want to stop wasting your money on useless services? Our app can help you cancel them and provide you with a virtual credit card that terminates free trials before companies get to charge you!
If you want to discover some forgotten assets you may have, we can help you find them in just a couple of minutes. With DoNotPay, you can both save money and earn it!
Once you sign up, you can report text and email spammers, annoying robocalls, and real-life stalkers and harassers and earn off them. We can also help you sue any company or individual in small claims court if you feel like they did you dirty.
Getting Rid of Bureaucratic Procedures Has Never Been Easier
The process of composing a return request letter is tiring, which is why you should turn to DoNotPay for help. Our app will assist you if you want to avoid similar bureaucratic hassles, such as:
Sign up for DoNotPay to utilize all of our nifty products!