Returning Your Jewelry and Accessories Under the Jared Return Policy—DoNotPay Can Assist You!
It is frustrating to buy a statement jewelry piece and have to return it because it does not live up to your expectations. If you have ever bought any unsatisfactory jewelry from Jared and felt stumped about how to return it, this guide is for you. It will magnify the fine print of the Jared return policy and explain all it entails.
We will also show you how to use DoNotPay's AI-powered tool to smooth out your return request process, so you can get your hard-earned money back as soon as possible.
A Closer Look at the Jared Return Policy
Any customer returning an order they do not like has 30 days from the day the order is shipped out to initiate the procedure.
To qualify for a return, you also have to meet these conditions:
Jared only accepts returns for items bought as advertised in the store or online. If the item has been modified or enhanced in any way, it will not be accepted
You cannot return an item that shows any signs of wear and tear
Any merchandise that was custom-made for a customer cannot be returned
Upon successfully returning your purchase, you will receive a refund to the original payment method, but the amount won't include the shipping fees. If you want to exchange your purchase instead, you must do it at a physical store.
Returning Jared Purchases to a Store
To return or exchange a Jared item in person, you have to take it back to the store where you made the purchase. It should:
Be in its original packaging
Include the warranty and instructions
You can use the store locator tool to find any Jared location and check its address or phone number by:
Filling in your city, state, or ZIP code in the provided field and clicking on Find Stores
Selecting Find Stores Near Me—the tool will only search for stores around your GPS location
Clicking on View All Stores and selecting your state to see the details of all the stores in it
Jared Return Policy—Returning Items by Mail
To return items by mail, here are the steps you should take:
Open the Returns page, provide the necessary details, and follow the onscreen instructions
Fill in your reason for return in the designated section of the packing slip
Include all the documents that came with your order
Affix the pre-printed labels on the packaging—the return label at the center and the return address label at the top left corner
Use FedEx, UPS, or USPS to send your package—it is recommended to insure the package for the total cost of purchase
The address to send your parcel to is SJIX, 375 Ghent Rd, Akron OH, 44333.
How Long Does It Take To Get a Refund?
Upon the arrival of your returned order, Jared's Quality Assurance team will inspect your return and give the green light if the returned items meet all requirements. The Jared jewelry return policy states that it could take up to three weeks after Jared receives the return for them to credit back your original payment method.
If your refund takes longer than this or something else goes wrong with your return, you can contact Jared's customer support team by using:
Contact Method
Instructions
Live chat
Click the CHAT NOW button on their website. Customer support agents are available from 8 a.m to 12 a.m ET on weekdays, 10 a.m to 10 p.m on Saturdays, and 12 p.m to 9 p.m on Sundays
Phone
Call Jared customer service on (800) 527-8229
Letter
Send your mail to:

375 Ghent Road

Akron, Ohio 44333

Website
Fill in the online contact form
How Can DoNotPay Help You Smooth Out the Return Request Process?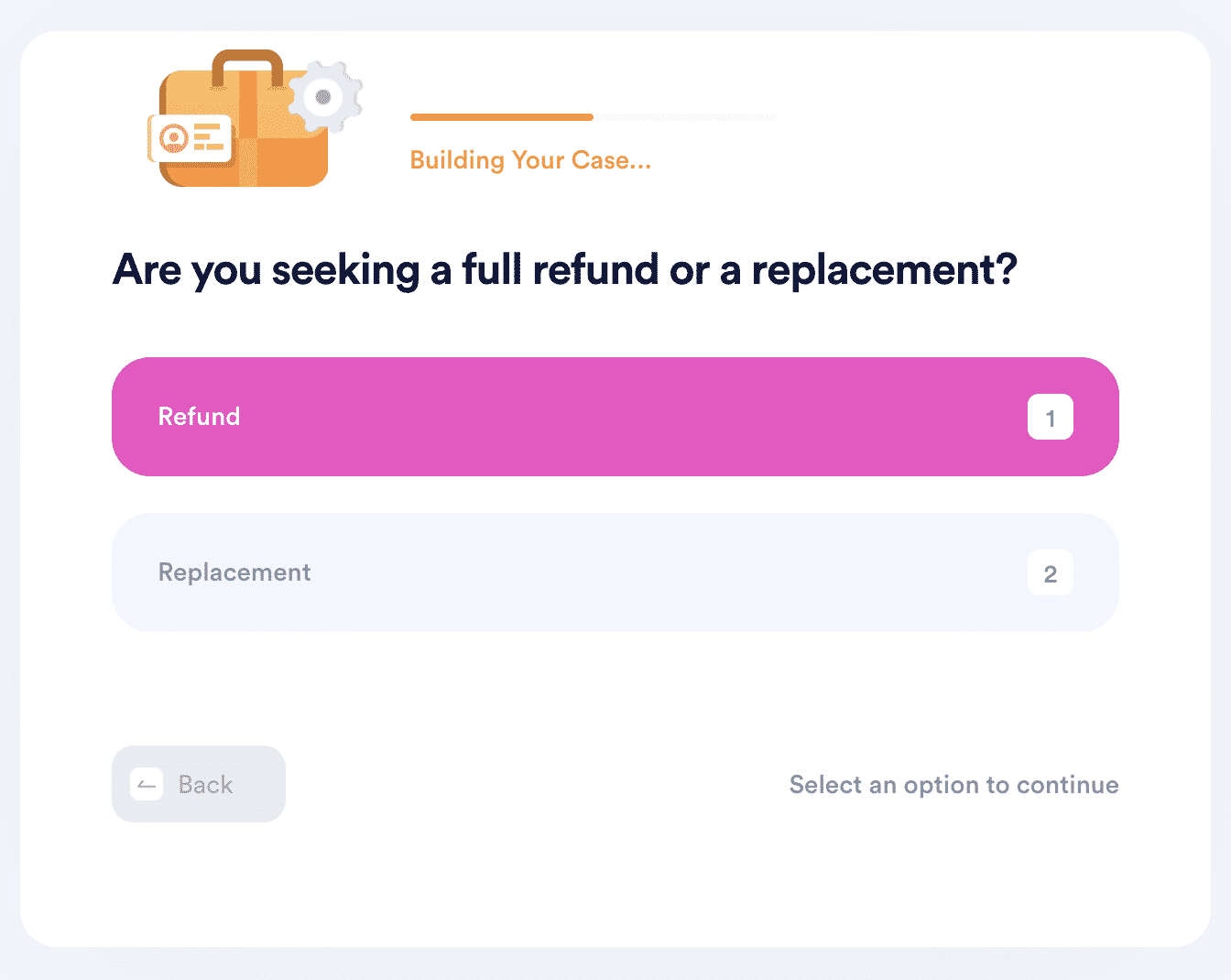 Using DoNotPay is quick and straightforward—our Item Return Request product relies on powerful AI to create a detailed return request letter in under a minute. Here's all you have to do:
Register and sign in to your DoNotPay account
Look for the Item Return Request feature
Answer a few questions from the chatbot
Hit Submit
That is all! DoNotPay will craft a personalized return request letter based on all the pertinent information you submitted and send it to the company. The letter will include a deadline by which the company should respond and process your return. DoNotPay will also provide you with a prepaid shipping label, so you don't have to worry about extra shipping charges.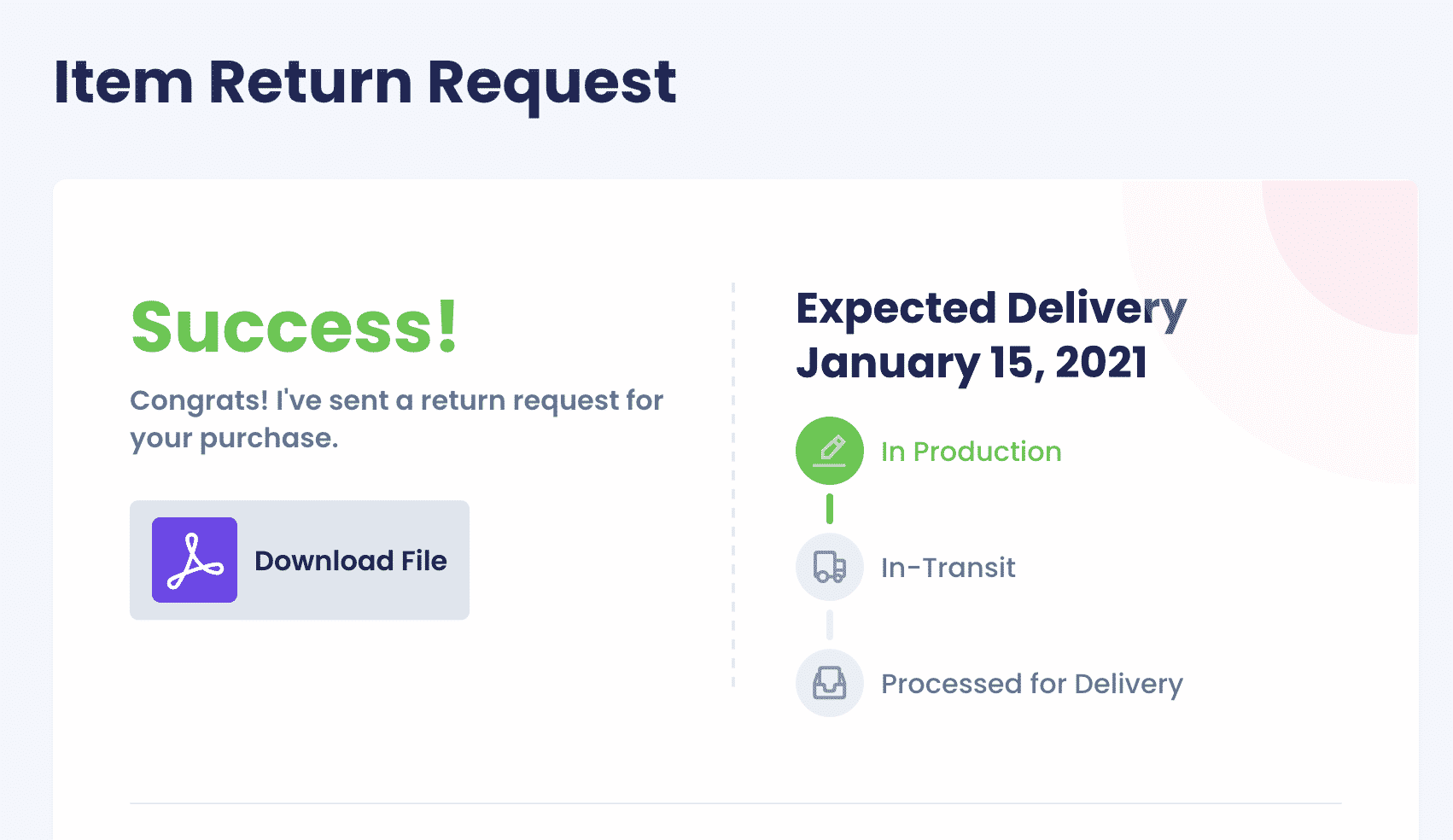 DoNotPay offers a massive library of guides to the return policies of many popular brands, including:
Has Jared Treated You Wrongly? DoNotPay Can Help You Get Justice in Small Claims Court
DoNotPay's mission is to protect your consumer rights without unnecessary paperwork and help you sue companies that mistreat you.
Our AI bots will help out with the necessary paperwork and create a script to guide your argument in court. Here's what DoNotPay can do in this regard:
Create a demand letter
Fill out the necessary court forms
Gather all applicable paperwork
File your complaint
Generate a script to boost your argumentation in small claims court
Sick of Dealing With Companies? We'll Take Over
Companies that don't respect your consumer rights are the reason why DoNotPay exists—our range of AI-powered products is here to help you fight for justice.
If you want to demand a refund for a rescheduled flight, cancel your free trial using our virtual credit card, sue any company or individual in small claims court, appeal your parking tickets, protect your work from copycats, claim warranty and insurance, rely on your AI-driven personal assistant.
Don't want to pay sky-high lawyer fees for simple legal tasks? You shouldn't—use DoNotPay to draw up any legal document, including a child travel consent form, divorce settlement agreement, power of attorney, and many more.
Complete All Tasks From the Comfort of Your Home
As soon as you subscribe to our versatile app, you'll be able to do all of the following without leaving your home: