Use Our Platform To Find a Notary in Shreveport Fast and Easily
Notarization of documents is an important part of the U.S. legal system. When you need your legal documents notarized in Shreveport, you will probably be looking for fast and easy service—nobody likes to waste time on administration!
If you're wondering how to notarize a document or find a notary in Shreveport, LA, by yourself, don't worry! DoNotPay has got everything figured out for you. You can use our platform to get a notary signature for any document you need without any bureaucratic conundrums.
How To Find a Notary Public in Shreveport by Yourself
There is an abundance of notary public offices and other institutions that offer notary services in Shreveport. Some people may not be familiar with the fact that many banks, shipping offices like UPS, or AAA branches offer notary services to their customers.
There are notaries with whom you can schedule an appointment at a place of your choosing—they're called mobile notaries. Aside from charging the usual notary fees, mobile notaries will require you to cover their travel expenses.
You can check out the table below for the top ten notaries in Shreveport according to Google:
Notary
Contact
Address

Shreveport Bossier Mobile Notary Public

318-317-6968

Community Bank of LA

400 Travis St, Shreveport,

LA 71101

A Notary Around the Corner, LLC

318-771-2508

Cohab Building

500 Clyde Fant Parkway #200, Shreveport,

LA 71101

Jackie's Notary Services

318-573-3081

652 W 70th St, Shreveport,

LA 71106

UPS Store

318-798-8180

1651 E 70th St, Shreveport,

LA 71105

Williams Mobile Notary Services

318-286-5662

3530 Dewberry Dr, Shreveport, LA 71118

Brown's Notary Service

318-687-4265

DMV office

9306 Normandie Dr, Shreveport, LA 71118,

Morgan's Mobile Notary

318-458-6588

8200 Pines Rd, Shreveport, LA 71129

UPS Store

318-219-2174

4830 Line Ave, Shreveport, LA 71106

Jennifer Wills, Mobile Notary

318-652-8814

Online Notary Services

LBJ Enterprises

318-635-0405

2211 Jewella Ave, Shreveport, LA 71109
Can You Get a Document Notarized Online?
Document notarization during the COVID-19 pandemic has become exceedingly difficult. Some states decided to make the process safer and easier by allowing remote online notarization (RON). You can get your documents notarized online in 28 states for now, but other states are working on allowing online notarization as well.
The 28 states that allow RON are:
Alaska

Iowa

Minnesota

Missouri

Montana

North Dakota

Vermont
Why You Should Use an Online Notary in Shreveport, LA
Now that notaries can perform notarization online, the process is finally easier for everyone. You don't have to go through all the trouble that comes with in-person notarization. You can hire an online notary in Shreveport to deal with all the documents, such as wills, affidavits, high school diplomas, car titles, and more.
We have listed a few main reasons why online notarization is the best option:
You won't have to search for the right office

You will avoid queuing

The documents you need are in

electronic form

You will avoid additional costs that come with the journey to the notary's office

You can schedule an online appointment to fit your busy schedule
Save Time and Money by Using DoNotPay To Find an Online Notary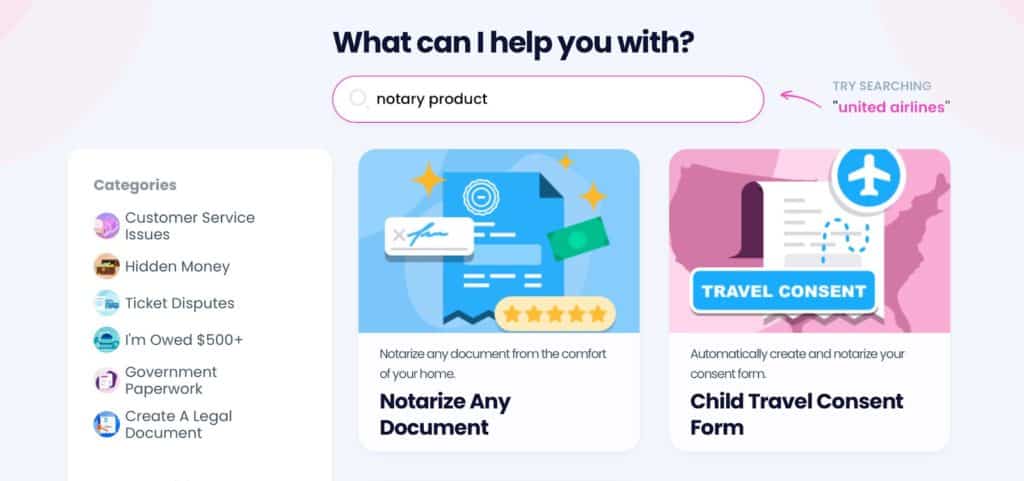 DoNotPay came up with the fastest and simplest process of document notarization. With our Notarize Any Document feature, you'll be able to find the best notary and get your documents notarized in a snap.
All you need to do is , and follow the steps below:
Type in

Notarize Any Document

into DoNotPay's search bar

Upload your document

Enter your email address

Click on

Proceed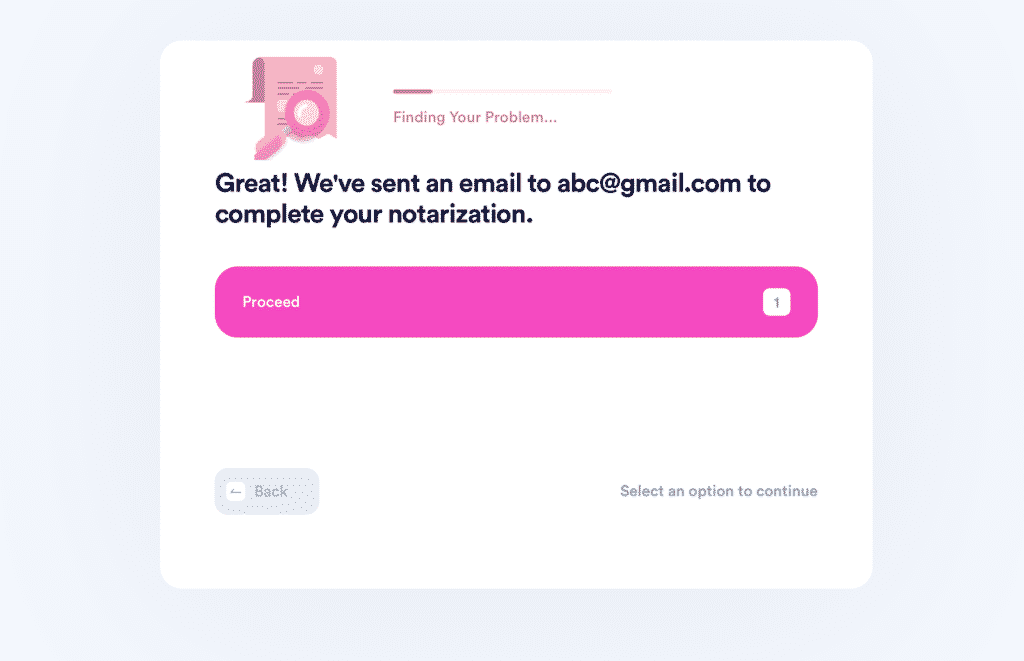 DoNotPay will send you a link, which you can use to schedule an online appointment. During your live video appointment, your notary will witness the signing of your document and affirm your identity.
If You Need a Well-Written Legal Document, DoNotPay Can Create It for You
DoNotPay has good news for the subscribers who might need some additional paperwork! We have a feature for generating legal documents, and it's fully integrated with our Notarize Any Document product. With the Standardized Legal Documents product, DoNotPay can help you generate any of the following documents:
Non-Disclosure Agreement

Bill of Sale

Independent Contractor Agreement

LLC Operating Rules Document

General Business Contract

Non-Compete Agreement

Quitclaim Deed

Lease Agreement

Estoppel Certificate

Intent To Purchase Real Estate

Prenuptial Agreement

Promissory Note

Parenting Plan

General Affidavit

Child Care Authorization Form
If you don't find the contract template you need, keep in mind that we are constantly updating the list above. You can always access our helpful learning center to find information about how to draw up other legal documents. After you , you will find other useful tools that can help you when dealing with annoying administration.
Use Our App To Get Rid of Unwanted Admin Hurdles
Do you want to say goodbye to spam text messages or protect yourself from stalking and harassment? Are you looking for a way to end robocalls and earn off them? DoNotPay can help!
As soon as you sign up for our app, you'll be able to do anything from avoiding phone number verification with our handy burner numbers to acing government tests stress-free!
Take Advantage of DoNotPay's Time-Saving Features!
DoNotPay comes with a wide array of useful features that will help you overcome any administrative issue in no time. As the world's first robot lawyer, DoNotPay can tackle just about any bureaucratic task that people dread.
You can do anything from reporting stalking and harassment, signing up for free trials, and scheduling a DMV appointment to jumping the customer service phone queue, dealing with high bills, and protecting your creative work from copyright infringement with our app's assistance.
If you want to connect with an inmate, sign up for a clinical trial, report spam emails, or sue any company or person in small claims court, you can count on DoNotPay to provide you with the necessary guidance.