Use DoNotPay, and You'll Book a Notary in Santa Ana in No Time
Many people find themselves needing a notary public's services since notarization is an everyday part of dealing with paperwork. If you need a notary in Santa Ana, we'll show you the easiest way to find one.
We'll also cover all the information about how documents get notarized—be it wills, trusts, affidavits, car titles, certified copies of documents, copies of a high school diploma, or any other documents.
What Does a Notary Public in Santa Ana Do?
A notary public in Santa Ana is a public officer who acts as an official witness and verifies signatures on your legal documents. A Santa Ana notary has to:
Determine your identity using a government-issued ID with a photo

Establish that you are aware of the document's content and willing to sign the document

Witness the signing of the document

Sign and stamp the document
How To Find a Notary in Santa Ana
You can use several methods to locate notaries in Santa Ana. They are listed below:
Search Google

Use specialized online platforms

Find local businesses or institutions that offer notary services
Perform a Google Search
In the table below, you'll find several Santa Ana notaries based on Google results:
| | | |
| --- | --- | --- |
| Notary Public | Address | Contact Information |
| Orange Cheap Mobile Notary | 1316 E Lomita Ave, Orange, CA 92867 | 323-553-2411 |
| The CA Notary | 201 East Sandpointe Ave Ste 220, Santa Ana, CA 92707 | 562-225-6318 |
| Santa Ana Mobile Notary Services | 1118 E Chestnut Ave, Santa Ana, CA 92701 | 949-354-2656 |
| Penman Mobile Notaries | N/A | 714-696-1110 |
| Rafael's Tax & Notary Services | 910 S Main St, Santa Ana, CA 92701 | 714-953-9331 |
| Amigos Center | 1109 N Broadway, Santa Ana, CA 92701 | 714-442-1640 |
The majority of notaries you'll find on Google are mobile notaries. They have their advantages—you don't have to go to their office, they come to you—but the big issue with mobile notaries is that they'll charge you extra for their travel expenses in addition to regular notary fees.
Which Online Platforms Can You Use for Finding Notaries in Your Area?
There are specialized platforms that can help you find a notary in Santa Ana, like:
Businesses and Institutions That Have In-House Notaries
Many businesses and institutions need notarized documents daily—that's why they have notaries on staff. To find a notary this way, you can check out:
Tax offices

Law offices

Real estate agencies

AAA

stores

Insurance agencies

Hotels

Courthouses

UPS

stores or other shipping offices

Public libraries

Police departments

Money transfer stores

Banks

(for example,

Wells Fargo

or

Bank of America

)

Accountant offices
Can a Notary in Santa Ana Notarize Your Documents Online?
Due to the COVID-19 pandemic, many states allow remote online notarization (RON). California didn't catch up to them yet, so a notary in Santa Ana can't notarize your documents online.
The good news is that the State of California allows notaries from other states (like Nevada) to notarize documents for Californians. You only need to make sure that the notary from another state has the authorization to notarize documents for residents of California.
The general requirements that you and your online notary need to meet are:
The notarization must happen over a live video call

The notary public needs to check your identity and determine it's not false

The video call must be recorded
Use DoNotPay To Get Any Document Notarized in a Snap
Since you're a California resident, online notarization may be difficult for you, but that's why DoNotPay created the Notarize Any Document product. Using DoNotPay, you can avoid in-person notarization or additional travel expenses charged by mobile notaries. We'll set you up with the perfect online notary within minutes.
and see for yourself! Follow the steps below to access our product:
Open the

Notarize Any Document

feature

Upload the PDF document you want notarized

Enter your email address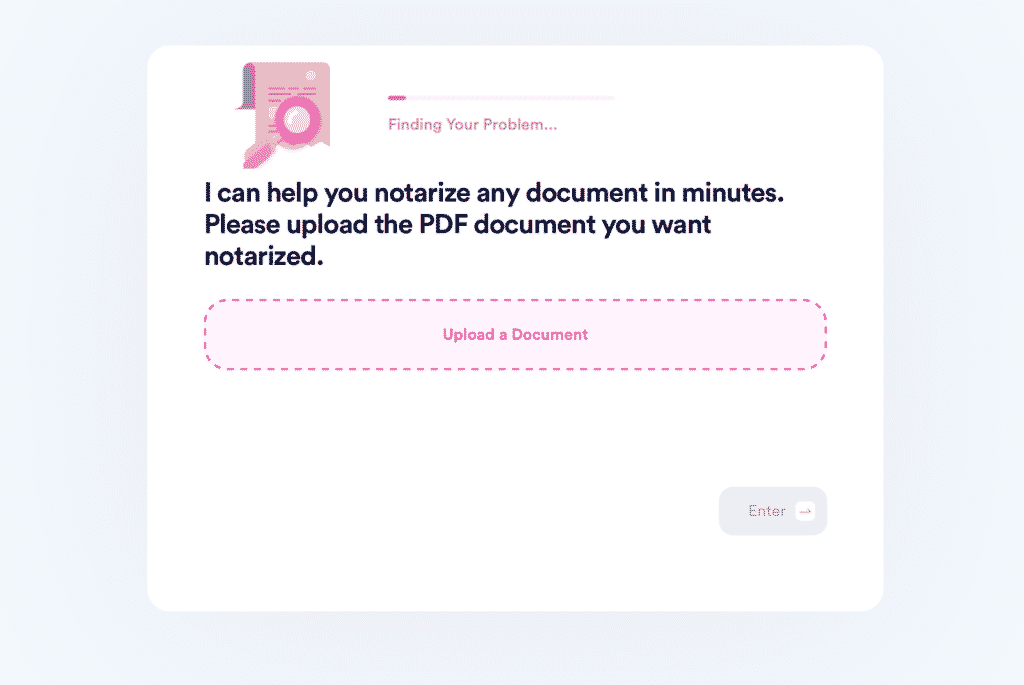 DoNotPay will send a link you'll use to set up an appointment with an online notary. During the notarization process, the notary will check your identity and witness your signing.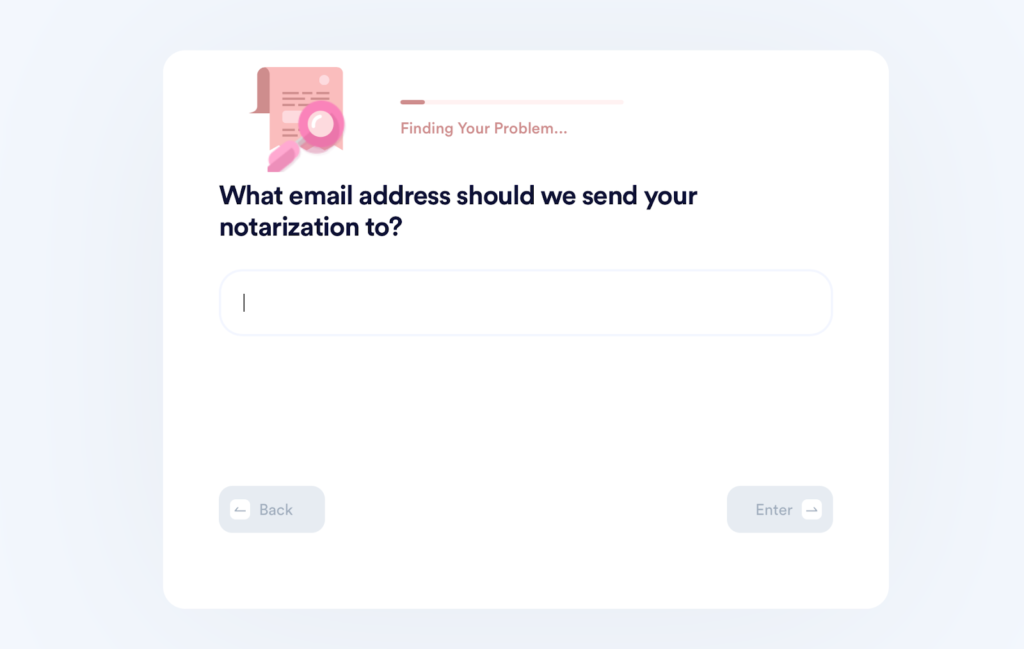 We Have Answers to All Your Questions About Notarization
One of the bonuses is the access to our learning center. You can learn everything about the process of notarization from us. Here are some of the questions we can answer for you:
Explore DoNotPay's Products and Save Both Time and Money
Are you sick and tired of spending ages on the phone with customer support trying to get more info about how to return a faulty product and get a refund? Maybe you'd like to cancel memberships you don't use but can't find that unsubscribe button anywhere? DoNotPay can help you sort out all of these issues in a jiffy!
Contest parking tickets, claim your car warranty and insurance, schedule a meeting with the DMV, and handle your other problems through the same app on your tablet or smartphone.
Getting access to public records or drawing up various legal documents with DoNotPay is child's play.
That's Not All!
The first thing you'll notice when you open DoNotPay is that you can use our app for almost anything.
Do you wish to enter raffles or sweepstakes? Are you interested in applying for paid clinical trials and earning some cash? Would you like to send mail without going to the post office? You're in the right place!
We will help you feel safe while browsing the Internet by assisting you in blocking and reporting spam emails, suspicious text messages, and pesky robocalls.