Do Affidavits Need To Be Notarized? Get the Answer From DoNotPay!
Issuing a false statement in an affidavit is punishable by law. A person who does it can pay a fine or even serve time for perjury. That's why creating a legally valid affidavit may differ from drawing up other legal documents.
After including typical elements that make up a contract, another question arises—Do affidavits need to be notarized?
DoNotPay will resolve this dilemma and provide a few practical methods for getting a notarized affidavit within minutes!
What Does a Signature on an Affidavit Mean?
The first step in making an affidavit effective is to sign it. Signing an affidavit is not something to be taken lightly. It implies that you are fully aware of the presented information and swear that they are true. By providing your signature, you also state that you are willing to testify in court regarding the information stated in the document.
Do Affidavits Have To Be Notarized
?
Generally, affidavits have to be notarized to be considered legally binding. Notaries need to be present to administer an oath and witness the signing. Their main purpose is to:
Determine the identity of the signer

Verify that the person signed the document willingly

Confirm that the signer is fully aware of the document's content
Requirements for creating a valid affidavit can differ, so you should check your state laws for specifics.
Online Notarization—The Best Way To Validate an Affidavit
Most people dislike notarizing affidavits because it can be tiresome. The process typically requires you to:
Find a local notary public

Set up an appointment

Visit the notary office

Collect documents and bring them to the notary

Wait for them to verify your identity

Sign the document in the notary's presence

Collect the document with the

notary's signature

and stamp/seal
Notarizing in person can last for several days or longer. Public notaries operate during strict business hours, so you may have trouble adjusting to their schedule. In case you forget to bring any of the required documents, you will likely have to repeat the whole process.
Mobile notaries are a more convenient solution. If you need to notarize an affidavit quickly, traveling notaries can accommodate your needs. They have more flexible business hours and may even work on weekends. You can arrange for them to visit you in your house, office, parking lot, or any other place. The main trouble is the price because they charge for travel expenses.
Online notarization is both practical and affordable. The process includes notarizing your document during a video call with the notary. You can finish the whole procedure from your laptop, tablet, or phone.
If an online notary service sounds appealing, you should go for DoNotPay! Our app allows you to notarize any legal document fast!
Notarize an Affidavit Easily With DoNotPay
DoNotPay has created a feature that makes notarizing effortless! If you dread public notaries and mobile notaries' fees, our app presents a convenient solution. We can help you skip the frustrating part and receive a notarized affidavit within minutes!
Here is what you have to do:
Go to the

Notarize Any Document

feature

Upload the affidavit

Enter your email address
Once we send you a link via email, click on it to schedule an appointment with the notary. They will administer an oath and witness you e-sign the document remotely. After that, all you need to do is download or print your notarized affidavit, and you are good to go!
An affidavit is not the only document that needs a notary's certification. Other contracts that we can help you notarize include:
Trusts

Consent Forms

Real Estate Deeds

Loan Documents

Employment / Business Contract
Draw Up Affidavits and Other Contracts With DoNotPay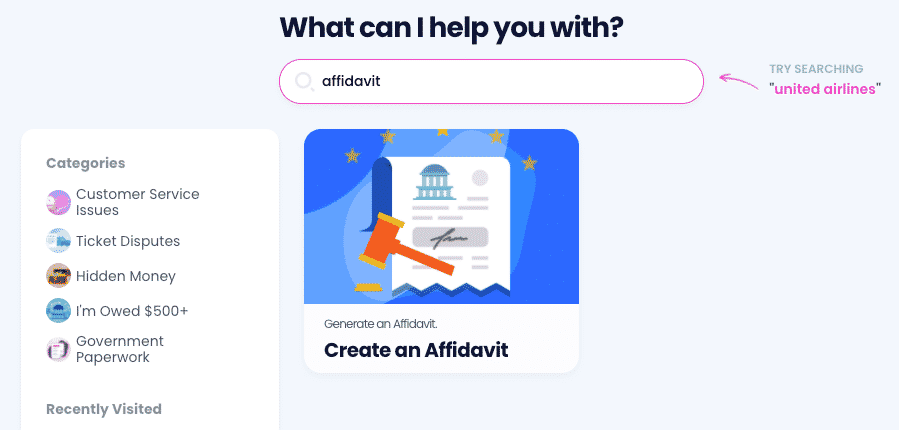 Creating an affidavit is a serious undertaking. If you don't feel like overpaying for services and don't trust iffy contract templates, we can help!
DoNotPay offers a nifty feature for generating legal documents. All you have to do is provide a few details, and we will generate a tailor-made affidavit in a jiffy!
To create a personalized contract with us, you should:
Type in General Affidavit in the required field

Answer our chatbot's questions

Wait for your affidavit to arrive
The best part of our app is the seamless integration of features. It allows you to take advantage of all our services for a modest price. Here are some of the contracts we can create, help notarize, and even fax for you:
Business Contracts
Real Estate Documents
Other Agreements

Bill of Sale

Non-Compete Agreement

General Business Contract

Independent Contractor Agreement

Non-Disclosure Agreement

LLC Operating Rules Document

Quitclaim Deed

Estoppel Certificate

Residential Lease Agreement

Intent To Purchase Real Estate

Promissory Note

Prenuptial Agreement

General Affidavit

Parenting Plan

Child Care Authorization Form
DoNotPay Keeps Your Privacy Intact
DoNotPay can help you surf the web safely and securely. No need to provide your personal information to every company whose service you'd like to take for a test drive. Our Virtual Credit Card and Burner Phone products shield your data from prying eyes and dishonest merchants.
Feel like subscribing for a free trial? Make it truly free and avoid automatic membership renewals with our card. It can also help identify spammers and potential scammers who send bothersome robocalls and robo texts your way. As soon as they act on the virtual card number, DoNotPay will unmask them and demand compensation!
DoNotPay Can Help You Bring Any Business to Justice
Should a company refuse to grant you a refund or compensation, our app will help you take them to small claims court!
We'll help you cancel the service in question to avoid any future charges, and we'll call their customer service so you can get info on your denied request. We'll draft the relevant court documents for your jurisdiction and give you instructions on filing them.
More Nifty Features That'll Make Your Day
You may not have breach of privacy issues or reasons to bring someone to court, but you surely have ample motivation to save or earn a few dollars here and there—especially if we catch you unawares!
DoNotPay can show you how to reclaim funds that you didn't know were under your name or make a denied warranty appeal to any company. We streamlined the processes of requesting refunds, college fee waivers, airline flight compensation, parking infraction dismissals, as well as applying to clinical trials that pay!