The Ins and Outs of a Notarized Affidavit of Domestic Partnership
Your employer or insurer may ask for proof of a domestic partnership, or you may wish to register for domestic partnership rights for your partner and yourself. To make your domestic partnership official, you'll need a notarized affidavit of domestic partnership.
We'll break down this document and showcase the best way to notarize any document!
Why Is an Affidavit of Domestic Partnership Important?
Having a notarized affidavit of domestic partnership lets you register for domestic partnership rights similar to those for married couples. The partnership rights include:
Visiting each other in jail or the hospital

Overseeing funeral arrangements for a partner

Making educational choices for the children of a partner

Making health care decisions for an incapacitated partner

Serving as the emergency notification contact for a partner

Getting coverage on a family health insurance policy

Taking family leave for a sick partner
Requirements for Affidavits of Domestic Partnership
Requirements for affidavits of domestic partnership vary in different U.S. states. In New Jersey, for example, both partners need to be at least 62 years old to register their domestic partnership, while in most states, the minimum age is 18. Another major difference is the time spent living together—it can be six months, a year, or undefined.
Typical criteria require both partners to:
Share a common residence

Be in a committed relationship of mutual caring

Have joint property ownership or joint financial arrangements

Share each other's basic living expenses during the domestic partnership
The partners cannot be related to each other. They also aren't supposed to be married or in a domestic partnership at any point within the previous year or sometimes less, depending on the state.
Where Can I Find an Affidavit of Domestic Partnership?
Getting an affidavit of domestic partnership form depends on your state and sometimes even the city. Typically, local registrar offices have them, and you're often required to get the affidavits there and not from any other place. Most offices have notaries on staff that can notarize your affidavit. If you want to notarize it on your own, you should check your state or city regulations first.
Types of Notaries
If you're able to find a notary by yourself, you may opt for one of the following:
Notary Fees Explained
Notarization costs are not unified in all states. Even within one state, there are differences in notarial fees depending on the notarial act (e.g., jurats, acknowledgments, and verbal oaths and affirmations) and whether it's charged per document or signature.
Certain states impose a fee cap limiting notaries as to how much they can charge for their services. Usually, notaries charge $5 or $10. Online notarization can set you back up to $25.
Besides the notary fees, mobile notaries can charge for travel expenses. All types of notaries can charge for additional administrative tasks, such as printing, scanning, delivering, and providing records of the notarization.
Finding a Notary on My Own
If a notary is not provided for you at the place where you get an affidavit of domestic partnership and you are allowed to get it notarized on your own, you can use one of these websites to find a notary:
You can also try browsing a phone book or googling notaries and notary services in your area.
Some public places, such as banks, UPS stores, public libraries, or AAA locations, offer notary services, so they may be worth visiting.
With DoNotPay, you won't have to wander about! We'll help you make an appointment with a notary that will perform the most convenient type of notarization—remote online notarization. Whether you need to notarize a will, an affidavit, or another type of document, we'll take care of finding a notary for you.
Using DoNotPay To Get Online Notary Service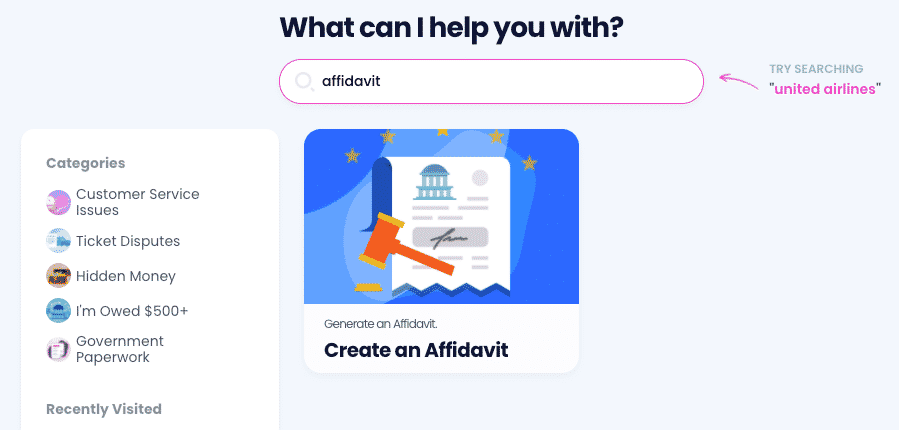 One of DoNotPay's missions is to make unnecessarily complicated processes easier. With our help, you'll be at home taking care of notarizing important documents without a hitch.
Here's how it works:
Type in

Notarize Any Document

Upload your document

Enter your email address

Follow the link we send you via email
Once you complete these steps, you can book your appointment with an online notary.
Draw Up Documents With DoNotPay
You can use DoNotPay for so much more than obtaining notary services. All of our products are at your disposal. One of them is the Standardized Legal Documents tool that generates various contracts and agreements for you.
to create the following:
Business Documents
Real Estate Documents
Miscellaneous

General Business Contract

Non-Compete Agreement

Non-Disclosure Agreement

LLC Operating Agreement

Bill of Sale

Independent Contractor Agreement

Quitclaim Deed

Estoppel Certificate

Intent To Purchase Real Estate

Residential

Lease Agreement

General Affidavit

Prenuptial Agreement

Child Care Authorization Form

Parenting Plan (Child Custody Agreement)

Promissory Note
Use Our Robot Lawyer To Eliminate Pesky Tasks
Administrative tasks are often time-consuming, which is why many people give up on them before even trying to tackle them. Requesting refunds, canceling services, signing up for clinical trials, reporting stalkers and robocalls, and trying to find unclaimed money are all processes that would usually take a long time to resolve.
With the help of DoNotPay, though, all of these admin hurdles become a piece of cake. In just a few minutes, our app can assist you in appealing parking tickets, getting in touch with your imprisoned loved one, getting an extended warranty, reporting copyright infringement, and so much more!
Don't Break the Bank—Sign Up for DoNotPay!
Our app can save you lots of money by helping you get a refund from any airline, sign up for a free trial without your credit card info, earn off persistent and illegal spam emails, and get an application fee waiver for a college you apply to.
With DoNotPay, you can even schedule a DMV appointment or jump the phone queue when getting in touch with a customer service representative without breaking a sweat!