What Can Be Notarized—Understanding Notarization
Whether you're curious about notarization or you want to find out if a particular document needs to be notarized, you're in the right place! This article will break down everything you need to know about notarizing documents. If your document has to be notarized, you can and get it done in a flash!
What Is Notarization?
A notary is appointed by a state to be an impartial witness during the signing of certain documents. Their job is to validate the signatures and make sure the signers understand what they're agreeing to.
Notarization typically consists of the following steps:
Verifying the signers' identities—The notary checks the IDs of all signers and asks a few questions to ensure they are who they say they are

Checking for coercion—The signers must sign a document out of free will

Determining whether the signers are capable of signing—The signers cannot be intoxicated or mentally unstable during the notarization

Witnessing the signing—The notary watches the signers sign their document

Adding a seal and a

signature

—Notaries sign and stamp the document, which makes it notarized
Which Documents Can Be Notarized?
Many documents have to be notarized. Sometimes, this can differ depending on the state you live in, so it's always best to check.
Take a look at the table below for the most common documents that need to be notarized:
Legal Documents
Financial Documents
Business Documents

Court documents

Executorships

Custody and guardianship agreements

Trusts

Advanced directives

Promissory note agreements

Vehicle certificates of ownership

Supplemental marriage license applications

Medical authorizations for minors

Applications for admission to practice as an attorney

Property deeds

Loan documents

Mortgage closing documents

Financial statements

Bank transfer service forms

Unclaimed property inquiry

Construction and loan agreements

Vendor contracts

Commercial leases

Articles of incorporation

Memorandum of understanding documents

Employment contracts
When Can a Notary Refuse To Notarize a Document?
Even when a document needs to be notarized, a notary can refuse to perform a notarization. Here are a few examples of when this can happen:
Document has blank spaces

Certain pages are missing

Signer doesn't have a valid photo ID with them

Signer refuses to pay for the notarization

Document does not include a notary certificate or other type of statement

Signer is confused or incapable of understanding what they're signing

Notary is not an impartial witness

Notary is one of the signers

Signer is not present

Signer is a minor
Types of Notaries
Notary types depend on different notary services they provide. There are:
How Much Does Notarization Cost?
Most states set a maximum amount notaries can charge for their services. The state-imposed cap refers only to the notary fees. They typically go from $0.25 to $25 per signature and sometimes per document.
Here are the most common notary fees you can expect in the U.S.:
| | |
| --- | --- |
| Notary Service | Notary Fee |
| In-person paper notarization | $5 to $10 |
| In-person electronic notarization | Around $10 |
| Remote online notarization | Around $25 |
Getting a Document Notarized on Your Own
If you want to book a notary and get a document notarized by yourself, it can be an arduous process. Here's what you need to do:
Draw up, scan, or print out the legal document you want to notarize

Prepare your ID or another type of identification

Set up an appointment with the notary and the other signing parties, if any

Pay the notary fees

Prove your identity and answer the required questions about yourself and the document

Sign the document

Receive a notary signature and stamp
With DoNotPay, the process is much smoother, and it allows you to stay home and get everything done quickly.
DoNotPay—The Fastest Route to Online Notarization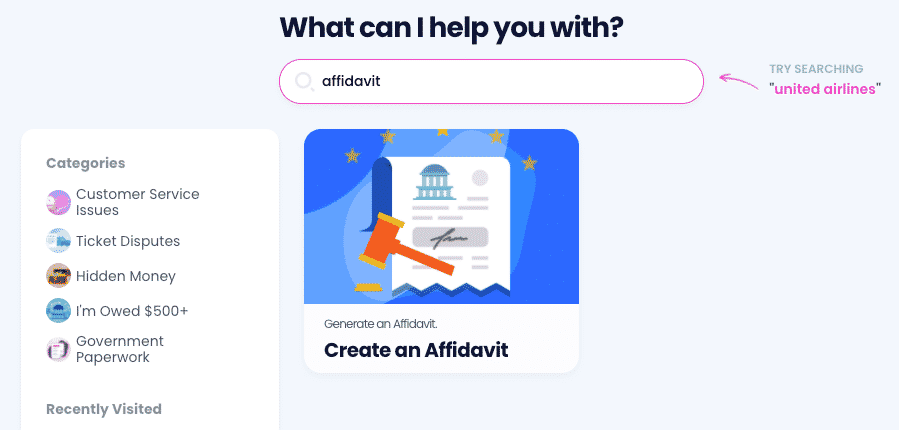 Notarizing documents online is the future of notarization. More and more states allow online notarization, and the ones that don't at the moment typically let you hire a notary from the state that allows it.
DoNotPay can assist you in finding an online notary and booking your appointment!
All you need to do is the following:
Type in

Notarize Any Document

Upload the document you want to notarize

Enter your email address
Once you receive an email from us containing a link, follow it to make your notary appointment.
Signing up for DoNotPay doesn't only allow you to get notary services with ease, but you'll also be able to use any of our amazing features. One of them is the Standardized Legal Documents product, which can generate various customized documents in a matter of minutes. You can also e-sign and fax your document with our help.
Tired of Companies Not Taking You Seriously? Use DoNotPay To Put a Stop to It
If you're sick of companies that violate your consumer rights, DoNotPay is here to help. If you're struggling with reporting robocalls, requesting a refund, claiming any type of warranty, scheduling a DMV appointment, reporting spam text messages, or anything else, our robot lawyer will help you sue any firm or individual in small claims court.
With DoNotPay, you can also sign up for any free trial, cancel any subscription, avoid getting charged after your free trials end, and much more!
Want Your Money Back? DoNotPay Is Here To Help
Are you looking for your missing money? Do you want to get a refund for a delayed or canceled flight? Are you trying to flip the script on illegal robocalls and earn money off them? DoNotPay will assist you in dealing with any of these pesky issues!
We can also help you bypass phone number verification, sign up for clinical trials stress-free, ace any government test in a jiffy, and block spam emails for good.