Does a Living Will Need To Be Notarized
? DoNotPay Has the Answer!
When dealing with legal documents, you need to know how to notarize a document and if it is necessary to get it notarized. Does a living will need to be notarized? DoNotPay has the answer to that question! We also know all about the easiest way of notarizing legal documents.
What Is a Living Will, and How Does It Differ From a Last Will?
A living will—also known as a directive to physicians—is a legal document that allows individuals to state their wishes regarding medical treatment in case they cannot express them later. The last will (testament) is a document that deals with a person's wishes on how their estate and finances are disposed of after they are no longer alive.
The main difference between the two would be that a living will has no power after death.
Does a Living Will Need To Be Notarized
?
Rules regarding a living will and whether it requires notarization to become official may differ from state to state. In California, for example, you need to sign the document along with two other witnesses or get it notarized.
It is smart to consult an attorney before you notarize your living will because even a small deviation from state law can invalidate it. The requirement for notarizing a living will the traditional way requires the signer to go to the notary's office, which is not the most convenient option.
If you do decide to notarize a living will, you should consider an online notarization option. This way of notarizing documents is easily accessible and comes with many conveniences—no more printing paperwork, driving to a notary's office, or wasting time in stuffy waiting rooms!
What Other Documents Should Be Notarized?
Like wills, there are other legal documents that you need to take to a notary to make them official. You should consider notarizing a:
Real estate deed

Trust

Power of attorney form

Loan documents
Notarization rules and regulations also differ throughout the states, so you should always become acquainted with the state-specifics. DoNotPay has guides on notarization processes in Utah, Florida, Kentucky, New York, Pennsylvania, and other locations.
Where Can You Get a Living Will Notarized?
To notarize a living will, you first need to find a notary. There are a few options at your disposal, and you can check them out in the table below:
Public Places
Online Registries

Public libraries

Tax preparation firms

Money transfer stores

Insurance agents

AAA

stores

Police departments

Law offices

Office supply stores

Accountant offices

Real estate agents
How Does a Notarization Process Work?
The traditional way of notarizing a document is quite time-consuming and consists of multiple steps:
Finding a notary

Scheduling an appointment

Going to the notary office in person (or arranging with a mobile notary to come to your house)

Paying necessary fees

Providing required documents

Signing the document 

Getting a

notarized signature

and seal
Online notarization is a much simpler option that is especially useful during the global pandemic. It is a practical way of notarizing documents that will save you a lot of time. Your best bet for finding an online notary is DoNotPay!
Notarize a Living Will With DoNotPay's Assistance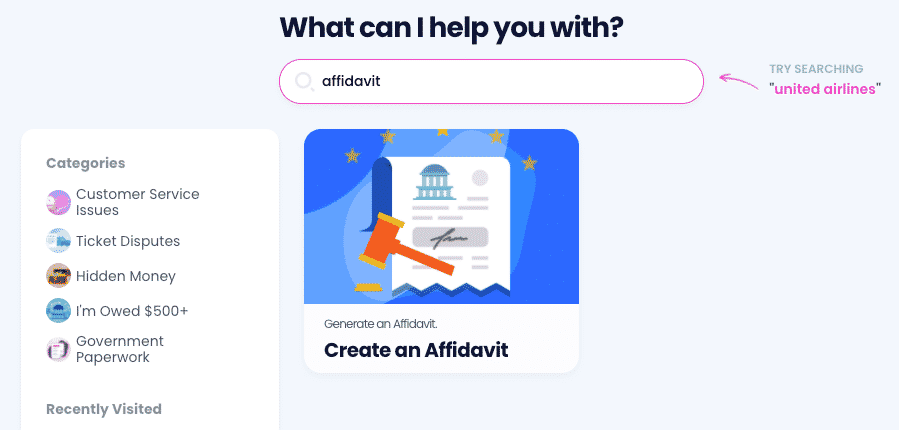 If you decide to use DonotPay to notarize a document, you won't have to wonder whether you'll find a notary because we'll do it for you. Our app will match you with a remote notary who is able to notarize living wills. We will also help you schedule your online notary appointment.
To get to this useful feature, you should follow these simple steps:
Sign up for DoNotPay

in a web browser of your choice

Find and open the

Notarize Any Document

product

Upload the document you want to get notarized

Enter your email address
You will get an email with a link to set up your notary appointment. Everything will be handled virtually, and the notary will verify your signature.
DoNotPay has another feature that can make your life easier—creating legal documents in a few clicks!
Draw Up Legal Documents With DoNotpay!
To draw up a legal document of your choice with DoNotPay, you only need to open our Standardized Legal Documents product. You can create any of the documents in the table below:
Real Estate
Business Agreements
Miscellaneous

Quitclaim Deed

Estoppel Certificate

Intent To Purchase Real Estate

General Business Contract

General Affidavit

Promissory Note
In addition to generating the documents listed in the table, you can also count on DoNotPay to get information about other legal documents. Here are some of our guides:
DoNotPay Is Your Pocket-Sized Treasurer 
To pay or to DoNotPay—that is the question! Our nifty app finds money where you didn't even know you had it.
With our app, you can avoid college application fees, cancel unused subscriptions, explore free trials, and get out of paying for unfair parking tickets. 
We can also help you with high bills by composing due date extension letters or reducing property taxes, just as we can locate missing money that you can reclaim in any state you've ever lived. 
To top it all, we'll even assist you in requesting compensation from any airline—whether it is for poor in-flight Wi-Fi, a delayed, or a canceled flight.
Can't Find Your Head in All the Paperwork? DoNotPay Sorts It Out for You!
You no longer have to cash out on pricy legal advisors to do simple paperwork for you—our app can draft legal documents for you in a matter of minutes! 
We can write small claims court scripts, dispute letters for chargebacks and refunds, personalized letters to connect with inmates, DMCA takedown notices for copyright protection, and cease and desist letters for stalking and harassment protection. 
If you need to get a DMV appointment before taking a driving exam or any other government test, we're there to schedule it in your stead!