Can a Notary Notarize a Document From Another State? Here's Your Answer!
If you're traveling or have recently moved to another state, and you need notary services quickly, you'll wonder—can a notary notarize a document from another state? In this article, you'll find the answer to this and several other notarization-related questions.
We will also show you how document notarization works and how to get a signature from an online notary in the simplest way. DoNotPay will do it the fastest and most easily, without making you spend a fortune on notary fees.
Which Documents Require Notarization?
You can get all kinds of documents notarized because notarization strengthens your paperwork, but not every document has to be notarized. The rules of which documents must be notarized vary from state to state.
In general, the documents that require notarization are agreements that grant you legal rights, are related to serious legal matters, or have to do with huge money transactions. The list of usually notarized documents includes:
Can a Notary Public Notarize Your Document From a Different State?
Yes, a notary public from a different state is legally permitted to notarize your documents, but only after they meet certain conditions—they can usually perform a notarial act only within the boundaries of the state they're commissioned in.
For example, if a notary public is commissioned in Florida, they need to abide by the laws of Florida when they're performing the notarial act. The notary has to be physically present in Florida, but the document they're notarizing can be created in Texas, New Jersey, California, or any other state.
Some States Are More Flexible
There are a few states with more flexible regulations when it comes to the service of notaries public and their physical locations. 
You can find the detailed information in the table below:
State

Explanation

Virginia

Notaries can perform notarial acts outside of the Commonwealth

The condition is that the document is used in the Commonwealth or by the U.S. government

States with reciprocity agreements (for example, Montana, Wyoming, and North Dakota)

A notary public can notarize a document in a bordering state—a notary from Wyoming can perform notarial acts in Montana

The condition is that the authorization goes both ways, i.e., that a notary from Montana can perform notarial acts in Wyoming as well

Kentucky

Kentucky notaries with the title Notary Public Special Commission are allowed to notarize documents outside of the state

The condition is that the document needs to be recorded in the state of Kentucky

New York

The State of New York allows non-residents to obtain a notary commission, which is convenient for people who live in the Tri-State Area

The only condition is that they have an office in New York State
How Can DoNotPay Help You Get Your Documents Notarized?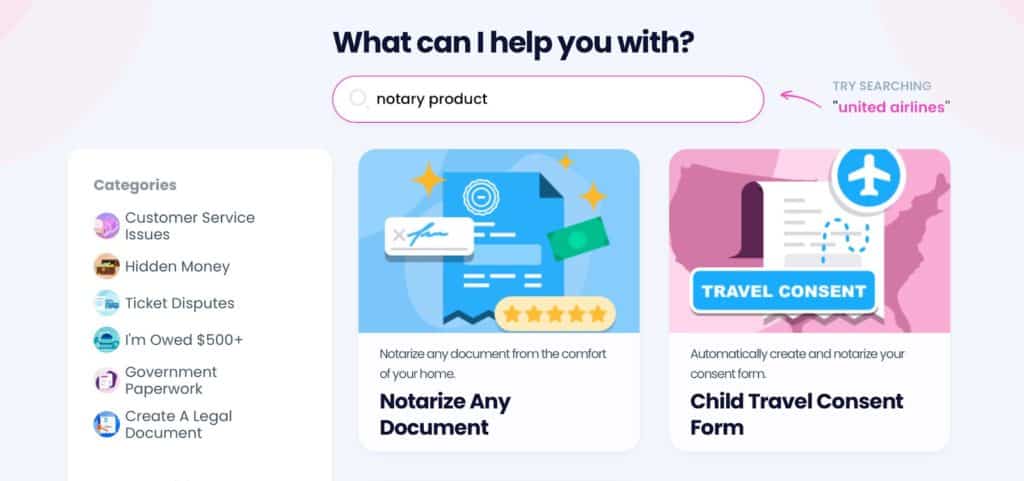 If you need a legal document notarized, we've got you covered. DoNotPay allows you to notarize any document in the least troublesome way possible.
When you sign up for DoNotPay, you'll be able to do the whole notarization process remotely online. This will free you of any bureaucratic hassle that is inevitable with in-person notary visits.
Creating a DoNotPay account will grant you access to other useful products that will help you in your daily struggles with administration.
Step-by-Step Instructions for Using DoNotPay's Notarization Product
After you create a DoNotPay account, you can follow this simple guide to find an online notary who will witness your signature online on any document that you may need:
Type

Notarize Any Document

in DoNotPay's search box

Select the product

Upload the document that you need notarized

Click on the link you'll receive in your email inbox
The link will take you to a page where you can make an appointment with an available notary. The notary will verify your identity, witness your signature over the live video call, and notarize your document.
Does the Law Permit Remote Online Notarization in Every State?
There are currently 28 states that allow remote online notarization (RON). Others are expected to follow suit due to the COVID-19 pandemic. This means that you can get your documents notarized online in any of the following states:
Alaska

Florida

Hawaii

Idaho

Iowa

Minnesota

Montana

Nebraska

North Dakota

Tennessee

Texas

Vermont

Washington
Even if you don't live in one of these states, you don't have to worry. Since notaries can notarize documents created in other states, all Americans can benefit from DoNotPay's online notarization service!
If You Don't Have a Document Yet, DoNotPay Can Help!
Our Standardized Legal Documents product is integrated with the Notarize Any Document feature and can save you the time spent searching the internet for information on how to write a contract. We'll do all the grunt work.
You will be able to write your own contract like a true lawyer, without hefty fees or countless hours spent on learning the legal terminology. Our service currently offers 15 types of agreements, and you can create as many documents as you need.
Some of the documents we can help you draft include:
Take Advantage of DoNotPay's Time-Saving Features!
DoNotPay comes with a wide array of useful features that will help you overcome any administrative issue in no time. As the world's first robot lawyer, DoNotPay can tackle just about any bureaucratic task that people dread.
You can do anything from reporting stalking and harassment, signing up for free trials, and scheduling a DMV appointment to jumping the customer service phone queue, dealing with high bills, and protecting your creative work from copyright infringement with our app's assistance.
If you want to connect with an inmate, sign up for a clinical trial, report spam emails, or sue any company or person in small claims court, you can count on DoNotPay to provide you with the necessary guidance.
Use Our App To Get Rid of Unwanted Admin Hurdles
Do you want to say goodbye to spam text messages or protect yourself from stalking and harassment? Are you looking for a way to end robocalls and earn off them? DoNotPay can help!
As soon as you sign up for our app, you'll be able to do anything from avoiding phone number verification with our handy burner numbers to acing government tests stress-free!