Do Advance Directives Need To Be Notarized? Find Out!
As advance directives are legal documents that should ensure your wishes and decisions are carried out when you're indisposed, it's crucial to know the answer to the question "do advance directives need to be notarized?" This article will walk you through the requirements for advance directives.
If you have to notarize this or any other document, we'll swoop in and match you with an online notary hassle-free.
Do I Have To Notarize an Advance Directive?
It depends. In some states, you are required to have a notarized advance directive for it to be valid. Usually, advance directive forms can be obtained from a hospital, your healthcare provider, or the state health department.
The place you get the forms could inform you whether the advance directive needs to be notarized, and you should also be able to check it on the form itself. To be safe, you can consult an attorney.
Requirements for Advance Directives
Once you draft or fill in your advance directive, you need to follow your state's regulations to make it legitimate, which will ensure your wishes are fulfilled.
The rule that is unified in all states is that you have to sign your advance directive or have a person sign it for you if you are unable to. Another requirement is to have a witness or two, depending on your state.
Sometimes, you can notarize the document instead of having witnesses, while in certain states, both the witness(es) and the notary needs to sign the document.
Regardless of whether you need to have a witness, a notary, or both, you shouldn't sign your advance directive before you check the rules and have the designated person(s) witness your signing of the document. This way, they can attest that you are of legal age and of sound mind when you sign it.
How Much Do Notaries Charge?
If you need a notary's signature besides the witnesses, it will set you back between $5 and $25, depending on the state notary cost regulations and the notary you hire. Typically, mobile and electronic notaries charge additional fees, so you may pay even more. Mobile notaries come to you, which means they can charge for their travel expenses. Both the mobile and the electronic notary can ask you for extra administrative fees.
Can I Get an Advance Directive Notarized Online?
The most convenient notary service is by far remote online notarization. Knowing you can get everything done quickly online is a huge relief, especially if you cannot leave your home or the hospital.
Not all states allow notaries to perform notarial acts online, but not to worry—DoNotPay can provide out-of-state online notary services! This way, even if you live in a state that doesn't allow online notarization, you'll be able to get it. to get your advance directive notarized the easy way!
DoNotPay—The Best Way To Notarize a Document Online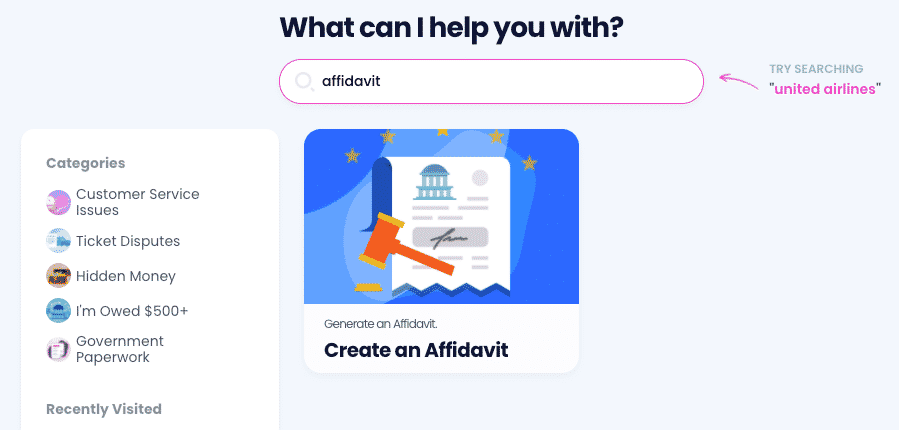 If you choose DoNotPay to get documents notarized, you won't have to look for a notary on your own or worry about state notary regulations—we've got everything covered!
All you have to do is prepare your advance directive, get witnesses if necessary, and have your ID with you. and follow these instructions to book your virtual notary appointment:
Type in

Notarize Any Document

in the search field

Upload your advance directive or another document that needs notarizing

Enter your email address
You will receive an email from us immediately. If you follow the link we send you, you can schedule your notary appointment in no time.
The Perks of Notarizing With DoNotPay
When you opt for DoNotPay for your notarization needs, you get all our products for a low monthly fee! We have many arrows in our quiver, and one of them is the Standardized Legal Documents product.
Not only can we help you notarize your documents, but we can also generate numerous contracts and agreements on your behalf. They won't be basic templates, but rather personalized documents fit for your specific situation.
DoNotPay can draw up the following:
Business
Real Estate
Miscellaneous

Non-Compete Agreement

Bill of Sale

General Business Contract

Non-Disclosure Agreement

LLC Operating Agreement

Independent Contractor Agreement

Intent To Purchase Real Estate

Residential

Lease Agreement

Estoppel Certificate

Quitclaim Deed

Prenuptial Agreement

Parenting Plan (Child Custody Agreement)

General Affidavit

Promissory Note

Child Care Authorization Form
Notarization Got You Confused? We Provide Answers!
As state regulations regarding notarization differ, we make it a point to get you familiar with how notarizing documents works in all U.S. states, including Oregon, Virginia, New York, California, and Massachusetts.
DoNotPay's knowledge base also covers specific notary questions, such as:
Fighting Administration Is Easier With DoNotPay
Bureaucracy is a disease of the modern world, and we finally have a cure. Thanks to artificial intelligence, DoNotPay knows how to handle numerous rules and regulations and make your life so much easier.
Our bots ask you a few questions, gather the necessary info, and off they go! Filing warranty and insurance claims, requesting property tax reductions, getting access to public records, or claiming unclaimed funds under your name—you can deal with these bothersome tasks from the comfort of your home and within minutes!
If you need to get in touch with customer service representatives to ask for refunds or contact airline companies regarding compensation, our platform will make the process painless and care-free.
Don't hesitate to put our app into service if you need to contest parking tickets or avoid long lines at your local DMV!
How Else Can We Help?
Not only does DoNotPay handle bureaucracy, but it also saves you money in the process. Whether you're looking for the best learning materials for government tests or planning to comb through and cancel streaming subscriptions you don't use, DoNotPay can give a helping hand.
Our platform grows every day and comes with user-friendly features that will help you manage unpaid bills, stop copyright violation, or solve problems with credit cards faster than ever!