How To Find a 24-Hour Notary in Las Vegas
If you need to get your documents notarized at a late hour but can't find a 24-hour notary in Las Vegas, don't worry because DoNotPay is here to help! Whether you need to get a notarized translation or a will, our app will connect you with an available notary in a flash, no matter what hour it is.
Read our article to find out about various types of notarization and how to get any document notarized in minutes!
24-Hour Notary in Las Vegas Explained
The biggest misconception that people make about 24-hour notaries is that they can notarize your documents 24/7. You can only schedule an appointment with a 24-hour notary at any given time, but the time of notarization depends on the notary's working hours.
24-hour notaries have the same duties as traditional notaries. This means that, to notarize a document, they have to:
Verify the signer's identity by:

Examining their ID or another verification document, such as a passport or a driver's license

Asking them a few authorization questions 

Make sure that all parties:

Know the contents of the documents they're signing

Are signing the documents willingly 

Aren't under any influence 

Are of sound mind

Witness the signing process for it to be legitimate

Add a seal and

signature

 
How Much Does a 24-Hour Notary in Las Vegas Charge?
Besides having the same duties, 24-hour notaries and traditional notaries also cost the same. The fees that notaries are allowed to charge you are dictated by the state laws of Nevada. Based on them, here are some fees that you can expect:
$5.00 for taking an

acknowledgment

and $2.50 for each additional signer

$2.50 for administering an oath or affirmation without a signature

$2.50 for a certified

copy

$5.00 for a jurat and each signature on an

affidavit
Where To Find a 24-Hour Notary in Las Vegas
To find a 24-hour notary in Las Vegas, you will have to check some of the following websites:
If browsing endlessly and searching for an available 24-hour notary is giving you a headache, you can always turn to DoNotPay for assistance! Our AI-based app will connect you with a notary in no time!
Why Hiring a 24-Hour Notary in Las Vegas Isn't Worth It
Having the option to schedule an appointment at any given time with a 24-hour notary in Las Vegas can come in handy, but it also has some downsides. Other than being pricey, the process will take more time than you can imagine, and the steps you have to follow are tedious. You will have to:
Find an available 24-hour notary 

Schedule an appointment

Ask about the cost of the

notary service

Prepare your documents and ID beforehand

Visit the notary in person
What Are Your Alternatives to a 24-Hour Notary in Las Vegas?
If you think that the 24-hour notary service isn't the right solution for you, here are some alternative ways of notarization:
| | |
| --- | --- |
| Notarization Type | Details  |
| Mobile notarization | Mobile notaries aren't desk-bound and can travel to your preferred location to notarize your documents. They're more convenient, but they can get pricey as they will charge you for their travel expenses or other administrative fees, such as making copies of your document |
| Electronic notarization | Electronic notaries can notarize your electronic documents, but you have to be in the same room as them at the time of signing. E-notaries sign documents digitally, and they must use a digital notary signature and seal |
| Remote online notarization | Remote notarization is the most convenient solution as online notaries can notarize your documents without you having to leave the comfort of your home |
Why Choose Remote Notarization? 
If you want to get your documents notarized in the most convenient way, you should opt for remote online notarization with DoNotPay. Our app's easy-to-use Notarize Any Document product can help you schedule an appointment with an online notary in just a few clicks. 
Getting your documents notarized remotely comes with many perks. You should choose remote online notarization because it's:
Safe

—As the notarization process takes place on an audio-video call, you won't be exposing yourself to the risk of catching

COVID-19

 

Simple

—You will only need a few minutes to set up an appointment, and the notarization will take just as much

Secure

—Online notaries use advanced technology that makes it easier for them to detect any forgery or suspicious activities
How To Use DoNotPay's Effective Product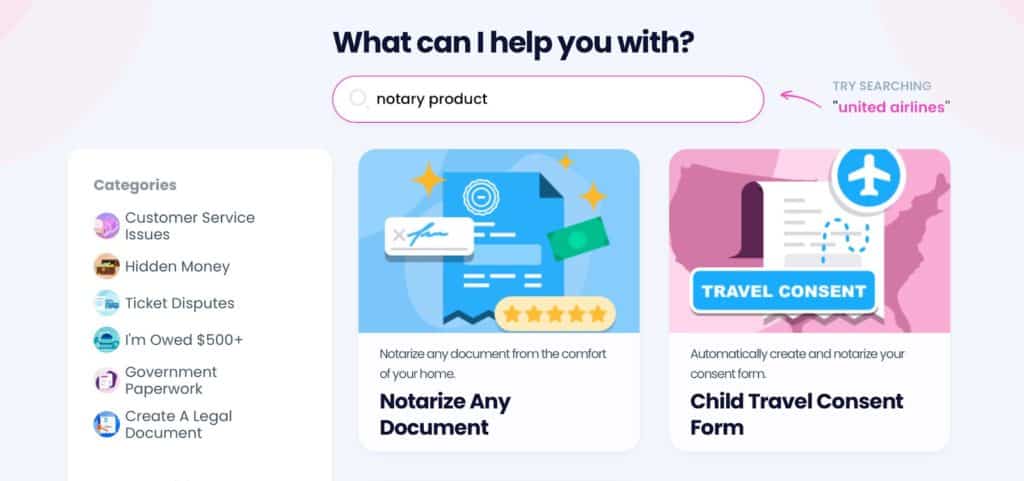 Using DoNotPay to get your documents notarized will require you to follow only a few easy steps:
Find our

Notarize Any Document

product 

Upload the document that you need notarized 

Enter your email address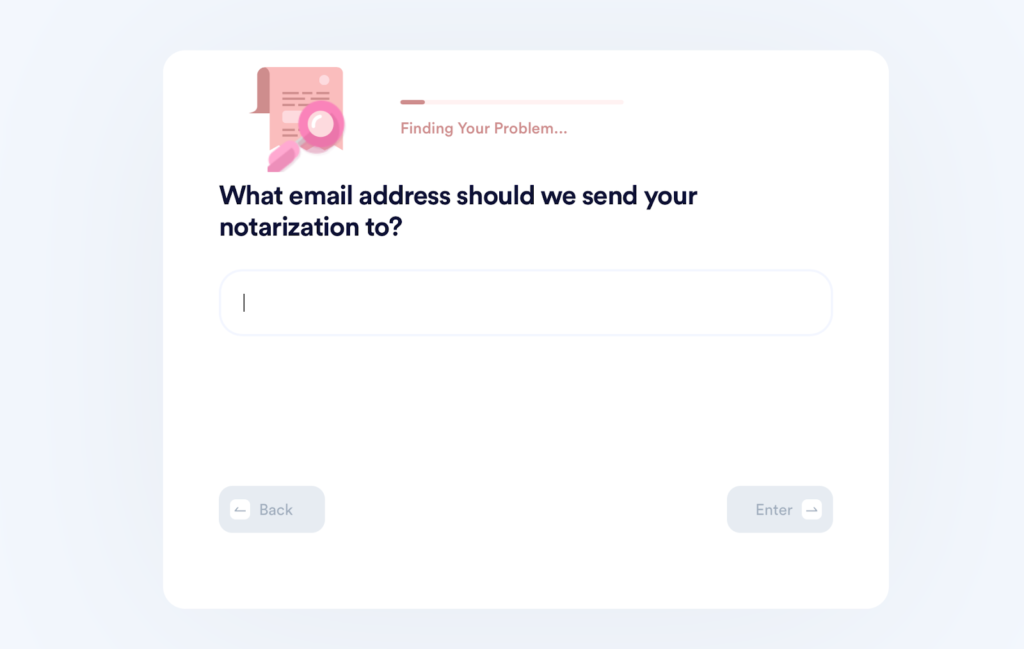 You will then receive an email from us containing a link that you should follow and set up an appointment with an available online notary.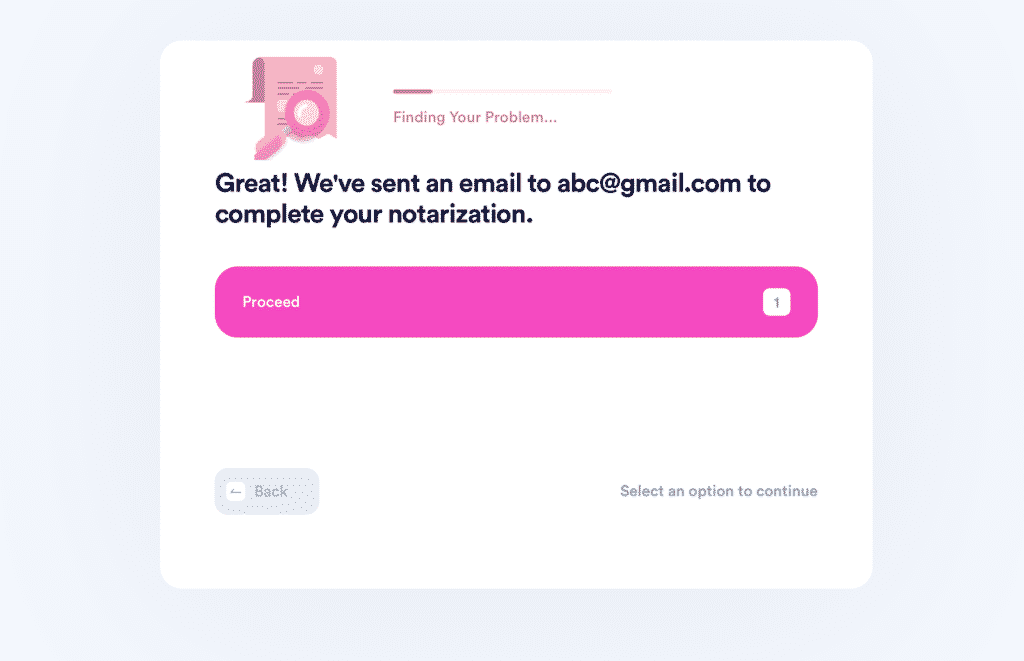 More Nifty Solutions to Annoying Problems
If you're dealing with problematic neighbors or coworkers, you're not alone—our app can help you handle these issues with our Neighbor Complaints and Fight Workplace Discrimination products.
No problem is too big or too small for DoNotPay! Check out the best time- and money-saving solutions to different nuisances:
An Array of Hacks To Help You Deal With Greedy Companies
Nobody likes to spend more money than they have to. DoNotPay is here to offer many penny-pinching hacks and also stop companies from taking advantage of you.
Almost every free trial nowadays isn't really free. Companies request your credit card info and auto-renew subscriptions. Fight this sneaky practice by using DoNotPay's virtual credit card next time you want to snatch a free trial. We'll also uncover any unwanted memberships you have mooching off of you and help you cancel them in a few clicks.
If you need to contact a company's customer service, avoid wasting your time and money on hold and count on our app to wait in your stead.
Do you need to get your money back, but you don't know how? Use DoNotPay to: