The
Power of Attorney Notary
Requirements Dissected
Each U.S. state has different rules regarding the notarization of a power of attorney. In some parts of the country, it's enough to sign it without the presence of a notary. In others, you must obtain a notary's signature to confirm the legitimacy of the document. 
Unfortunately, standard notarization procedure isn't a walk in a park. If you are looking for tips on simplifying it, we can assist! Our guide helps you find a notary to validate your power of attorney with zero bureaucratic hassle. We will show you how to book a meeting with a notary in a few clicks and notarize any will, contract, or affidavit in a snap!
Why Do I Need a Power of Attorney?
A power of attorney is a document authorizing a specific legal entity, also known as an agent, to make decisions in your name. It allows the agent to handle the following issues if you are unable to do it yourself. It's commonly used for:
This option is perfect if dealing with the above-mentioned matters is too burdensome for your friends or family members. Besides that, attorneys have a high-level knowledge of the law and can prevent fraudulent activities.
Before you compose or sign a power of attorney, you should educate yourself on the state-specific requirements that may apply. An appropriate document with all relevant details helps you avoid ambiguities and speeds up the notarizing procedure when necessary.
Do I Need To Have My
Power of Attorney Notarized
?
Below is the table showing notary and witness requirements for all U.S. states:
State
Rules

Alabama

Connecticut

Delaware

District of Columbia

Georgia

Indiana

Louisiana

Maine

Massachusetts

Michigan

Missouri

Montana

Nevada

New York

Oregon

Oklahoma

Pennsylvania

South Carolina

South Dakota

Vermont

Virginia

Washington

West Virginia

Wisconsin

Your power of attorney doesn't require notarization, but you need the signatures of two witnesses

Alaska

Arizona

Arkansas

California

Hawaii

Idaho

Illinois

Iowa

Kansas

Kentucky

Minnesota

Mississippi

Nebraska

New Hampshire

New Jersey

North Dakota

Ohio

Rhode Island

Tennessee

Texas

Wyoming

You can choose whether you want to have your document notarized or signed by two witnesses

You must have your document notarized and signed by two witnesses

You must have your document notarized without any additional signatures

You need one witness to make your document valid
How To Notarize a Power of Attorney
If the notarization of a power of attorney is mandatory in your state, follow these steps to make your document legitimate:
Compose a power of attorney ensuring it aligns with the state-specific regulations

Find a notary

near your home or workplace. You can opt for standard,

mobile

, or

online notary

services

Set an appointment with the chosen notary. Institutions where notaries operate allow you to book a meeting online or via phone

Go to their office on the agreed date. Bring the unsigned original document and witness(es) if necessary

Prove your identity by showing a valid ID, passport, or driver's license to the notary

Let the notary revise your document and confirm that you want to sign it willingly

Sign your power of attorney in front of the official
Simplify the Notarization Procedure With DoNotPay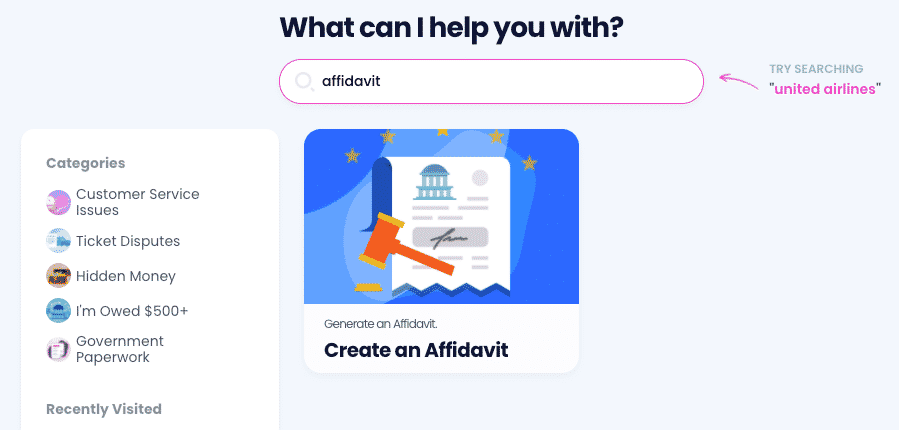 Online notary apps are a quicker and simpler solution than any other notary service type. If you don't want to spend hours or even days on a standard document validation, DoNotPay has got your back. Our award-winning app allows you to notarize any legal document without leaving your home!
To use this feature, proceed as follows:
Visit DoNotPay

in your preferred web browser

Click on

Notarize Any Document

Upload the document you want to get validated

Input your email address
As soon as we process your request, we will send you a link to schedule a video meeting with a notary. During the appointment, the official will verify your signature and put a digital stamp on your document. 
Do you want to find out how notarization works in other U.S. states? Explore our vast knowledge base and discover notary procedures in:
DoNotPay Creates Contracts and Schedules Notarization the Easy Way
DoNotPay helps you generate, fax, and notarize your documents in a single app! Our Standardized Legal Documents feature lets you create your contracts using customizable templates. Once you get a valid document, we help you have it notarized as soon as possible, saving you time and nerves! 
To use this service, follow the steps below:
Visit DoNotPay in your

web browser

Locate the desired template

Complete a short questionnaire regarding the contents of your document
Here's a table showing the list of all available contract templates we created for you:
Discovering DoNotPay Will Make Your Day
If you feel overwhelmed by tons of paperwork flooding every area of your life, you can finally breathe out and let go of that stress. DoNotPay is the world's first robot lawyer that handles your bureaucratic chores for you. 
Some of the benefits that come with our service include:
Why Get a Lawyer When You Have DoNotPay?
Our agenda has one major goal—provide easy legal access to anyone who needs it. Every new feature we come up with relies on AI technology that simplifies bureaucratic procedures and saves you time and money. 
If you're wondering how to navigate tasks like contacting imprisoned friends and family members or reducing your property taxes, DoNotPay has the answers. Our service cuts through the red tape even if you need to deal with stalking and harassment, claim forgotten assets the proper way, or secure compensation for crime victims.