Do This and Have a Notarized Affidavit in Lieu of Originals Easily
When you notarize a document, such as a will, car title, high school diploma, or any other legal document, you'll want to make notarized copies. The purpose of a notarized affidavit in lieu of originals is to declare that you possess all the copies of the documents you need in your situation. Since those copies need to contain a notary's signature, an affidavit or a notary acknowledgment will affirm that your statement is true.
You probably know by now that the process of notarization can be a true hassle, but don't worry because we have a solution! DoNotPay is the platform that will make most of your bureaucratic troubles perish—we can help you notarize any document online in under five minutes.
What Is a Notarized Affidavit in Lieu of Originals?
An affidavit in lieu of originals is a written statement that can be used in place of different types of documents. You give an affidavit in the place of original documents under an oath that the facts included in the affidavit are true. The affidavit must be notarized and signed in front of witnesses. You don't necessarily need to visit a notary's office to get the document notarized.
Certain facilities offer notary services, such as:
What Are the Downsides of Notarizing Affidavits in Person?
The worst part about notary offices is that you need to visit them in person. The process of notarizing a document isn't hassle-free.
If you opt for a traditional notarization, you'll need to:
Schedule an appointment

Prove that you are you by showing your government-issued identification document

Provide all the originals and copies of your document

Pay the

notary fees

Give an oath that your statement is true and correct

Sign the affidavit in front of the notary public

Wait for the notary to sign and seal the affidavit
Be Aware of What It Means To Sign an Affidavit in Lieu of Originals
When you sign an affidavit, you need to be sure that your statement is true. There are legal consequences to lying during your signing. The act of signing an affidavit in front of a notary equals testifying in court.
If you lie or give false information in your affidavit, you can be found guilty of perjury. The punishment will depend on the state you're in.
When Can You Use a Notarized Affidavit in Lieu of Originals?
Notarized affidavits are sometimes mandatory and sometimes optional. You can use them for many types of situations, such as:
In court

—To show that certain information is true

Authorization of your attorney

—They can use your affidavit, so you don't have to show up in court

Estate planning

—Usually includes the transition of property and other assets

Lost documents

—When you lose a document, or it gets destroyed, you can use a notarized affidavit in lieu of the original document

Identity theft

—If someone steals your identity, you can prove it with a notarized affidavit
DoNotPay Proves To Be the Easiest Way for Notarizing Documents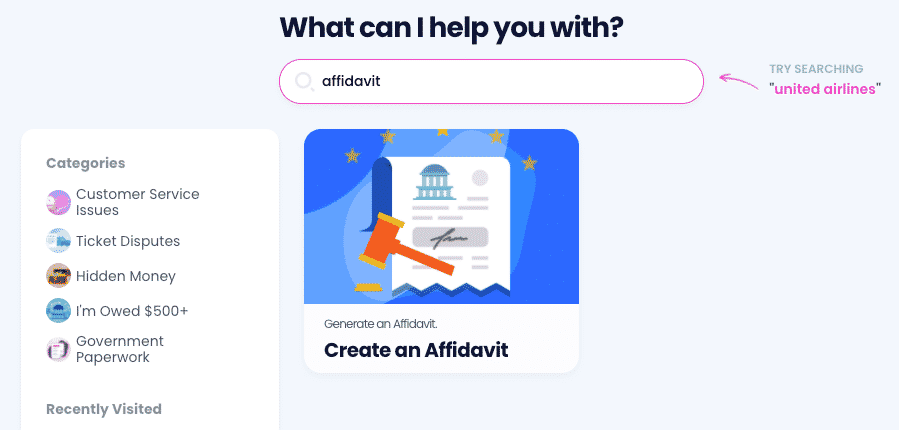 If you want to notarize your affidavit online but don't want to spend a fortune, you've come to the right place. When you , you'll get access to our amazing Notarize Any Document product.
Our platform is user-friendly, and it will enable you to notarize your affidavit in under five minutes. We support electronic notarization all across the U.S.
You can find the 28 states that allow remote online notarization in the table below, but DoNotPay can notarize your documents in all U.S. states.
The Steps To Take To Get DoNotPay's Help for Notarization
Once you , follow the steps laid out below:
Find our

Notarize Any Document

product by typing it in our search field

Click on the product

Upload your affidavit

Tap on the link we'll send to your inbox
After you click on the link, it will take you to a page where you can make an appointment for a video call with an online notary. During the video call, the notary will witness your signing and certify your affidavit virtually.
You'll Find DoNotPay's Legal Documents Feature Useful Too
DoNotPay has another helpful product for you—Standardized Legal Documents. You can use this feature to create a contract yourself. We will provide you with all the necessary information on the type of agreement you need.
Create plenty of contracts with DoNotPay's help! Here are some of them:
Bill of Sale

Independent Contractor Agreement

Residential Lease Agreement

Non-Compete Agreement

Non-Disclosure Agreement

Prenuptial Agreement
Take Advantage of DoNotPay's Time-Saving Features!
DoNotPay comes with a wide array of useful features that will help you overcome any administrative issue in no time. As the world's first robot lawyer, DoNotPay can tackle just about any bureaucratic task that people dread.
You can do anything from reporting stalking and harassment, signing up for free trials, and scheduling a DMV appointment to jumping the customer service phone queue, dealing with high bills, and protecting your creative work from copyright infringement with our app's assistance.
If you want to connect with an inmate, sign up for a clinical trial, report spam emails, or sue any company or person in small claims court, you can count on DoNotPay to provide you with the necessary guidance.
Use Our App To Get Rid of Unwanted Admin Hurdles
Do you want to say goodbye to spam text messages or protect yourself from stalking and harassment? Are you looking for a way to end robocalls and earn off them? DoNotPay can help!
As soon as you sign up for our app, you'll be able to do anything from avoiding phone number verification with our handy burner numbers to acing government tests stress-free!