Follow Our Step-by-Step Guide To Sell or Trade a Macy's Gift Card for Cash
Gift cards are great presents because they leave options open for the recipient, but what if you don't like the retailer whose gift card you received? What happens if you've used up most of your Macy's gift card balance and don't want to or can't buy anything else with it? Whether you have a new or used card, you'll want to know how to trade your Macy's gift card for cash.
DoNotPay is here to tell you how to exchange gift cards with zero effort and help you get your money back instantly.
How Do Macy's Gift Cards Work?
Macy's offers two types of gift cards:
Physical gift cards
Electronic gift cards
These cards don't expire. You can redeem them in Macy's stores and online.
Check out the table below for instructions on using Macy's gift cards:
Online Purchases
In-Store Purchases

Select all the items you want to buy
Tap on Apply Gift Cards at the checkout
Enter the 15-digit number into the Card Number field
Type in the three- or four-digit number into the CID field
Click on the Apply Gift Card button

Visit the store
Present the gift card to the cashier
Can You Exchange a Macy's Gift Card for Cash?
If you no longer have use for your Macy's gift card, the next logical step is to check if you can return it for money. Officially, Macy's doesn't exchange gift cards for cash.
If you want to get cash for your Macy's gift card, you can consider some of the following options:
Finding a gift card exchange kiosk—Look for a kiosk that will accept new or used gift cards in exchange for cash in a mall or a grocery store in your area
Selling the gift card—Find a website for selling and buying gift cards and sell your card there. Note that these websites:

Are usually unreliable
Can potentially be scams
Don't pay a full gift card value but only around 80–90%

Trading your gift card for a card from another merchant—Visit online platforms or stores dedicated to trading gift cards. While you won't get any cash, you might find another gift card you could use. Check if your local Target or Walmart offers the service of gift card exchange and trade your Macy's gift card for a Target or a Walmart one
How To Request Cash Back for a Macy's Gift Card by Yourself
Most companies make it abundantly clear that they won't reimburse gift cards for cash. While Macy's might claim that they don't provide gift card cash backs, there is a way you can get your money back.
By law, companies in Puerto Rico and 11 U.S. states are obligated to have a gift card cash back policy that forces them to give cash back to customers. If you have a remaining balance on a used gift card, you can get anywhere between $1 and $10 back, depending on the state you live in.
Check out the following list to see how much money you can get for your half-used gift cards:
California—$10
Rhode Island—$1
Puerto Rico, Colorado, Maine, Montana, Massachusetts, New Jersey, Oregon, Vermont, and Washington—$5
Connecticut—$3
The process of filing cash back requests is different with each vendor, which can be challenging. If you're not sure how to request cash back from Macy's, you can and get your money back the easy way.
Use DoNotPay To Get Your Money Back Effortlessly
DoNotPay is an easy-to-use platform that can help you get your money back in a few clicks. If you want to avoid the complicated process of filing a cash back request by yourself, and take care of everything in under five minutes!
Follow the steps below to file the request:
Type in Gift Card Cash Back into our search field to find the product
Enter all the information regarding your request—your gift card number, remaining balance, and similar
Click on Sign and Submit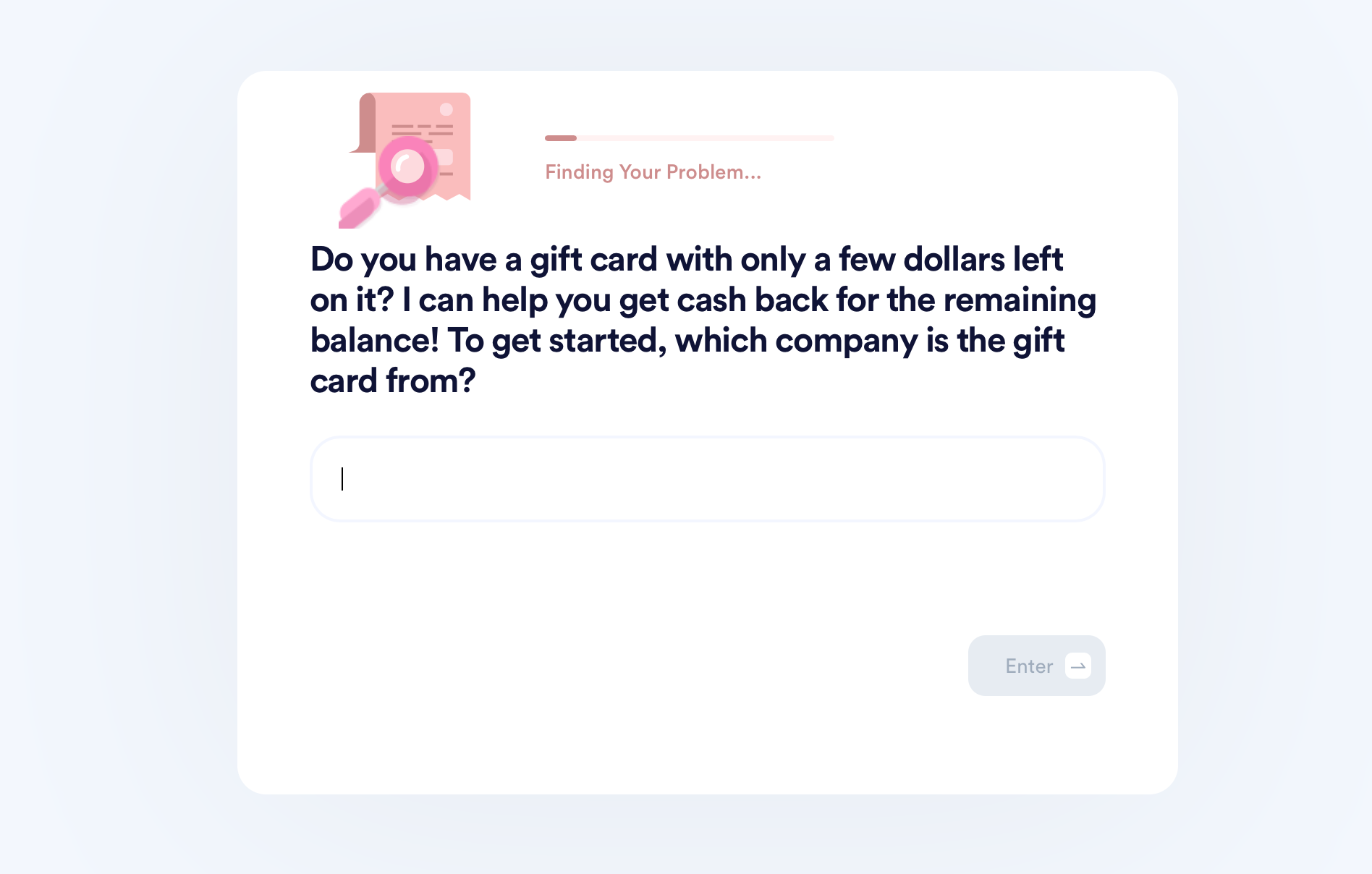 Once you complete all the steps, DoNotPay will check your state's laws to see if you have the right to request cash back. Don't worry if your state doesn't have a cash back policy because we will locate a Macy's office in one of the states that do and file your request with them.
You should receive cash or a check within 14 business days.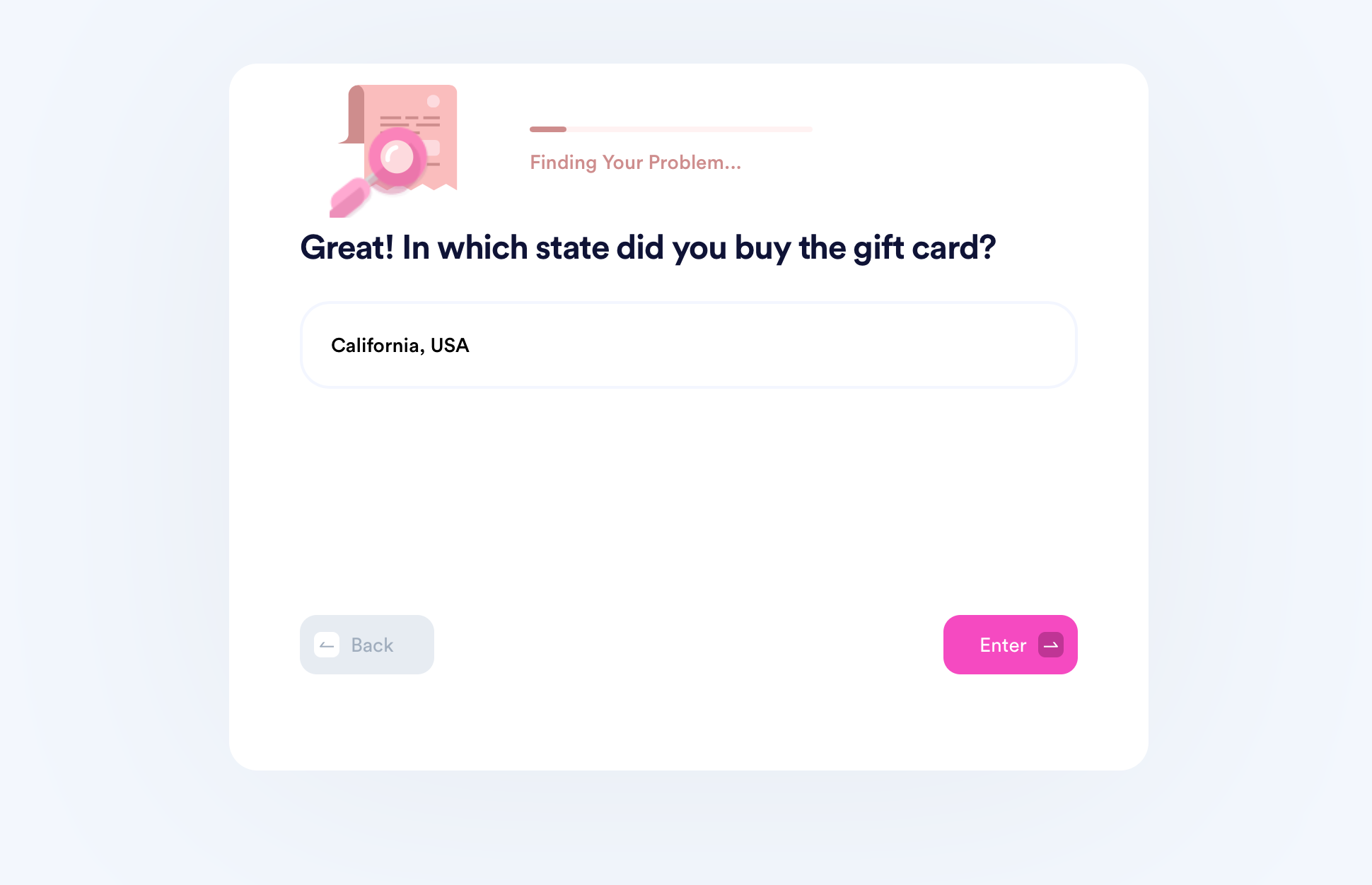 DoNotPay Has More To Offer
Apart from helping you get your money back, DoNotPay has a learning center that you might find useful. With our platform, you'll learn how to:
Check balance on your gift cards and request reimbursement from many different companies, including:
Shop Online on Your Terms
Have you ever had to deal with complaints about lost, late, or damaged parcels? Is reaching customer service over the phone always a pain? Don't you wish there was an easier way to request refunds and chargebacks for bad purchases?
Shopping can easily turn into a nightmare, but DoNotPay will take away some of that stress. We can help you with all of these issues and more!
If you need to file warranty claims for any kind of product, our AI bots will make the process painless. Those who like to try out new services will fall in love with our virtual credit cards and foolproof methods of signing up for free trials without risking charges.
When you get sick of your subscriptions, cancel them with DoNotPay. Also, don't throw away your used gift cards with a few bucks left—we can help you get your cash back.
DoNotPay Protects Your Interests
There are already so many ways you can use DoNotPay to improve your daily life, but we keep developing more and more features that will make our subscribers even happier.
On our platform, you can find useful resources to: