How To Work When Sick and How To Request Time Off
Approximately 33.6 million Americans can't access paid sick leave, and many are forced to work while being ill. This article will guide you through how to work when you're sick. If you cannot work because of your illness and are entitled to sick leave, we'll show you how to create a leave request letter .
Can Your Employer Force You To Work if You Are Sick?
According to the Occupational Safety and Health Administration (OSHA), your employer should not let you come to work if you are sick and must grant you time off. Most employees still choose to come to work because they:
Have deadlines that they need to meet
Are not sure if they will be fired for taking time off
Are not able to assign their tasks to another team member
Don't want to use their own paid vacations
How To Get Through Work When Sick
If you have deadlines that you have to meet and cannot take time off to recover from your illness, you can follow these steps:
Review the sick leave policy to see how it works
Request work from home until you feel better
Work on high-priority tasks and delegate less important tasks to other team members
Focus on getting better
Take small breaks in between tasks
In case you are not able to work at all, notify your employer immediately. You can also provide a doctor's note as proof of your illness.
Laws Against Working During an Illness
If you need to take time off from work, there are certain laws that can help you do that, as mentioned below:
Family and Medical Leave Act (FMLA)—Applicable to organizations with over 50 employees and those who have worked there for at least 1,250 hours in the last 12 months. FMLA allows you to take 12 weeks of unpaid time off to recover from your illness
Emergency Paid Sick Leave Act (EPSLA)—This is only applicable to employees who need to take time off because they have contracted COVID-19
As far as state laws are concerned, only 15 states (including the District of Columbia) offer paid sick leave to employees at the moment. Check out the table below to find information about state sick leave laws:
Submit a Sick Leave Request With the Help of DoNotPay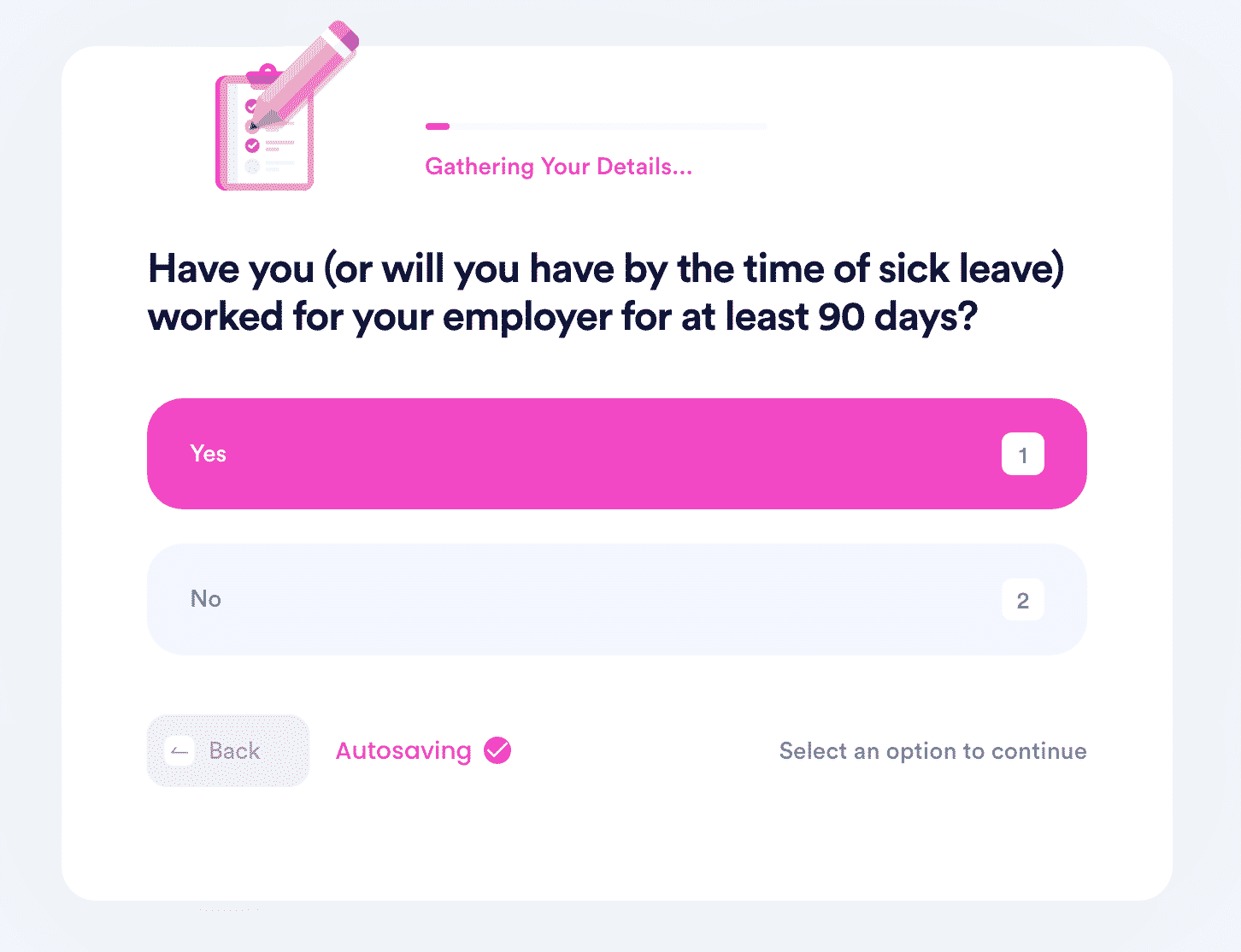 If you cannot show up to work when sick, you can send an email to your employer or call in sick. Do you need help writing a professional leave request letter? Let DoNotPay streamline the process! Our app will check your state laws and prepare a valid leave request letter in no time!
Once you , here is what you need to do:
Search for the Request Sick Leave tool
Provide information about the state the company is
Answer a few questions about the company
Enter the dates when you won't be available for work
We will generate the letter and send it to your employer on your behalf. In case you want to send it yourself, you can download and print the PDF version.
If your employer rejects your leave request or fires you, consider suing them with the help of DoNotPay. Our Small Claims Court feature can assist you in the following:
Creating a demand letter
Filling the required court paperwork
Filing the complaint
Preparing rock-solid arguments to use in court
How Can DoNotPay Tackle Tricky Tasks for You?
Using DoNotPay is like having a magic wand that helps you with the assignments you are too busy or bored to do. Here are some procedures we can simplify for you:
Submitting error-free tourist visa applications
Keeping in Touch Is Simple With Our App
Are you having trouble communicating with your loved ones in jail? Our app features a tool that enables you to send letters to inmates from any device! We can help you get in touch with a notary public who can notarize your legal documents virtually or reach out to embassies and consulates or government reps. Reaching customer care centers also gets much simpler with DoNotPay by your side as you can skip phone queues the easy way.
We can help you avoid unwanted communication by stopping persistent robocalls and text or email spam. All you need to do is sign up for our services!