Can Employers Deny a Sick Day Request?
Before calling in sick, you spend a few minutes revising what you're going to say to your boss. Like most employees, you probably fear your employer will say no, and you'll be forced to go to work sick.
Can an employer deny sick days off? In this article, we'll explain if and when your employer can do it and what laws mandate sick leave so you don't end up sick at work. We'll also show you how you can to ensure your sick leave request is rock-solid.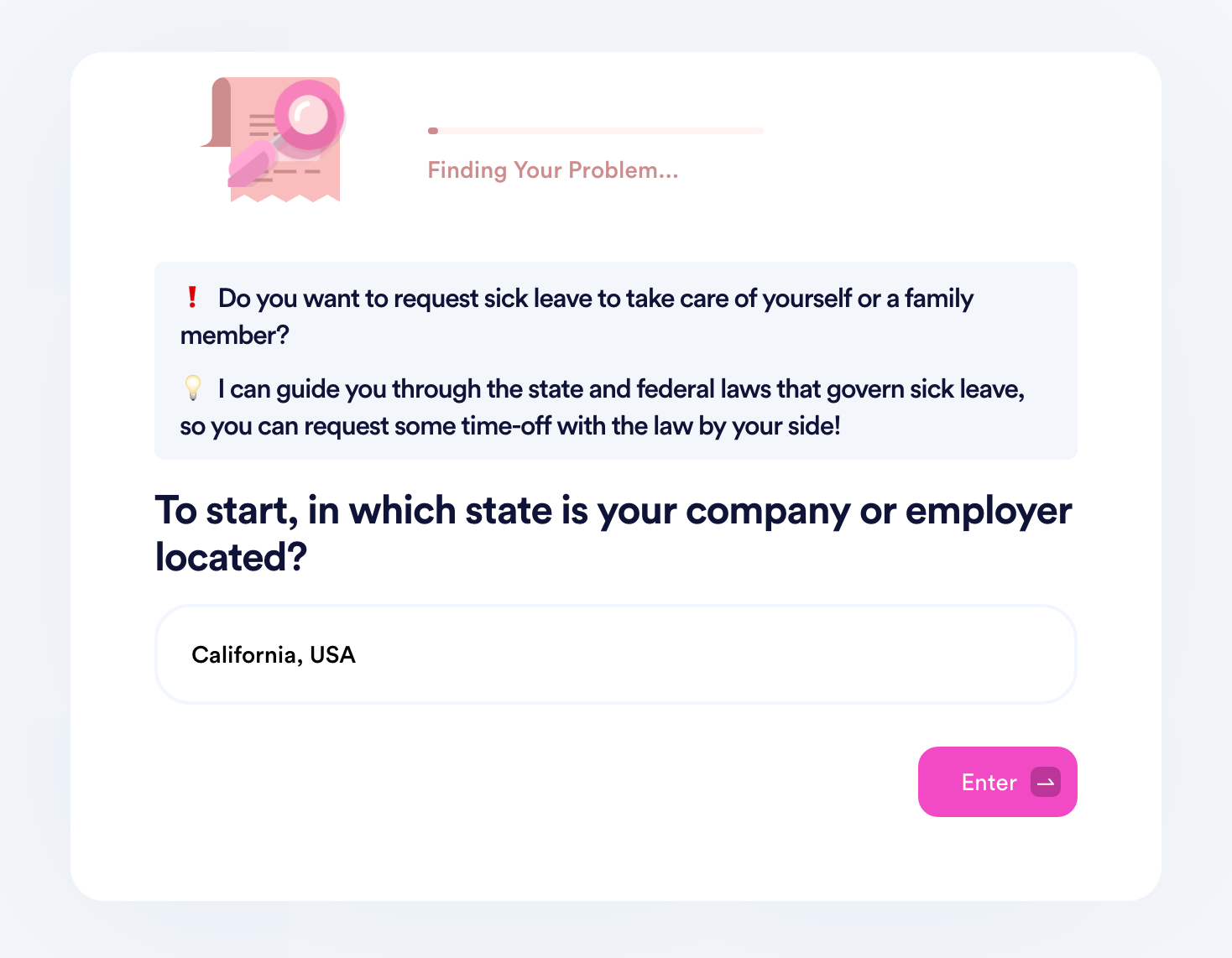 Can an Employer Deny a Sick Day?
The answer is—sometimes.
Only two federal laws exist that regulate sick leave:
The Family and Medical Act (FMLA)
Under the FMLA, all companies with at least 50 staff members must provide 12 weeks of unpaid sick leave to all employees within a 12-month period.
The EPSLA is a temporary act that provides ten days of paid sick leave during the COVID-19 pandemic to all employees who test positive for the virus—regardless of the company's size.
Both of these acts have qualifying reasons for sick leave—take a look at the following table to see what is considered a valid reason in each case:
The FMLA
The EPSLA

Serious health condition
Care for a member of your family with a serious health condition
Childbirth
Child adoption
Any reason that arises from a member of your family being on active military duty

Quarantine
Symptoms of or similar to COVID-19
Care for a child in quarantine or whose school closed because of the pandemic
If you don't meet the requirements, the employer is not obligated to approve your request.
Doctor's Note Rules
The employer may require you to present a doctor's note that proves your necessity for sick leave. Rules about the note vary depending on the law, but the general rule is to submit a doctor's note if your leave lasts more than three days.
If you don't have a note or the note is not valid, the employer can deny your request. To be valid, the note must contain:
Diagnosis
Examination date and time
Recommended time off
Contagious status (if necessary)
Doctor's name and signature
Are There Any Other Laws Regarding Sick Leave?
In addition to federal acts, there may be laws on a state or local level. Before applying for leave, you should check out your city, county, or state laws to see if you have another sick day rule to rely on.
Does My Employer Have To Pay Me for Sick Days?
If there's a law about paid sick leave that affects your company, then yes. The EPSLA requires paid leave for COVID-19 patients in excess of $5,110 for ten days.
Whether your employer should provide paid time off also depends on state and local laws. Consult the following table for guides to state-specific regulations:
Can an Employer Penalize You for Using Sick Time?
Your employer may not punish you in any way unless they suspect (and can prove) your abuse of sick leave. Misuse usually manifests as:
Repeated, unscheduled sick leave around weekends
Repeated sick leave during undesirable shifts or duties
Sick leave requests when other types get denied
How To Make a Perfect Sick Leave Request Using DoNotPay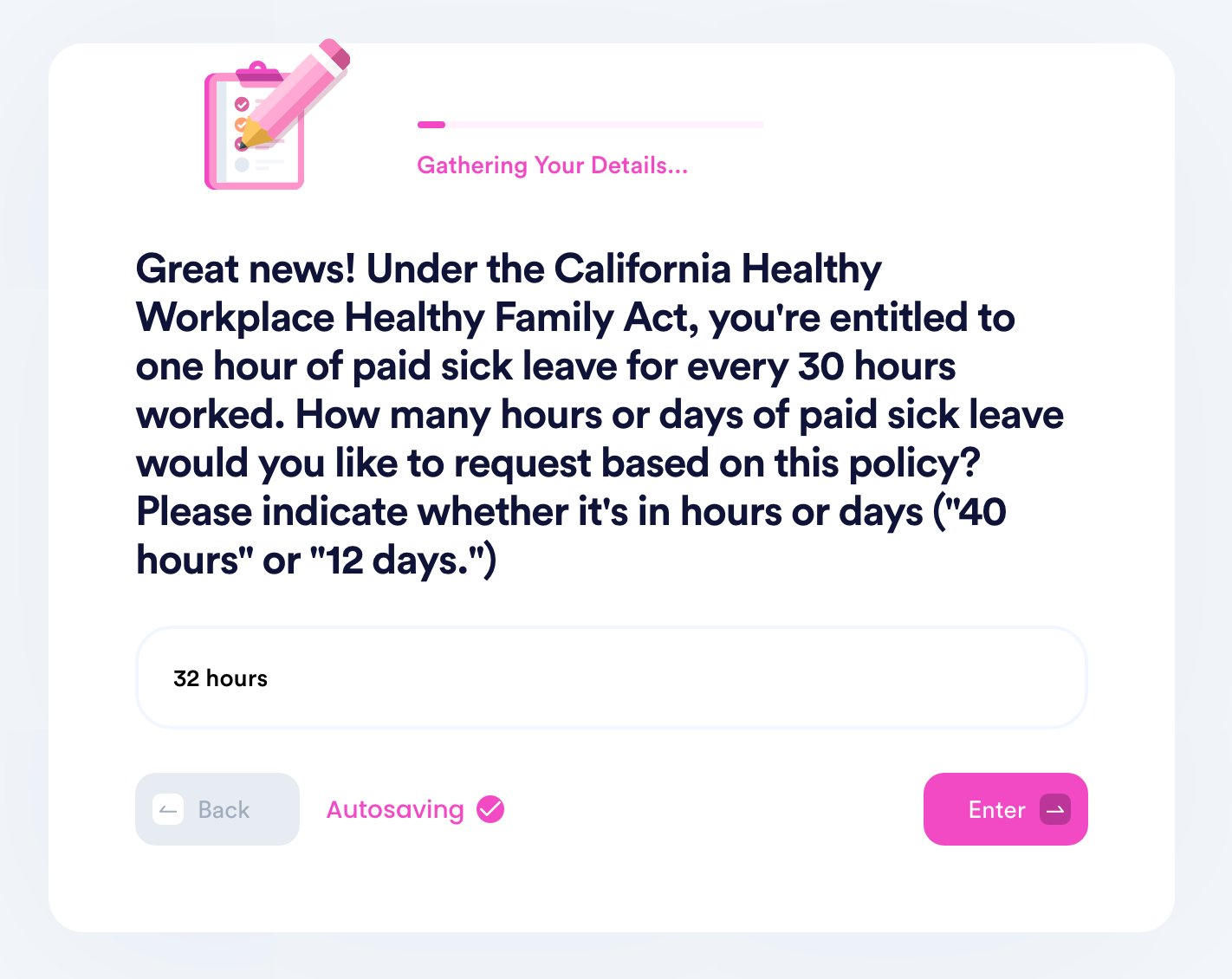 You can call in sick via phone or, more conveniently, email. If you're not sure what your request should look like, hand over the writing to the pros!
Our app will draft a professional sick leave request letter based on the information you provide and the laws that apply to your case. You only need to and do the following:
Choose the Request Sick Leave feature
Specify the state where your company is located
Answer some questions about the company
Insert the dates on which you'll be absent from work
Notify us if you want the app to send the request to your employer
If your employer doesn't approve your sick leave request or, worse, fires you for taking time off, you can sue them using our Small Claims Court tool.
What Else Can DoNotPay Do for You?
Our vast collection of products simplifies various everyday tasks, including:
Various mailing issues by:
Applications for:
Traveling tasks, such as:

Getting tourist visas the easy way

Appeals of:
Other tasks, such as:
Get More Money the Easy Way With DoNotPay
Is a tight budget a constant problem in your household? DoNotPay is here to reduce your expenses and help you get the money others owe you. Our app helps you get refunds from companies, find unclaimed money, cash out old gift cards, and terminate unused subscriptions in a jiffy!
You can also request violent crime compensation, demand chargebacks from airline companies, or claim your warranty or insurance without paperwork.