Carrabba's Gift Card Balance Check Unraveled
Finding a few extra dollars on your Carrabba's used gift card can be as satisfying as taking a bite out of a nice slice of pizza from this restaurant. Besides spending the funds on buying another delicious meal, you can cash out the remaining credit. We will reveal how to do the Carrabba's gift card balance check and retrieve the leftover sum with zero stress using DoNotPay.
Carrabba's Gift Cards—The Essentials
Here are some facts about Carrabba's gift cards you should keep in mind:
Carrabba's, like most other companies, sells two types of gift cards—plastic and digital ones
The cards can be pre-loaded with any amount between $10 and $500 and redeemed in Carrabba's locations in the USA or Puerto Rico and online
There are no additional or maintenance fees for using the gift certificates
The company may reconsider replacing your lost or stolen gift card if you contact them promptly, even though the general rule says it's impossible
You need valid proof of purchase to get a new replacement card, and the procedure lasts for three to four weeks
You can use the card as long as it's loaded—the company doesn't propose a specific expiration date
Can I Check Carrabba's Gift Card Balance Myself?
Yes, you can. If you aren't sure how much credit you have at your disposal, make sure to check the remaining amount online. It's a simple procedure and involves the following steps:
Visit the Gift Cards page on Carrabba's website
Scroll down and choose Check Balance within the Check Your Balance section
Submit your gift card details:

19-digit gift card number
Four-digit security code
I Can't Find the Security Code—What Should I Do?
Some Carrabba's gift cards purchased from third-party sellers may come without a security code. In such cases, it's not possible to see the current balance online—you must turn to customer support agents. Once you disclose your gift card details, they will let you know how much money you have left.
You can get the necessary assistance by:
Calling (855) 739-2760
Completing an online form on the website
Asking a staff member to check the exact amount left in their system
Use DoNotPay for the Easiest Way To Check Your Carrabba's Gift Card Balance
To avoid running into the above-mentioned issues, turn to DoNotPay and let us do the work for you! The best part is that it takes almost no effort on your part—complete our simple three-step guide, and get started:
Choose the

Check Gift Card Balance

feature

Snap photos of your gift card from the front and back
Once you confirm your email address, DoNotPay will check with Carrabba's and inform you how much money you have at your disposal.
What Should I Do With Extra Funds Found on a Used Gift Card?
You can spend the entire remaining amount the next time you visit the restaurant. If the sum is too small, but you want to keep using the card in the future, you can reload it.
In case you don't feel like buying more food from Carrabba's, check out the table below for tips on using the remaining balance on your gift card.
Option
Details
Selling the card
Sell your card:

Via online resellers
In approved stores
At mall kiosks and service centers

The action isn't authorized by the company and brings certain risks. Also, the amount you will receive in cash may be decreased

Exchanging the card
This option includes trading your gift card for another one you prefer, and you can do it on various websites
Return the card to the retailer for cash
A few U.S. locations have special laws that require companies to provide reimbursement for gift cards to customers upon request. The only condition is that it's not a free gift card and that the cash back sum doesn't exceed the state-mandated upper limit. The locations with the cash back policy in place are:

Oregon
Vermont
Maine
Missouri
Colorado
New Jersey
Connecticut
Massachusetts
Washington
California
Rhode Island
Puerto Rico

Give the card away
If you don't need the card anymore, a friend or family member may be thrilled to get it. You can also donate the card to a charity or non-profit organization you support
Get Reimbursed for Your Gift Card the Easy Way With DoNotPay
Should you choose to get cash, we can help you skip negotiations with the company. You don't have to contact the help center or travel to a store because DoNotPay handles the process for you!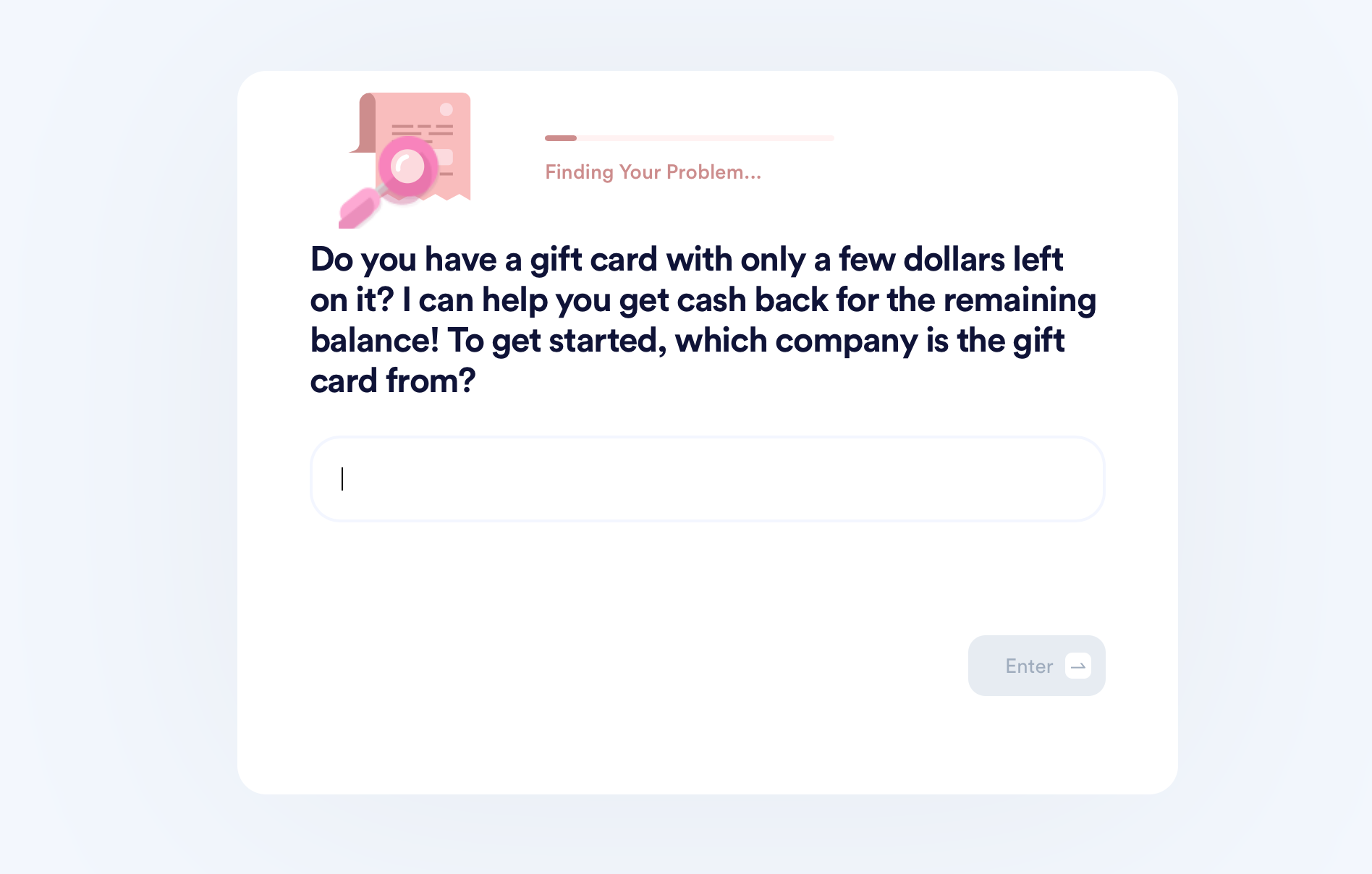 Here are the steps you should follow to use our feature:
Search for the Gift Card Cash Back product
Go through a simple questionnaire with our chatbot
We will run the required check, confirm you are eligible to receive cash back based on your state laws, and send the request on your behalf.
No cash back policy in your state—no worries. If the company has a location in any of the states mandating gift card cash back, our system will direct your claim to it and let you convert the remaining credit into cash legally.
In our knowledge base, you can find out how to reclaim the balance from various gift card issuers. Check out the table below for more practical guides:

Learn About DoNotPay's Awesome Products!
DoNotPay is a multifunctional app that can solve numerous everyday challenges swiftly.
You can use our app to protect your work from copyright violations, schedule your driving exam or any other appointment with the DMV, reduce your property taxes in a few steps, and similar.
We have created many useful products to help our users take care of their issues through the same app. With us, you can:
DoNotPay Connects You With Your Loved Ones
Sending letters to inmates can be difficult since you have to follow certain rules to a T to avoid having your letter rejected. The situation is even more complicated if you don't know where your incarcerated loved one serves time. DoNotPay's app can help you locate prisoners and correspond with them without worrying whether you're breaking any rules.
Do you want to send a letter, but you don't feel like heading over to a post office? By using our mailing service, you can mail as many letters as you want from the comfort of your home. With DoNotPay, you can also send online faxes in under five minutes!
Email and text spam is something that everyone experiences at least once in their lives. DoNotPay has a solution for that too. Access your DoNotPay account and count on us to help you block spam and get compensation by reporting pesky robocalls.