Weis Gift Card—Check the Balance on Your Gift Card With Ease
Not sure of the amount left on your Weis gift card? Check the balance on it using DoNotPay. Our app can provide useful info to get the leftover amount on your gift card back in cash!
The Essentials of a Weis Gift Card
Weis gift cards can be used at any Weis location in the United States. The company is not transparent with the terms and conditions of their gift card, but here are a few essentials:
The gift card value ranges from $10 to $100
Gift cards cannot be reloaded or transferred
There is no expiration date on the gift card
Ways To Do a Weis Gift Card Balance Check
To do a balance check on your Weis gift card, you have three options:
At a Weis store
Over the phone

With DoNotPay
Check Your Gift Card Balance at a Weis Store
Check your balance at a Weis store by following these instructions:
Visit the website
Navigate to the menu and click on Stores
Find the store near you by entering your city, state, and ZIP code
Take your gift card to the store
Ask an employee to check the balance on the card
Perform a Balance Check Over the Phone
Here is how you can do a balance check over the phone:
Dial 1-866-999-9347
Press the extension number to speak to a customer support agent
Introduce yourself and provide your gift card's details
Ask the agent to check the leftover amount on your card
Let DoNotPay Do Your Weis Gift Card Balance Check
Use DoNotPay to check your gift card balance the easy way! Here's how it works:
Select the

Check Gift Card Balance

feature

Snap photos of your gift card from the front and back
Once you confirm your email address, we'll reach out to Weis and find out the exact amount you have left on your gift card.
You Found a Few Extra Dollars on Your Weis Gift Card—What Can You Do With It?
If you find a few extra dollars on your gift card, here are a few suggestions on what you can do with the remaining balance:
Method
Brief Explanation
Use the card
Get your gift card and go shopping! Don't fret if the gift card does not have enough balance to pay for your purchase. Use your credit card as an additional payment method
Sell it
Consider selling your gift card to a family member or a friend who loves shopping for groceries at Weis.

If your efforts to sell the card are in vain, try putting it up for sale on online marketplaces. Platforms like eBay and Craigslist can be good places for selling gift cards

Trade your gift card
If you're interested in trading your gift card instead of selling it, there are several online platforms where you can exchange your gift card for another one.

Beware of scammers who might try to give you a fake gift card or an empty one
Can You Return the Weis Gift Card for Cash?
Although Weis does not provide ample information about gift cards, they clearly state that you cannot return your gift card for cash unless required by law. This option is only available for Puerto Rico and 11 U.S. states, including:
California
Washington
Oregon
Massachusetts
Colorado
Maine
New Jersey
Missouri
Connecticut
Vermont
Rhode Island
What if we told you we could help you get your cash back even if you live in some other state? Sign up for our app and get your money back instantly!
DoNotPay Will Help You Exchange Your Gift Card for Cash in a Snap!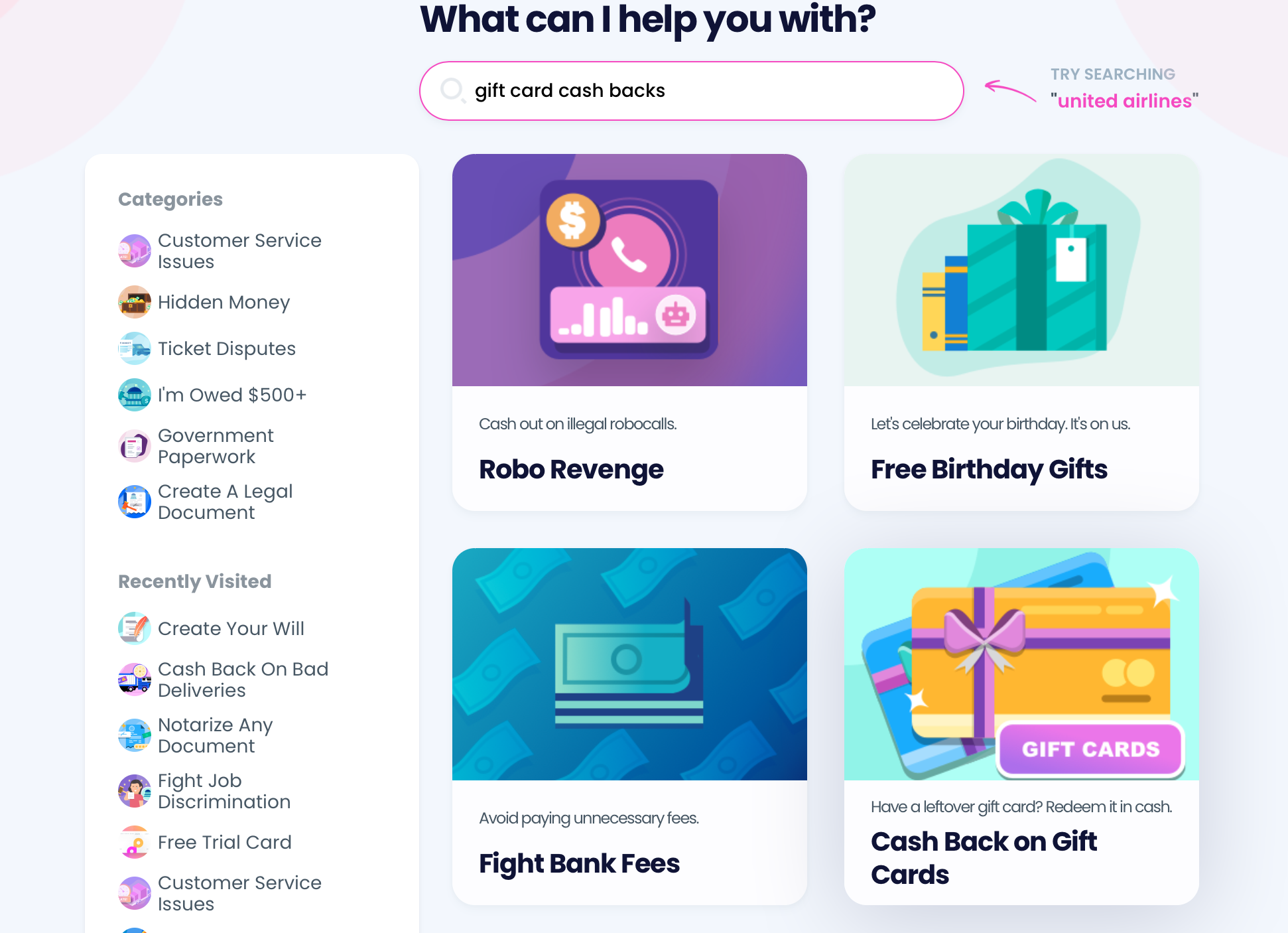 Customer support experience can sometimes be unpleasant if you're asking for cash back on a used gift card. Some employees won't provide you with the info you need, while others might not even know such a policy exists. Why waste hours on tiresome phone calls with customer support when you can use DoNotPay to do it for you?
All you need to do is follow these straightforward instructions:
from your web browser
Type Gift Card Cash Back in the search bar
Enter information about your gift card, including the company name, card number, and the leftover amount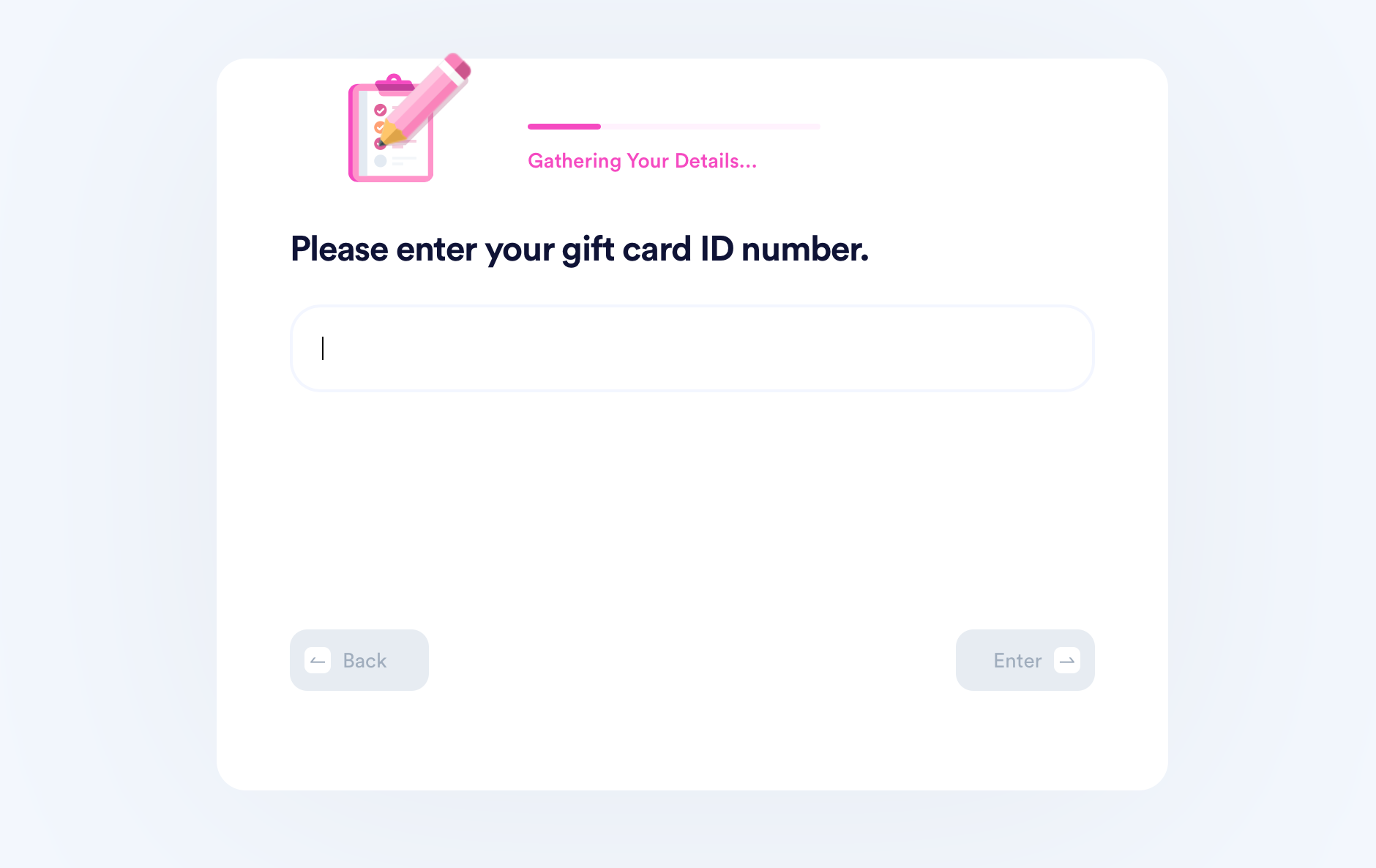 DoNotPay will compile the info and send a cash back request to the company on your behalf. Although the process only works for states with a cash back policy, we can help you even if your state is not one of those.
We will locate the company's office in a cash back state and forward the request there. You will receive your cash or check within 14 business days.
Keep in mind that every state has set a maximum limit on the money you can get from a used gift card—usually up to five dollars (ten in California). In case you have unused gift cards or your balance is higher than $10, you won't be able to get your money back using this method.
DoNotPay Provides Useful Info on Gift Cards of Other Companies
Do you have more used gift cards? DoNotPay can help you, regardless of the brand. Check out the table below for more options:
| | |
| --- | --- |
| Retailers | Restaurants and Coffee Shops |
| | |
DoNotPay Makes All Issues Go Away in Several Clicks
Using DoNotPay comes with plenty of advantages, the main one being that you can resolve just about anything in a matter of clicks. It doesn't get any easier than that!
Do you need to fax a document, draw up an agreement, submit a FOIA request, get a contract notarized, file a warranty or insurance claim, get a burner number, schedule a DMV appointment, or appeal a parking ticket as soon as possible? Sign up now and clear out your schedule because we'll handle it all!
Are you looking for your missing money? Do you need help with your utility bills or property taxes? We're here to help!
Get Rid of Paperwork With Your AI-Driven Assistant
Even though paperwork belongs in the past, we have to keep dealing with it almost daily. To avoid this annoyance, you can just use DoNotPay!
If you need to compose a demand letter to a rude neighbor, submit a claim for a late or missing package, request compensation from an airline, or sue any company in small claims court, we have your back!
All you need to do is sign up, tell us what you need, and resolve any issue in a matter of minutes!