Breaking Down the Samsung Return Policy
Were you waiting impatiently for your Samsung gadget to arrive, only to realize the company shipped you the wrong product or—even worse—a damaged one? Our guide offers a solution for all unfortunate Samsung deliveries!
Learn how the Samsung return policy works and write a return request letter to get your money back!
What Is Samsung's Return Policy?
Upon receiving a Samsung product, you have 15 days to return it—this does not apply to POWERBots and vacuums, which have a 30-day return deadline.
The company only accepts returns for products ordered via the website or app. Samsung doesn't offer exchanges—only returns.
Samsung also won't accept returns sent after the return deadline, so make sure you send your request in a timely manner.
You need to include all accompanying manuals and accessories you received—such as chargers and earphones—to receive a full refund.
Do I Need To Return Promotional Material That I Got With My Samsung Product?
If your Samsung product arrived with any free promotional material—such as memory cards or phone cases—your return package must contain everything you originally received to get a full refund.
You can keep the promotional material, but the company will deduct your refund by the value of the kept items.
How To Send a Return Request to Samsung
If you receive a wrong or defective product, you can return it:
At a Samsung Experience store
By mail
Return Your Samsung Items at a Samsung Experience Store
Before you initiate a return request, prepare the following:
The product you received
All accessories, such as the charger, earphones, SD, and SIM slot opener
Any proof of purchase
A valid, government-issued photo ID
Payment method information—like your card number
Pack everything neatly, visit your nearest Samsung Experience store, and follow these steps:
Ask a staff member to initiate your return request
Hand them the product and everything else you prepared beforehand
Wait for the staff member to process your request, and you're good to go!
Return Your Samsung Products by Mail
To return your items to Samsung by mail:
Visit the My Orders page
Click on RETURN next to the faulty product
Print the shipping label and stick it on your package so you don't pay any shipping fees
Pack and ship the item with all its accessories, and don't forget to include the Return Authorization slip
Take your package to your nearest FedEx within 15 days of submitting your request
You can track your return by using the tracking number on the return label.
When Will Samsung Refund My Return?
Samsung will process your return within five days. If the company accepts your request, it will refund you to the original payment method you used during the purchase within five to ten days. It might take another day or two for your bank to process the refund.
If you use Samsung Reward Points when placing an order, the company will refund them within five days if it accepts your return request.
Circumstances Under Which Samsung Won't Accept Your Return
Samsung won't accept your return in the following situations:
You damaged your product
The product features software not native to Samsung
You returned a different product instead of the one you ordered
DoNotPay Can Request a Return From Samsung for You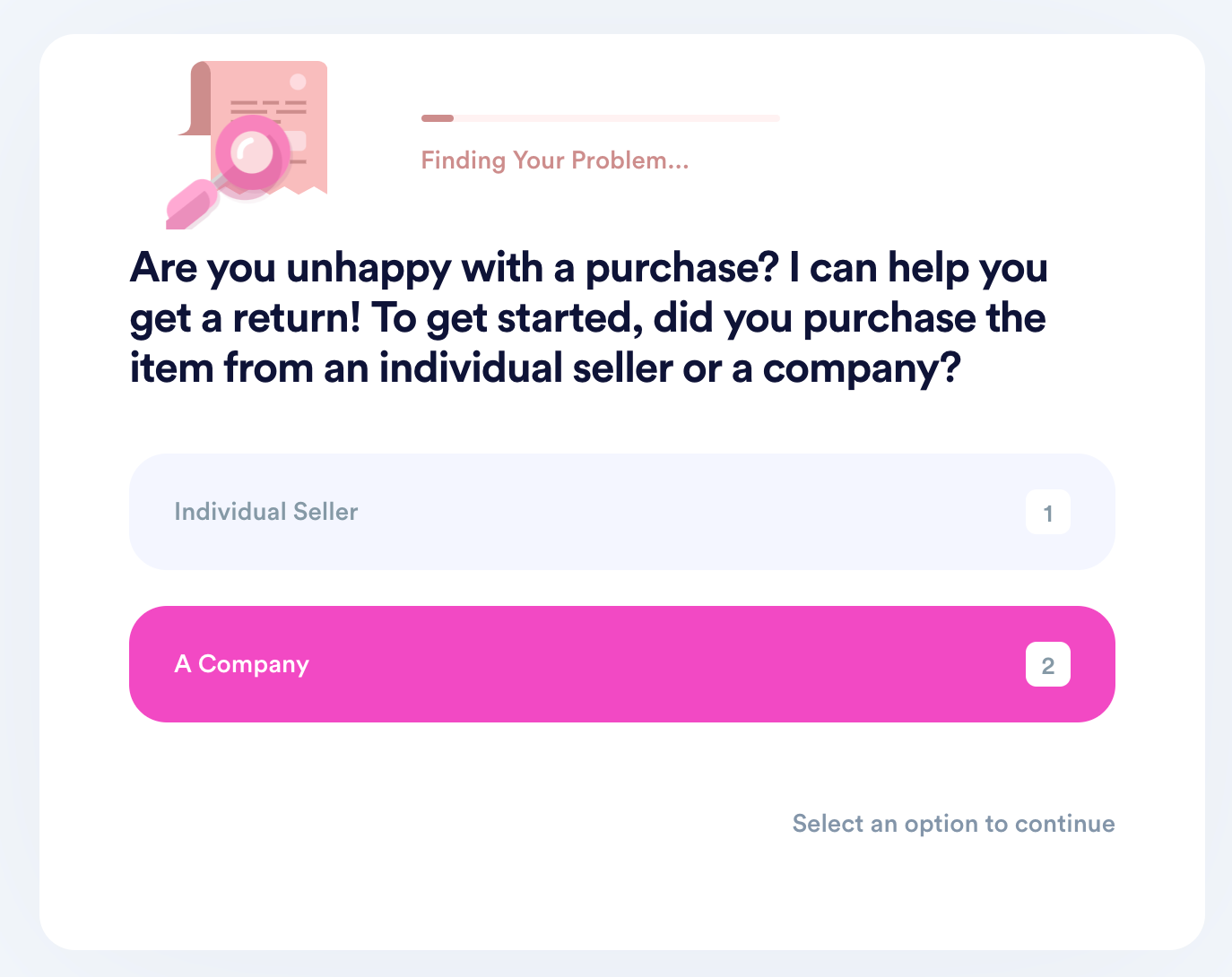 DoNotPay is a pocket-sized assistant that can help you with many tasks, like initiating a return request from the comfort of your home. Our Item Return Request product ensures that the company processes your request as soon as possible by adding a due date to your letter.
To return your items using DoNotPay, follow these steps:
Select our Item Return Request feature
Answer a few quick questions about your order and provide evidence if the product came damaged
Submit your request
DoNotPay sends a custom return request letter to Samsung with all the information you provided. If you're returning your items by mail, we offer a free shipping label as well.
Our learning center offers complete guides for a variety of issues our app covers. Check out some of the return policies from other companies we explained:

Demand a Refund for Your Samsung Product in a Flash With DoNotPay
DoNotPay is a jack of all trades when it comes to making your life trouble-free. We have a product that will help you get your money back in a snap. Use DoNotPay to request a refund from Samsung once you and complete the following these steps:
Select the File a Chargeback option
Click on Get Protected
Answer a few questions regarding your refund
Click Sign and Submit
DoNotPay can also help you demand refunds from the following companies:
Is the Company Refusing To Cooperate? We Can Help You Get Justice
Is whatever company you're dealing with not being a good sport? Don't worry—the world's first robot lawyer is here to help. Our app can prepare all the necessary paperwork and provide guidance if you want to sue the company in small claims court.
We can also help you draw up any legal document you need for the case, have it notarized by an online notary, and fax it to anyone in a matter of minutes.
If you want to get revenge on tiresome robocalls or report a stalker or harasser, you can rely on DoNotPay.
Anything Else We Can Do for You?
Our AI-powered app is versatile—you can complete many tiresome, daunting tasks that you wouldn't want to tackle by yourself. You can use DoNotPay to:
If you want to get access to all of our nifty products, sign up now!