Here Is a Sample Letter to the Employer for Sick Leave
What happens if you fall ill and can't make it to work? Every company maintains its own policies on sick leave procedures. While in most companies you can call in sick by phone, it's a good idea to send a formal letter. An official letter ensures that your employer has a record of the days you will be absent.
This guide will provide you with a sample letter to the employer for sick leave, but you can always skip the hard work and create the letter for you within a few minutes.
Sick Leave Laws
Before composing and sending your leave request letter, you should double-check the following:
Sick Leave Laws
Explanation
Applicable state and federal laws
You may be eligible for sick leave based on:

The Emergency Paid Sick Leave Act (EPSLA) if you are diagnosed with COVID-19
The Family and Medical Leave Act (FMLA) if you work for an eligible company—typically, one with 50 or more employees
City or state laws (if there are any)

Company's policies
Your employer can require additional details if you intend to take more than three days of sick leave, such as:
Sick Leave Laws Across Different States
While not every state has unpaid or paid sick leave laws, some do. Understanding the applicable laws can help you write an effective letter.
Check the table below for information about paid sick leave laws in the following states:
A Sample Letter to the Employer for Sick Leave
When writing a sick leave request letter to the manager, keep the following in mind:
Send the letter as soon as possible
Don't disclose all the details of your illness
State what days you won't come to work clearly
Apologize for the work-related inconveniences you'll cause
Promise to be at your best when you resume working
Here is a sick leave request sample letter that you can send to your employer:
Dear [name of the supervisor],
I'm writing to inform you that I need to take sick leave from October 12 through 25 because of severe back pain. My physician recommended that I take this time off to rest and recover. I have enclosed the doctor's note with this letter. I apologize for the inconveniences that my absence will cause and look forward to returning to the office upon recovery. I will complete any pending projects from home whenever possible and do my best to catch up when I get back to work.
Please inform me if there is any other additional document that you may require in regards to my sick leave.
Thank you for your consideration in this matter.
[Your name/signature]
Get the Best Sick Leave Letter in a Few Minutes Using DoNotPay
Don't waste time trying to come up with the right phrasing and finding the applicable state laws to call upon! You might end up being too late to inform your employer of your leave and risk being forced to work when sick or even getting fired.
DoNotPay can help you avoid those problems, check the applicable laws, and create a personalized sick leave letter for you in less than five minutes.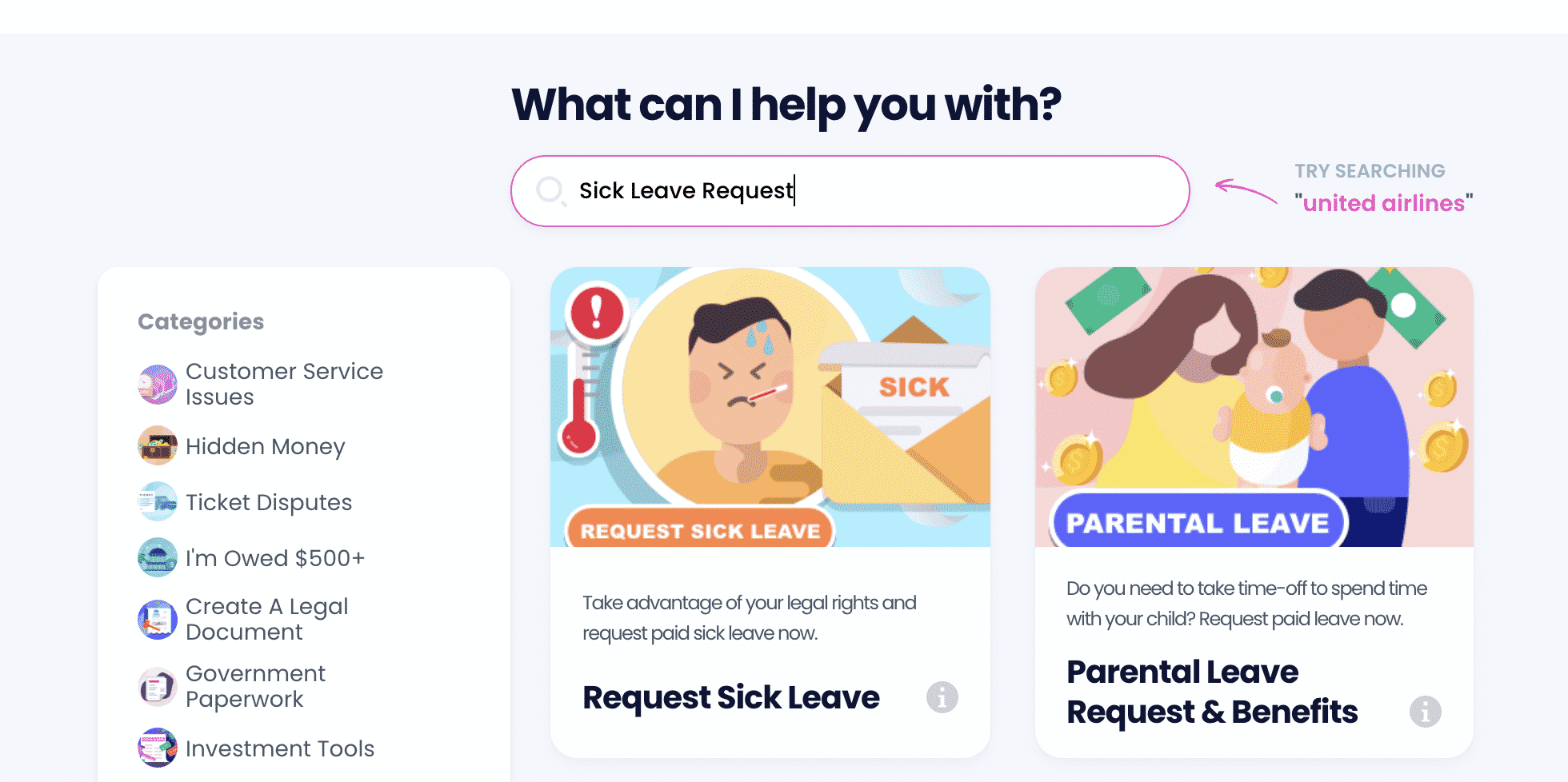 All you need to do is and:
Search for the Request Sick Leave tool
Type the name of the state where you work
Enter the dates you will be absent
Select if you want DoNotPay to:

Forward the request letter to your employer directly
Send it to your personal email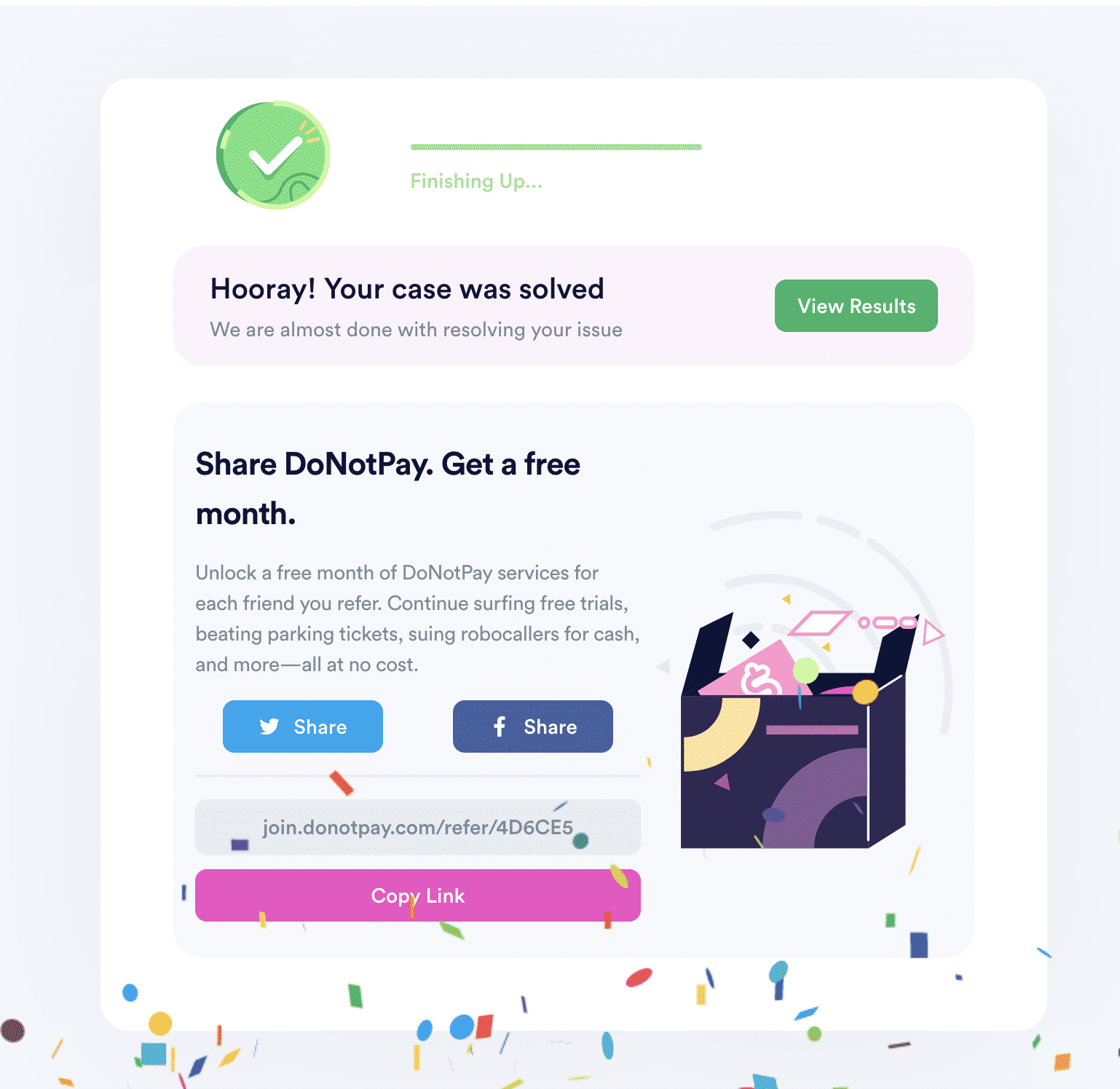 Has Your Employer Wronged You? Sue Them in Small Claims Court With DoNotPay
If you are sick at work and your employer denies you sick leave or fires you unlawfully, you can sue them using DoNotPay's Small Claims Court tool. DoNotPay will help you:
Create a demand letter
Initiate a lawsuit
Collect the necessary paperwork
Create an argument script that you can use in court
How Can DoNotPay Tackle Tricky Tasks for You?
Using DoNotPay is like having a magic wand that helps you with the assignments you are too busy or bored to do. Here are some procedures we can simplify for you:
Submitting error-free tourist visa applications
Keeping in Touch Is Simple With Our App
Are you having trouble communicating with your loved ones in jail? Our app features a tool that enables you to send letters to inmates from any device! We can help you get in touch with a notary public who can notarize your legal documents virtually or reach out to embassies and consulates or government reps. Reaching customer care centers also gets much simpler with DoNotPay by your side as you can skip phone queues the easy way.
We can help you avoid unwanted communication by stopping persistent robocalls and text or email spam. All you need to do is sign up for our services!