Got Your Reddit Account Suspended? Suspicious Activity Doubts Vanish With DoNotPay
Was your Reddit account suspended? Suspicious activity is the reason behind numerous account restrictions in recent years.
If you're wondering if you can appeal this suspension—there is a chance, but you can get sidetracked by waiting for Reddit support's response.
DoNotPay provides you with the help you need to simplify the process of Reddit suspension or ban removal regardless of the cause behind the restriction.
to gain access to our Unban My Account feature that enables you to get back to your account straight away.
What's Behind Suspicious Activity Suspensions on Reddit?
A few years back, there was a massive suspension of Reddit accounts, and numerous users found their accounts locked suddenly. The explanation from the platform's support staff was that most of these restrictions were safety precautions since their security system detected unauthorized logins.
Suspended users got more detailed clarification in the emails notifying them of the lock put on their account. These messages assured users there was no security breach on Reddit but that some other platforms had security issues. They further say that these hacker attacks on other platforms may have exposed Reddit users' login data in case they used the same passwords across platforms.
Other possible triggers for this sort of suspension are using a VPN or frequent traveling and logging in from different locations.
Reddit Community Reactions to Suspicious Activity-Related Locks
Many Reddit users didn't find the explanation from the platform satisfying since Reddit claimed their authentication system is too strong to be hacked.
Users also didn't find any suspicious posts, activities, or logins that would suggest that anyone other than themselves meddled with their accounts. Only a small group of users admitted to having weak or reused passwords and reported weird sign-ins from locations on opposite sides of the world.
Off-the-Record Explanations From Users
Redditors aren't convinced that serious security threats are the only reason for the frequent suspensions. Some users believe that the platform is attempting to get rid of spammers and manipulative posts.
This is supposedly why the platform's algorithm will flag any account with an activity that remotely resembles a bot's.
How To Unlock a Reddit Account Suspended Due to Suspicious Activity
You've received an email from Reddit saying that your account has been suspended and locked as a security measure since they detected suspicious activity on it? Here is how to unlock it:
Go to the platform's password reset page—You need to do this from a PC
Change the password—Make sure that the new password is strong
Wait until you regain access to your account
Go to your account activity page
Check for strange activities and IP addresses from which your account was logged in
Log out of all sessions you don't recognize
Revoke access from any app you haven't authorized
This way, you'll protect your account from the consequences of any security breach that may have happened. For stronger account safety, you can set a two-factor authentication login.
Reddit Suspended Your Account Due to Suspicious Activity? Fix It in a Split Second With DoNotPay!
In case your unlocking attempts fail, you may be facing a different issue, such as a ban from Reddit. If you get permanently banned, you don't have to go through the appeal form on the platform and wait frustratingly long for a response from Reddit admins.
, and let us help you get unbanned or unsuspended. We'll have your complaint letter written and sent in a matter of minutes.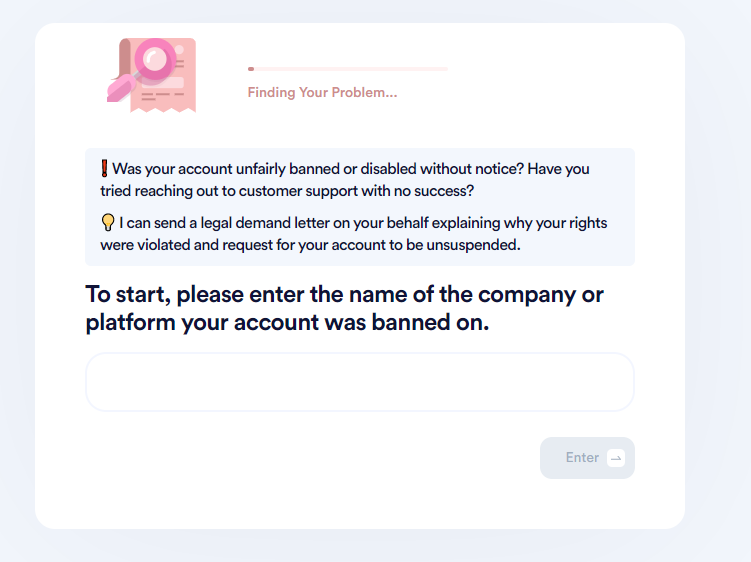 Here's how the process goes:
Give us the name of the platform that restricted your account
Enter the details of your account, such as:

Account ID
Email that you used to create the account
The date when you lost the access

Tell us if you feel like you are being discriminated against based on your gender, race, religion, etc.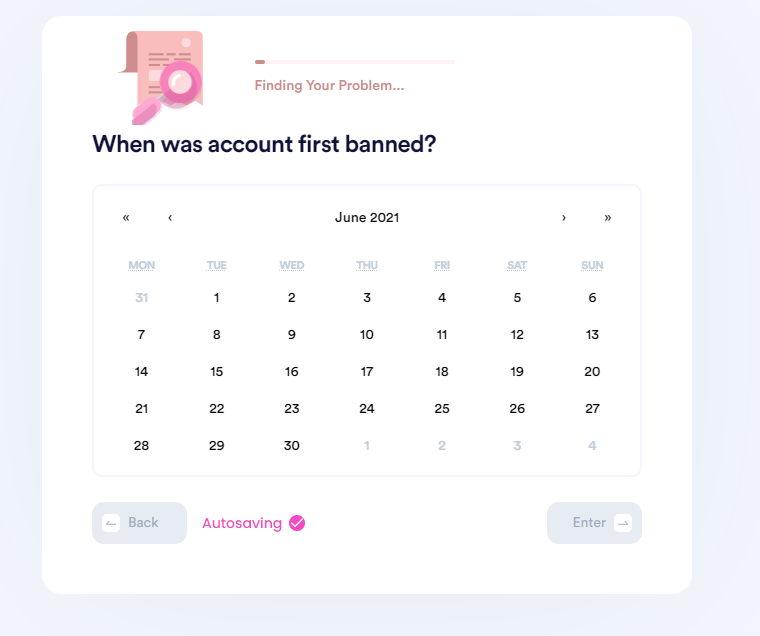 Our app will use this information to create an original unsuspension demand for you and send it to Reddit. The letter will include a two-week reply deadline for the platform's support team. This way, we'll drive them to prioritize your case and give you feedback in the shortest possible period.
DoNotPay is also here if you have login issues on other social platforms, including:
Count On DoNotPay To Get You Unbanned on a Variety of Platforms
Social media are among the most popular platforms today, but there are other web-based services that can ban or suspend your account. Various service, emailing, and streaming platforms are also covered by our Unban My Account feature.
Take a look at the table below to get an idea of the scope of our service:
Another tool that DoNotPay offers is Unban Gaming Account—it helps you recover your access to numerous online games, such as:
DoNotPay Is Committed to Solving All Kinds of Problems for You
Are you lost in the sea of administrative tasks? By subscribing to DoNotPay, you gain access to many products and features that can assist you in:
Check Out What Our Robot Lawyer Can Do for You
Not too skilled at drafting contracts and agreements? Keep calm and let DoNotPay, your virtual assistant, do it for you! Our app can generate various legal documents, including divorce settlement agreements, child travel consent forms, and powers of attorney. All it takes is to click a few times or answer several quick questions—we do all the rest!
Besides providing personalized documents, DoNotPay takes over other tiresome legal tasks. These include having your documents notarized, filing lawsuits in small claims court, requesting crime victims' compensation, or submitting HR complaints.