A Quick Fix if Your Account Has Been Permanently Suspended From Reddit
Your account has been permanently suspended from Reddit? You can't access your favorite subreddit? Don't worry—this issue is solvable thanks to the platform's change in suspension policy from a few years back.
Account suspensions are now transparent, and you should receive a clear notification about the suspension duration and reason. Even if you don't get a detailed explanation, you can appeal your suspension via the platform. Bear in mind that this process might take some time since your appeal can get sidelined by the sea of other complaints.
for smoother and faster suspension complaints. Our app creates and sends your complaint letters, and you only need to answer a few questions.
Why Was Your Reddit Account Permanently Suspended?
If your Reddit account is suspended, there is a chance you have done something that counts as a violation of the platform's Content Policy. You will be suspended even if you made a mistake unknowingly. The suspension period will vary depending on the severity of the infraction—permanent suspensions are a penalty for severe or repeated policy violations.
Check out the list below for the rules to follow to avoid future Reddit issues:
Keep in mind that all participants are human—You should refrain from attacking any user, especially vulnerable or marginalized groups. The platform prohibits any form of harassment, threats, bullying, or violence, and any user or community that promotes hate or violence based on vulnerability or identity will be banned from Reddit
Respect the rules of the community—Your content should be authentic, and you should share it with the communities that would consider it relevant. Don't cheat in any way or manipulate the content, and this includes:

Manipulating the votes
Spamming
Evading bans
Subscriber fraud

Don't violate anyone's privacy—You will be banned from the platform if you post or threaten to post other people's intimate or sexually explicit photos/videos if they don't agree to it. The same applies to posting others' confidential information.
Don't post sexually explicit or suggestive content involving minors
Refrain from impersonating other people or entities
Use content labels correctly—This is especially important with offensive or graphic content
Refrain from illegal activities or posting illegal content
Don't interfere with the platform's proper functioning
How To Solve a Permanent Suspension From Reddit
When your account is permanently suspended, you can still appeal this restriction directly through the platform. Here is how to do it:
Log in to your suspended account
Go to the appeals page
Fill out your appeal—Explain that you believe you are innocent and ask for your suspension to be lifted. Make sure you are polite and calm in your explanation
Submit the appeal
Another way to file an appeal is convenient for those users who can't even log in, though this shouldn't be the case even with permanently suspended accounts. Check out how you can do it:
Go to the Reddit Help Center
Click Contact Us in the upper right corner
Go to the new page that will open
Choose Account Issues under What do you need assistance with?
Select Account status under What type of account issues are occurring?
Choose My account has been wrongly suspended in the menu that opens
Fill out the rest of the form
Submit the request
Whichever way of contacting the support you choose, you will have to wait indefinitely for a response or unban. There is a more efficient way to go about this problem—go to DoNotPay.
Permanently Suspended From Reddit? DoNotPay Lifts Suspensions in the Blink of an Eye!
Account issues are super frustrating, especially when you are fairly certain you got caught up in an algorithm glitch, and it got you permanently suspended by mistake.
DoNotPay's Unban My Account tool helps you file a complaint and get quick feedback in a few clicks. , and we will facilitate your whole complaint process.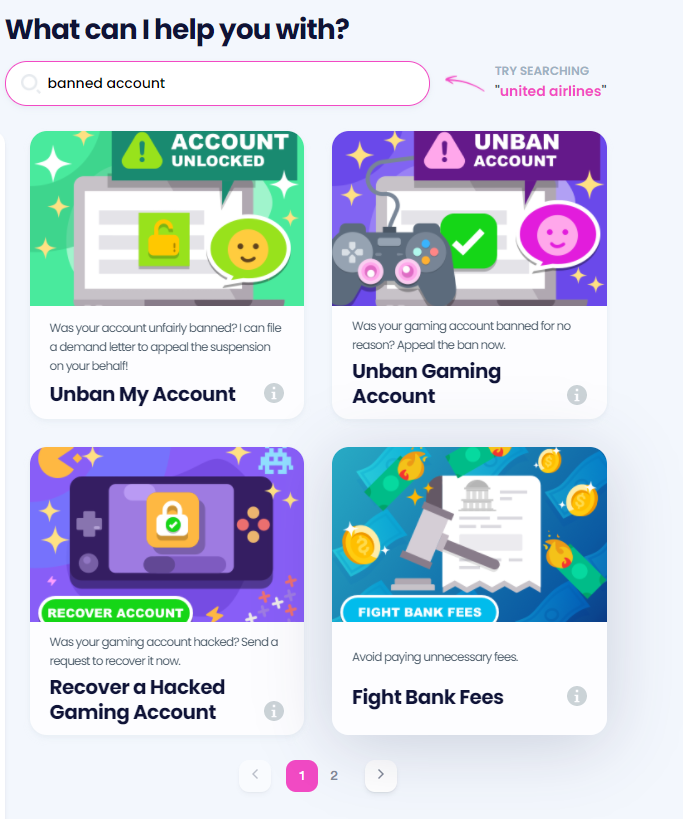 Here is how it works:
Fill out the name of the platform where you are suspended
Provide a few details about your account:

Email connected to your account
Account ID
The date when your account got suspended

Tell us about any of your concerns regarding being discriminated against based on gender, religion, race, color, etc.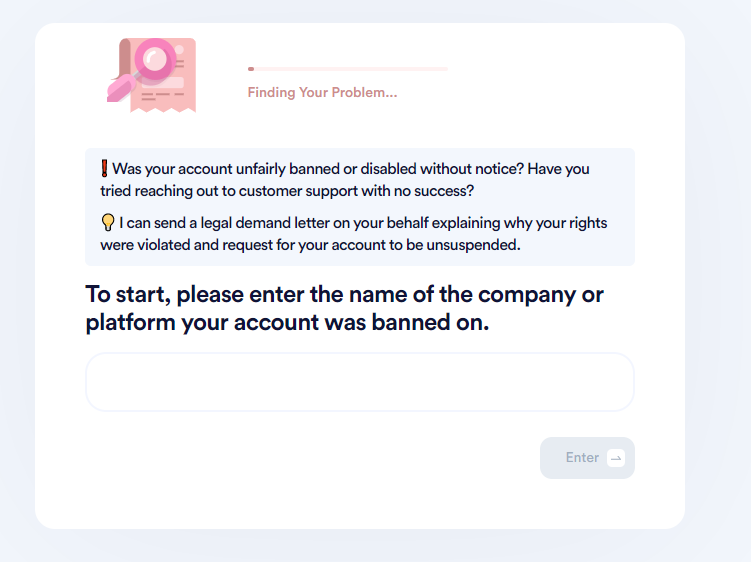 We will incorporate the data that you give us into your personalized complaint letter and send the letter to Reddit with a two-week response deadline. This way, we will drive Reddit's support team to take your case seriously and make it their priority to reply quickly and thoroughly.
Other social platforms that DoNotPay can help you get unbanned from are:
DoNotPay Lends a Helping Hand With Login Issues on Other Platforms
Social platforms aren't the only focus of DoNotPay's Unban My Account feature. We cover streaming, shopping, and emailing services as well. Our app also offers a tool called Unban Gaming Account that gets you back to your favorite games in a flash.
Take a look at some examples of the unbanning services we provide:
Managing Everyday Tasks With DoNotPay Is a Breeze
Completing mundane tasks doesn't have to be a nightmare! With our help, you can relax and finish them in a few taps! All you need to do is register for DoNotPay and let us help you with:
Have Your Documents Drafted and Notarized With Our Help!
If you need to draft a legal document, such as a divorce settlement agreement, power of attorney, or a child consent form, hiring a lawyer to assist you is probably the first thing that comes to mind. What if we told you that spending hundreds of dollars on services is unnecessary? Not only can DoNotPay draft contracts and agreements in a few minutes, but it is also your most affordable and effortless option!
The benefits our app provides don't stop there! After we generate your document, we'll connect you with a remote notary and show you how to get it notarized online without leaving the comfort of your home! You can even fax the document online and skip dealing with outdated fax machines.