Issues With a Twitch Account?—Banned and Suspended Accounts Appealed in a Flash via DoNotPay!
Was your Twitch account banned for no reason? Maybe you broke some rules unknowingly? If so, read on for a few pieces of advice that may come in useful.
Having any of your accounts suspended or banned is always frustrating. When you earn a decent living through it, then it becomes a serious problem.
You can appeal your suspension by turning to Twitch customer support for help, but with hundreds of different complaints coming in every day, they probably won't be able to reply for some time.
—we'll build a strong case for you and push your complaint among the top priorities of Twitch's support team. You'll have your reply in the blink of an eye!
Why Was My Twitch Account Banned?
It's not unusual for streaming platforms to penalize off-site behavior by suspending or banning accounts. For example, you can have your YouTube account suspended for "behavior harmful to the ecosystem," and Twitch is no different in this respect.
Besides this slightly peculiar ban motive, numerous on-site activities can get your account restricted. Twitch has recently banned several accounts of popular streamers based on different, slightly controversial reasons. One of them was even banned for making fun of himself.
This platform is among those with the strictest Community Guidelines and Terms of Service.
The violation of the following rules can get you some sort of penalty:
Breaking the law
Suspension evasion
Self-destructive behavior
Violence and threats
Hateful conduct and harassment
Unauthorized sharing of private information
Impersonation
Spam, scams, and other malicious conduct
Nudity, pornography, and other sexual content
Extreme violence, gore, and other obscene conduct
Content labeling
Cheating in online games that you're streaming
Streaming closed alphas/betas and pre-release games
Unlawful off-service conduct
How Can You Get Unbanned From Twitch?
You have the right to appeal the suspension of your account on Twitch only if you've been suspended temporarily, i.e., for a period of 30 days or shorter. To initiate the appeal process, you need to:
Google Twitch support
Follow the first link to their Contact Us page
Fill out the top part of the form with your login data and click Login (even if your account is suspended)
Select Account/Login Issues under Category
Choose Suspension under Sub Category
Fill out the Subject line
List the reasons why you think your suspension is unjustified In the Description field
Select the platform where you had issues
Upload any files you want to share with them as a proof
Click Submit
Check your email for an auto-response from Twitch about your complaint submission
Once their complaints department has finished reviewing your complaint, you will receive a reply about the outcome of the process in an email.
If your offenses were severe, your account will be suspended for an indefinite period. You won't be entitled to an appeal, but you can delete your banned account if you want or cancel your subscription altogether.
Twitch Account Suspended or Banned? Accelerate the Processing of Your Appeal With DoNotPay's Specialized Tool!
The Twitch support website states that the complaints are reviewed in the order they were received. This may be logical, but it also means that you can get stuck waiting for the resolution of your problem for weeks.
If you're wondering how to get unbanned without waiting for a frustratingly long time, the answer is—.
Our tool, called Unban My Account, composes and submits a personalized complaint letter to Twitch. You need to provide several details about your account and click Submit.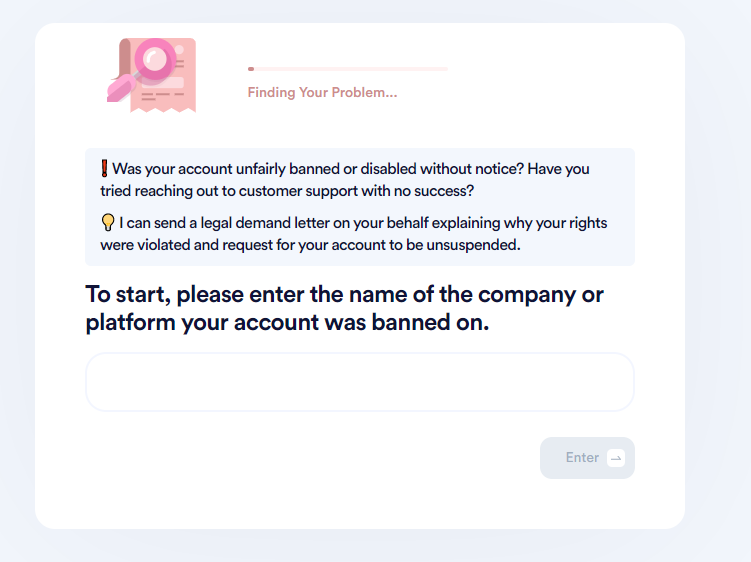 Here is the whole process:
Type in the name of the company that banned your account
Fill out your account details (ID, email you used, phone number you associated with the account) and tell us if you want a refund
Enter the date when the problems started
Let us know if you believe you are being discriminated against in any way (race, nationality, religion, gender, etc.)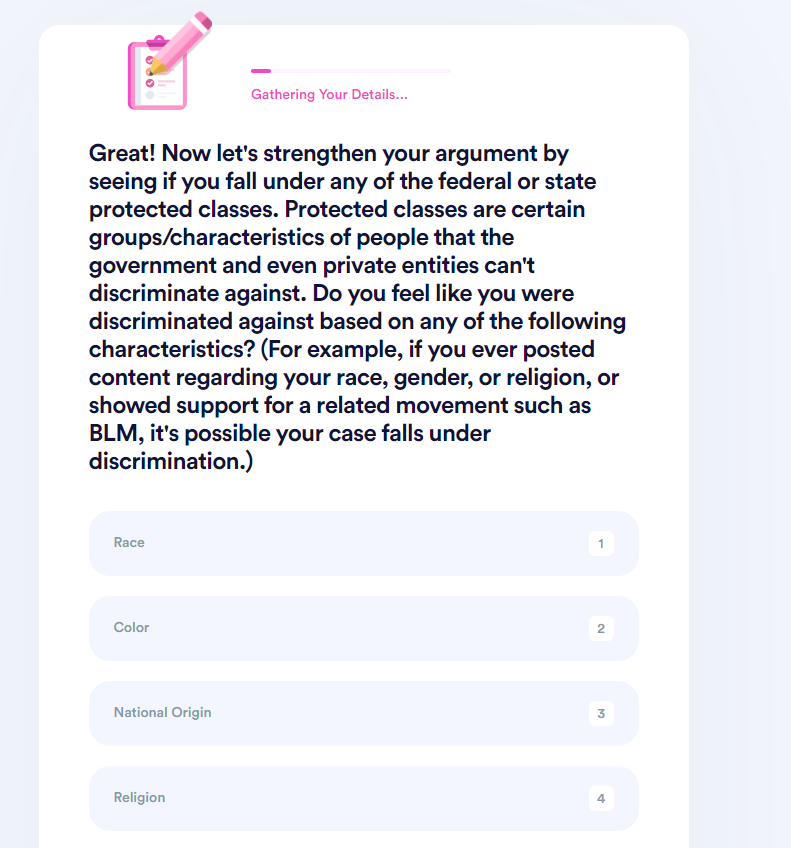 The complaint letter created through our app is designed to put legal pressure on the Twitch complaints department. It urges them to take your letter seriously and prioritize it among thousands of others.
We also make sure they understand how long you will wait before taking the next step—the default deadline we give to all platforms is two weeks. If you don't receive a reply within this period, you can take your case to small claims court.
Besides Twitch, our app assists you with suspension problems on other streaming services, such as Roku.
DoNotPay's Service Portfolio Includes Restoring Access to Social Media and Game Accounts
Unban My Account doesn't only help with streaming services. We also cover the majority of social media, shopping, and different other service platforms.
Check out some of the services we can help you unban:
Unban Gaming Account—another one of our tools—has your back if you get suspended or banned from the games you are streaming, including:
Discover the Entire Spectrum of Our Features
A click or two will be enough to discover the amazing universe of DoNotPay's tools and products. Our app is here to show you the best way to get:
Financial Issues? Let DoNotPay Take Care of Them!
DoNotPay can track down your unclaimed money, submit insurance claims, or request compensation for delayed flights on your behalf. This way, you can save some money and get what you're owed. Our app can also make it easier for you to lower your utility bills, cancel active subscriptions and stop further charges, or appeal parking tickets.