eBay Account Suspended—Learn What You Can Do About It
Having your eBay account suspended after years of using the platform can be frustrating. If you are used to getting the best prices on eBay as a buyer or making a living as a seller, the suspension message can be harrowing to read. You have a lot to lose every minute you are locked out of the platform, so you need to recover your account as fast as possible.
This guide will walk you through all the necessary information and show you how to appeal your account suspension.
Why Was My eBay Account Suspended or Restricted?
eBay has a set of user policies that seek to protect its community, and any violations may result in a restricted or suspended account. When a violation is registered, eBay will send an email and a platform notification explaining why your account was restricted or suspended and the options available to you.
Here are the common reasons why eBay may hold, restrict, or suspend your account:
Having outstanding seller fees
Owing eBay reimbursements for refunds made to your customer
Violating eBay terms and conditions
Having unverified account details
Lacking updated payment method
Your eBay Account Has Been Suspended—The Consequences
Depending on the reason, your account may be held, restricted, or suspended. A restriction prevents you from performing specific activities, while a suspension means you will not be able to use the platform in any way, for instance:
Bidding, purchasing, or selling
Providing items feedback
Creating new or revising existing listings
Contacting bidders
Responding to your eBay messages
What You Need To Do To Have Your Account Reinstated
Regardless of the reason why your eBay account got suspended, you should try to recover it as fast as possible to maintain the benefits you get from the platform. Here's how you can get unbanned from eBay:
Resolve the stated issue
Contact eBay via email
Resolve the Stated Issue
Getting your account reinstated depends on why eBay suspended it in the first place. If you want your eBay suspended account reinstated, you have to carefully read the email sent to you about account suspension and note what you are required to do.
For instance, if your account was suspended due to outstanding seller fees, all you have to do is make the payment, and your account will be reinstated when eBay receives the funds.
For a blocked account, you may have to confirm your identity by providing personal details or go through the merchandise verification process. In that case, check the required documents and follow the instructions provided to verify your personal information.
Contact eBay via Email
You can send an email to eBay for more information on why your account is blocked and show that you are apologetic and willing to follow the rules. It's good to check out the eBay policies, especially the parts associated with your account suspension. For a professional and effective email request, consider doing the following:
Gather the personal information linked with your eBay account
Prepare the questions you may want to ask about your account suspension
Create an explanation that you can share with the customer support about what went wrong and the changes you will make to serve customers better and abide by eBay's policies
To contact eBay via email, follow these steps:
Visit their Customer Service page
Click on Email us
Sign in to your eBay account on the new page and follow the onscreen instructions
You should receive a reply from eBay within 24 hours.
First eBay account suspensions for policy violations are usually temporary, but continually violating the same rules may cause eBay permanent suspension.
How DoNotPay Can Help You Appeal Your Suspended eBay Account
If you don't understand eBay's initial explanation, you may feel like you are being punished for no reason and act out of frustration. Your first approach to appeal your account matters because you may not get another chance if your first appeal is rejected. DoNotPay can help you make an appeal that eBay will prioritize and take seriously.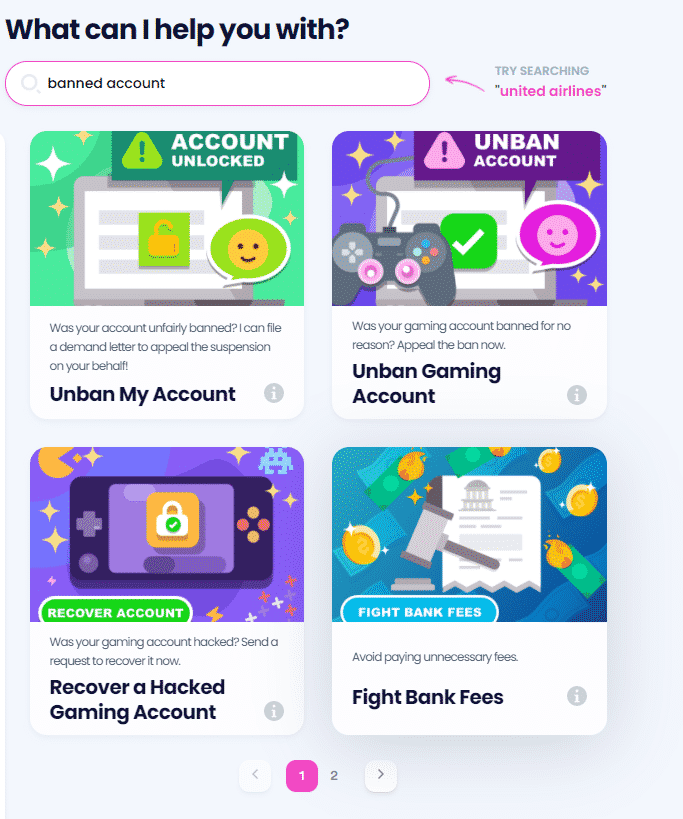 Our app can help you get around eBay suspension—all you have to do is:
Find the Unban My Account feature
Answer a few questions related to your eBay account
Tap Sign and Submit
DoNotPay will create a demand letter and immediately send it to eBay on your behalf. The letter will give the company a two-week deadline to respond to your appeal. Our app can only appeal your original restriction or suspension, not eBay's final decision. If you made an appeal and eBay responded, their decision is final.
DoNotPay Can Help You Recover Your Accounts on Other Platforms
Are you banned or suspended from other platforms? DoNotPay has a solution for you. All you have to do is sign up for DoNotPay, and you will have access to the Unban My Account product to help you appeal any suspension or ban anytime.
Explore how you can get unbanned from other platforms using our simplified guides below:
Need Legal Assistance? DoNotPay Got You Covered!
Forget about getting a migraine every time there is an administrative task to handle. DoNotPay makes it easy and stress-free to deal with any bureaucratic issue that comes your way.
Not only can we assist you in drafting a legal document and getting it notarized, but we also help you:
Finishing Your Daily Errands Has Never Been Easier!
Looking for help with running errands? You don't have to spend hours trying to make a DMV appointment or contacting a customer service rep! Completing your day-to-day tasks stops being a burden once DoNotPay gets involved.
There is no shortage of errands we'll help you run for a small subscription fee, including:
Sign up for DoNotPay and avoid spending hours on simple daily tasks that can be done in a jiffy!