Is Your Google AdWords Account Suspended? Learn How To Fix It
If you have used Google AdWords, now called Google Ads, and are happy with the results, having your account suspended can be costly and frustrating. The suspension notification is usually vague, which means you may not be aware of the action that caused your suspension, and your appeal may not be successful.
DoNotPay will walk you through all the essential Google policy details and the appeal process to help you if you get your Google AdWords account suspended.
What Happens When You Get Your Google AdWords Account Suspended
When your advertiser account is suspended, you will receive an email and in-account alert. Here is what you should know about what happens when your account is suspended:
You can't access your suspended account, including any related reports
Google stops running your ads
Other accounts linked to the suspended account will most likely be suspended as well
Merchant Center accounts associated with the account will be suspended
Any new accounts you create may also be suspended
Reasons for Google AdWords Accounts Suspension
Google maintains strict user policies to create positive experiences for its users and partners. If it detects any actions that violate the guidelines, Google will suspend the responsible advertiser account.
Google organizes violations that can lead to a suspension into the following categories:
Egregious violations—policy violations that can get an account suspended instantly and without previous warnings
Other policy violations—violations for which the account user receives a warning seven days before suspension with details of the violation. The warning also includes instructions on what the user should do to comply with Google policies
Non-policy violations
Egregious Violations
These are the most serious violations of Google policies. Here is a summary of the action that result in immediate suspensions:
Egregious Violation
Examples
Circumventing systems—getting involved in activities that disrupt Google's ad systems and operations

Displaying varying content to specific users and not others or interfering with Google's review systems—cloaking
Repeating same violations using any of your accounts
Providing incorrect details in Google verification programs
Misusing Google Ads products to display non-compliant content
Creating new accounts after suspension
Attempting to bypass enforcement mechanisms and protection by creating variations of ads

Coordinated deceptive practices

Coordinating with other sites or accounts and hiding your identity or other important information when your content is linked to matters of public importance, social issues, or politics

Counterfeit goods

Advertising products with fake brand names and logos

Unauthorized pharmacies

Providing prescription drugs without requesting a prescription
Targeting areas where you don't have a license to operate

Unacceptable business practices—engaging in scamming strategies by not being direct about your products or services

Impersonating other brands through content or in customer interactions
Running a business that can't deliver the advertised products or services and taking customers details or money
Fake promotion of services that are dangerous to the user's health, life, or safety
Employing phishing strategies to obtain user information

Trade sanctions violation—engaging in activities that don't follow sanction and export rules, including those managed by OFAC

Running ads on behalf of businesses located in embargoed countries
Creating and using a Google Ads account when you are restricted
Non-Policy Violations
The common non-policy reasons that can lead to receiving a "Google Ads account suspended" alert include:
Violation of Google's age requirements—when evaluating a user's age, Google uses the age entered when creating the Google account linked to your ad account
Failure to obey the Google Ad Grants policy
Unauthorized access to your Google Ads account
Billing and payment issues, such as requesting a chargeback on valid Google transactions or selling promotional codes
How To Have Your AdWords Suspended Account Reinstated
Google allows users to resolve their suspension issues in the following ways:
Using the troubleshooter in case of non-policy violations
Submitting appeals
Resolve Non-Policy Account Suspensions
To fix an account suspended due to non-policy violations, you need to use the Google account troubleshooter. All you need to do is visit the troubleshooter tool page, and it will automatically detect your account, examine the suspension, and advise on the next steps required to fix your suspended account.
Appeal Suspensions Due to Policy Violations
For policy violations, users are alerted that they won't be permitted to advertise with Google Ads again. Still, they are allowed to appeal the suspension if they believe they didn't violate the policy. For the suspension to be lifted, the user must provide a clear and correct explanation.
To submit your appeal, follow these steps:
Open the Appeal form page
Enter the required information
Click on Submit
Google will review your appeal and send you an email with the results when the request is processed. If your appeal is denied, you are allowed to re-appeal using the same process.
Google AdWords Account Suspended—Solutions by DoNotPay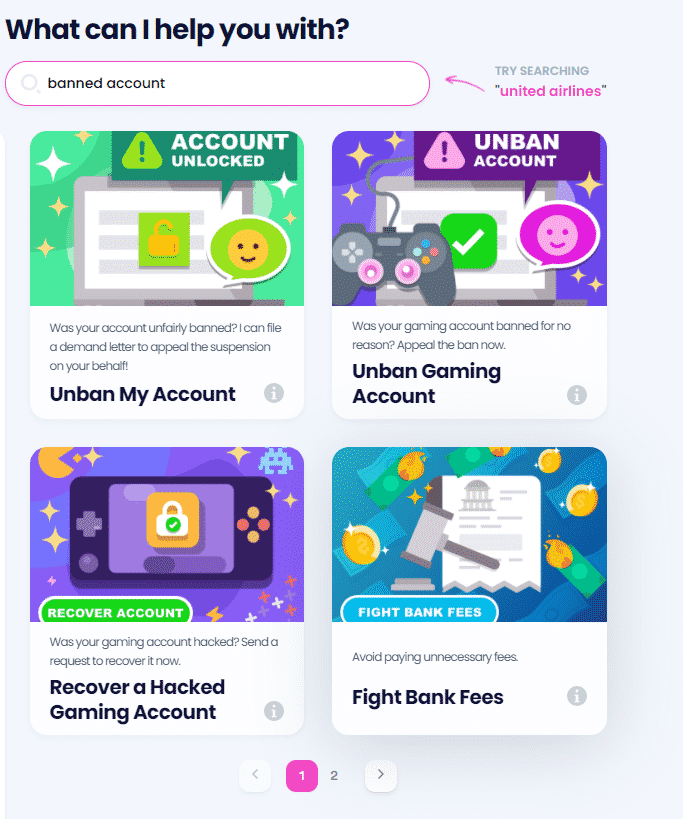 If the idea of writing your suspension appeal letter sounds intimidating, DoNotPay can help you. Whether your G Suite account has been suspended or you are wondering why your Google account is suspended, we have the right resources to help you understand how you can get your accounts back. We also present you with the hassle-free way of getting unbanned in just four steps—DoNotPay's Unban My Account tool.
To use DoNotPay, proceed as follows:
Find the Unban My Account tool
Answer a few questions related to your banned account
Click Sign and Submit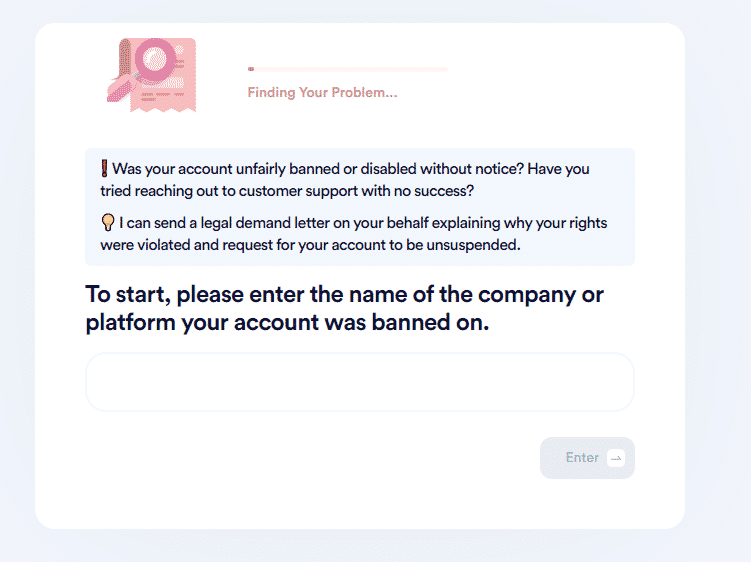 DoNotPay will generate a custom demand letter immediately and send it to the company on your behalf. The company has two weeks to inform you of its decision regarding your appeal. Note that you should try to appeal only the initial ban or suspension, not the company's final word.
Learn how you can get unbanned from other platforms using our comprehensive yet simplified guides below:
What Other Issues Can Our App Solve?
DoNotPay can support you through various burdensome procedures and turn them into a breeze! Here's a table showing a tiny part of our extensive offer:
DoNotPay Can
Services
Create various documents

Divorce settlement agreements

Powers of attorney

Many other legal documents

Protect your safety and privacy
Get your money back
DoNotPay Is Your Ticket to Simpler Life
Don't bother going through complicated tasks alone—we are here to take care of them! Seek our help if you want to get in touch with customer service quickly, fax anyone online, or get your documents notarized. Besides providing these amazing services, DoNotPay can make preparations for your travel adventures by assisting you in getting passport photos at home and obtaining tourist visas.