A Notary in Scottsdale on a High Scale
Having your documents notarized can be an easy process. We will provide enough information about how to reach a notary in Scottsdale fast and much more.
DoNotPay offers explanations and efficient features you can use from any corner of the USA—getting notary services has never been easier with DoNotPay.
What Notarial Acts Can a Notary in Scottsdale Perform?
A notary in Scottsdale can perform the following notarial acts:
Need To Find a Notary in Scottsdale?
To get a contract, car title, bill of sale, power of attorney, or any other legal document notarized, you first need to find a notary in Scottsdale. Here are two options you could use:
Go through the search by yourself

Use an online notary provider to connect you with a notary quickly
Look for a Notary on Your Own
If you need to start looking for a notary from scratch, you will have to walk down the following path:
Steps Ahead of You

Helpful Tips

Get familiar with different types of notaries

You should not opt for the first or closest notary public before exploring all the available choices. We provide information in this article

Search for a notary in Scottsdale

To run a search yourself, you can do it online. We recommend the following websites:

You could also visit some businesses in your vicinity to check whether they keep notaries public on staff—you might want to try these:

Get ahold of the chosen notary public

Once you get the contact details, you should get in touch with a notary to:

Set up an appointment

Ask about:

The

notary fees

you must settle

The documentation you need to prepare

Collect the necessary documentation

You can use DoNotPay's

Standardized Legal Documents

product to create tailored documents

Provide identification evidence

As notaries have to check your identity, you could present your valid:

ID

Passport

Driver's license

Have a meeting with a notary

You will meet with a notary at the agreed time:

At a suitable venue—with mobile notaries

In the notary's office—with traditional and electronic notaries

Virtually and remotely—with online notaries
Choose an Automated Notary Provider
As we understand how much time and energy these above-listed activities can take, we have designed a feature that allows you to overcome many hurdles. to connect with a notary in three clicks!
What You Should Know About DoNotPay's 24/7 Remote Notarization Services
DoNotPay provides a super fast and hassle-free remote online notarization. Not only can you access this service from any place—be it your car, cafe, home, or workplace—but you can also get your documents notarized:
Safe and sound

during the COVID-19 pandemic

, as you do not need to meet with the notary face-to-face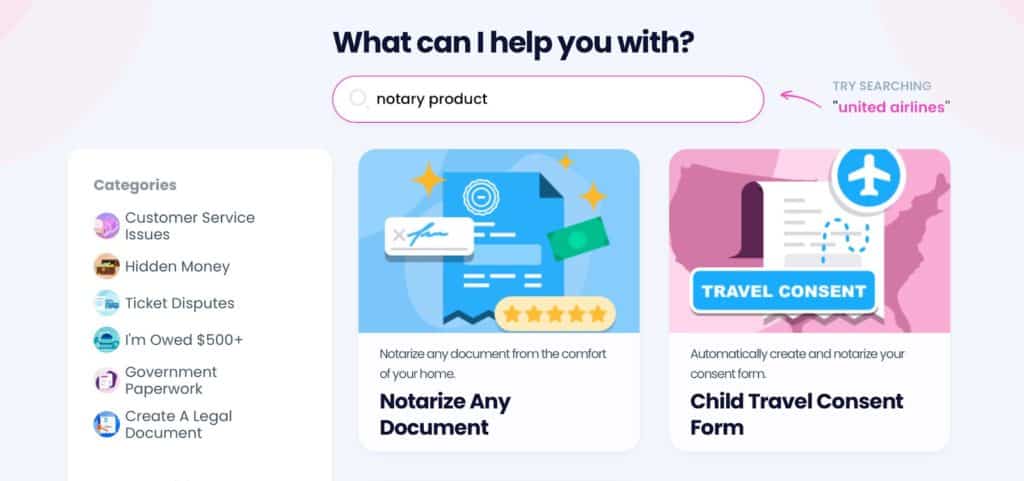 If you find this convenient, and follow this short guide:
Select the

Notarize Any Document

feature

Upload the document(s) you would like to notarize

Provide your email address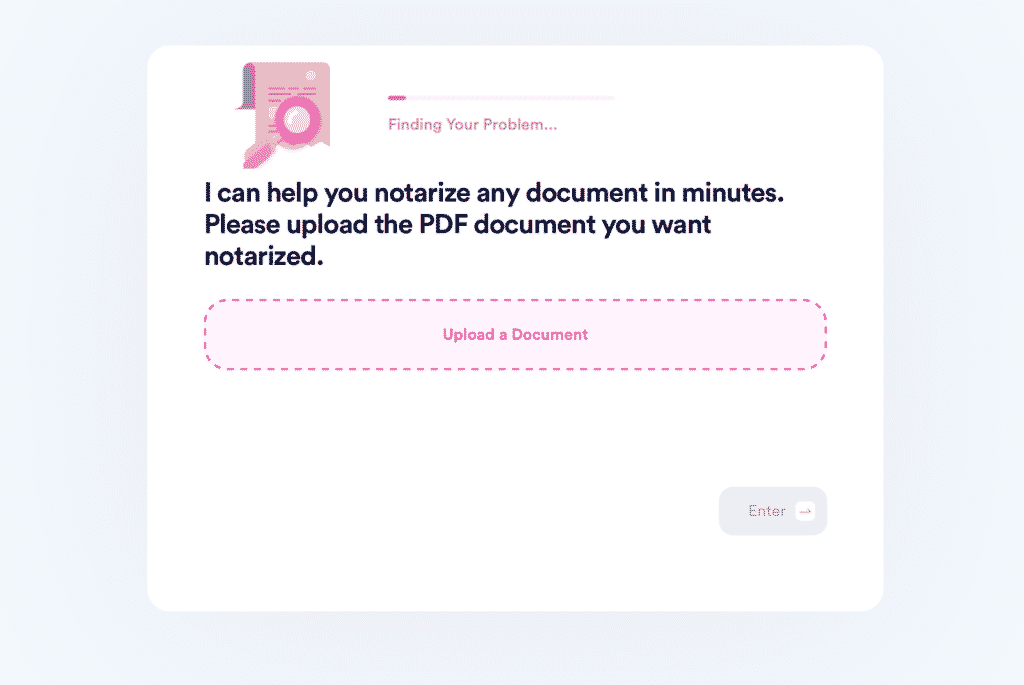 The only thing left for you now is to go to your inbox and click on the link we emailed you. The link will direct you to a notary's schedule to set up your online appointment.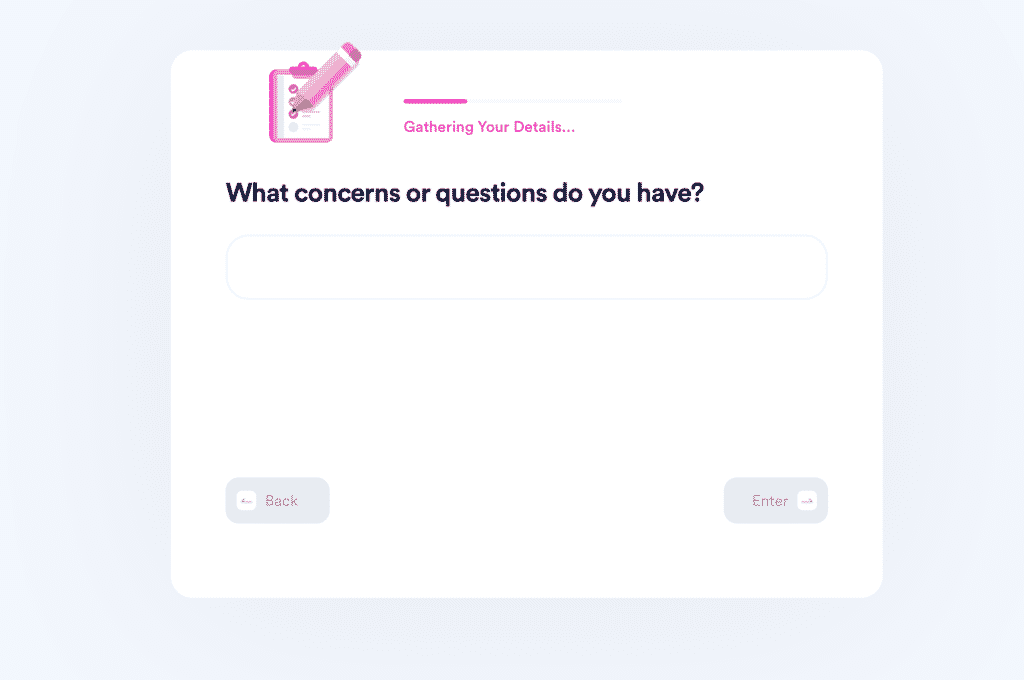 Not only can we help get your documents notarized remotely in Scottsdale, Arizona, but we can also provide the same service in other U.S. states, including:
A Notary in Scottsdale—Available Types
You can select the most suitable type of notary public based on the documents you need to get notarized and your requirements. To help you choose, we provide the following table:
Notary Public

Information

In-office notary

Traditional notaries provide the notary statement,

signature

, and stamp in their business place

Electronic notary

E-notaries—like regular notaries—only meet clients in their office. The difference between these two types is that electronic notaries deal with electronic documents while the regular ones notarize paper documentation

Notary signing agent

These certified agents notarize loan documents and handle additional activities, e.g., printing and delivering. Keep in mind that notarization of loan documents is usually more expensive than other documents

Mobile notary

This type of notary public can notarize your documents at an agreed location. While practical—especially when the signer is staying in an institution, e.g., hospital, nursing home, or jail—it can be pricey. Mobile notaries are allowed to

charge more

because of their travel expenses

Online notary

Online notaries provide remote online notarization (RON). Like with mobile notaries, you can stay at a convenient location during the notarization process. For RON—unlike for mobile notarization—you do not have to:

Be in the same room with a notary

Look for a notary since DoNotPay can connect you with one quickly
Use Our App To Resolve Any Issue
DoNotPay has numerous products you can use. We can help you resolve any problem in a few clicks.
Do you want to find unclaimed money? Would you like to know how to protect your work from copyright infringement? Are you wondering how to apply for a college fee waiver because the application fee is too expensive for you? If you rely on us, you will solve all of these and many more issues stress-free!
Even victims of violent crimes—such as stalking—can use DoNotPay to solve their problems. Having a stalker is traumatic and potentially dangerous. We can tell you how to deal with the situation and apply for crime victims compensation in your state if you need help covering counseling expenses.
We can simplify the document notarization process and help you send online faxes and mail letters from the comfort of your home in less than five minutes.
DoNotPay—The Quickest Way To Deal With Greedy Companies
Spending hours on the phone with customer care reps struggling to get a refund or cancel certain services due to complicated procedures can be tiresome.
If you sign up for DoNotPay, we can help you:
Unsubscribe from all unused subscriptions in a few clicks

Get a refund for faulty products

Request

compensation from any airline

because of canceled flights, poor Wi-Fi, and similar
Has a company refused to accept your warranty claim even though it was valid or wronged you in any other way? Make sure to serve them justice by bringing them to small claims court with DoNotPay's help!