A Guide to Getting an Arizona Notary Acknowledgement in Minutes!
Many documents—including legal agreements and property transactions—require notary acknowledgment. If you'd like to get an Arizona notary acknowledgment, you can do so in a few ways, but some options are more convenient than others.
DoNotPay is here to help you get a notary acknowledgment in Arizona in a matter of minutes. We can also tell you how to notarize documents—such as wills, affidavits, and real estate deeds—from the comfort of your home!
Arizona Notary Acknowledgement Explained
A notary acknowledgment is a statement that proves you signed a document of your own free will. When you appear in front of an Arizona notary to get an acknowledgment, he or she will:
Verify your identity by comparing the name of the document with the name on your ID

Ensure you're aware of the contents of the document

Make sure there aren't any blank spaces or missing pages

Ask you to confirm that you signed the document willingly
You can sign the acknowledgment beforehand, but the notary public has the right to ask you to repeat the signing of the document if he or she suspects fraud.
Notaries in Arizona can charge up to $10 per signature when performing any notarial act, including acknowledgments.
Once the notary makes sure that the document can be notarized, he or she needs to complete a notarial certificate.
What Is an Arizona Notary Block?
A notary block is another term for a notarial certificate. Each notarized document includes a notary block. A notary has to write a certificate under your signature, and he or she needs to state:
Your name

Date and location of notarization

Which notarial act was performed

That you appeared in front of the notary, were familiar with the contents of the contract, and signed the document voluntarily
As his or her final step, the notary will sign the certificate and seal it with a notarial stamp.
How To Get Your Documents Notarized in Arizona the Traditional Way
To have your documents notarized in Arizona, you have to:
Find an available notary

online or in a nearby

bank

,

AAA office

,

UPS shipping facility

, or any other place that offers notary services

Call to schedule an appointment

Gather all your documents and bring them to the notary's office

Make sure to bring your ID so that the notary can verify your identity

Acknowledge that you're signing the document willingly and that you're aware of what you're signing

Wait until the notary public confirms your identity

Pay

notary fees

Wait for the notary to finish writing a notarial statement
The traditional notarization process is time-consuming, which is why many people rely on one of the alternative solutions.
Other Ways To Get Your Documents Notarized
Heading over to the nearest available notary isn't the only option you have to get your documents notarized. The following table shows what other solutions you have:
Alternative Ways To Have Your Documents Notarized

Description

Hiring a

mobile notary

Do you prefer getting your documents notarized in person, but you don't have time to go to a notary's office? You can set up an appointment with a traveling notary. A mobile notary will come to your preferred location to perform notarization. Bear in mind that mobile notaries have the right to charge additional fees for travel expenses, which can be pricey

Registering for one of the

online notary

services

Arizona is one of the states that allows

remote notarization

. This means that you can sign up for an online

notary service

and connect with a remote notary whenever and wherever you want. An online notary will witness your signature and verify it via a video call. He or she will then seal the document with an electronic signature and official stamp. While this solution is super convenient, most platforms are complicated to use and can be pricey
Even though both of these options are much more efficient than the traditional process, they can cost a lot. If you , you can get an Arizona notary acknowledgment and have any document notarized in minutes without paying a small fortune.
DoNotPay Is the Quickest and Most Convenient Way of Getting an Arizona Notary Acknowledgement
Notarization doesn't have to be exhausting or time-consuming. By relying on DoNotPay, you can have all of your documents notarized in a few clicks from your PC, tablet, laptop, or smartphone.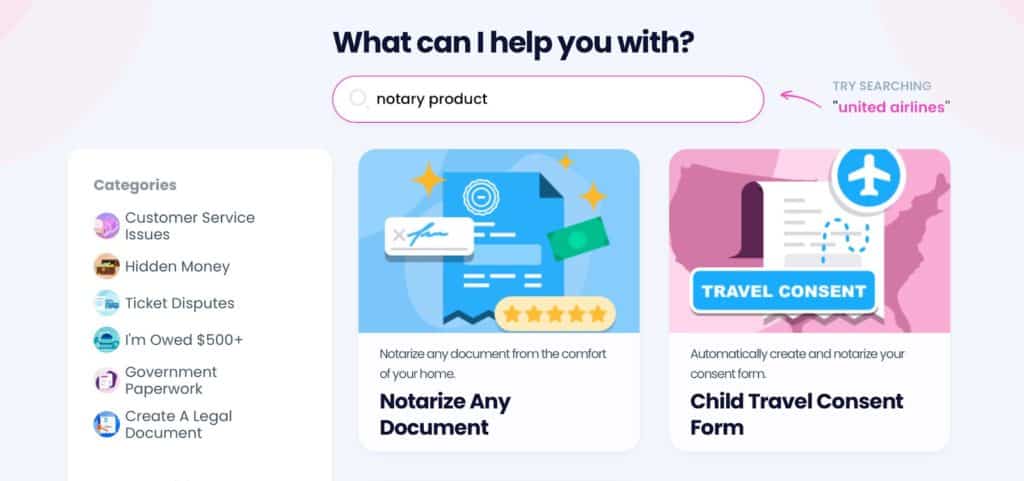 To get an Arizona notary acknowledgment with ease, and do the following:
Click on our

Notarize Any Document

product

Upload your document

Type in your email address

Click on the link DoNotPay emails you and schedule a meeting with an online notary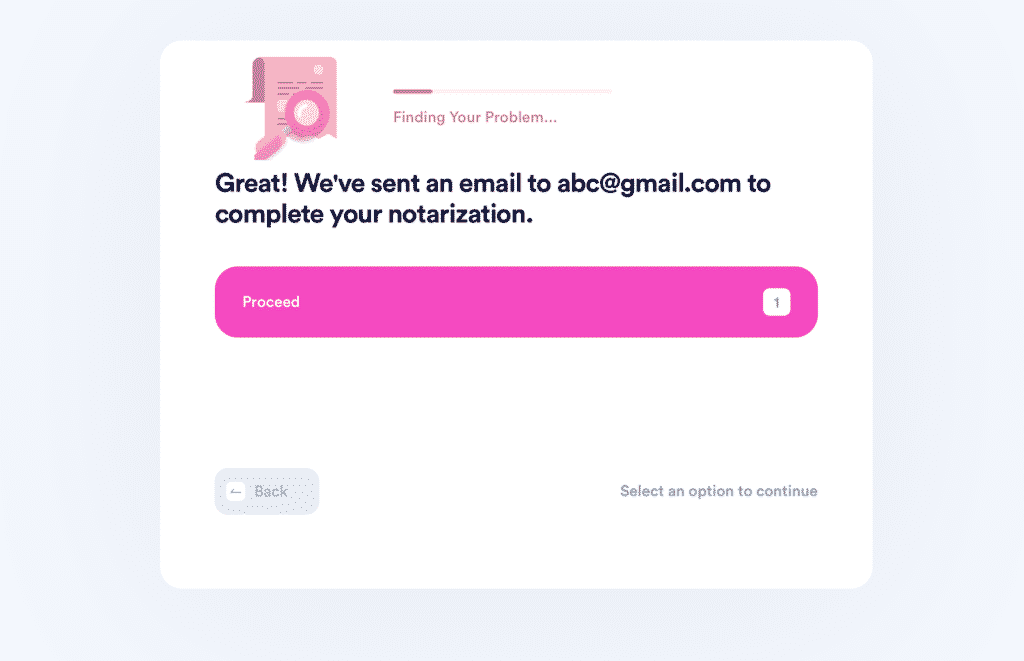 A notary will witness your signature virtually and provide a notarial certificate in no time. With us, you get your documents notarized whenever you want because the notaries we connect you with operate 24 hours a day, seven days a week.
You can use our app to connect with remote notaries in any state, including:
Create Any Legal Document Stress-Free With DoNotPay's Help!
Creating legal documents such as bills of sale, lease agreements, and non-disclosure contracts can be tricky. DoNotPay has created another useful product that can help you draw up an unlimited number of contracts in the blink of an eye. With our assistance, you can write, fax, and notarize all of your documents through the same app!
DoNotPay Can Do Your Paperwork for You!
Feeling like you're in bureaucratic hell? Our app will draft the paperwork you need and get you out of any hurdle before you know it!
We can compose most of the documents that you require for any administrative purpose in your jurisdiction, most notably:
More of What We Can Do for You
Our multifaceted app can call and record the conversation with the customer service of the company that just won't let you go! If you are having trouble canceling an unwanted service via the traditional channels, use DoNotPay to get it over and done with!
We can help you stop the persistent robocalls and robo texts from the nagging company and request a refund for unused services in a matter of minutes.
We'll also lend a helping hand in stopping spam mail—whether it's electronic or paper. Our Spam Collector product unsubscribes you from unwanted emails and cleans up your physical mailbox too!