Does a Power of Attorney Need To Be Notarized
? DoNotPay Knows the Answer
Whether you must notarize a legal document depends on many factors. Some contracts—such as wills, trusts, affidavits, and court documents—require notarization, while others only need signatures.
Does a power of attorney need to be notarized? DoNotPay explains the process from A to Z. We will also teach you how to notarize any legal document effortlessly!
What Do You Need To Know About a Power of Attorney?
A power of attorney is a legal document that allows one person (an agent) to act on another person's (principal's) behalf. It ensures the principal's directives regarding their finances or medical care will be followed if they become incapacitated. 
There are four types of power of attorney documents:
General

Limited or Special

Durable

Medical 
So, Does a Power of Attorney Need To Be Notarized
?
Each state has specific rules for creating a legally valid power of attorney. Since the document gives the agent significant power and responsibility, most states take extra measures to prevent foul play. One of the measures is the verification of the principal's signature by a witness, notary, or even both.
A notary public's role is to verify that the:
Principal's signature is valid

Principal has signed the document voluntarily
Witnesses and a notary public must sign the document after the principal.
Even if your state of residence doesn't require a power of attorney notarization, it doesn't hurt to get it. A notary's certification will help you prove the document's authenticity in case of any legal disputes. 
Power of Attorney Notarization Criteria for Different States
You have to meet your state's requirements for notarizing a power of attorney. If you don't follow the rules, the document will be unenforceable in court. 
Here is an overview of state-specific standards for validating a power of attorney:
Power of Attorney Authorization Requirements
Details

Two witnesses or a notary

You can have a notary or two witnesses validate your power of attorney in these states:

Ohio

Iowa

Idaho

Texas

Alaska

Illinois

Hawaii

Kansas

Arizona

Arkansas

Wyoming

California

Kentucky

Tennessee

Minnesota

Mississippi

Nebraska

New Hampshire

New Jersey

North Dakota

Rhode Island

Two witnesses and no notary

The following states require two or more witnesses, but not a notary, to sign a power of attorney:

Maine

Georgia

Oregon

Indiana

Alabama

Delaware

Missouri

Wisconsin

Vermont

Virginia

Montana

Nevada

C

onnecticut

Louisiana

Massachusetts

Michigan

New York

Oklahoma

Pennsylvania

South Carolina

District of Columbia

South Dakota

Washington

West Virginia

Two witnesses and a notary

These states require two witnesses and a notary to sign a power of attorney:

Other requirements

New Mexico requires only a notary's signature, and Utah requires one witness
States often change rules of notarizing a power of attorney, so check your state's current requirements before visiting the notary.
How To Notarize Your Power of Attorney
You can notarize a power of attorney in several ways, depending on your state of residence. The most frequent methods are:
In-person

Online
If you decide to notarize your document in person, you need to:
Find a

bank

, the

AAA

, or some other institution that offers

notary services

Schedule an appointment

Provide an ID

Pay a fee

Sign the document in the presence of witnesses and a notary
Notarizing any document in person is a tiresome procedure. The process can take weeks and requires a lot of legwork. If you have a busy schedule, you will have trouble adjusting it to the notary's limited business hours.
Mobile notaries provide a more convenient method of notarizing legal documents. To use traveling notary's services, you should:
Find a mobile notary

Schedule an appointment

Meet the notary at a scheduled time in your house, office, or some other place
Mobile notaries are practical because they are available seven days a week. The downside is the price. You will likely have to cover their travel expenses on top of a standard fee.
Online notarization has become popular recently, partly because of the coronavirus outbreak. The process requires you to e-sign a document during a video call with the notary and witnesses. The notary then notarizes your contract with an electronic signature and seal and sends it back.
Notarize Your Power of Attorney With DoNotPay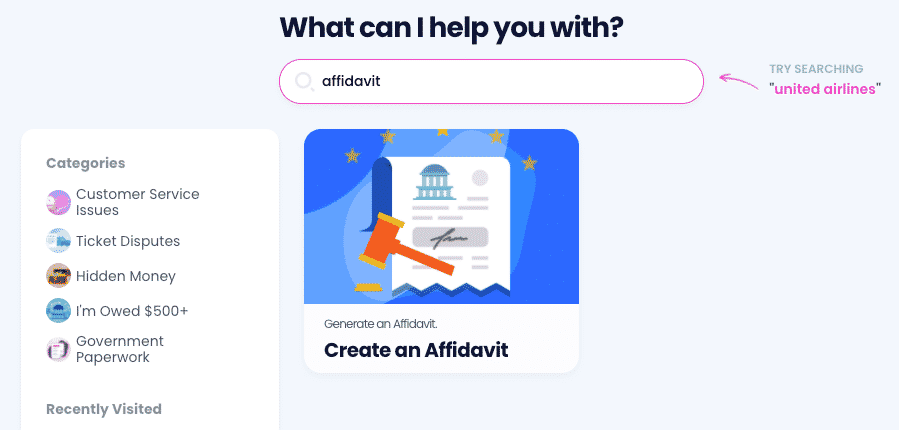 If an online notary service sounds appealing to you, you should use DoNotPay! Our app will set everything up, so you can receive your notarized document in no time!
You only have to provide the power of attorney and your email address, and we will take care of the rest.
Here is how the process goes:
Go to our

Notarize Any Document

product

Upload the document 

Type in your email address
We will send you a link via email. You can use the link to confirm your appointment with the notary and sign the document during a video meeting. The notary will take minutes to verify its authenticity.
DoNotPay Helps You Create Legal Documents
The advantages of using DoNotPay are numerous. Our features integrate, enabling you to create, notarize, and even fax legal documents from the same platform!
Here are some of the contracts and agreements we can generate, get notarized, and fax for you:
Promissory Note

General Affidavit

General Business Contract

Estoppel Certificate

Intent To Purchase Real Estate

Quitclaim Deed

Child Care Authorization Form
DoNotPay Leads the Way Against Spammers
Browsing the internet has never been more popular than today, but you must not forget to keep your private and financial information safe. You know you can cancel any streaming service or magazine subscription easily, but that won't stop them from using your personal details for marketing purposes.
DoNotPay has a solution for that! 
Is a company pestering you with incessant robocalls, spam emails and text messages? Use our Virtual Credit Card to catch them in the act and claim compensation for your troubles. 
To prevent that from happening ever again, use our card to sign up for free trials—not only will you not pay a dime for the service, but you will be automatically unsubscribed as soon as the trials are up! 
If you want to avoid revealing your personal phone number, we'll generate a temporary burner phone for you so the company won't have any way to reach you.
Already Been Scammed? DoNotPay Knows the Way!
If you've already made the mistake and divulged your personal info to the wrong party or experienced any other kind of crime or injustice, you don't have to sit tight and suffer the consequences. DoNotPay can assist you in taking anyone to small claims court!
We'll help you gather evidence—correspondence proving stalking or harassment took place, customer service call recordings, denied chargeback and refund claims, online fax transcripts, or proof of copyright violation. Then, we'll fill out the relevant legal documents for you and draft a court script that you can use in your hearing.