How To Notarize a Title in AZ—The Ultimate Guide
If you want to sell a car in Arizona, you have to perform a title transfer. The process is not hard, but you have to meet legal requirements to a tee.
A notary signature is necessary for your title transfer, or you are risking a void contract. The question is—how to notarize a title in AZ?
DoNotPay is here to answer this and many more questions you may have about notary services!
How Does a Title Transfer Work in Arizona?
When you have to sell a car or change your name on a license after a wedding or divorce, you must transfer your car title. A title transfer is a document determining the legal owner of the vehicle, be it you under a new name or another person.
The title transfer process varies from state to state. In Arizona, the title transfer document is issued the first time you buy a car and has to be transferred every time the vehicle changes ownership, or an owner changes their name.
You can complete your title transfer in Arizona by providing the following info:
Vehicle identification number (VIN)

Car year, make, and model

Names, birth dates, and addresses of every owner listed on the contract

Lien information or lien release, depending on whether the car was financed or released from a lien holder, respectively
The last step involves signing the document with a notary present.
Can You Perform an
Arizona Title Transfer Without a Notary?
The answer is no. Many states accept the title transfer without a notary's certification, but Arizona isn't one of them. The title transfer in AZ needs to have an official notary signature, stamp, and seal to be legally valid.
If you fail to obtain a notary certification, the document will be considered unenforceable, even if it meets all other requirements.
How To Notarize a Title Transfer in Arizona
You can notarize a title transfer in Arizona in person or via an online notary service. The most commonly used methods of notarizing documents in Arizona include:
Visiting a local notary

Hiring a mobile-notary

Registering for an

online notarization

service
Visit a Local Notary
Notarizing a document in person involves these steps:
Find a

bank

or another institution offering notarial services

Schedule an appointment

Pay a nominal fee

Bring an identification document

Sign the title in front of a notary

Receive your document with an official certification
The downside of this method is that it is impractical and time-consuming. The process typically lasts a few days or even longer. If you make the smallest mistake or forget to bring an ID, you will likely have to reschedule the appointment. You must also visit a notary during their, often limited, business hours.
Hire a Mobile Notary
If you are too busy for the traditional method, you can hire a traveling notary. Mobile notaries come to your house at your request and perform notarial services on the spot. Hiring mobile notaries is a practical solution because they will accommodate your schedule. You can typically arrange for them to come at any time, even on the weekends.
This method is also more expensive. Mobile notaries charge for travel expenses and other services that the traditional method doesn't include.
Use an Online Notary Service
Arizona allows online notarization. It is a convenient method that lets you schedule an appointment at any time and sign the document in a virtual environment.
If you need a partner to help you schedule your appointment with the notary, choose !
DoNotPay Is the Best Way To Get Your Title Transfer Notarized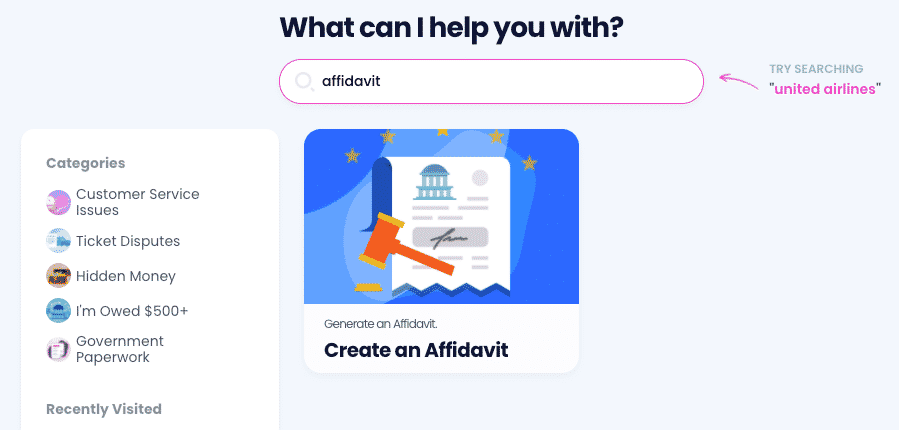 DoNotPay has developed a feature that simplifies notarization to the max! With our help, you will be able to notarize your title transfer effortlessly. All you need to do is provide the document and your email address, and we will do the rest!
The steps you have to take are straightforward:
in any web browser

Go to the

Notarize Any Document

feature

Upload the title transfer document

Enter your email address

Wait for us to send you a link via email
Click on the link to confirm your appointment with the notary. During the appointment, you will join the notary on a video call, where he or she will witness you e-signing the document. After the notary certifies your title transfer, you will be able to download it.
DoNotPay can help you get many other documents notarized, including wills, trusts, licenses, and affidavits.
Create and Sign Various Legal Documents With Us
Our features integrate to give you the ultimate experience. You will be able to create, notarize, and fax legal documents from the same platform in a few clicks!
Here are some of the contracts we can generate for you:
Business
Other

General business contract

LLC operating agreement

Non-disclosure agreement

Independent contractor agreement

Non-compete agreement

Lease agreement

Prenuptial agreement

Custody agreement
Forget About Bureaucracy With DoNotPay
There's no end to what our app can help you do. From drafting legal documents and asking for bill extensions and reducing property taxes to connecting with an inmate in a federal prison and contesting parking citations, DoNotPay can handle it all and cut through the red tape.
Need to pass a government test? Use our practice tests database to nail it. Looking to file an insurance claim? You've come to the right place. College applications drained your accounts? Request college fee waivers with our assistance.
The DoNotPay app is so versatile that it can easily locate any unclaimed funds under your name or any clinical trials that you're eligible to participate in. We can also schedule DMV appointments and take care of your small claims court documents.
Check Out What Else DoNotPay Has in Store
DoNotPay never stops upping the game. You can explore some of our latest features and see how you can access public records, receive free online fax, submit a warranty claim, or get compensation if you were a victim of a crime.
Alternatively, check out some of our most popular products that aim to reclaim your funds—from getting airline flight compensation and submitting refund and chargeback claims to canceling your unused subscriptions and getting class action cash from email, text, and robocall scammers.