Your Notarization Needs Covered by a Notary in Santa Barbara
Notaries are a part of our life, and most of us will need a notary service at some point. Any legal document is made more robust by being notarized. Many documents—such as contracts, wills, affidavits, and agreements—are only truly complete in some states once they have a notary's signature on them.
If you are a resident of Santa Barbara, we can help you with your notary needs. DoNotPay has all the info you need to find and use a notary in Santa Barbara.
Why Do I Need a Notary?
A notary, or notary public, is a public servant and performs the vital function of:
Verifying your identity

Ensuring you are entitled to sign a legal document

Attesting that you have understood what you are signing
If you need to sign any legal document, a notary's stamp and signature will verify that the document was signed in the presence of a witness and that the right parties have agreed to its contents.
Where Can I Find a
Notary Public in Santa Barbara
?
There are three types of a notary you can use in Santa Barbara:
In-Person Notary
An in-person notary works from an office and notarizes your documents in a face-to-face meeting.
Many notaries offer a walk-in service, but the truth is that you will usually need to make an appointment, meaning you will have to free up your schedule, travel to the notary's location, and wait in a queue for your appointment. If you are unlucky enough to forget an essential document, the appointment will be canceled, and you will have to rebook.
You can search for in-person notaries in Santa Barbara using the following websites:
As an alternative, the following locations normally offer notary services:
Organization Type
Examples

Legal or financial institutions

Public offices

Police departments

City or county clerk's offices

Courthouses

Public libraries

Other outlets

Car dealerships

AAA

stores
Mobile Notary
A mobile notary comes to your location at an appointed time. This offers the convenience of not having to leave your home or office, but you may have to wait before you can get an appointment, as mobile notaries are often booked out.
A mobile notary may also end up being more expensive as you will be charged for the notary's travel.
Online Notary
Remote online notarization (RON) is now acceptable in California. While California itself has not yet legalized RON, the Secretary of State for California confirmed in August 2020 that RON performed in a state that does allow it will be equivalent to having it notarized in California.
The 28 states that allow RON are as follows:
You can use a notary commissioned in any of these states to notarize your documents, and they will be accepted as being notarized in Santa Barbara.
How Much Does a Notary Cost in Santa Barbara?
The State of California sets out the rates notaries may charge for their services, and Santa Barbara notaries must adhere to them.
The rates are as follows:
Fee Type
Rate

Signature/stamp fees

Acknowledgment

$15

Jurat $15

Mobile service fee

$25 flat fee plus an additional $1 per mile outside of a round trip distance of 25 miles

After-hours fee (outside normal 9–5 business hours)

$20

Holiday fee

$20

Waiting fee (if you are more than 15 minutes late for an appointment)

$15 per 15 minutes waiting time

Loan documentation fees

$125

Printing charges

$0.20 per page

$25 for a full set of real estate documents

Living trust fees

$75

Witnessing service

$25

Returned check charge (if your check is not honored by your bank)

$35

Cancellation charge (if you cannot or will not sign after the notary has attended the appointment)

$25
How Can DoNotPay Help Me Get a Notary in Santa Barbara?
DoNotPay wants to make getting your documents notarized as easy as possible.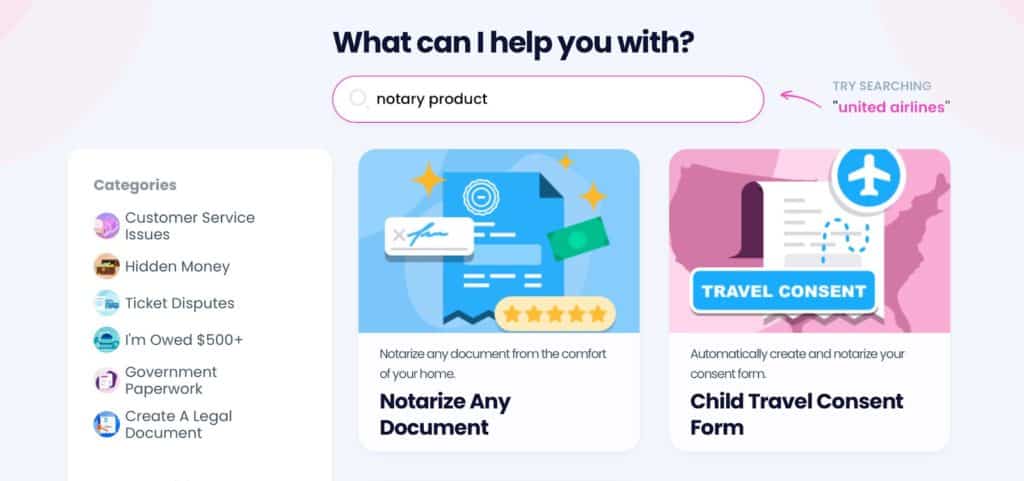 We offer an online notarization service that can connect you to a notary with a few clicks. Here's how to do it:
Navigate to DoNotPay and

Click on our

Notarize Any Document

product

Upload your document

Give us your email address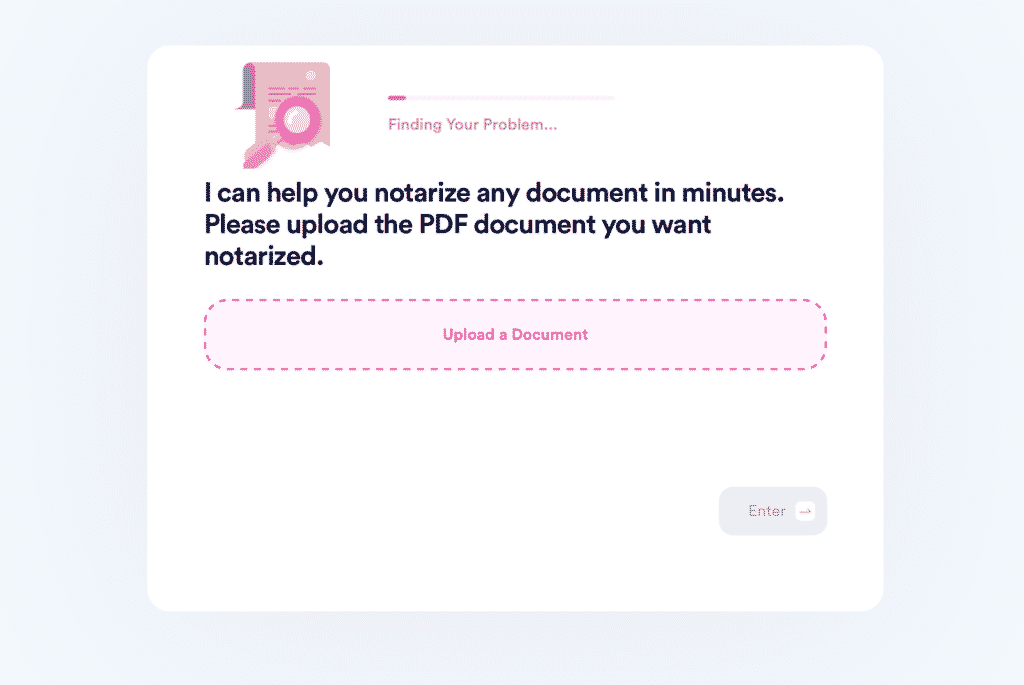 We will immediately send you a link to schedule an appointment with an online notary. That's all you need to do!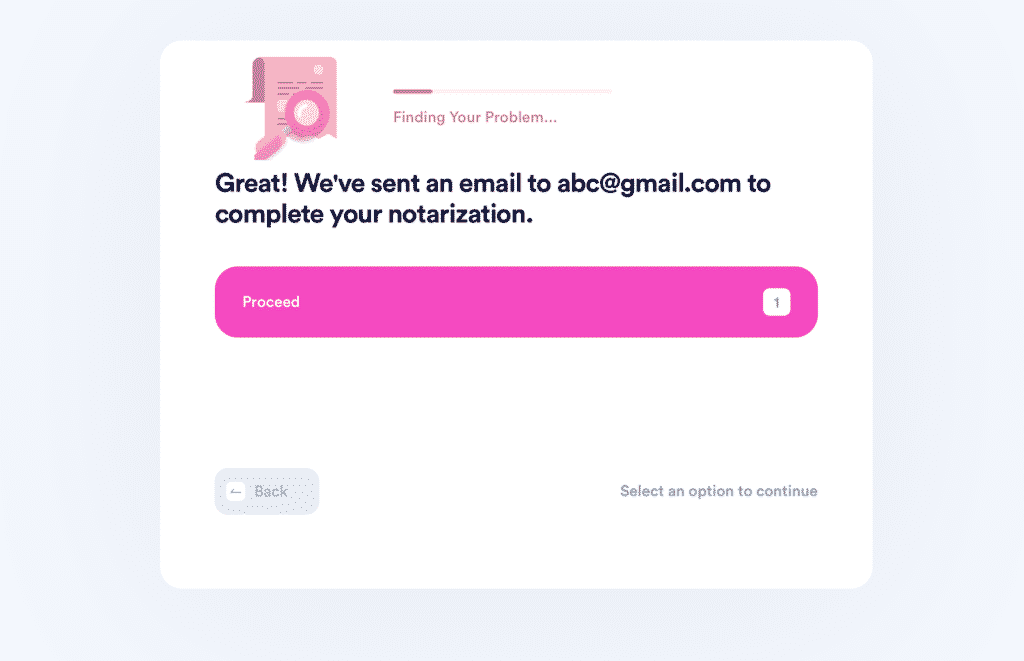 Can DoNotPay Help Me Create Legal Documents?
We know that not everybody feels comfortable writing a contract, so we have created a range of customizable legal documents and contract templates.
All you need to do to get your tailor-made document is:
in your web browser

Search for the document you need

Fill in the required details

Wait while your document is generated
Here are some examples of what we can offer:
Personal:
General affidavit

Custody agreement

Prenuptial agreement

Promissory note
Property:
Lease agreement

Real estate purchase agreement

Estoppel certificate

Quitclaim deed

Intent to purchase real estate
Business:
Non-compete agreement

Non-disclosure agreement

Operating agreement

Independent contractor agreement

Bill of sale

General business contract
Explore the Full Range of DoNotPay's Services
Don't let annoying bureaucracy stop you from exercising your rights or finding new opportunities. DoNotPay—the world's first robot lawyer—comes with a diverse portfolio full of practical shortcuts for:
Struggling with finances? Our app will help you manage unpaid bills, find and claim lost money in any state, or get college application fee waivers.
Minimize Paperwork With DoNotPay
Writing letters, filing claims, sending requests—these chores are nobody's idea of fun. Thanks to DoNotPay, you can bypass these menial tasks with a few clicks in your browser.
Our platform is full of useful tips and features for filing insurance and warranty claims, dealing with parking tickets, getting refunds and chargebacks, or writing harassment cease-and-desist letters.
DMV offices don't have to be the place where hope goes to die. With DoNotPay, you will be able to schedule any DMV appointment without the nightmare of waiting in lines. While you're at it, you can check out our guides and practice tests for the best driving exam preparation!