Should You Dwell on a Notary in San Rafael?
There is no need to make a fuss about getting your documents notarized. If you select the most suitable type of notary in San Rafael to conduct the notary service, you can complete the whole process smoothly and quickly.
Don't waste any minute of your free time doing extensive research—DoNotPay provides all necessary information. We will present different options, so you can pick the one that best fulfills your needs.
How To Get to a Notary in San Rafael
Some people still go for a traditional notarization process. It means they need to visit a notary's workplace to get their documents notarized.
If you choose a traditional notary public, here is what you should do:
Steps You Need To Take
Additional Advice

As with anything else, you can use the internet to help you with your search. Here are some websites you can browse through:

Another option is to visit some organizations around you. Here are a few suggestions:

Start first with your bank—some branches of Citibank, Wells Fargo, Huntington, and Bank of America perform notarial acts

Schedule an appointment

Not many notaries provide walk-in notary services, so you should make sure to book an appointment. Try to come to the agreed meeting on time since notaries can bill you extra for being late

Prepare the required paperwork

Once you get ahold of a notary, you should check what documents you are supposed to provide for the notary service. Keep in mind that you will have to reschedule if you fail to present the necessary documentation

Pay a visit to a notary's office

When you reach this stage, here is a summary of what you should pay attention to:

Show up at the agreed time and place

Take with you:

An up-to-date ID document

The required documents

Enough money to pay for the

notary fees
At the end of the appointment, the notary will provide the acknowledgment certificate with the stamp and signature.
What About Other Types of Notaries?
Aside from a traditional—also called regular or in-office—notary public, here some other choices you can make:
What Do Notary Signing Agents Do?
Notary signing agents can be the right choice if you need to get your loan documents notarized. They can:
Handle the printing and delivery of documents if agreed

Work for financial institutions, title companies, banks, or lenders
As the notarization of loan documents is usually pricey, you should first inquire about the total sum a notary agent will expect you to settle at the end of the provided service.
Is a Mobile Notary in San Rafael the One for You?
Do you prefer getting your documents notarized at a suitable location? Do you need to meet a notary at a particular venue since, for instance, your elderly family member who is in hospital must sign the document?
If you answered yes to these questions, you might choose a mobile notary in San Rafael. Look for one, get in touch, and agree on the place and time for your meeting.
Keep in mind that you can end up settling a hefty sum for this notary service since mobile notary fees are higher than the regular ones.
Can You Hire an Online Notary in San Rafael?
You cannot book an online notary in San Rafael since the state of California does not allow its notaries to perform remote online notarization.
Do not despair—DoNotPay saves the day! We can connect you with an out-of-state online notary who can provide this type of service regardless of whether you are from California, Idaho, Texas, Hawaii, Arizona, Indiana, Florida, Maryland, Michigan, Kentucky, Oklahoma, Tennessee, Pennsylvania, or any other state.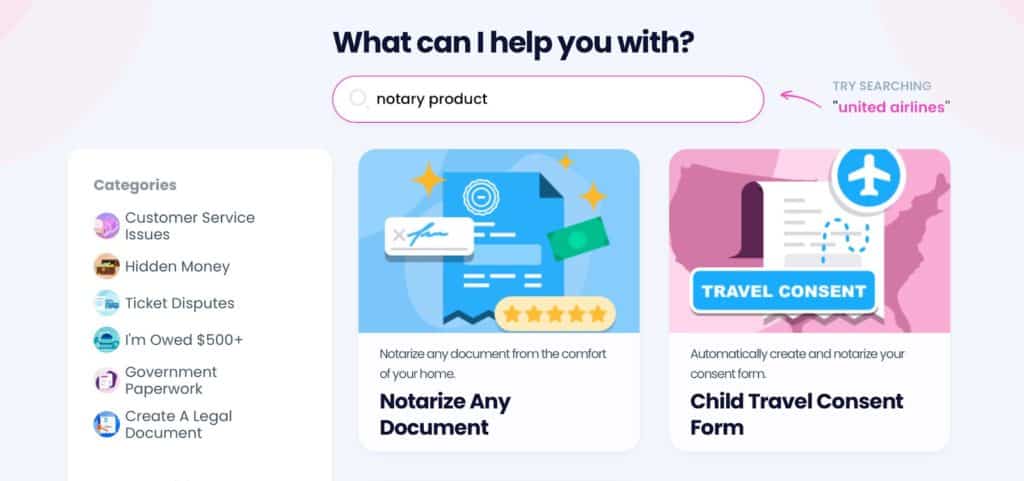 Remote online notarization might be the most practical way to get your documents notarized when you would like to avoid:
Meeting with a notary in person

Paying extra for mobile notarization

Jeopardizing your health

during the COVID-19 pandemic
to connect with an online notary in three clicks!
Get Your Documents Notarized Without Delay With DoNotPay
To get your documents notarized trouble-free, and follow these steps:
Pick our

Notarize Any Document

product

Upload the document you'd like to get notarized

Enter your email address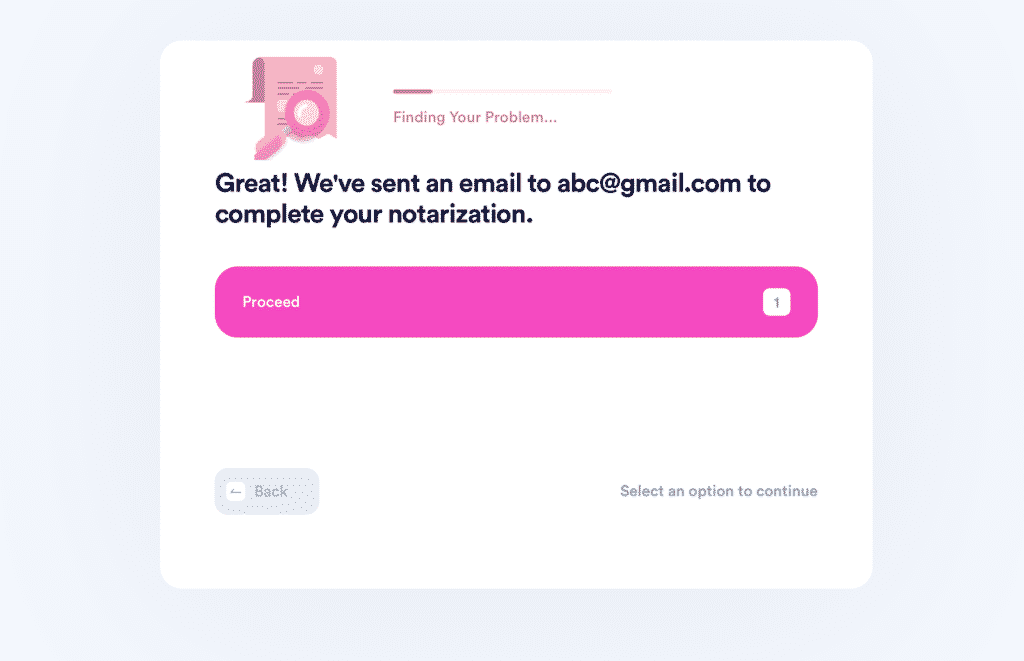 When you have completed these short steps, head to your inbox and click on the link we provided.
What is the link for? It connects you with a notary's schedule where you can pick a suitable time for your appointment. Don't forget that our notaries are available at any time, day and night!
Can a Notary in San Rafael Provide Help With the Preparation of Documents?
A notary public cannot explain or help you prepare a will, trust, contract, bill of sale, power of attorney, or any other legal document for notarization. If you need assistance with this matter, you should:
Consult an expert, e.g., an attorney

Choose DoNotPay's

Standardized Legal Documents

feature that can generate numerous documents to meet your specific requirements
Facing Financial Issues? DoNotPay Can Take the Burden Off Your Shoulders
If you need to count pennies at the end of each month, DoNotPay is here to help you get a payment extension and pay your bills worry-free.
Prospective students who struggle to cover their university-related costs can also rely on DoNotPay to request a college application fee waiver.
Do you think that your property taxes are too high? Use our app to reduce your property tax bill as effortlessly as possible.
Get Rid of Spammers For Good!
Are spam texts and emails cluttering your inbox? DoNotPay has a few products you could benefit from! Rely on us and get rid of spam in less than two minutes. If shady robocalls are testing your patience, you can block them with our help and request robocall compensation right away.
To avoid providing your real phone number when signing up for online services, you should choose our Burner Phone feature and use the number we provide.
What Else Can DoNotPay Assist You With?
DoNotPay boasts many useful products that help millions of Americans handle their everyday hurdles in minutes.
With us, you can prepare for any government test for a low monthly fee or send online faxes in the blink of an eye.
Do you have a friend or relative who's serving time? Use our mailing service to send letters to inmates with no hassle.
Learn how to fight workplace discrimination through the same app!
Log in to DoNotPay and solve any administrative issue—including setting up an appointment with the DMV and filing an insurance claim—by following a few simple steps.