Your Legal Needs Sorted in No Time With a Notary in Indianapolis
Getting documents notarized is crucial to make sure they are as legally robust as possible.
Whether you are dealing with a will, an affidavit, or a bill of sale, a notary signature adds weight to a legal document and can avoid costly challenges at a later date.
As a resident of Indianapolis, IN, you have a wide choice of notary services you can use. DoNotPay is here to help you find the most efficient and cost-effective notary in Indianapolis!
How Does a
Notary Public in Indianapolis
Operate?
A notary witnesses your signature on a document and verifies that you are entitled to sign it.
Notaries do not question the contents of the documents you sign but prove that it has been signed. This means the signature can't be contested at a later date.
Before witnessing your signature, a notary checks your:
Identity

Relationship to the document

Competence to sign
Identity
A notary checks that you are who you claim to be, so you need to provide a photo ID that contains a sample of your signature—a passport or driver's license fulfills these criteria.
Relationship to the Document
You need to demonstrate how the document being notarized concerns you, so you should identify yourself as:
The author

A signatory named in the document

A third party affected by the document
Competence To Sign
You may only sign a legal document if you are:
Over 18

Mentally capable of understanding what you are signing
A notary will ask you for proof of your age and may question you on your understanding of the document being notarized.
Once a notary is satisfied that you have fulfilled all these qualifications, you will be asked to sign the document and will receive a notary stamp and signature on it.
Where Are Notaries Located in Indianapolis?
You can have your documents notarized in Indianapolis in three ways:
Notary Type
Explanation

By far, the most common form is the in-person notary. Although some notaries offer walk-in services, you will probably have to make an appointment, meaning that you must:

Make room in your schedule

Travel to the notary's office and find parking

Wait in line for your slot

Remember all the required documents

This is often inconvenient and time-consuming.

To search for a notary in Indianapolis, you can use these sites:

You can also usually find notarial services on offer in these locations:

Mobile notary

Mobile notaries are more convenient as they travel to your location at an appointed time. They are often over-booked, though, so you may find it impractical to use a mobile notary if your document needs urgent notarization. Mobile notaries also charge for travel, so your

costs

may increase and outweigh the convenience of not having to leave your home or office

Online notary

Indiana allows you to use online notaries, so you can have your documents notarized via a video call. This combines the convenience of not having to travel with the speed of service you need
How Much Does a Notary in Indianapolis Cost?
Since May 1, 2019, notary fees across the state of Indiana have been fixed at $10 per signature for:
Oaths

Affirmations

Signature witnessing

Depositions under oath
Any other services are subject to negotiation, so ancillaries such as printing, scanning, or photocopying may incur extra costs.
Can DoNotPay Help Me With Notarization in Indianapolis?
DoNotPay can solve your notarization problems in an instant!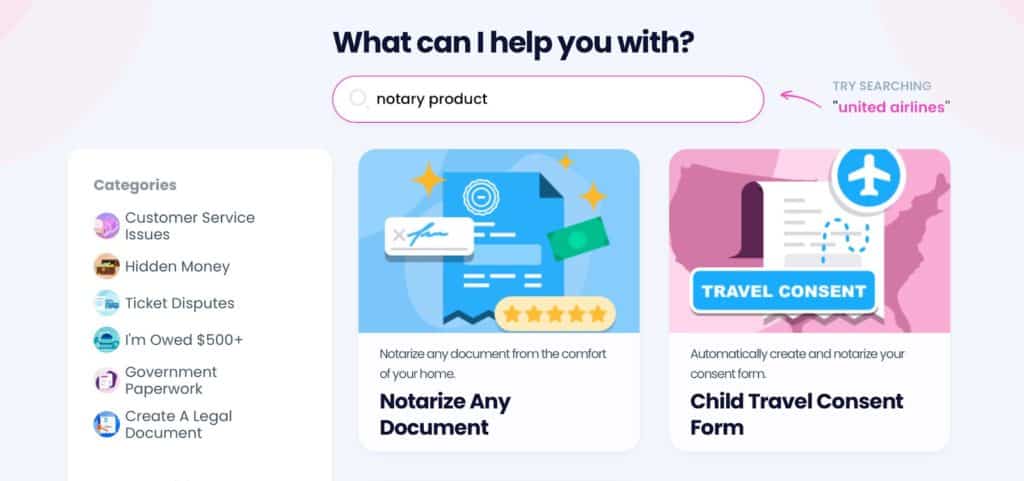 By following these steps, we can connect you with one of our online notaries and get you sorted with a few clicks:
Go to DoNotPay in your web browser and

Click on our

Notarize Any Document

product

Upload the document you want notarized

Give us your email address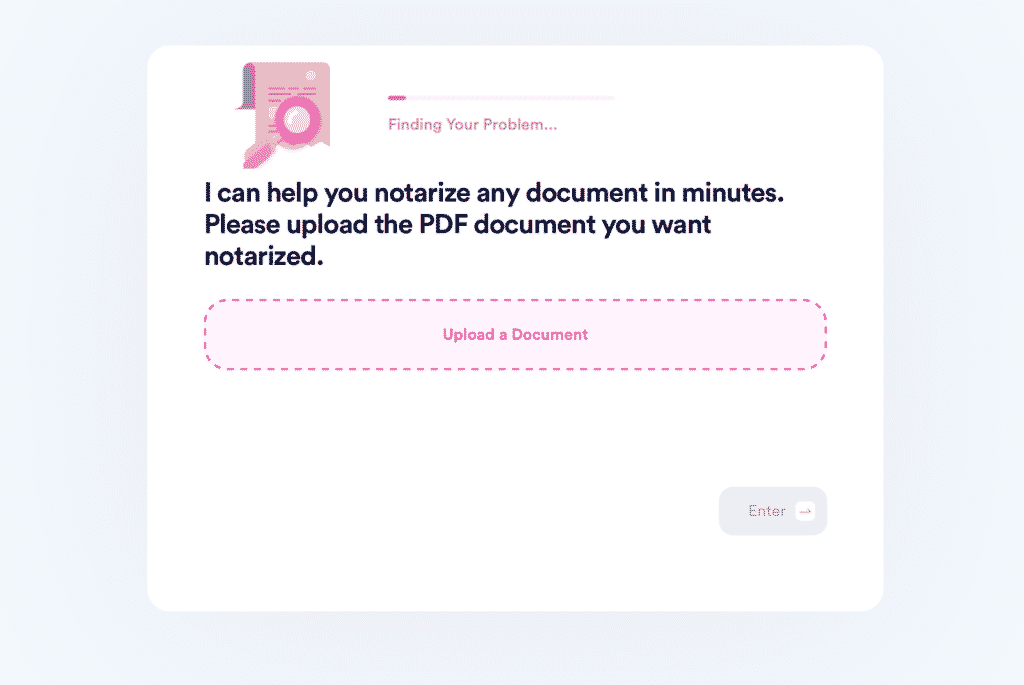 In a few moments, you will get an email with a link to schedule your online notary appointment.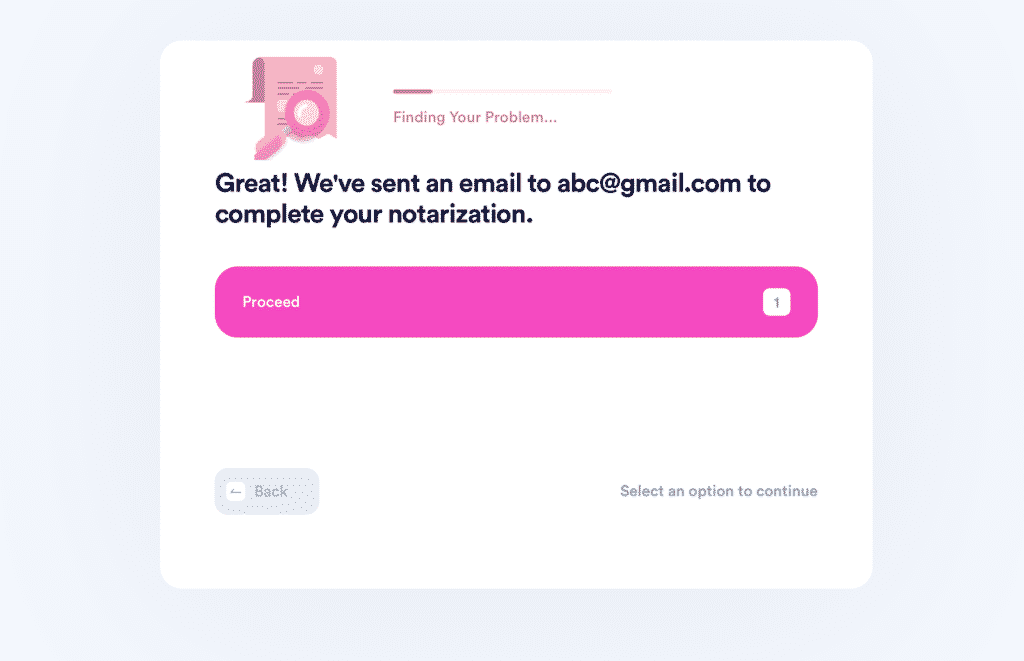 Can DoNotPay Help Me Elsewhere?
If you need a notary somewhere other than Indianapolis, you can check out your options in the other 27 states that allow online notarization:
Can DoNotPay Help Me Create a Legal Document?
We understand that you may find it challenging to write a contract, so we can offer a range of standardized legal documents and contract templates for you to customize—follow these steps to get the document you need:
Sign in or

Search for the document you need

Fill in the details you want included

Wait briefly while your document is created
We have a fast-growing range of documents, including:
Property documents

Lease agreement

Real estate purchase agreement

Estoppel certificate

Quitclaim deed

Intent to purchase real estate

Business documents

Non-compete agreement

Non-disclosure agreement

Operating agreement

Independent contractor agreement

Bill of sale

General business contract

Personal documents

General affidavit

Custody agreement

Prenuptial agreement

Promissory note
DoNotPay Helps Out in More Ways Than One
As a versatile app, DoNotPay is so much more than a money-saving hack. Check out the table below for an overview of what we can do for you:
Managing Tasks With DoNotPay Saves Both Time and Money
If your to-do list is overflowing and you need more hours in the workday to get everything done, we've got a solution! DoNotPay's products help you check off your errands in record time. Within minutes, you'll be able to get a free trial, cancel a service, or request a refund. Perhaps you're dreading wasting your time in lines or on the phone, but don't worry—we'll deal with customer service, book a DMV or a notary appointment in your stead.
We can also assist you in filing a FOIA request, getting in touch with an inmate, and prepping for government tests.