The Ins and Outs of the Notary Acknowledgement in New Jersey
Like most other U.S. states, New Jersey has specific rules when it comes to notarial acts and the ways notaries public operate. Besides validating the signatures on your contracts, affidavits, or letters, notaries can help you get a notary's stamp and signature on your acknowledgments, also known as notary statements.
If you aren't familiar with this procedure, worry no more—we can help! This guide will explain what a notary acknowledgment in New Jersey serves for and will give you tips for getting your documents notarized effortlessly. and find out how to find a suitable online notary and set an appointment with them in a matter of minutes!
Notary Acknowledgments in a Nutshell
A notary acknowledgment is a specific declaration confirming that:
The person who signs a particular document appeared before a notary

The notary verified the signer's identity

No one forced the client into signing the document
Notary acknowledgments don't confirm the truthfulness of the contents of the document. In most U.S. states, the client can sign these statements before meeting the officer, which is not the case with other documents you bring to the notary.
All the rules regarding completing acknowledgments in New Jersey are stated in Section 46:14-2.1 of New Jersey Revised Statutes.
What Does Taking an Acknowledgment Look Like in New Jersey?
The procedure of taking acknowledgment requires a notary to:
Ensure that the signer is physically present unless they choose remote online notarization

—If the client chooses an online notary, everything will be done via a video call

Check the signer's identification documents

—The client must present a valid ID, passport, driver's license, or any other document with a photo

Revise the document to be notarized

—The officer must ensure that it:

Is complete

Doesn't contain blanks and other technical errors

Doesn't miss any pages

Ask the client to acknowledge that they are signing the document voluntarily

—The signer should state that they are doing it of their own free will and are aware of what they are signing. If the notary suspects the client is intimidated into signing the document, they can refuse to perform the notarial act

Complete an acknowledgment certificate and put their signature on it

—Providing a notary stamp isn't mandatory as long as the certificate states the name of the notary, the county, and the commission expiration date

Make a notary journal entry

—It must contain:

Date of signing

Title and type of notarial act

Printed name and address of the signer

Identification form

Charge the client

—According to the

New Jersey Notary Public Manual

, notaries in this state can charge $2.50 for taking an acknowledgment
Where To Find a Notary in New Jersey
If you are looking for a notary public in Newark, Hoboken, Jersey City, or any other place in New Jersey, you have two options:
Checking various institutions and facilities that may have on-site notaries

Using online platforms and notary locators
Below is the table listing the details of both methods:
Institutions and Facilities
Online Notary Databases

Credit unions

Public libraries

Photocopy shops

Law firms and offices

Insurance companies

Real estate

companies

Colleges and universities

Tax preparation companies
Get All Your Documents Notarized Virtually With DoNotPay
For most people, notarization is a burdensome and time-wasting task. Opting for the standard notary service requires booking an appointment, driving or walking to the notary's office, and waiting in endless queues.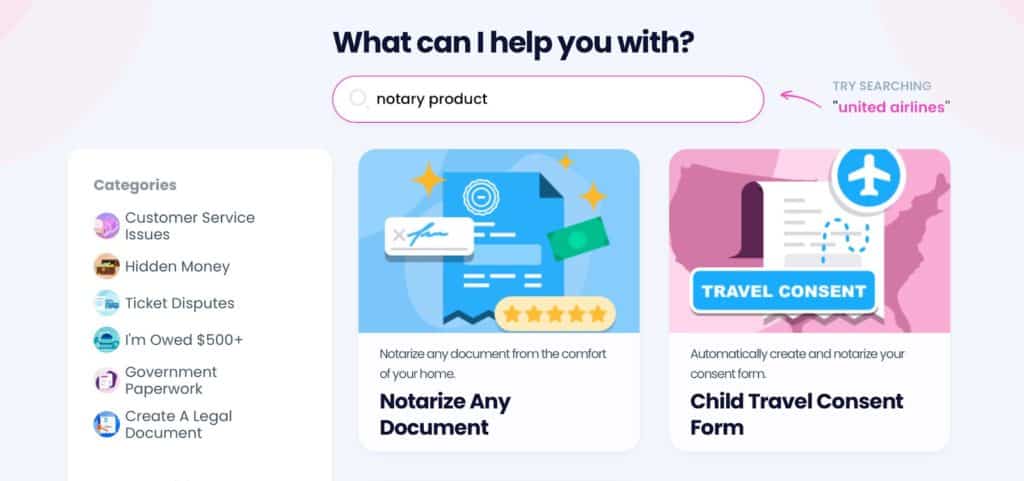 With DoNotPay, you can skip the hassle and get your documents notarized remotely! We developed a system that allows you to arrange a meeting with an online notary in the blink of an eye. All you need to do is:
and log in to your account

Navigate to the

Notarize Any Document

feature

Upload the document that requires notarization

Type in your email address
The link we send to your inbox will take you to a notary's timetable, where you can choose a convenient time for the appointment. The officer will perform identity verification via a video call and notarize your document digitally with an electronic stamp and signature.
Learn Everything About Notarization Using Our Knowledge Base
In DoNotPay's amazing learning center, you can find everything you should know about notary services in one place! You can:
Rely on DoNotPay To Solve Your Administrative Issues
Getting your documents notarized, drawing up legal paperwork, appealing parking tickets, and similar activities usually require a lot of effort. DoNotPay offers various useful products that can help you deal with administrative problems quickly and save a lot of time. We can assist you with:
Protect Your Consumer Rights With DoNotPay
Companies complicate cancellation and refund processes intentionally, hoping that consumers wouldn't want to spend hours trying to solve the issue they're having. DoNotPay knows how important consumer rights are, and that's why we created numerous products that can help you:
Many people forget to cancel their free trials on time and end up paying for the services they don't even use. To prevent that, DoNotPay has developed a nifty virtual credit card that will allow you to enjoy free trials risk-free. Our virtual credit card will also help you avoid spam email notifications by generating a random email address that you can use when signing up for a free trial.