You Don't Have To Go to an NJ Notary Office To Notarize Documents!
Heading over to an NJ notary office isn't the only way of having your documents notarized. Our guide will teach you how to notarize documents in New Jersey from the comfort of your home and save both time and money. Continue reading this article to find out how to get a notary's verification hassle-free.
What Is a Notary Public in NJ Authorized To Do?
A notary public in New Jersey is authorized to:
The duty of every notary in NJ is to:
If a notary notices any irregularity or suspects fraud, he or she should deny authorizing the document. Your contract will also be rejected if you sign it in advance. Notaries who willfully violate the rules lose their commission and face legal actions.
Notaries can't offer advice or review the content of a document—their only job is to verify the identity of the signing parties.
How Much Does a New Jersey Notary Charge?
Notaries earn income by charging fees. Each state has different rules regarding the maximum cost of notary services. By law, NJ notaries can charge a $2.50 fee for each service. If they charge more than that, the New Jersey government has the right to remove their commission.
Do You Need To Notarize Every Contract?
While you're not legally required to have every document notarized, the contracts that deal with serious matters or large transactions should have a notary's stamp. People usually notarize the following documents:
Ways To Notarize Your Documents on Your Own
You can notarize documents in New Jersey in person or—as of recently—remotely by visiting one of the online notary services. Both options have some disadvantages:
Ways To Notarize Documents in NJ

Description

Disadvantages

In Person

To notarize your contracts in person, do the following:

Find a notary

in New Jersey

Set up an appointment

Prepare the necessary documents

Go to the notary's office

The traditional process can be rather lengthy. If you make a minor error—such as forgetting your ID—you will have to schedule a new appointment and repeat the entire process, which can take weeks

Remotely

Choose one of the online notary services and follow their instructions

While the remote option might seem practical, it can be expensive. Another disadvantage is that some platforms aren't easy to navigate, which can be an issue for most people
The Most Efficient Way To Notarize Any Document Is With DoNotPay
What if we told you that there's a more affordable and time-efficient way to have any document notarized from the comfort of your home? DoNotPay has developed a user-friendly feature that can help you schedule a virtual appointment with a notary and have your contracts notarized in under five minutes.
Another advantage of DoNotPay is that you'll have access to all of our features by paying a small monthly fee. We don't charge a small fortune like other online notary services.
To use this affordable and easy-to-use feature to your advantage, log in to and follow these steps:
Pick our

Notarize Any Document

feature

Upload the document you want to notarize

Type in your email address

Open the email we send you and click on the link
You will be redirected to a webpage where you will set up an appointment with a notary in NJ. He or she will witness and verify your signature during the virtual appointment.
New Jersey isn't the only state we can help with. DoNotPay can assist you in getting your documents notarized in other states, such as:
Explore DoNotPay's Legal Documents Feature and Create Any Contract Stress-Free!
DoNotPay has developed another practical feature that helps you create any legal document in a few clicks without wasting money on expensive lawyers. We have integrated the Notarize Any Document service with the Legal Documents feature to make the entire process even easier. With our help, you can create various contracts, including:
To create contracts hassle-free, follow these steps:
Open

Enter the name of the document you want to draw up

Respond to all of our questions

Download or print the contract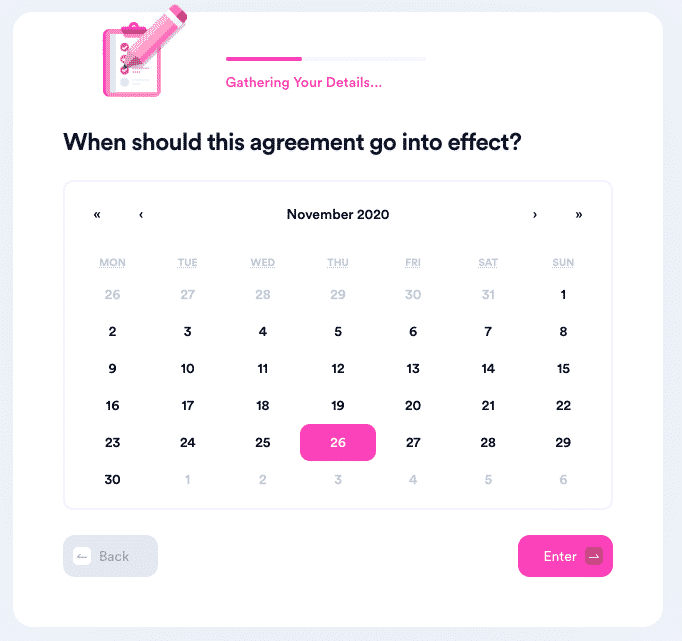 What Else Can Our Award-Winning App Do for You?
If you think that's impressive, wait until you've heard about other features we boast!
Our powerful app can draft paperwork for you, locate unclaimed funds under your name, cancel subscriptions, sue robocallers, and protect you from stalkers and harassers—all in one nifty browser app!
Our services have been recognized by the esteemed ABA Brown award, serving as a testament to our abilities to assist you with your small claims issues, free trial auto-renewals, college fee waivers, public records, copyright protection, and much more!
More Benefits of DoNotPay
DoNotPay is a useful tool for handling many otherwise annoying life's trifles, including: