Don't Visit a Notary Public in Newark, NJ—Get Documents Notarized Online
When a document requires notarization, many people waste their time and energy finding an in-person notary public. There is a way to avoid this overlong and exhausting process—using an online notary service instead of the regular one. Some states still don't allow remote online notarization, but luckily, New Jersey does.
If you want to know how to get documents notarized online, , and we'll help you get an appointment with an online notary public in Newark, NJ, in no time!
Why You Might Need a Notary Public
Why do documents even have to be notarized? Detecting fraud and ensuring the adequate use of specific documents are the main reasons. Documents that usually require notarization include:
Deeds

Trusts

Credit or loan documents

Custody papers

Copies

of various documents
What Tasks Does a Notary Public in Newark, NJ, Perform?
A notary public in Newark, NJ, is a public officer appointed by the State of New Jersey to witness and attest to the signing of documents. Responsibilities of a Newark notary public include performing the following notarial acts:
Taking:

Proofs of deeds (proofs of execution)

Administering:

Executing:

Jurats for affidavits and other verifications

Protests for non-payment and non-acceptance
Once the notary finishes the notarization, they should create a notarial certificate, including:
The signer's name

Date and place of the notarial acts

Notary's stamp
The Rundown on the In-Person Notarization Process
Once you learn that you have to get documents notarized, you should find out what you are in for to prepare yourself. The entire traditional notarization process can be divided into steps:
Finding a notary

in your vicinity

Calling or emailing to set up a meeting

Collecting documents that require notarization

Heading down to the notary's office

Signing the document in front of the notary

Waiting for the notary to perform the notarization
During the notarization, the notary should:
Check your identity (by examining your ID, passport, or driver's license)

Ensure you're of sound mind and not under the influence

Establish there is no coercion
How Much Does It Cost To Get Documents Notarized in Newark, NJ?
Every notarial act has a notary fee cap set by the New Jersey government. Notaries are not allowed to charge more than the state limit. What they can do is charge additionally for clerical and administrative services, such as copying documents and making phone calls, or for travel expenses, in case they perform mobile notary services.
Take a look at the following table to learn about the notarial fees in Newark, NJ:
| | |
| --- | --- |
| Notarial Act | Maximum Fee |
| Administering an oath or affirmation | $2.50 |
| Taking an acknowledgment | $2.50 |
| Executing a jurat | $2.50 |
| Taking proof of a deed | $2.50 |
| Executing a protest | $2 plus 10 cents for each notice |
How Can I Find a Notary Public in Newark, NJ?
Even though there are many notary services out there, finding a notary public in Newark, NJ, still takes a lot of time. Deciding which notary public fits your needs, making an appointment, and visiting the notary's office can take weeks!
Here's where you can start searching for a Newark, NJ, notary public:
Websites
Public Places in Newark

City clerk offices

Credit unions

Courthouses

Insurance agencies

Real estate agencies
Is There a More Practical Way To Get Documents Notarized in Newark, NJ?
Getting documents notarized in-person is not always the most convenient option, but no one can do it instead of you since the signer has to be personally present. Being disabled, not having transportation, and many other reasons make traditional notarization a nightmare. Remote online notarization easily solves these problems by enabling the signers to be personally present without actually going to the notary's office.
Because of the COVID-19 outbreak, the State of New Jersey passed the law that temporarily allows the use of remote notarization. Remote notarization requires booking an online appointment using specific audio-video platforms.
Use DoNotPay To Set Up a Virtual Appointment With a Notary Public in Newark, NJ
The problem with many online notary apps is that they are too complicated to use. They also tend to overcharge for their services. If you wanted that much hassle, you wouldn't bother with online notarization.
With DoNotPay's Notarize Any Document product, getting documents notarized online is a piece of cake! Our easy-to-use and budget-friendly service can make you forget about the troubles of in-person notarization.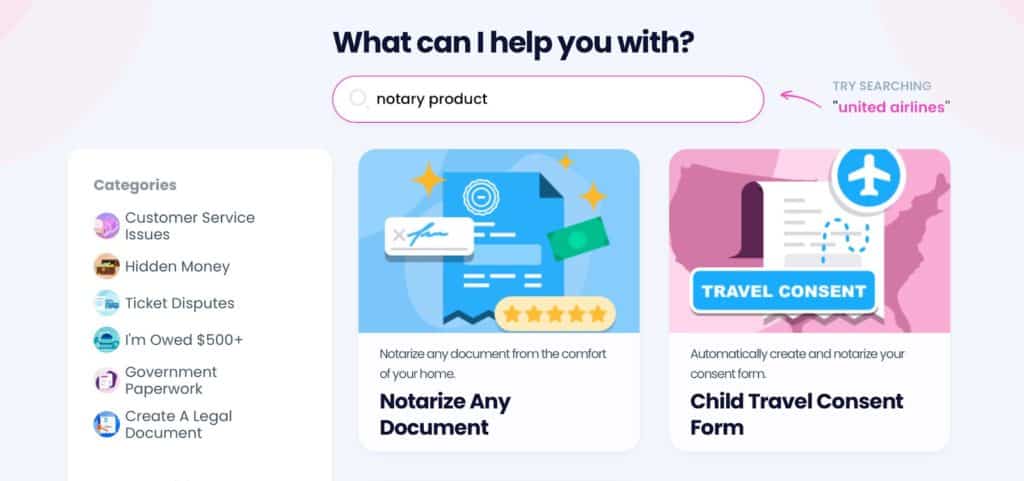 The process of getting documents notarized is as easy as ABC—you can do it by following these steps:
Choose the

Notarize Any Document

tool

Upload the document you need to get notarized and add your email

Check your inbox for our email
Did you get the email? Excellent! All you need to do is follow the link to confirm the virtual meeting with the notary.
DoNotPay Is a Time-Saving App
How many customer service reps do you have to deal with only to file an insurance claim or book your DMV appointment?
DoNotPay helps you sort out these tasks and much more in only a few clicks.
Get your revenge on robocallers, report text scammers, find validated clinical trials, claim your warranties, get in touch with your loved ones in prison, and protect your creative content—all in less than five minutes.
No more hours-long phone calls, emails, or in-person visits.
We cover everything from freeing your inbox from spam to providing excellent prep tests for government exams! Save time with your all-in-one app!
Keep Your Money Safe With DoNotPay
Don't let greedy companies threaten your consumer rights by holding back refunds, refusing to cancel your subscriptions, or charging you after your free trial ends.
DoNotPay helps you try out different services without providing your credit card info or phone number—you will never again have to deal with unexpected post free trial charges!
Our app also helps you avoid paying unnecessary parking tickets, delay challenging bills, or waive your college application fees.
If any company refuses to issue you a refund or an airline won't compensate for canceled flights, we can help you sue them in small claims court.