Learn About Amscot Notary Services
Do you have some important Amscot documents you need to get notarized? Although notarization is a standard procedure for many contracts and other types of formal documentation, such as mortgages, the process can be lengthy and costly.
If you are not sure how to notarize a document, you can consider a few options before choosing Amscot notary services.
DoNotPay provides information and offers a practical Notarize Any Document feature you can use on the go.
Choose DoNotPay's Online Notary Services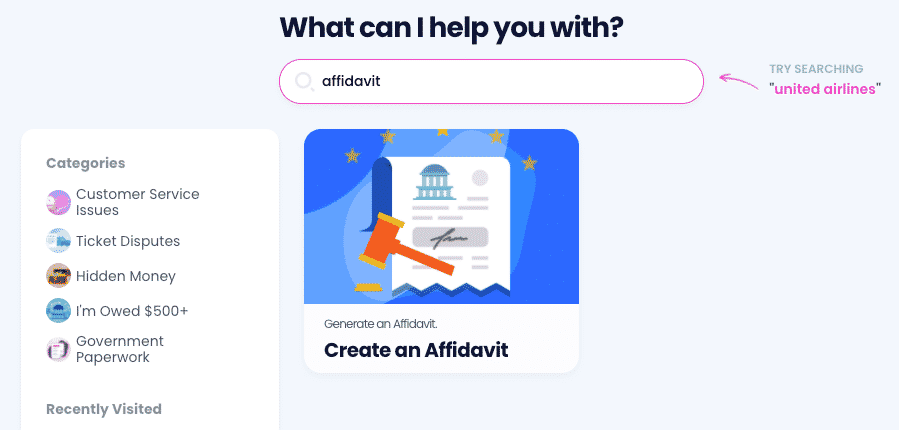 We have designed the Notarize Any Document feature to help you undergo the notarization process fast and efficiently. The best part is that you can do it from any place and at any time.
With DoNotPay, you can avoid the hassle of:
Finding a suitable notary public

Calling and waiting on hold to make an appointment

Driving to the notary's office
Regardless of where you live, DoNotPay offers a smooth notary service for lots of states, including Florida, Pennsylvania, Arizona, Illinois, Texas, New Jersey, and South Carolina, to name a few.
Here is how quickly you can finish the whole process:
Select the

Notarize Any Document

feature

Upload your document(s)

Type in your email address
Once you have completed these simple steps, DoNotPay takes over. You can expect the following to happen:
You will receive a link through which you can confirm your online meeting with a notary

A notary public will verify your signature during your online video call meeting
Using DoNotPay, you can create numerous contracts and then notarize them in a matter of minutes.
What To Prepare for an Amscot Notary Public
Alternatively, you can get your documents notarized at Amscot since they have a notary public on staff. If you choose to use Amscot notary services, make sure to:
Take a valid photo ID with you

Prepare and complete all the documents adequately

Take all documents that you want to get notarized

Bring witnesses with you if they are required to sign any documents
An Amscot notary cannot help you complete, prepare, or understand any formal documents.
If you need help with that, you can use DoNotPay's Standardized Documents feature to create legal documents, or you can contact a lawyer.
To check what documents an Amscot notary can notarize, you should either:
Visit an Amscot branch or

Get in touch with them by calling

1-800-801-4444
Amscot Notary Price
For some notary services across the USA, you can end up paying from $1 to over $100 per document, which depends on the:
State

Type of documents you need to get notarized
For loan or mortgage documents, you should not be surprised if you need to settle a fee of $100 and even more. You should check the fees before visiting a notary public, so there are no unpleasant surprises.
The Amscot notary fee is $10 per stamp. The price can change or vary from document to document, so you should check by phone or heading to the closest Amscot branch before visiting an Amscot notary public. It could also differ from state to state.
Is Notarization a Complicated Process?
A traditional notarization process can be challenging, so we provide some details. To get your documents notarized, you will need to:
Do some research

Find a place providing

notary services

Schedule an appointment

Gather all required documents

Show up at the appointed time

Present the necessary proof and identification documents

Pay the

notary fees
What To Expect When Visiting a Notary Public
If you have made an appointment, you should know that before notarizing your documents, a notary public is going to do the following:
Before Notarization

Explanation

Verify identity

A notary public will require you to present identification before signing a document. For this purpose, make sure you take with you one of the following:

ID

Passport

Driving license

Notaries will record details regarding the identification document you provide

Check willingness

Notaries will check for signs of coercion, i.e., whether you are signing a document in free will and not because somebody is threatening or forcing you to do it

Verify sound decisions

Notaries will also confirm that you understand what you are signing. They will not notarize your documents if they notice that you are under the influence of:

Drugs

Alcohol

Medicines (influencing your judgment)
You will not get a notary signature on your documents if you:
Forget to bring an identification document

Seem confused about what you are signing or why

Are not of sound mind (e.g., under the influence of substances)

Have not brought a witness in case the documents require a witness's signature

Cannot pay the necessary notary fees
If you notice that your notarized affidavit, trust, or any other document is missing the notary's signature, you will have to go back to the notary's office to repeat the process.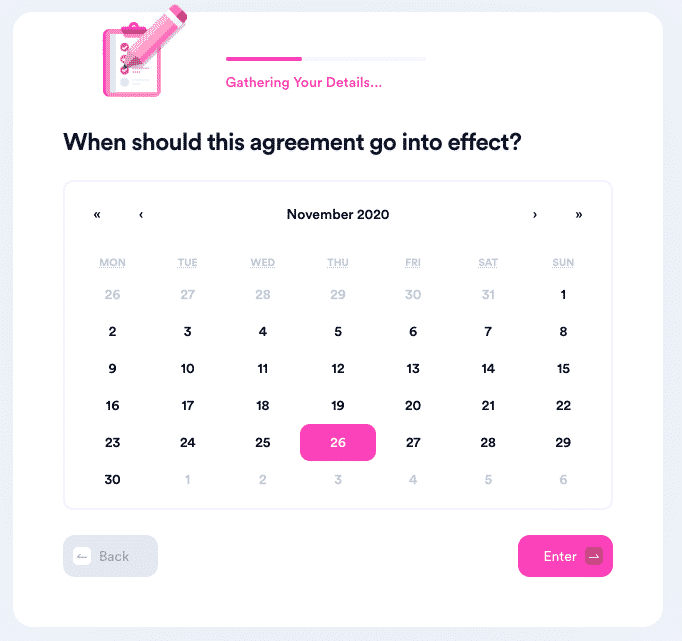 Additional Notary Services You Can Use
If you find the above-mentioned traditional notary services time-consuming and challenging, you should think about the following options:
Online notary services

—You can get your documents notarized in a few minutes using online platforms or apps, such as

Mobile notary services

—You can make an appointment with a mobile notary public who can visit you at your home or office
Online notary services will save you time and energy as the whole process is simplified and fast!
Clear Out Your Daily Tasks Fast With DoNotPay
Are your parking tickets piling up, but the process of appealing them is way too complicated? Do you struggle to pay your bills but are not sure how to get an extension? Is it time to extend your driver's license, but reaching the DMV is a nightmare?
DoNotPay will turn all of these dreadful tasks into easy-to-do items you can check off your agenda quickly!
Get rid of spam emails, texts, and calls quickly using our AI-powered app!
Learn how to secure compensation from airlines, get your college fees waived, claim your lost funds, or reduce your property tax—all with a few clicks!
Subscription Issues? DoNotPay Can Help!
If you are looking to test out a service, think twice before disclosing your payment info. Companies will often ask you for your credit card details even when signing up for a free trial—they charge you once the trial expires.
Use our virtual credit card, and don't worry about unwanted charges!
Our credit card gets automatically approved for any free trial, but it rejects any real charges since there is no money on it.
DoNotPay will locate and cancel all your unwanted subscriptions without you having to deal with customer service reps.
We can also help you request refunds from companies or take them to small claims court if they refuse to cooperate.