Can You Schedule an Online Appointment With a Notary in Jersey City?
If you need to get a document notarized in Jersey City, NJ, this guide provides valuable information on the importance of notarization and how it works. You can also use DoNotPay to schedule an appointment with a notary at any time of day!
Why Is Notarization Important?
Over 1 billion documents get notarized in the United States every year, but few people understand the process. Notarization is important because:
It authenticates the signatures and adds credibility to the document. Some documents are not enforceable without a

notary signature

Notaries confirm the signer's identity and that they are signing the document of their own free will

The process prevents fraud and forgery
How Much Does a Notary Public in Jersey City Charge?
Notary service costs vary in every state, but there is a maximum limit that a notary can charge. If a notary charges more than that, they may face disciplinary action, up to and including suspension.
Here is a basic fee structure for notary services in Jersey City:
Notary Service

Basic Fee

Acknowledgments

$2.5

Jurats including oath

$1

Oaths and affirmations

$2.5

Protests

$2 plus 10 cents for every notice

Witness

affidavits

$2.5
Different Ways To Get Your Documents Notarized
There are three options to get your documents notarized in Jersey City:
| | |
| --- | --- |
| Notarization Option | How It Works |
| Traditional Notary | You will have to visit a notary's office to get your documents notarized |
| Mobile Notary | A notary will travel to the location of your choice. It could be your office, home, or any other venue |
| Online Notary | You can get your documents notarized online via video call |
Issues With Traditional Notarization in Jersey City
While most people opt for visiting a notary's office, there are a lot of problems to consider there:
Finding a notary near you can be quite a hassle if you don't know where to start

You have to schedule an appointment during business hours. If you're busy during that time, you will not be able to get your documents notarized

If you forget even a minor detail or document, the notary will refuse to sign your documents and postpone your meeting to a later date
These issues have driven people all over the United States to switch to mobile and online notaries.
Issues With Mobile Notarization in Jersey City
Although mobile notarization is pretty convenient, it will cost you more. You can expect the following extra charges if you opt for a mobile notary:
Travel fees for coming to the location of your choice. They can be high for remote locations, for example, airports, prisons, detention centers, or nursing homes

A fee for appointments after business hours or over the weekend

An extra charge if the notarization is scheduled as an emergency
Does Jersey City Allow Online Notarization?
Due to the Covid-19 pandemic, the New Jersey state government has allowed both mobile and online notaries to operate. Emergency law was passed to authorize state officials to execute remote notarizations, thus avoiding health risks.
With online notarization, you don't have to worry about business hours or extra travel fees. You set an appointment according to your schedule and get your documents notarized conveniently.
How To Find a Notary in Jersey City Yourself
If you're on the lookout for a notary in Jersey City, NJ, there are various websites that can help you:
Other ways of finding a notary include:
Going to the nearest

UPS

location

Heading for the

bank

closest to you

Searching for law offices or financial institutions
If you're looking for a quick way to find a notary near you, DoNotPay can help you out!
Use DoNotPay for a Streamlined Document Notarization Process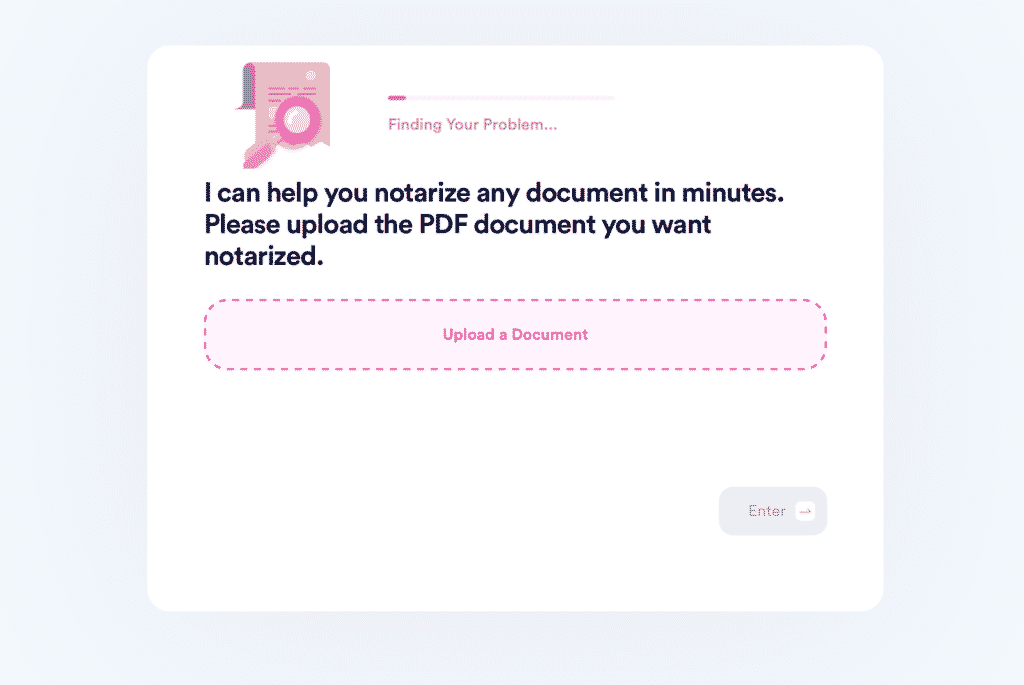 Have you searched extensively for notaries in Jersey City, NJ, but are dissatisfied with the results? Use DoNotPay for a streamlined scheduling procedure. This is how it works:
Opt for the

Notarize Any Document

service

Upload the document you want to get notarized

Add your email address
Check your inbox for an email from DoNotPay. By following the link in the email, you will find a timetable with many available slots. Select the time that suits you. The notary will meet you via video call at the scheduled time and put a digital signature on your documents.
Create a Legal Doc and Notarize It at Once!
If you don't have the time or energy to draft a legal document requiring notarization, to generate one for you. Select the document you want to create and answer our questions to draft a perfectly tailored document.
We can create various contracts and agreements, including:
Bill of sale

Lease agreement

Prenuptial agreement

Non-compete agreement

LLC operating document

Non-disclosure agreement

Independent contractor agreement
Poliwag
More Nifty Solutions to Annoying Problems
If you're dealing with problematic coworkers, you're not alone—our app can help you handle these issue with our Fight Workplace Discrimination product.
No problem is too big or too small for DoNotPay! Check out the best time- and money-saving solutions to different nuisances:
Issues

Solutions

Email spam

Using DoNotPay's

spam collector

High college fees

Applying for

college fee waivers

Bothersome robocalls

Getting back at

robocalls

Late delivery

Requesting a

late delivery refund

No fax machine

Sending faxes online

High property taxes

Applying for property tax exemptions and appealing your property assessment
An Array of Hacks To Help You Deal With Greedy Companies
Nobody likes to spend more money than they have to. DoNotPay is here to offer many penny-pinching hacks and also stop companies from taking advantage of you.
Almost every free trial nowadays isn't really free. Companies request your credit card info and auto-renew subscriptions. Fight this sneaky practice by using DoNotPay's virtual credit card next time you want to snatch a free trial. We'll also uncover any unwanted memberships you have mooching off of you and help you cancel them in a few clicks.
If you need to contact a company's customer service, avoid wasting your time and money on hold and count on our app to wait in your stead.
Do you need to get your money back, but you don't know how? Use DoNotPay to: