How To Find an Alabama Notary and Get Your Documents Notarized Fast
Finding an Alabama notary can be a tiresome process, especially for people who don't know where to look. No need to worry because DoNotPay has the solution you need.
When you , we will give you a thorough guide on how to get documents notarized, how to find an online notary, and how to get their signature!
What Are the Duties of an Alabama Notary?
In Alabama, county judges appoint and commission notaries public to perform their duties. An Alabama notary may perform the following notarial acts:
Administer oaths or affirmations

Take

acknowledgments

and proofs of instruments of writing

Demand acceptance and payment of bills of exchange,

promissory notes

, and other commercial law writings

Issue protests

Notarize the following documents:
How To Get a Document Notarized by an Alabama Notary
When it comes to the traditional notarization process in Alabama, some people find it too time-consuming. It usually takes up a lot of energy, and it consists of the following steps:
Locating a local notary public's office

Scheduling a meeting

Preparing all the paperwork

Visiting the notary

Proving your identity using a government-issued ID with a photo

Paying

notary fees

Stating that you are aware of the contents of the document

Signing the document before the notary

Waiting for the notary to sign and stamp your document
The process usually takes a few days before it's done.
How To Find a Notary in Alabama
You can find a notary in Alabama by googling "notary near me," but even when you get the results, you won't be able to determine which notary is reliable.
You can also find an Alabama notary in these two ways:
| | |
| --- | --- |
| Via Online Platforms for Notaries | By Checking Local Businesses |
| There are several online platforms that can help you find a local notary office: | Some local businesses and institutions have notaries on their staff, so you can check with them if they can notarize your documents. These businesses are: |
How Much Can a Notary in Alabama Charge?
Notary fees in Alabama are regulated by the Code of Alabama, Act 2011-295. Alabama notaries can charge up to $5 per notarial act.
Aside from the five-dollar fee, mobile notaries in Alabama also charge for their travel expenses. The maximum is 56 cents per mile, which is the federal mileage rate.
Can an Alabama Notary Perform Remote Notarization?
To avoid all the administrative hurdles of in-person notarization or a mobile notary's additional charges, you can opt for remote online notarization (RON). In the U.S., 28 states now allow RON permanently, and some allow it only temporarily due to the COVID-19 pandemic. Unfortunately, Alabama didn't make this notarization method permanently available, but it did make it temporarily accessible as of March 26, 2020.
You can get your documents notarized online in Alabama under the following circumstances:
The notarization must happen via an approved platform

The notary must confirm the signatures of witnesses over the audio-video call using identification methods that are the same as the ones that are used during traditional notarization

The date and time of when the notary witnesses the signature will become the official date and time of notarization

The documents must be returned to the notary for certification and execution
There is also a mechanism for remote "in-person" witnessing of documents that enables a third party to be a witness if the notary validates their identity.
DoNotPay Is the Way if You Want a Swift Notarization Process
Various platforms offer online notarization, but they will usually cost you an arm and a leg. Sometimes, those platforms can even be complicated to use.
DoNotPay is entirely different—our user-friendly interface enables you to locate an online notary in three clicks. Our platform is by far the most convenient option for online notarization. All you need to do is and follow the guide below:
Find the

Notarize Any Document

product

Upload your files or documents

Provide us with your email address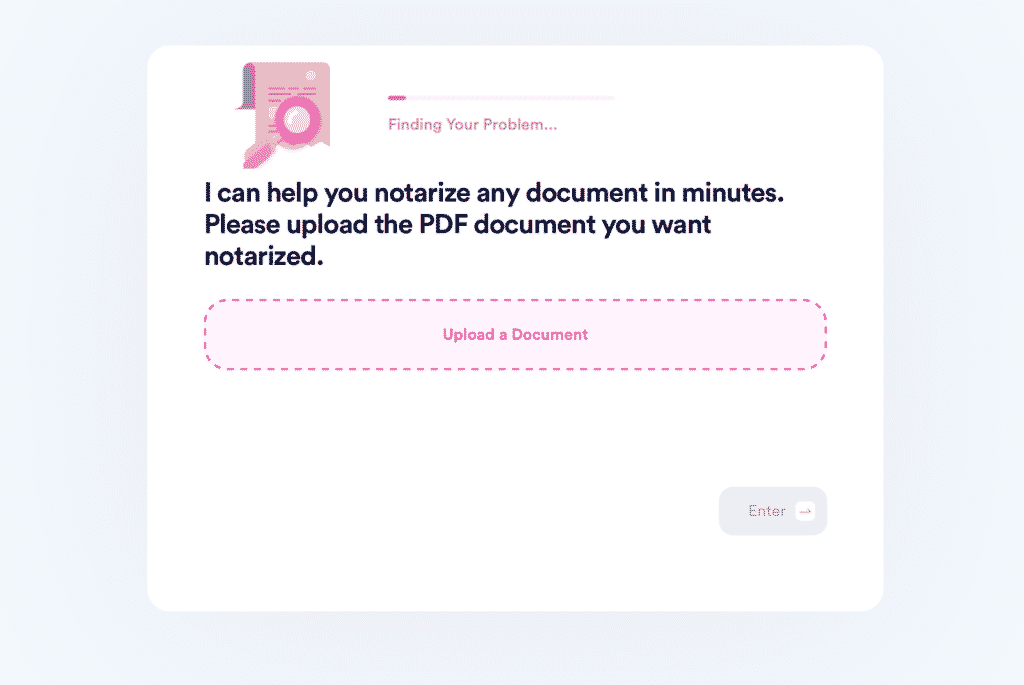 And that's it! The rest of the process is in DoNotPay's hands—we will send you a link you'll use to set up your appointment with an online notary. The notary will verify your identity and witness the signing of your document.
The process is entirely remote, so you won't have to waste money on gas or mobile notary travel fees or queue in long lines at a bank, AAA store, or a notary's office to get your documents notarized.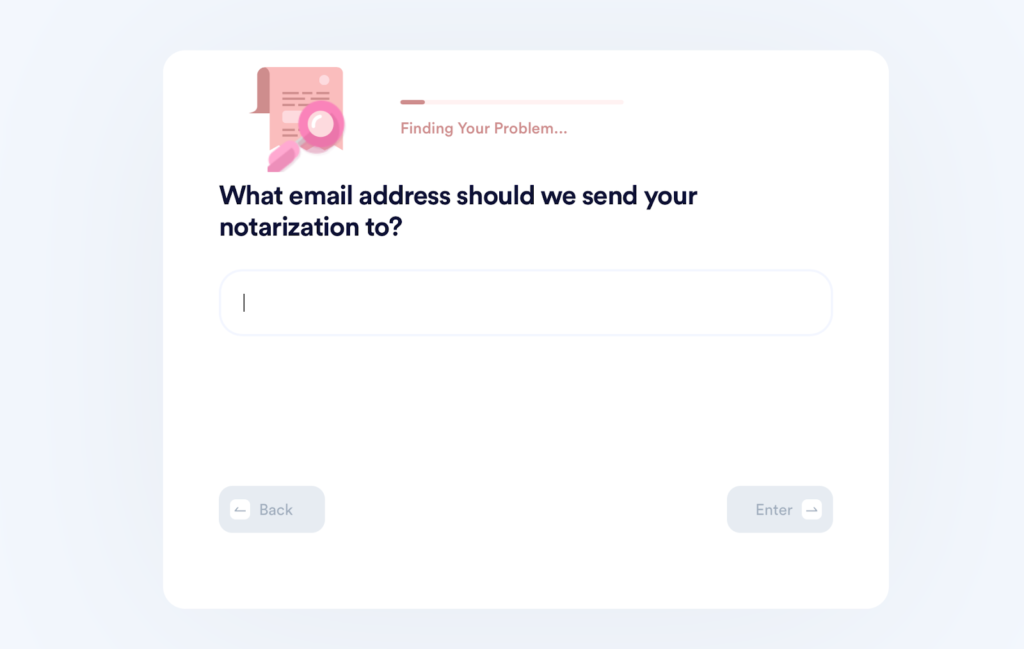 Explore DoNotPay's Products and Save Both Time and Money
Are you sick and tired of spending ages on the phone with customer support trying to get more info about how to return a faulty product and get a refund? Maybe you'd like to cancel memberships you don't use but can't find that unsubscribe button anywhere? DoNotPay can help you sort out all of these issues in a jiffy!
Contest parking tickets, claim your car warranty and insurance, schedule a meeting with the DMV, and handle your other problems through the same app on your tablet or smartphone.
Getting access to public records or drawing up various legal documents with DoNotPay is child's play.
That's Not All!
The first thing you'll notice when you open DoNotPay is that you can use our app for almost anything.
Do you wish to enter raffles or sweepstakes? Are you interested in applying for paid clinical trials and earning some cash? Would you like to send mail without going to the post office? You're in the right place!
We will help you feel safe while browsing the Internet by assisting you in blocking and reporting spam emails, suspicious text messages, and pesky robocalls.