Is Your Mercari Account Suspended? Learn How To Get It Back
Mercari is a growing marketplace that attracts new shoppers and sellers daily. Having your Mercari account suspended after getting used to its functionalities can be stressful. Your use of the e-commerce store doesn't need to end here—DoNotPay will help you get your account back!
Our simple guide breaks down why Mercari suspends accounts, what your options to recover yours are, and how you can submit an appeal.
What Can Get My Mercari Account Suspended?
While some activities can seem normal to you, Mercari might have rules against them. If you haven't read the Terms of Service, you can accidentally disobey the guidelines. Any form of violation will end in a suspension—temporary or permanent.
Mercari will remove users who:
List or sell prohibited items
Act in a prohibited manner
Violate the Terms of Service multiple times
Have questionable activity on the account
Need to go through a verification process
Listing or Selling Prohibited Items
Mercari has a list of prohibited items that users can't sell or list, including:
Illegal items
Tobacco products
Drugs—Illegal drugs, medicine, and ingredients or tools for creating drugs
Alcohol
FDA-restricted items
Items with inflated prices listed to profit from a tragedy—such as pandemic, fire, flood, etc.
Stolen goods
Counterfeit goods
Weapons
Items used for identity theft
Products that aren't in yours, such as dropshipping
Items that endanger someone's safety
Financial products, such as bonds, stocks, and similar
Animals
Trafficked materials
Items that promote or glorify racism, hatred, violence, and discrimination
Products that contain a virus, malware, or spyware
Note that selling these types of products is forbidden on most e-commerce websites. If some of these products caused your suspension, you might want to revise your listings before you get suspended from Amazon, Etsy, or eBay as well.
Acting in a Prohibited Manner
The e-commerce platform has set some ground rules regarding users' behavior. To make the exchange of goods legal and respectful, Mercari doesn't allow the following conduct:
Violating any local, state, national, or international law or regulation
Posting content that is offensive, inappropriate, sexually suggestive, or untruthful
Engaging in conduct that glorifies hatred, discrimination, violence, or offensive behavior
Interfering with Mercari's security features
Uploading malicious code
Exercising fraudulent behavior
Violating the Terms of Service Multiple Times
The Terms of Service exist to establish order among users. If they don't act accordingly, Mercari will remove their accounts for a set time or indefinitely—if you repeat the violation. Besides reading the rules on Prohibited Items and Prohibited Conduct, you should also revise these policies:
Seller Rules
Buyer Rules
Privacy Policy and Privacy Notice
Electronic Communications Delivery Policy (E-sign Disclosure and Consent)
DMCA Policy
Safety Guidelines
Law Enforcement and Information Requests
Sales Tax Policy
Having Questionable Activity on the Account
Keeping its users safe is a priority for Mercari. If the company notices unusual activity on your account, it will suspend you. The security team will look into what was wrong and lock your account in the meantime.
Mercari also protects buyers from suspicious sellers. If you have a high number of cancellations or returns, the platform will restrict your account until it investigates the problem. You can check our Mercari return policy guide if you have any questions regarding that.
Needing To Go Through the Verification Process
Sellers and buyers exchange money on the platform, so Mercari is required to verify their identities to ensure fair trade. The platform collects tax information from the users and has a legal obligation to check the validity of their information.
Your account can be suspended if Mercari needs additional data or verification steps from you. The suspension will be lifted when you supply the required documents and prove your identity.
Is My Mercari Account Suspended Indefinitely?
If you receive a notice about indefinite suspension, Mercari banned your account. You can be permanently suspended from the platform if you commit more serious violations—such as selling illegal items or committing fraud. Users who repeat a violation after they've been warned can also be banned for good.
When suspended indefinitely, you will be able to complete your transaction and request your remaining balance.
To get unbanned, you can file an appeal. If Mercari made a mistake, you can get your account back, but if found guilty, you will need to say goodbye to the marketplace.
How To Free Your Mercari Account
To resolve the account-suspension issue, you need to contact Mercari customer service. Follow these steps to get in touch with them:
Go to the Contact Us page
Select the Account option
Select My account was limited
Pick one of the provided reasons why your account was limited:

My account was limited for identity verification
My account was limited for unusual activity
My funds are on hold
My account was limited for prohibited item(s) or conduct

Fill in the form under the Still need help option
Explain in detail what the issue is and provide images if applicable.
Keep in mind that Mercari has a high volume of inquiries, and it can take the reps a while to respond. If you don't have time to waste, you can resort to a better solution—DoNotPay.
Recover Your Suspended Mercari Account With DoNotPay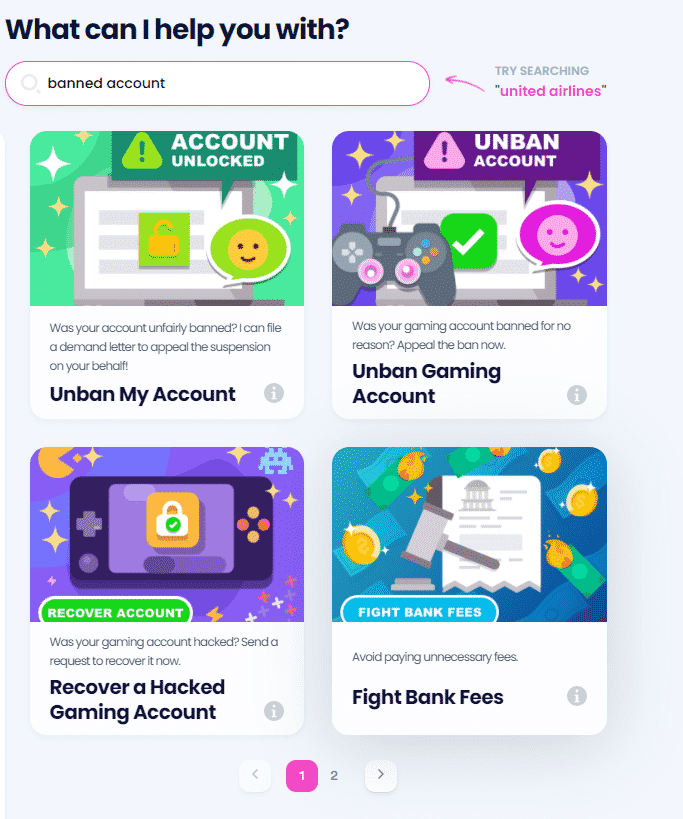 Skip the endless back-and-forth discussion with the reps by using our nifty app. DoNotPay will generate a valid demand letter that will add legal weight to your appeal. We will explain why your suspension should be lifted and give Mercari a deadline to solve the request.
All you need to do to get your letter is:
Choose the Unban My Account feature
Answer the questions regarding your suspension, such as:

The platform that suspended you
The date when you first got suspended
The reason that caused your suspension
The refund request—if you want to make one
After you sign and submit the form, we will send the appeal to Mercari within minutes.
DoNotPay Will Help You Get Your Accounts Back
Is any other platform or service giving you a tough time? The next time your shopping or selling experience on Newegg, Shopkick, or eBay gets interrupted by a ban or suspension notice, we will solve it! If you , you can forget about being ignored by unreachable customer service.
To help you revise companies' unique policies, we have prepared detailed guides that will explain it all:
Have Your Documents Created and Notarized in Less Than Five Minutes!
Why spend hundreds or even thousands of dollars on lawyers when the ideal solution is only a few clicks away?
DoNotPay saves the day by enabling you to generate numerous legal documents. Creating proper child travel consent forms, divorce settlement agreements, and powers of attorney has never been easier!
Our perks don't stop here—you can also have your documents notarized electronically from any location. Once you obtain a notary stamp and signature, your paperwork can be faxed online without outdated machines.
Explore Everything DoNotPay Has To Offer
Day-to-day tasks you must deal with don't have to be a burden or rocket science. Signing up for DoNotPay is your ticket to performing them the easy way! We offer a wide selection of products that don't cost an arm and a leg but do excellent work when it comes to solving your administrative issues!
Our services will help you: