Etsy Account Suspended—Everything You Need To Know
Were you surprised to find out your Etsy account was suspended? Don't sweat about it. In this article, we will help you identify the exact reason you got your Etsy account suspended and show you how to file an appeal.
Why Is My Etsy Account Suspended?
Etsy will suspend your account if you have violated its rules and terms of use. The violations can be divided into three groups:
Etsy terms of use violations
Buyer rule violations
Seller rule violations
Etsy Account Suspension for Violating Terms of Use
You are violating Etsy terms of use if you:
Are a minor
Provide false information on your account
Choose an offensive, vulgar, or inappropriate username
Use the platform for advertising another company
Post inappropriate, misleading, or offensive content
Miss your payments
Use your account for illegal activities (e.g., theft)
Use harmful computer codes and distribute viruses
Etsy Account Suspension Due to a Buyer Rule Violation
If you have a buyer account on Etsy, you can get banned when you break the rules from one of the following policies:
Hate speech and anti-discrimination policy—Don't use your account to promote discrimination against certain ethnic or religious groups, individuals who have disabilities, members of the LGBTQ+ population, etc.
Community policy—You shouldn't use the Etsy community platform to share your disputes with Etsy representatives, engage in illegal activity, meddle with other buyers' accounts, be disrespectful toward other buyers and sellers, and partake in similar actions
Sanction policy—Avoid using Etsy while you are in locations where Etsy doesn't deliver or buy items originating from prohibited geographic areas (Cuba, Iran, North Korea, Crimea, and Syria)
Etsy Account Suspension Due to a Seller Rule Violation
As a seller on Etsy, you have more responsibilities than the buyer. That means there are more rules you need to follow and more ways to get your account suspended. Here are some of the policies Etsy sellers need to follow:
Advertising and marketing policy—Avoid advertising on Etsy using another company
Payment and fees policy— Make your payments on time
Prohibited items policy—Do not sell items such as tobacco, alcohol, drugs, animal products, human remains, weapons and hazardous materials, illegal items, pornography, internationally regulated items, and objects that promote hate and violence
Shipping policy—Ship your items to the right address, specify your shipping cost, and follow shipping procedures carefully
Seller referrals policy—Don't use multiple accounts to get the seller's credit
Intellectual property policy—You should not present the intellectual property of others as your own
Aside from these, sellers also have to follow all buyers' rules and policies.
How To Restore a Suspended Etsy Account
If you want to get your Etsy account back after being suspended, you can file an appeal. Etsy states that its users can appeal only permanently suspended accounts.
If you violated the terms of service multiple times, Etsy will not accept your appeal.
The Etsy Appeal Process
Before you file an appeal, you should thoroughly prepare the appeal and make sure it includes:
Circumstances that led to the account suspension
Description of your business relations with Etsy
Plan to avoid future violations
Details that prove your merchandise meets Etsy's standards (if you're a seller)
To submit an appeal letter properly, you should:
Open the Submit a request page
Complete the form by adding your email address, subject, and details of your request
Attach photos and screenshots to support your appeal
After you provide all the necessary info, an Etsy representative will investigate your case and give you a response.
In case you haven't received any response, or you want to make sure Etsy takes your appeal seriously, turn to our app. , and let us send Etsy a demand letter on your behalf!
Learn How To Unsuspend Your Etsy Account With the Help of DoNotPay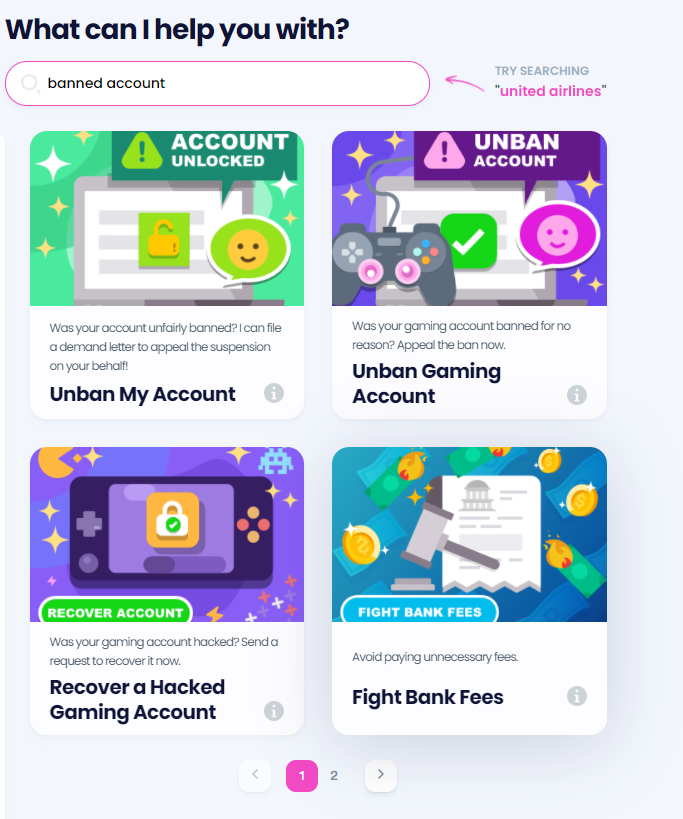 Skip the wait and frustration by using DoNotPay! Our nifty app will generate a customized demand letter and add legal weight to your Etsy appeal. We will make sure Etsy considers your request and responds within a two-week deadline period.
All you need to do is:
Select Unban My Account
Complete our questionnaire by providing the following info:

Name of the platform that suspended you
Date you got suspended
Your address
Federal- or state-protected classes—in case you were discriminated against

Verify your signature and click on Sign and Submit
Once you submit the form, DoNotPay will create a demand letter and send it to Etsy within minutes.
Let DoNotPay Help You With Other Account Suspensions
Etsy is one of many platforms DoNotPay can help you with. Whether you need to learn how to get unbanned from a game or social media platform, you can rely on our app.
We will also help you with other shopping platforms, such as:
Our learning base offers solutions to different problems, such as bans or locked accounts. You can find them in the guides listed in the table below:
Solve Your Legal and Bureaucratic Issues With DoNotPay
The primary purpose of our app is to provide you with practical tools that can speed up all the drawn-out tasks you must complete. All you need to do is choose a suitable feature from our offer and get your problems solved in a heartbeat!
Once you create an account with DoNotPay, you can:
File:
Create:

Powers of attorney

Divorce settlement agreements

Many other legal documents

Get:
Feeling Unsafe or Harassed? DoNotPay Can Help You!
Have annoying calls and messages become your everyday problem? Don't give up on your peace—rely on DoNotPay and deal with robocalls and restless text and email spammers easily.
We also take care of your privacy, allowing you to create burner numbers and virtual credit cards to avoid revealing sensitive information when signing up for various online services.
If you are being stalked by somebody or discriminated against at work, we will do our best to help you fight for justice and report the case accordingly! We will also safeguard your creative work from copyright violation and ask for violent crime compensation on your behalf.