Shopkick Account Suspended—Find Out How To Recover It
Going shopping is more fun when you collect points and get free gift cards as a reward—which is exactly what Shopkick does for its users. When you get a suspension notice instead of new kicks, the fun ends.
Why is your Shopkick account suspended? DoNotPay will help you find out!
Our detailed guide will break down the Shopkick policy and tackle the main questions, such as:
Why your account was suspended
How long the suspension will last
What you can do to recover your account
If dealing with customer service and appeal letters is overwhelming, use the DoNotPay app to speed up the process!
Why Was Your Shopkick Account Suspended?
If you want to collect or redeem kicks through your Shopkick app, you have to play by the rules. The app has a strict user policy that you must follow. If there is any indication that you breached the terms of use, your account will be suspended.
You can review the terms on the website or in the app under the Terms of Service segment. To simplify it for you, here is what can get you banned for:
Using multiple accounts
Sharing your Shopkick account with friends and family
Logging in to multiple Shopkick accounts on the same device
Scanning barcodes that aren't attached to physical products in a store—such as scanning a barcode on the website or printout
Purchasing and returning items to receive kicks
Tampering with or altering the receipt
If you did anything listed above or made an attempt to abuse the app in any other way, your account will be banned.
How Long Does the Suspension Last?
Shopkick doesn't have temporary suspensions. If you violate the rules, you will be permanently restricted from using the app.
If you believe that your rewards were unjustly taken away from you, you can get in touch with Shopkick reps and file a complaint. While they look into what happened and whether your complaint is justified, your account will remain suspended. It can take up to 30 days for the reps to revise your suspended account case.
The review can be finalized in two ways:
Account reactivated
Account terminated
Note that your kicks may not be credited back to you, even if your account is recovered. If the termination is final, you will lose all the rewards. You can't transfer your kicks or earned gift cards to another account.
How To Get Shopkick Account Unbanned
If you didn't violate any rule and your account was suspended, you need to send an appeal. Contact Shopkick customer service to explain your issue and demand that your account is reactivated. Make sure that you submit the appeal within 30 days of when you got the suspension notification.
You can reach out to the support team by:
Using the form on the website—provide the following information:

Full name
Email address
Shopkick phone number
Date when the issue occurred
Type of inquiry—Select Account/Settings Issues
Subject—Write Suspended Account
Description of the issue

Sending an email to help@shopkick.com
Have this in mind when writing the appeal:
Be respectful
Include all the details
Mention specific dates—such as the date when you first encountered the issue or when you got the suspension notice
Add screenshots that support your claims
Some customers whose accounts got banned complained about receiving generic responses. Instead of talking with a real-life agent, users get a canned message claiming how they violated the rules and that the account won't be reopened.
You don't need to risk getting the same email if you . Our demand letter will put legal pressure on the company to prioritize your appeal and take your request seriously.
How To Unban Shopkick Account With DoNotPay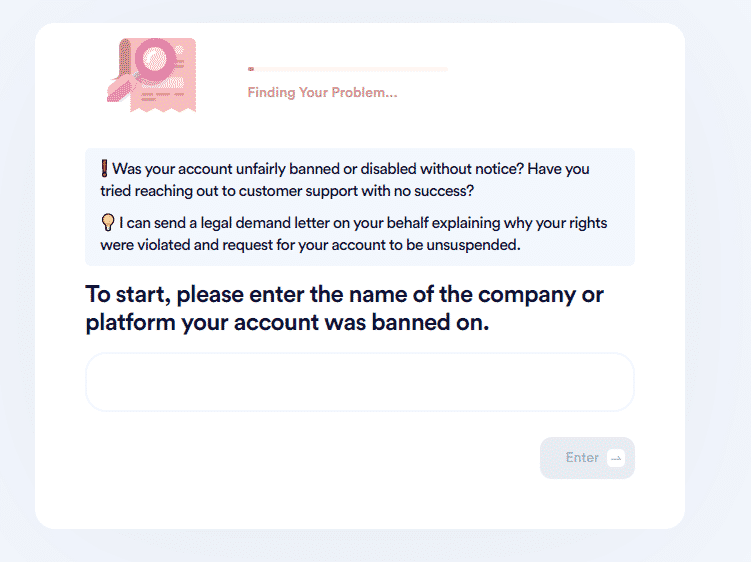 If you are in search of the easiest way to unban your account, you've found it—the DoNotPay app. Once you create an account, it will take you a few minutes to complete the questionnaire and send your demand letter to Shopkick.
Take these simple steps to initiate the process:
Click on the Unban My Account product
Answer the questions about your banned account
Click on the Sign and Submit button
We will compose a convincing appeal and give Shopkick a deadline to respond to your inquiry.
If you're having account troubles with any other shopping websites, DoNotPay can help you. Use the app to create customized demand letters and solve account issues, such as:
Recover Your Accounts With DoNotPay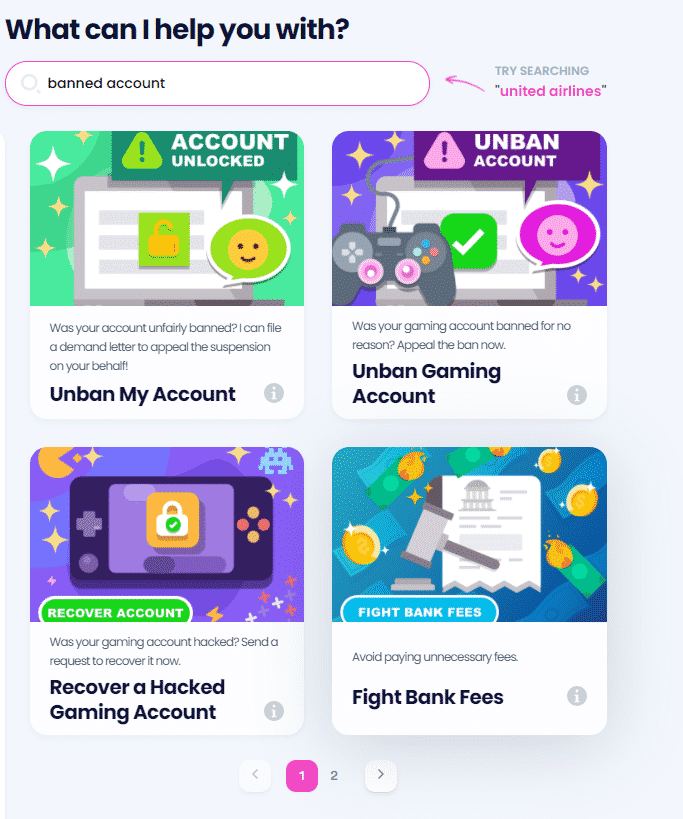 DoNotPay has two useful products that can streamline appealing banned and suspended account decisions—Unban My Account and Unban Gaming Account. With these tools at hand, you can ensure that your appeals are professionally written and that you get an answer as soon as possible.
Find out more about how ban and suspension policies differ depending on the platform by reviewing our helpful guides:
Solve Your Legal and Bureaucratic Issues With DoNotPay
The primary purpose of our app is to provide you with practical tools that can speed up all the drawn-out tasks you must complete. All you need to do is choose a suitable feature from our offer and get your problems solved in a heartbeat!
Once you create an account with DoNotPay, you can:
File:
Create:

Powers of attorney

Divorce settlement agreements

Many other legal documents

Get:
Feeling Unsafe or Harassed? DoNotPay Can Help You!
Have annoying calls and messages become your everyday problem? Don't give up on your peace—rely on DoNotPay and deal with robocalls and restless text and email spammers easily.
We also take care of your privacy, allowing you to create burner numbers and virtual credit cards to avoid revealing sensitive information when signing up for various online services.
If you are being stalked by somebody or discriminated against at work, we will do our best to help you fight for justice and report the case accordingly! We will also safeguard your creative work from copyright violation and ask for violent crime compensation on your behalf.