Perform a Kmart Gift Card Balance Check Without Any Fuss
It is always smart to see how much money you have left on your gift card before making another purchase. If you'd like to avoid an unpleasant surprise at the cash register, you should do a Kmart gift card balance check. DoNotPay can help you with this task and tell you how to get cash back from the gift card easily!
Basic Information About Kmart Gift Cards
If you own a Kmart gift card, here's some info you will find useful:
You can use these gift cards at Kmart and Sears
If you lose or damage your card, you can get a new one with proof of purchase
These cards:

Come with a value of between $10 and $500
Have no expiration date or fees
Are not redeemable for cash, except where required by law
How To See the Remaining Kmart Gift Card Balance
You can check your Kmart gift card balance in a few ways. Take a look at the table below to see your options:
How To Check Your Gift Card Balance
Steps To Take
Online

Visit the Kmart's website
Open the Gift Cards page
Click on the Check Balance link
Enter your gift card number
Type in your PIN
Solve the reCAPTCHA to prove that you are not a robot
Click on Check Card

Over the phone

Call the Kmart customer service at (866) 562-7848
Tell the customer service rep that you want to check your gift card balance
Provide the agent with your card number and PIN

In person

Visit the Kmart store in your vicinity
Tell the employee that you want to check your gift card balance
Give them your gift card number and PIN

Sign up for DoNotPay
Access the Check Gift Card Balance feature
Upload photos of your gift card from the front and back

We will get in touch with Kmart and tell you your gift card balance
What Can You Do With a Used Kmart Gift Card?
You found out you still have some money on your Kmart gift card but don't feel like making another purchase? Don't worry! You can still use your card in a few ways:
Gift your card to someone—Maybe you have a friend that likes Kmart more than you? If you have more than a few bucks left but don't need anything from the store, you can always give the card to someone
Sell the gift card—It may sound like a good idea, but in reality, it is not easy finding someone who will buy a gift card that was already used. You can try online marketplaces, but note that you will only get a percentage of your balance
Visit a gift card exchange kiosk—Some states have gift card exchange kiosks that allow you to insert the card into the machine and get a portion of your money for it
Exchange the card—You have to use an online platform that deals with gift card exchanges. The trick is in finding someone who is interested in your gift card as much as you are in theirs
Getting cash back—DoNotPay can help you get the remainder of the cash from your gift card and put it back into your wallet
DoNotPay Can Help You Get Cash Back From a Kmart Gift Card
DoNotPay is the way to go if you plan on getting the leftover balance from your Kmart gift card back! We will check the cash back policies and laws regarding gift cards for the state you live in and find a way to get your money back. You only need to complete a few simple steps:
in any web browser
Type in Gift Card Cash Back in the search bar
Give us the relevant information about your gift card (card number, remaining balance, etc.)
DoNotPay will get in touch with Kmart and inform them of your request. The company should send you your money back in the next 14 business days!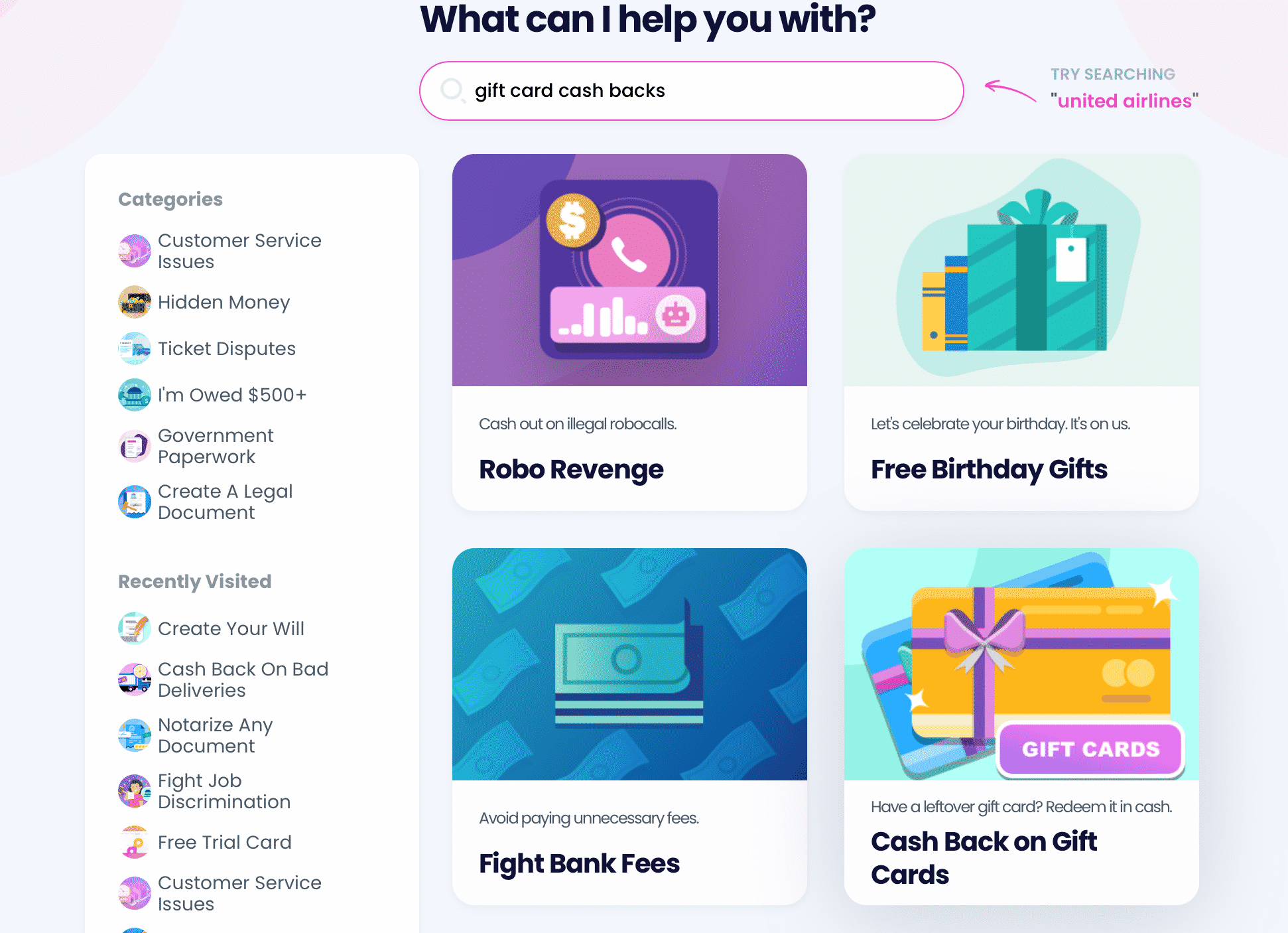 Have More Gift Cards That Need Checking? DoNotPay Can Help!
Our app can help you find out the remaining balance for a plethora of other gift cards. Check out the table below for some examples:
| | | | |
| --- | --- | --- | --- |
| Airlines | Food and Drinks | Cosmetics | Other |
| | | | |
DoNotPay can also answer all kinds of questions about gift cards. Here are some of the most popular ones:
Shop Online on Your Terms
Have you ever had to deal with complaints about lost, late, or damaged parcels? Is reaching customer service over the phone always a pain? Don't you wish there was an easier way to request refunds and chargebacks for bad purchases?
Shopping can easily turn into a nightmare, but DoNotPay will take away some of that stress. We can help you with all of these issues and more!
If you need to file warranty claims for any kind of product, our AI bots will make the process painless. Those who like to try out new services will fall in love with our virtual credit cards and foolproof methods of signing up for free trials without risking charges.
When you get sick of your subscriptions, cancel them with DoNotPay. Also, don't throw away your used gift cards with a few bucks left—we can help you get your cash back.
DoNotPay Protects Your Interests
There are already so many ways you can use DoNotPay to improve your daily life, but we keep developing more and more features that will make our subscribers even happier.
On our platform, you can find useful resources to:
Lower your property taxes

Create legal documents without paying lawyers