Where To Get Amazon Gift Cards and How To Collect Cash Back Easily
Getting a gift card is a great way to show appreciation for a friend, colleague, teacher, or anyone else. You do not risk buying something inadequate as the person gets to choose their present.
But what happens if you are on the receiving end? If you do not like the store the gift card is from, could you sell or exchange it?
Getting an Amazon gift card reduces the risk of not finding an item you like as this eCommerce platform offers various products and services, so anyone can find something they would enjoy.
This guide will show you where to get Amazon gift cards and how to get cash back if some money is left on your card after the shopping spree.
Where Can I Get an Amazon Gift Card?
Besides the obvious source—the Amazon website—you can buy a gift card in lots of different retail stores across the USA, including the following:
Drugstores
Grocery stores
Convenience stores
Where To Get Amazon Gift Cards Near Me
If you are interested in pinpointing a place nearby to purchase an Amazon gift card, you should know that many famous retailers provide them, such as 7-Eleven and Safeway.
You could check out Amazon's retail store list for more details and find the most convenient location.
Can I Get Amazon Gift Cards in Different Denominations and Designs?
Both the design and denomination vary from store to store. You can also select or even customize your card on the Amazon website.
Gift cards in preset $15, $25, $50, and $100 denominations are available in most shops. You can also load a card with another sum—between $25 and $500—at select locations.
Get an Amazon Gift Card Online
You can pick the following three types of gift cards on the Amazon website:
Amazon Gift Cards
Additional Information
eGift Cards
Select one of the offered:

Designs
Preset amounts (or enter a different figure)

The card can be:

Delivered via email or text message

On a selected date
With a personalized message

Redeemed via the recipient's Amazon account

Print at Home Gift Cards
You can print this gift card and put it in an envelope if you would like to add a personal touch
Mail Gift Cards
You can:

Choose the value—from $10 to as much as $2,000
Get it delivered to the recipient free of charge
How To Add an Amazon Gift Card to Your Account
If you have received an Amazon gift card, you need to add it to your account to use it for any future purchases. Here is how you can do that:
Log in to your Amazon account
Choose Gift cards
Click on Redeem a gift card
Enter the serial number from the back of the card
These four steps will add a new gift card to your account, allowing you to monitor all transactions, changes, and the remaining balance.
Amazon Gift Card Specifics
Before buying a gift card, you might want to check the details, including the following:
The chosen amount is not shown on all gift cards
Gift cards have no:

Purchase fees
Expiration date

You can redeem a gift card towards numerous products on the Amazon website
Gift cards can be delivered in a day free of charge—not available everywhere, though
While these are all part of Amazon's policy, you should access DoNotPay, and we will help you get the remainder in cash easily!
How To Secure a Gift Card Refund
Do you know that some states require businesses to reimburse you in cash if there is some money left on your gift card after your purchases? While this limit varies by the state, in most cases, companies need to refund up to $5. In some states—like California—the law obliges enterprises to reimburse up to $10 in cash.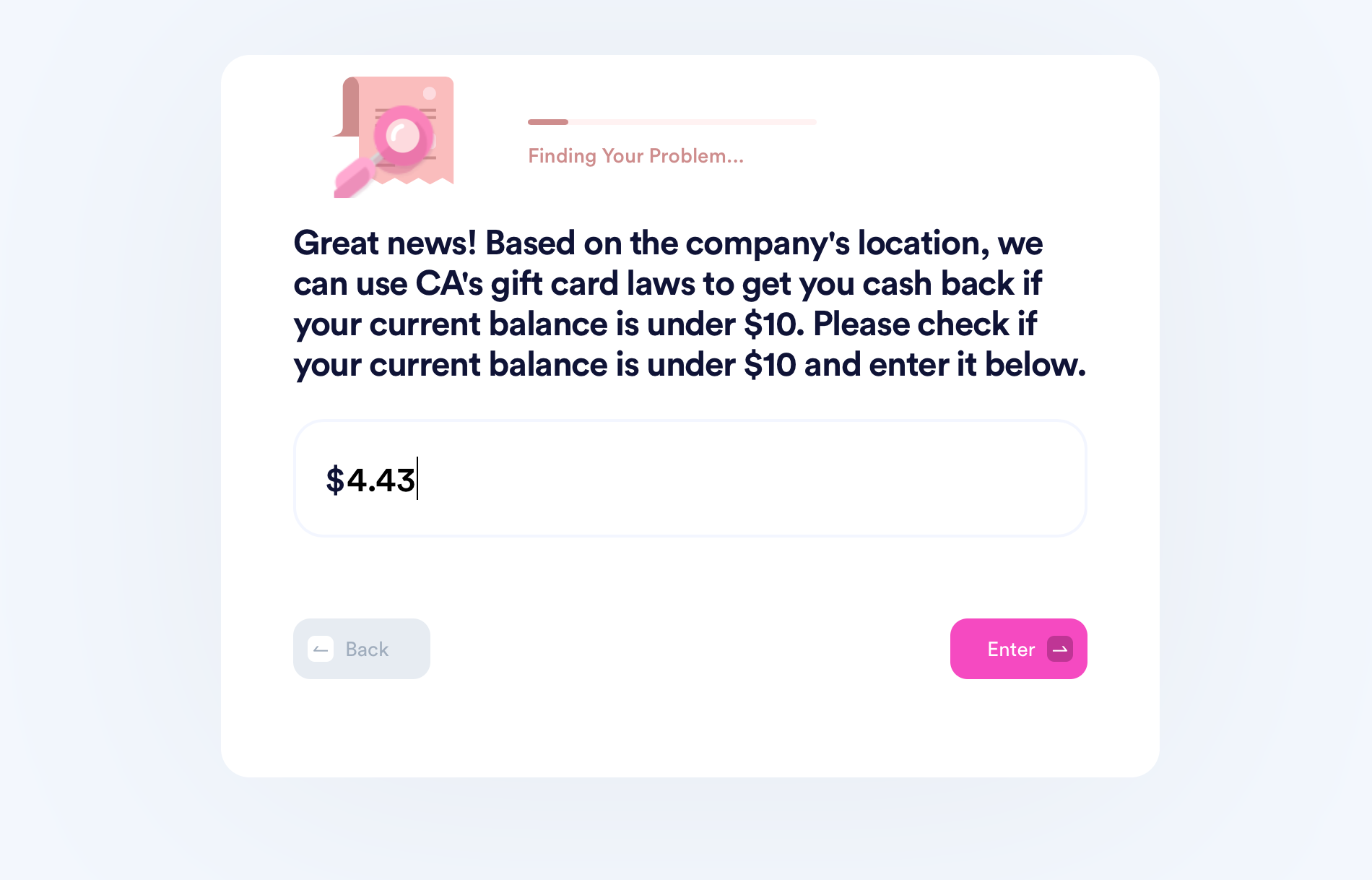 If you would like to collect a gift card refund on your own, you would need to:
Check your state legislation to see whether your state allows this type of refund
Get in touch with the gift card provider's customer service to collect information regarding the procedure
Follow the required lengthy procedure
Use DoNotPay To Get Gift Card Cash Back Automatically!
Lots of gift card providers have a no-refund policy. So, what if you are left with a few dollars on your card? Should you give up on that small amount since there is not a lot you can purchase with the remaining amount? You should not, as DoNotPay can help you get that cash back!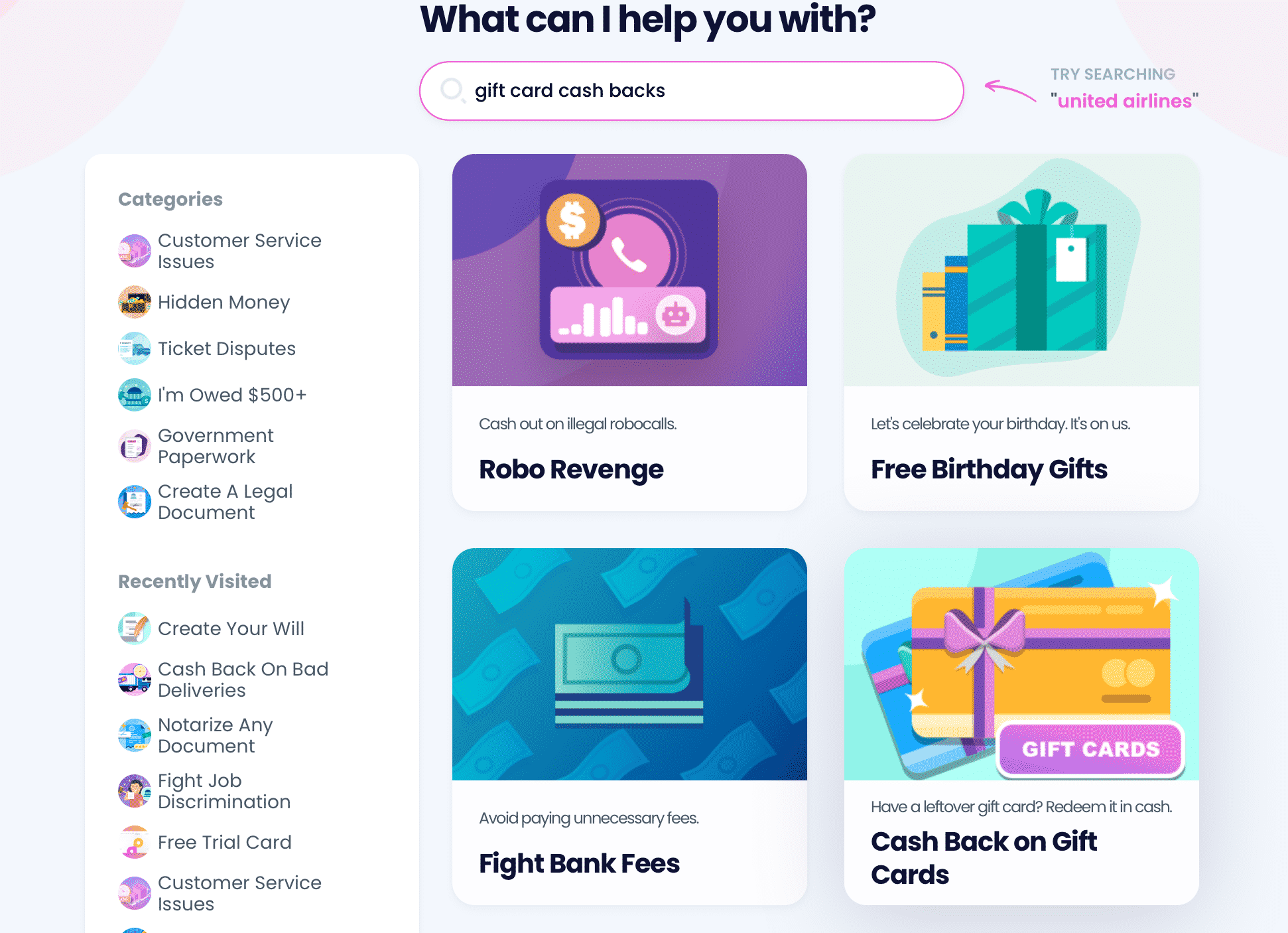 Our Gift Card Cash Back product checks whether your state has a cash back policy automatically. In case it does not, our app investigates if the company has offices in any of the states that do. This is how we make sure that you get your money back!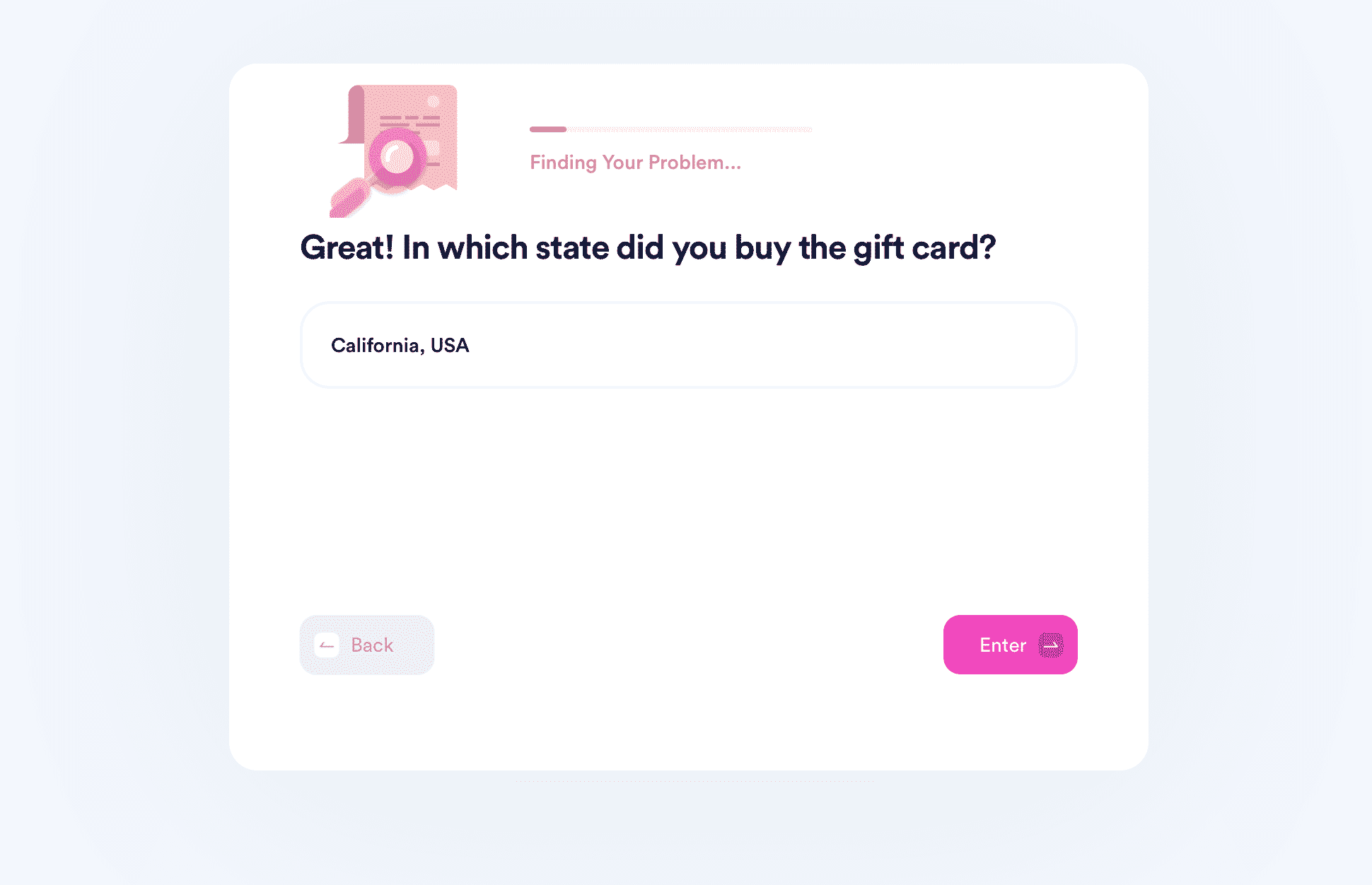 Subscribe to DoNotPay and collect your cash by taking these two steps:
Select the Gift Card Cash Back feature
Enter the details about your gift card, e.g., the company name, card number, and remaining balance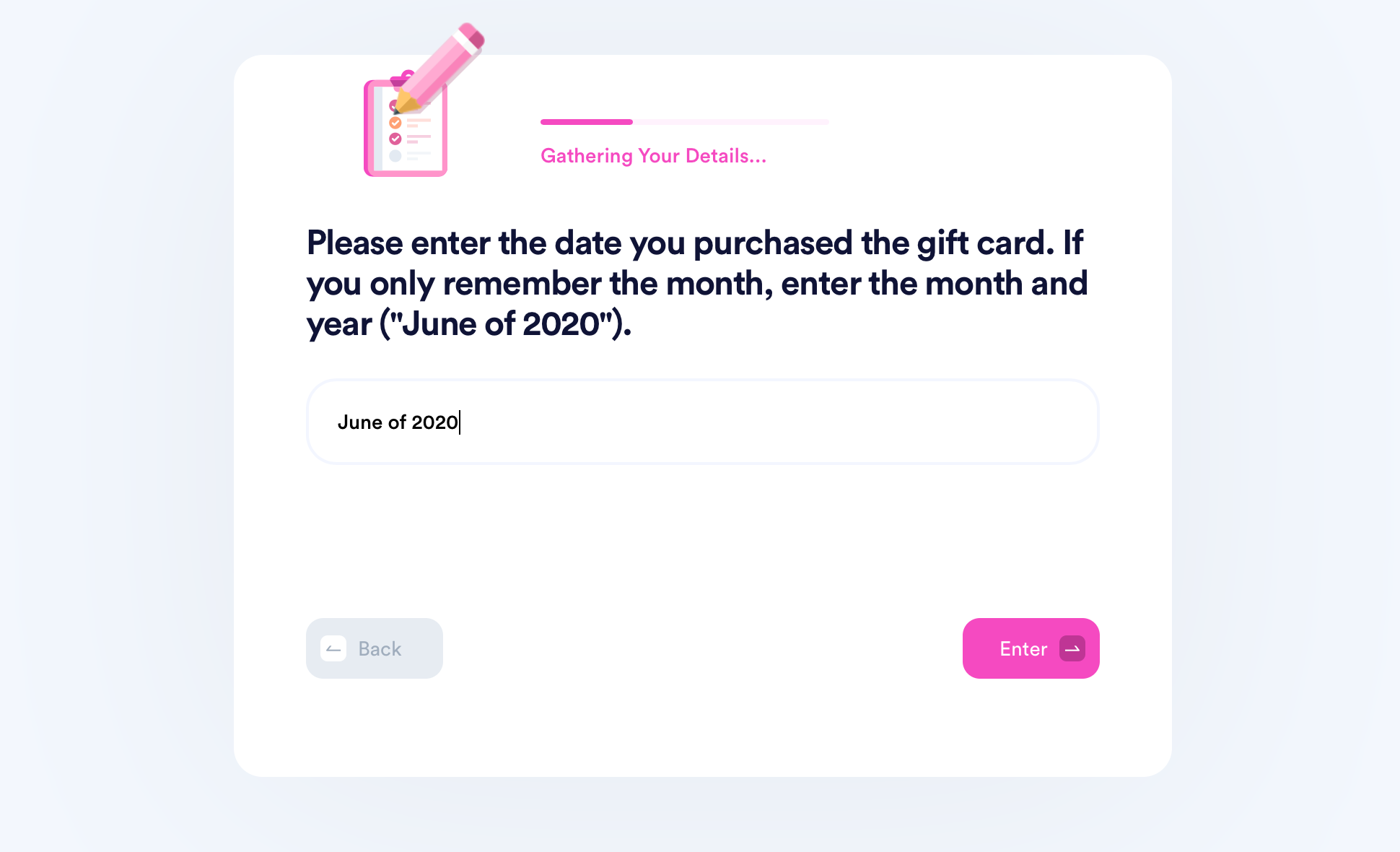 DoNotPay will check your state cash back policy. If we determine that your state requires companies to reimburse the remaining amount or find the company's office in one of the states with a cash back policy, our app sends your request to the gift card provider automatically.
What's next? You should expect to receive your cash or check via mail within 14 days!
Get Valuable Information About Gift Cards
No matter how small the amount is, if you do not spend it or get the cash back, the money will be returned to the seller. You are probably giving it away to a super-rich corporation (Amazon does not need your contribution).
If you have gift cards from different companies, you should explore DoNotPay's knowledge base and go through our helpful guides to get familiar with procedures and the specifics because you may be sitting on a decent sum. Here are a few articles you might find useful:
Facing Financial Issues? DoNotPay Can Take the Burden Off Your Shoulders
If you need to count pennies at the end of each month, DoNotPay is here to help you get a payment extension and pay your bills worry-free.
Prospective students who struggle to cover their university-related costs can also rely on DoNotPay to request a college application fee waiver.
Do you think that your property taxes are too high? Use our app to reduce your property tax bill as effortlessly as possible.
Get Rid of Spammers For Good!
Are spam texts and emails cluttering your inbox? DoNotPay has a few products you could benefit from! Rely on us and get rid of spam in less than two minutes. If shady robocalls are testing your patience, you can block them with our help and request robocall compensation right away.
To avoid providing your real phone number when signing up for online services, you should choose our Burner Phone feature and use the number we provide.
What Else Can DoNotPay Assist You With?
DoNotPay boasts many useful products that help millions of Americans handle their everyday hurdles in minutes.
With us, you can prepare for any government test for a low monthly fee, send online faxes in the blink of an eye, and request cash back for your gift cards stress-free.
Do you have a friend or relative who's serving time? Use our mailing service to send letters to inmates with no hassle.
Learn how to fight workplace discrimination and confront a neighbor who's giving you headaches all through the same app!
Log in to DoNotPay and solve any administrative issue—including setting up an appointment with the DMV and filing an insurance claim—by following a few simple steps.