A Trouble-Free Way To Check the Balance on a Pandora Gift Card
If you love diamonds and jewelry, a Pandora gift card is your best friend for sure! Shopping with a Pandora gift card without checking the card balance can put you in an awkward position at the cash register, which is why you should do it regularly.
Are you wondering how to check the balance on your Pandora gift card without too much effort? DoNotPay will present all the available ways to check your gift card balance and show you what you can do with the remaining funds on a used gift card!
A Pandora Gift Card—The Truth and the Myth
A Pandora gift card provides significant advantages for jewelry shoppers but also has specific limitations you should be aware of. Knowing all the deets will help you figure out:
How to make the best of your gift card
What steps to take once the card balance starts getting low
The table below contains the main characteristics of a Pandora gift card:
Pandora Gift Card Can Be
Pandora Gift Card Cannot Be

Loaded with any amount from $25 to $500
Redeemed in-store and online
Delivered only within the U.S., including Alaska, Hawaii, and Puerto Rico
Used anytime, since it doesn't have an expiration date
Replaced for the remaining balance when lost or stolen with proof of purchase
Used without any associated costs
How To Check the Balance on Your Pandora Gift Card
Pandora offers two ways to check your gift card balance:
Online
By phone

With DoNotPay
Check Your Pandora Gift Card Balance Online
The first step is to access Pandora's official website. Once you're there:
Click on the Check Your Balance tab at the bottom of the page
Enter your card number (you can find it on the back of your gift card)
Type in your gift card's PIN
Check the box to prove you're not a robot
Hit Submit
Perform the Pandora Gift Card Balance Check Over the Phone
If you prefer the traditional method, you can:
Contact Pandora's customer support at 1-855-922-2600
Provide gift card information to the operator and wait for the response
How To Do the Pandora Gift Card Balance Check With DoNotPay
To check your balance with DoNotPay, complete these steps:
Choose the

Check Gift Card Balance

feature

Submit photos of your gift card from the front and back
After you confirm your email address, DoNotPay will reach out to Pandora, find out how much money you have left on your gift card, and inform you in no time!
I Checked My Pandora Gift Card Balance—Now What?
Unless you discover you have a sufficient amount available, you may be in a pickle. Your gift card balance check might show that you only have a few dollars left, which can be difficult to spend in a store like Pandora.
Luckily, there is a more appealing option than letting those few bucks go to waste. You can retrieve the remaining balance on your gift card by:
Checking whether you live in one of the states with a gift card cash back policy
Sending a request to receive the remaining balance in cash
Eleven U.S. states and Puerto Rico have a policy that mandates companies to return the remaining money on used gift cards in cash if the balance doesn't exceed a specific amount. The leftover funds for most of the gift card cash back states must be below $5.
If you decide to send the request yourself, you may face the following difficulties:
Pandora employees might not be familiar with your state's gift card cash back legislation
The procedure for sending a request may be complicated and time-consuming
It may take a long time for your request to be processed
You may discover that you don't reside in one of the gift card cash back states
A far simpler solution would be to sign up for DoNotPay and let us redeem the remaining balance on your gift card for cash. Our app will not only draw up and send a request in your stead but also make sure you get your gift card cash back regardless of your state's policy!
Let DoNotPay Fast-Track the Gift Card Cash Back Procedure
There's no reason to overcomplicate the process of getting your gift card cash back. Our app does all the heavy lifting for you, provided you click a few times!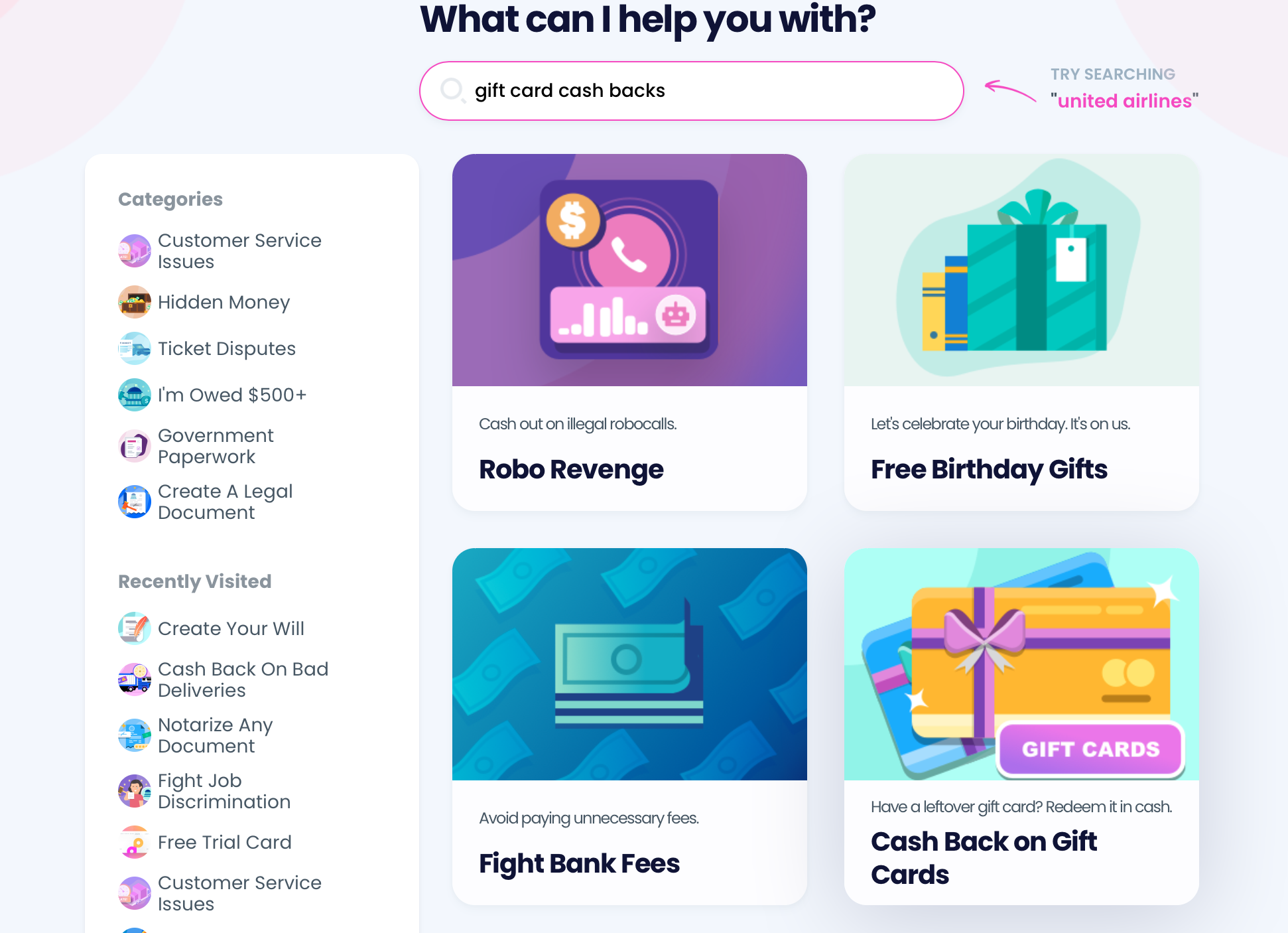 To go around the unnecessary hassle, from a web browser and complete the following steps:
Select our Gift Card Cash Back product
Provide relevant details about your gift card and the state where the card was issued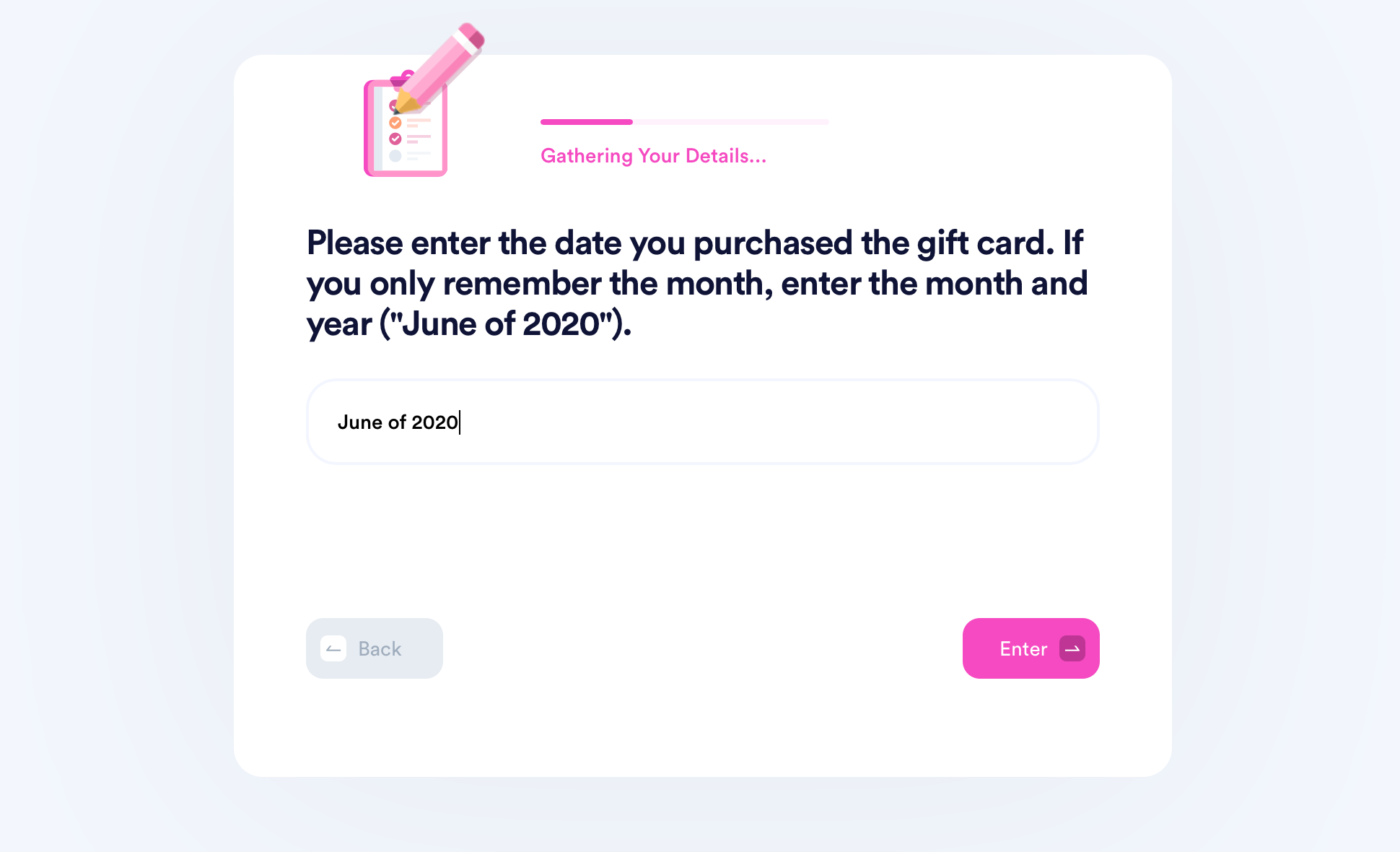 DoNotPay will check your state law automatically. If it turns out you don't live in one of the gift card cash back states, our next step is to locate a Pandora store in one of the states with a gift card cash back policy. DoNotPay will send the request there and ensure the money hits your mailbox in no more than 14 business days.
Learn All There Is To Know About Gift Cards With DoNotPay
Are you interested in knowing more about gift cards? Our learning center provides answers to the following questions:
Do you own more gift cards from other companies? We can help you check the remaining balance on the following gift cards, to name a few:
Good Things Come in Small Packages
Siri and Google Assistant are great in their own right, but their skills leave a lot to be desired when it comes to the practicalities of our daily lives. DoNotPay is an app, a true pocket-sized assistant that has the power and the know-how to help you deal with navigating bureaucracy and fighting for your rights efficiently.
Our platform, accessible from your phone or computer, is brimming with products that will help you:
From Government Tests Preparation to Copyright Protection
Whether you are getting ready for your driving test or wish to protect your creative work, DoNotPay has something in store for you.
We can help you handle some serious tasks—like suing someone in small claims court or reporting workplace discrimination—or deal with more mundane activities, such as getting that leftover money from your used gift cards.
The best part is that your DoNotPay subscription gives you access to all our services, be it online fax or virtual credit cards!