Ways To Check Your Delta Gift Card Balance and Get Your Cash Back in Record Time!
Most people mistakenly throw out their used gift cards without checking if there is any leftover balance on them. Do you have a used gift card that you're on the verge of throwing out? Don't do it without checking the remaining amount on the card!
In this article, we will explain how to check your Delta gift card balance and get the remaining amount in cash. Subscribe to DoNotPay and get useful info on common gift card topics, like:
A Brief Guide to Delta Gift Cards
The Delta gift card is used to cover the cost of any Delta flights globally or for any Delta Vacations Package that includes airfare. They cannot be used to pay additional fees, such as class upgrades, in-flight purchases, mileage boosters, etc. There are three types of gift cards:
Electronic gift card (sent via email)
Physical gift card (sent via mail)
Corporate/bulk gift cards
Here is some basic information about the Delta gift card:
Gift cards are redeemable 72 hours after the purchase
Delta gift cards are only issued in U.S. dollars
Each physical card can be loaded with $75, $100, $250, $400, $500, or $1,000 and is not reloadable
You don't have to pay any additional fees to use the card
There are no inactivity fees if you don't use your card for a longer period
There is no expiration date, so you can use the card anytime you want
If a gift card gets lost or stolen, it will not be replaced or refunded, even if you provide proof of purchase
Ways To Check the Balance on Your Delta Gift Card
If you are unsure about the remaining balance on your Delta gift card, here is how you can check it:
Method
Steps To Follow
On the official Delta website

Visit the Delta website
Scroll down to the Delta Gift Card section
Enter your 13-digit gift card number and 9-digit PIN
Click on Look Up

Over the phone

Call Delta's customer support at 1-800-221-1212
Inform the support agent that you would like to check the amount on your gift card
Provide them with your gift card information, including the card number and PIN

The support agent will check the amount on your card and respond promptly

At any Delta location

Take your gift card to a Delta office near you
Hand it over to a customer support representative and ask them to check the leftover balance on your card

With DoNotPay

Click on

Check Gift Card Balance

Upload photos of your gift card (front and back) and confirm your email

DoNotPay reaches out to Delta and checks your gift card balance in your stead
How To Use the Remaining Balance on your Delta Gift Card
Once you find out that you have some extra cash left on your card, you might be wondering what to do with it. Here are a few ways you can use the remaining balance:
Spend—Use your gift card to plan your next vacation. If your gift card can't cover the cost of your purchase, you can use your credit card to cover the difference
Gift—In case you know someone who is a frequent flyer, consider giving the gift card to them as a gift
Sell— Sell your Delta gift card at online marketplaces, such as eBay and Craigslist
Trade—Many online platforms provide opportunities to trade your gift card for another one. Bear in mind that such platforms are full of scammers who might give you a fake card in return
Exchange for cash—Delta does not allow you to return your gift card for cash unless stated by law. Use DoNotPay to turn your gift card into cash without a hassle!
DoNotPay Will Help You Get Your Cash Back in a Flash!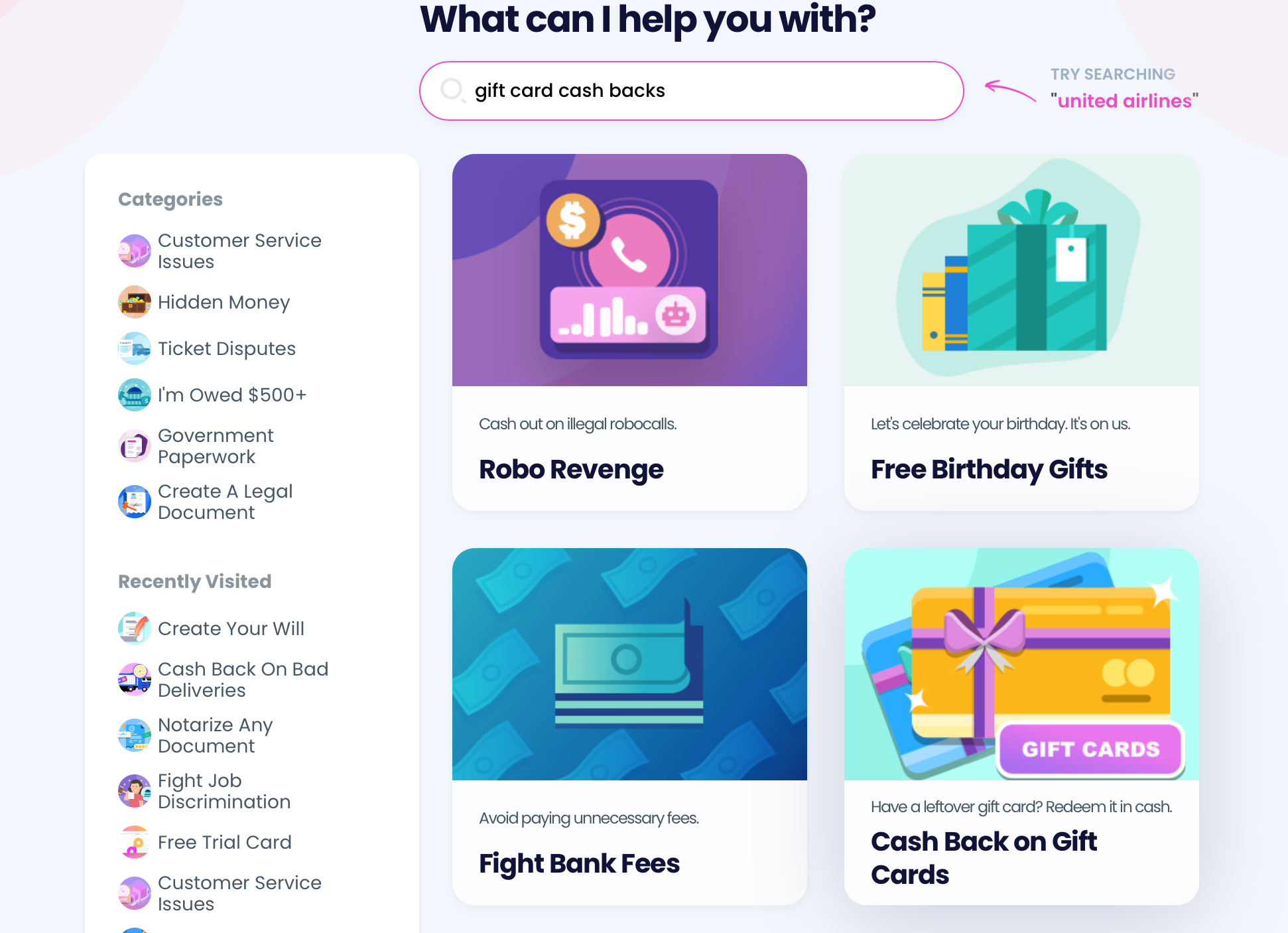 If you think it is near impossible to get your cash back yourself, our app will do it for you! DoNotPay can help you get the leftover balance on your used gift cards in cash without any trouble. All you need to do is follow these instructions:
in your web browser
Select the Gift Card Cash Back feature
Enter information about your gift card, including the company name, card number, and remaining balance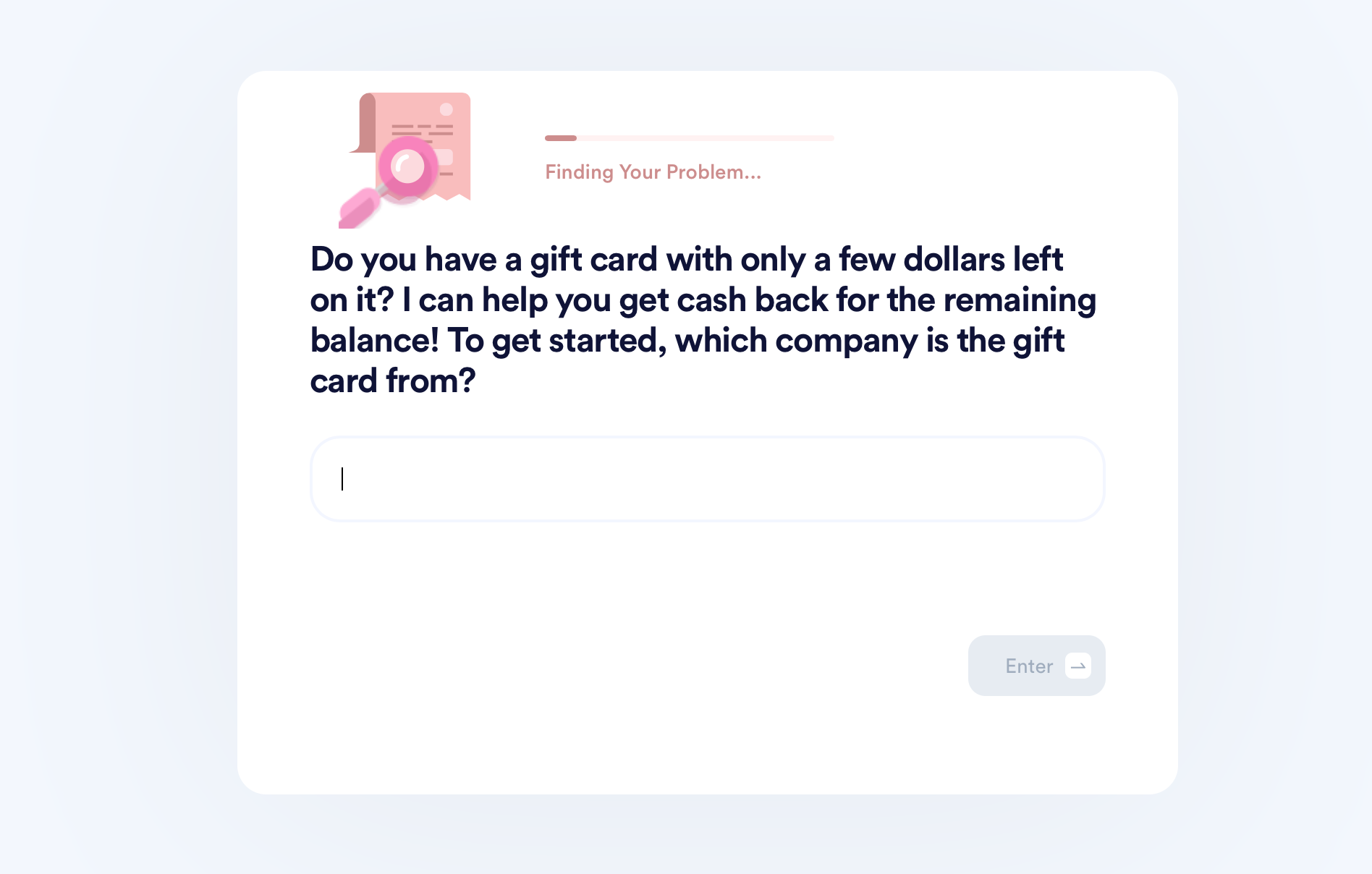 If your state has a cash back policy, DoNotPay will send a request to the company's office on your behalf. In case your state does not have gift card laws, we will locate the company's office in Puerto Rico or one of the 11 cash back states and forward the request there. You should receive your money in the mail within 14 business days.
Keep in mind that most states set a limit on the maximum amount you can get back—usually five dollars (ten in California). If you have entirely unused gift cards, you might not be able to get your money back.
Get Your Money Back From Other Companies Using DoNotPay
Do you have a drawer full of used gift cards? DoNotPay's learning center can provide you with info on how to get your cash back from various companies, including:
DoNotPay Resolves Both Bureaucratic and Legal Issues
One of our app's best qualities is its versatility. You can use your personal AI-powered assistant to overcome both legal and bureaucratic obstacles without breaking a sweat. No more waiting in lines or breaking the bank due to sky-high lawyer fees!
Take a look at what you get access to for a low monthly fee:
Drawing up tailor-made legal documents

Applying for property tax exemptions
Can DoNotPay Do Anything Else?
The world's first robot lawyer is capable of so much more! No matter if you want to find your unclaimed money, apply for clinical trials, get rid of email or text spam, prepare for a government test, fight workplace discrimination, or get gift card cash back, DoNotPay can help!
What are you waiting for? Sign up for DoNotPay now to enjoy our nifty products!