Do You Have To Use the Home Depot Call-In-Sick Number To Get Sick Leave?
If you don't feel well, you should call in sick, especially if you've got a cold, the flu, COVID-19, or some other contagious illness. It depends on your state law and company policy whether you can get paid sick leave or not.
This article shows how many days you can get, what Home Depot call-in-sick number you should call, and what other ways you can use to request your sick leave at this company.
Home Depot's Call-In-Sick Policy
According to Home Depot's call-in-sick policy, you need to get in touch with your store as soon as you realize that you won't be able to come in due to illness.
If you're sick, you can take one of the following options:
When You Call in Sick at Home Depot—Available Options
Details
Use sick leave
You can get paid sick leave if you've accrued some from all the hours you've worked. The number of paid sick leave days you can use depends on:

The type of contract you have
How many hours you work
The state your store is located in

If you've worked at Home Depot for 30 days, you can get, for instance:

Two hours a month
Four additional hours each month after your hire date

Be assigned an occurrence
If you don't have enough time off, your superior will give you an occurrence. You can get up to:

Three occurrences before Home Depot takes disciplinary action against you
Seven occurrences before they let you go—You could prevent this if you:

Qualify for the Emergency Paid Sick Leave Act
Provide a justifiable reason or doctor's notice
Home Depot Paid Sick Days—Get a Leave of Absence
As no one should be forced to work when ill, you:
Could take a leave of absence if you have ongoing health issues
Need to discuss the matter first with your manager or HR
Keep in mind that Home Depot won't add your accrued sick leave time to your final paycheck in case you:
Quit
Get fired
How To Call in Sick at Home Depot
You can call in sick at Home Depot by following these steps:
Call your manager—Since you should get in touch with your manager as soon as you realize you're not well enough to work, phoning your manager might not be the quickest option as you'll need to wait for the store to open to reach them (unless you're allowed to call your manager on their mobile)
Send a call-in-sick email—If you have your manager's email address and know that they will be checking their emails as soon as they come to the store, you could submit your sick leave request via email
—You can focus on your recovery since our robot lawyer can generate and deliver your sick leave request in a matter of minutes!
DoNotPay Takes Care of Your Sick Leave Request Efficiently
Our AI-powered app has a vast database with relevant state laws. We know what legal requirement your sick leave request needs to meet and will ensure:
You get a rock-solid form to submit to your employer
Your company receives your sick leave request immediately—You get to choose if you'd like us to deliver the document to you or your employer directly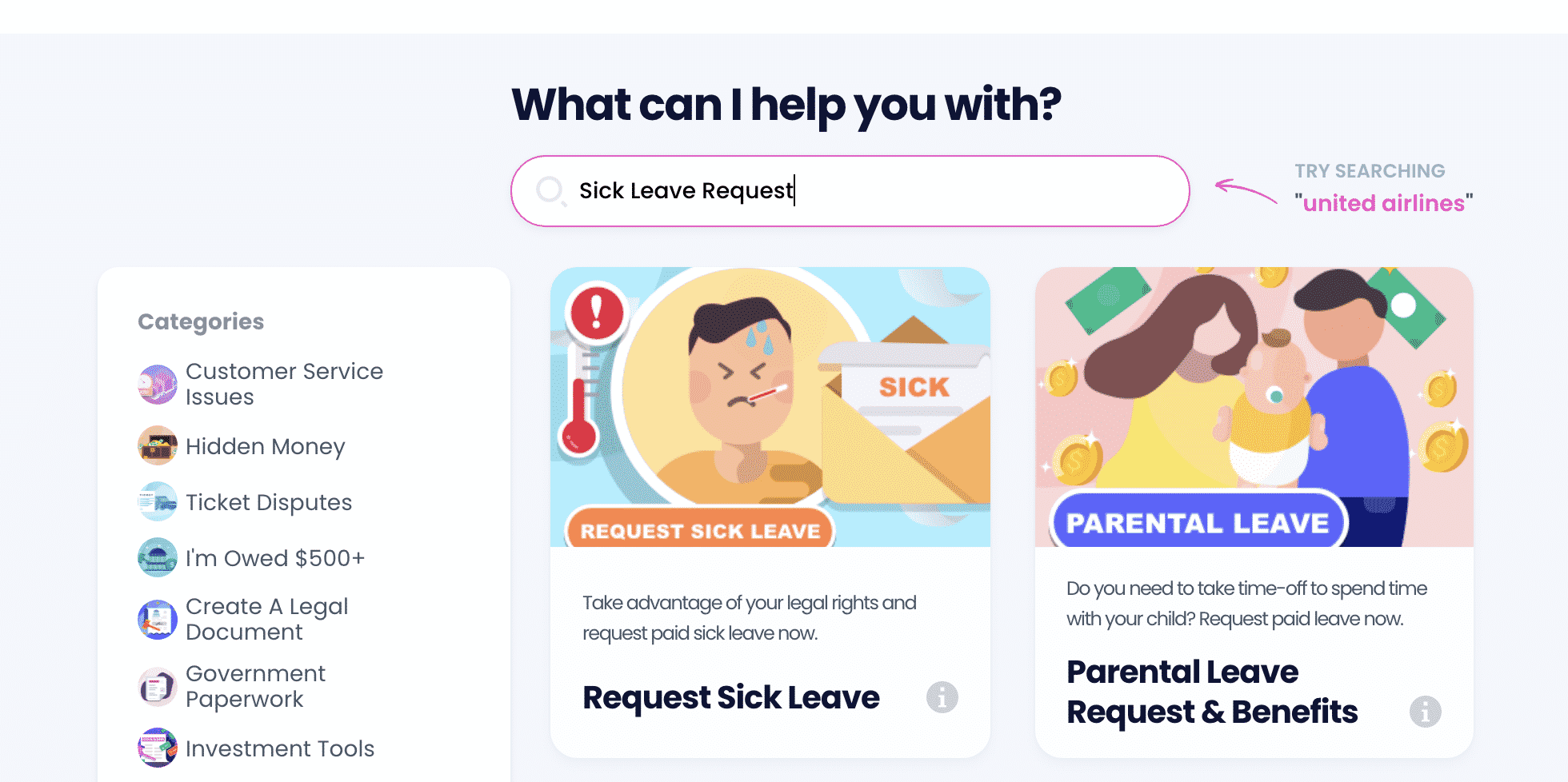 The process is easy. and:
Head to the Request Sick Leave product
Enter the state your employer is located in
Provide some information about your company and inform us how long you'll be absent
Select whether you'd like DoNotPay to send your sick leave request to you or your employer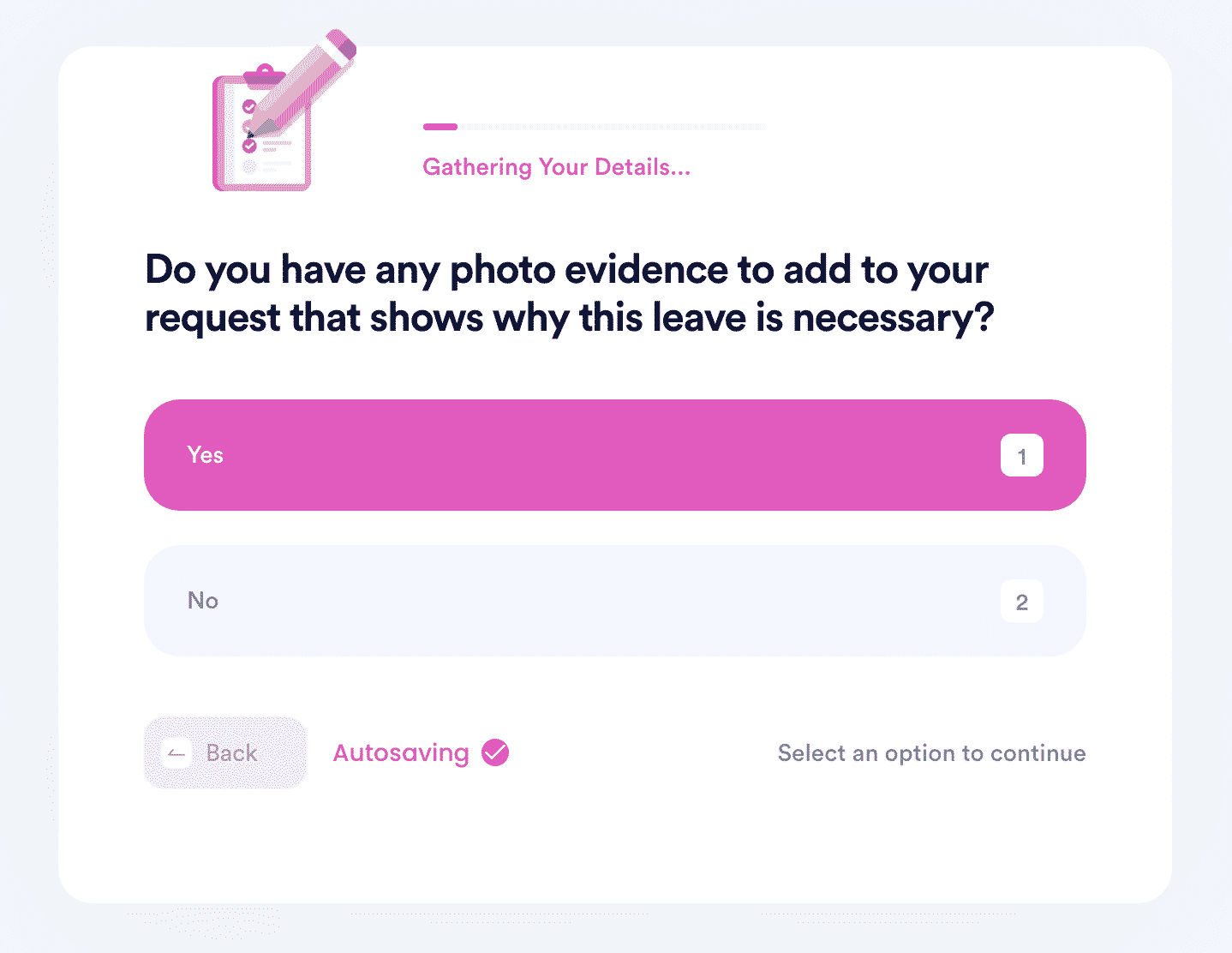 If you get fired for being sick, DoNotPay can help you sue your company.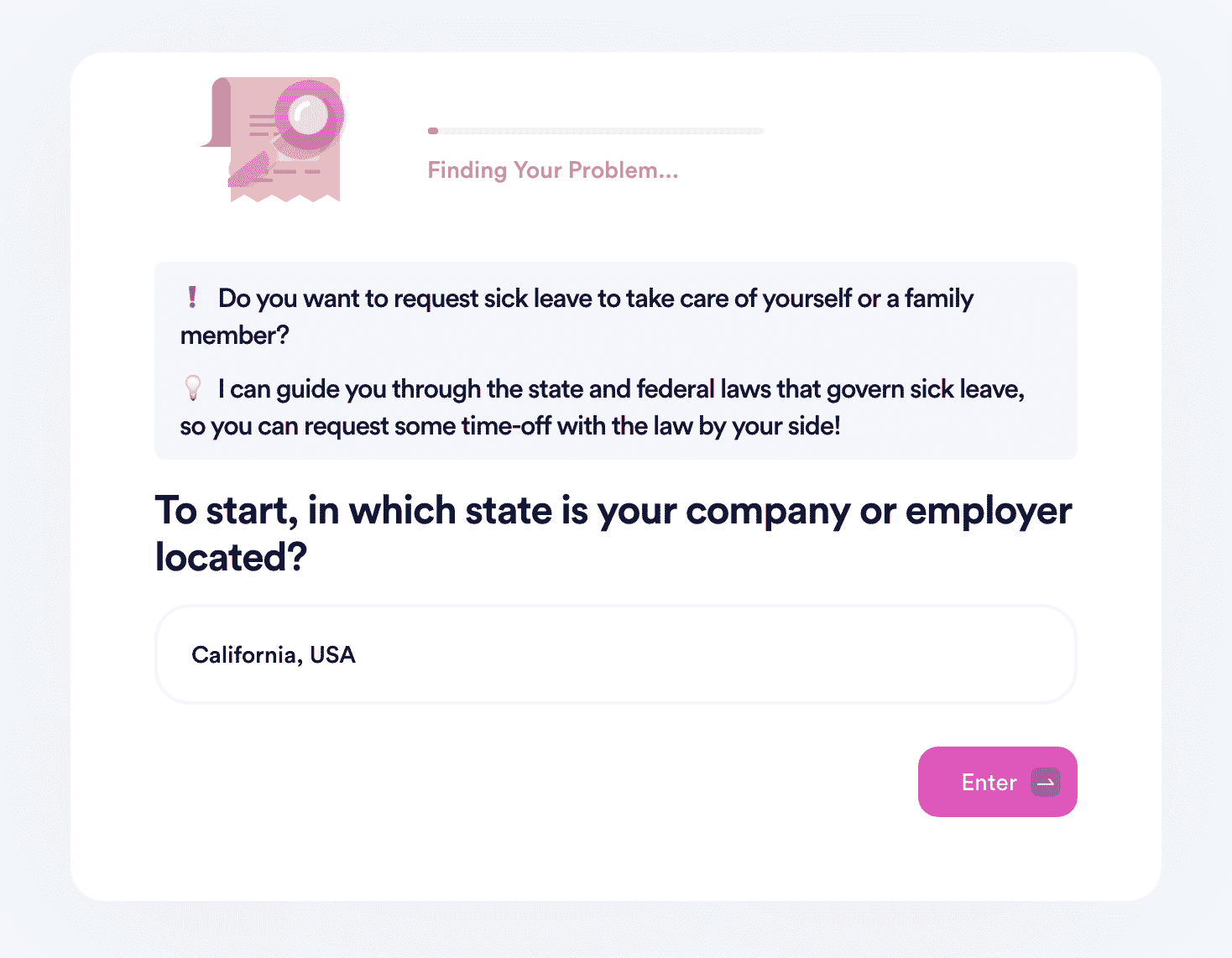 To get a better understanding of state laws concerning sick leave, take a look at the table below:
Turn to DoNotPay and Remove Bureaucratic Issues in a Snap
Does paperwork bring you to the edge of a nervous breakdown? With our help, you will skip all administrative impediments and get ready-made legal documents before you know it! No failed drafts or huge legal fees!
DoNotPay can generate:
Once you create the desired document, you can fax it online without a faxing machine or have it notarized with zero complications in the same app!
Your Info Is Safe With Our App
You don't need to leave your credit card info or personal details if you want to start free trials that won't turn into paid subscriptions without notice. DoNotPay will create a virtual credit card with a fake name and generic credit card number for you in just a few clicks. This way, greedy companies won't take a single penny from your account without your authorization!
Our app can also help you file anonymous HR complaints or create burner phone numbers to avoid disclosing your real info when signing up for apps and platforms.