DoNotPay's In-Depth Guide to the Allbirds Return Policy
Did you shop at Allbirds only to realize that the items you bought don't meet your expectations? DoNotPay brings all the information so you can learn how the Allbirds return policy works, submit your return request, and get your money back in no time!
Allbirds Return Policy Basics
The general Allbirds return policy terms are:
You can return your Allbirds products within 30 days of purchase if you're not satisfied, as long as the labels are intact
Items must not be damaged
Allbirds exchanges and returns are free
You can return worn apparel except for socks and underwear
Returns must come in original packaging
Sock bundles and other accessories are final sale items, and you can't return them
You need to submit your return request in the state in which you purchased the items
Allbirds Outlet Store Return Policy
You can return Full Price styles, Excess styles, and accessories to the Allbirds outlet store within 30 days of purchase. To return accessories, you must bring them in their original, unopened packaging.
Sales for Imperfect Styles, except for Tree Breezers, are final.
If you purchase your products in the Allbirds outlet store, you can return them only at that location.
Allbirds Return Policy—Gift Exchanges and Returns
You can exchange or return your Allbirds gift within 30 days. All you need is the order number located on the back of the gift note if you got one.
How Can I Return My Products to Allbirds?
You can return your products to Allbirds:
In store
By mail
Using DoNotPay
Return Your Allbirds Items in Store
To return your items to an Allbirds store:
Find the nearest Allbirds location
Prepare your products and proof of purchase
Visit the location
Ask an Allbirds representative to process your return request
Make a Return to Allbirds by Mail
To return your items to Allbirds by mail:
Open the Allbirds homepage
Locate the Exchanges page
Enter your order number and ZIP code, or if you're returning a gift, click on Start Here and then enter your order number and shipping ZIP code
Click on Start Return or Start Exchange if you're returning a gift
Provide the necessary information about your Allbirds purchase
You can also return your in-store purchases by mail. All you need to do is send your order number and the address you're shipping your items from to help@allbirds.com.
Allbirds will then allow you to make a return shipping label through the Exchange page.
If you need additional assistance, you can contact Allbirds customer support by:
Texting 1-814-251-9966
Calling 1-888-963-8944
Sending an email by:

Visiting the Allbirds Help page by clicking the question mark in the top right corner of the homepage
Clicking the GET IN TOUCH button
Completing the form that pops up on your screen
Allbirds customer service representatives are available for all your questions Monday–Friday from 7 a.m. to 5 p.m. PST.
Initiate a Return Request to Allbirds in a Few Clicks Using DoNotPay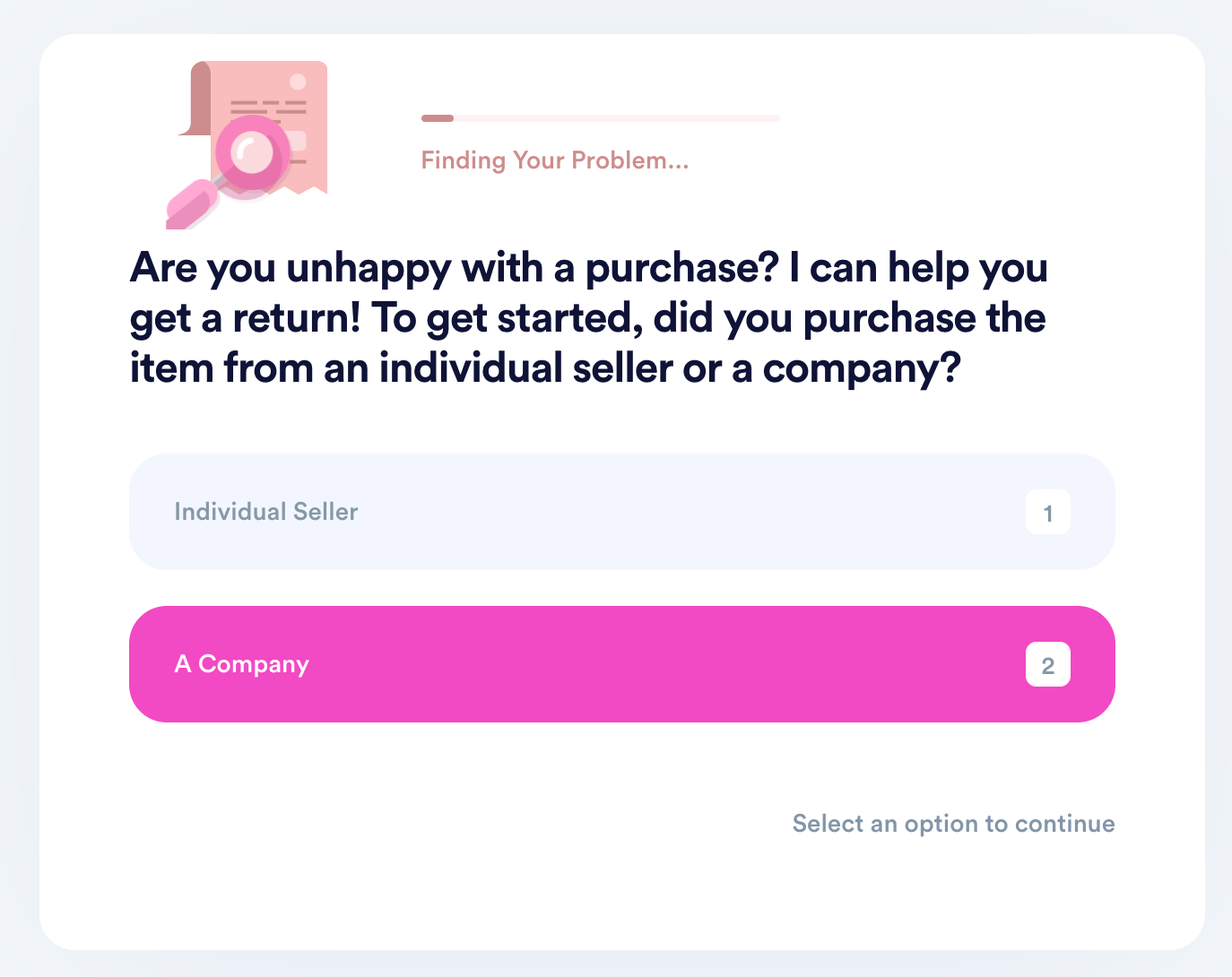 DoNotPay is a savior when it comes to annoying processes like returns—all you need to do is enter some information and let the app do all the hard work. Save the time you'd spend on going to an Allbirds store and initiate your return request from your home in a few clicks:
Find our Item Return Request feature and click on it
Answer some questions regarding your Allbirds purchase
Submit your request
As soon as you click on the Submit button, we will generate your return request letter and mail it directly to Allbirds. You will receive a shipping label so you don't pay any shipping fees. To ensure that you receive a response from the company as quickly as possible, we will include a date by which it must finish processing your return.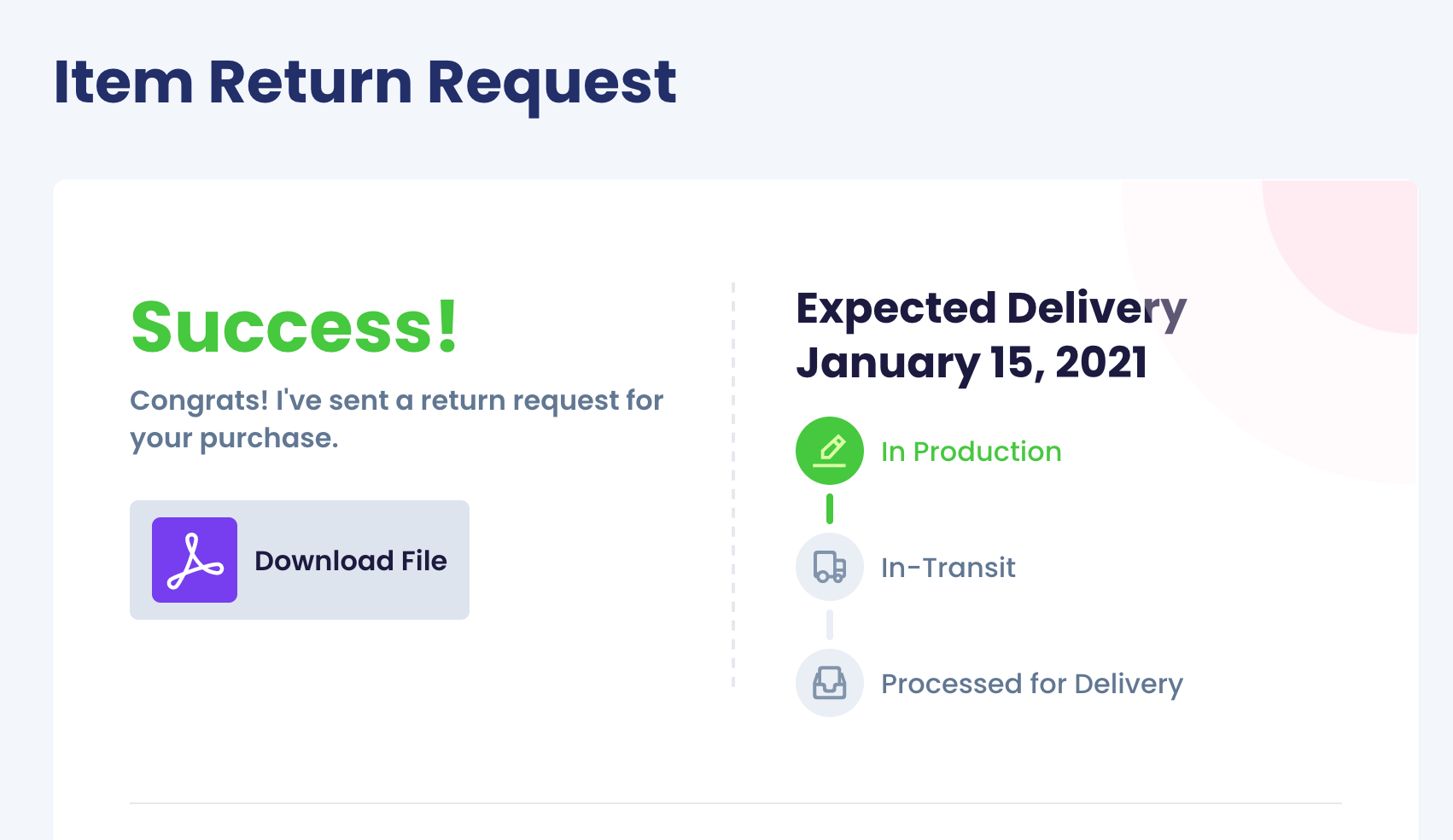 Our knowledge base offers many more guides to return policies from companies such as:
When Can I Expect a Refund From Allbirds?
If you're returning your products in store, an Allbirds representative will process your request immediately and issue your refund.
The company can take up to two weeks to process shipped returns. As soon as Allbirds completes the process, you will get an email notification.
Allbirds will issue your refund to the payment method you used during checkout.
Did Allbirds Wrong You? DoNotPay Can Help You Take It to Small Claims Court
If Allbirds violated your consumer rights, our app—recognized by the American Bar Association—can help you get the justice you deserve and guide you through the entire process!
Subscribe to DoNotPay so we can help you take Allbirds to small claims court by:
Writing a custom demand letter
Gathering all the required paperwork
Filing your complaint
Creating a script with irrefutable arguments to use in court
Get Your Money Back in an Instant
If you want to both return your item and get a refund for it, you can count on your personal AI-powered assistant. These two products aren't the only tricks DoNotPay has up its sleeve, though!
With our app, you can also claim insurance, get an extended warranty, find your missing assets, request refunds from airlines, reduce your property taxes, lower your utility bills, sign up for free trials without getting charged, get free raffle tickets, and a lot more.
If you want to avoid wasting your money, DoNotPay can cancel any subscription or membership in your stead and provide you with a virtual credit card that will prevent auto-renewal charges once your free trials expire!
With DoNotPay, You Can Also Say Goodbye to Waiting in Lines
Are you sick of waiting in lines? So are most of our app's users! You can say no to endless lines at the DMV if you sign up for a DoNotPay account. Our app can also help you jump the phone queue when you need to get in touch with a customer service representative.
If any company refuses to cooperate with you, our app will prepare all of the necessary legal paperwork and help you sue it in small claims court. Need to have any of your documents notarized? No worries—DoNotPay will employ an online notary and help you schedule your appointment. You can also e-sign and send the document to anyone using our Online Fax product.