A Detailed Guide to the Bass Pro Return Policy
Did you stock up at Bass Pro Shops to prepare for the hunting or fishing season only to realize that the products you purchased are faulty? Learn everything about the Bass Pro return policy and get your money back in no time!
General Bass Pro Shops Return Policy
Check out the general terms of the Bass Pro return policy:
You can return your Bass Pro Shops items within 60 days of purchase for an even exchange or a full refund
The products you return after 60 days will require inspection by a Bass Pro staff member, and the company has sole discretion over whether it'll accept your request
Bass Pro Shops Return Policy Exceptions
Check out these exceptions to the Bass Pro return policy:
Exception
Description
Stretch Your Payments orders
Orders with a Stretch Your Payments plan are only eligible for returns by mail
Sunglass Hut orders
Customers should return Sunglass Hut orders in stores
Bass Pro Catalog Outlet merchandise
Bass Pro Catalog Outlet products can only be returned at that location
Firearms
Firearms aren't eligible for exchanges or returns. If you receive faulty weapons or ammunition, contact Bass Pro customer support
Altered products
Altered products, e.g., cut arrows, aren't eligible for returns
Custom orders
Custom orders should be returned to the manufacturer
Gasoline-powered items and drones

You can return the items in unused condition with the original sales receipt within 60 days
Products are ineligible for returns if they show signs of use or you have added fuel to them
Manufacturer warranties are in effect after 60 days of the purchase date or after you add fuel or oil to the products. In that case, you have to return the items to the manufacturer for warranty service

Bargain Cave items
Bargain Cave items you buy at a retail store aren't eligible for returns
Cabela's merchandise
Customers should return Cabela's products to Cabela's stores
Does Bass Pro Accept Returns Without a Receipt?
Yes. An item you return without a receipt can be exchanged for the same product or returned for a Bass Pro Shops gift card upon showing a valid photo ID. The gift card value will equal the item's lowest sale price plus applicable sales tax.
How To Return Bass Pro Shops Products
Regardless of whether you bought your items in store, by phone, or online, you can return your Bass Pro products:
In store
By mail
Using DoNotPay
Return Your Bass Pro Items in Store
To return your Bass Pro items in a store:
Visit your nearest Bass Pro Shops location
Approach the greeter's desk and tell the staff member that you want to return your products. The staff member will perform a quality check on your items
Take your merchandise to the Customer Relations Desk after the quality check
Provide your original receipt or order number and a valid photo ID
Return Your Bass Pro Products by Mail
Regardless of whether you're returning Bass Pro or Cabela's products, the process of shipping your return is the same:
Visit the Easy Returns page on the company's website
Enter your order number and email
Click on Next
Follow further prompts
Print out the return label yourself or take the provided QR code to your nearest FedEx or Walgreens location so they can print out the label for you
DoNotPay Can Help You Return Your Purchase to Bass Pro in No Time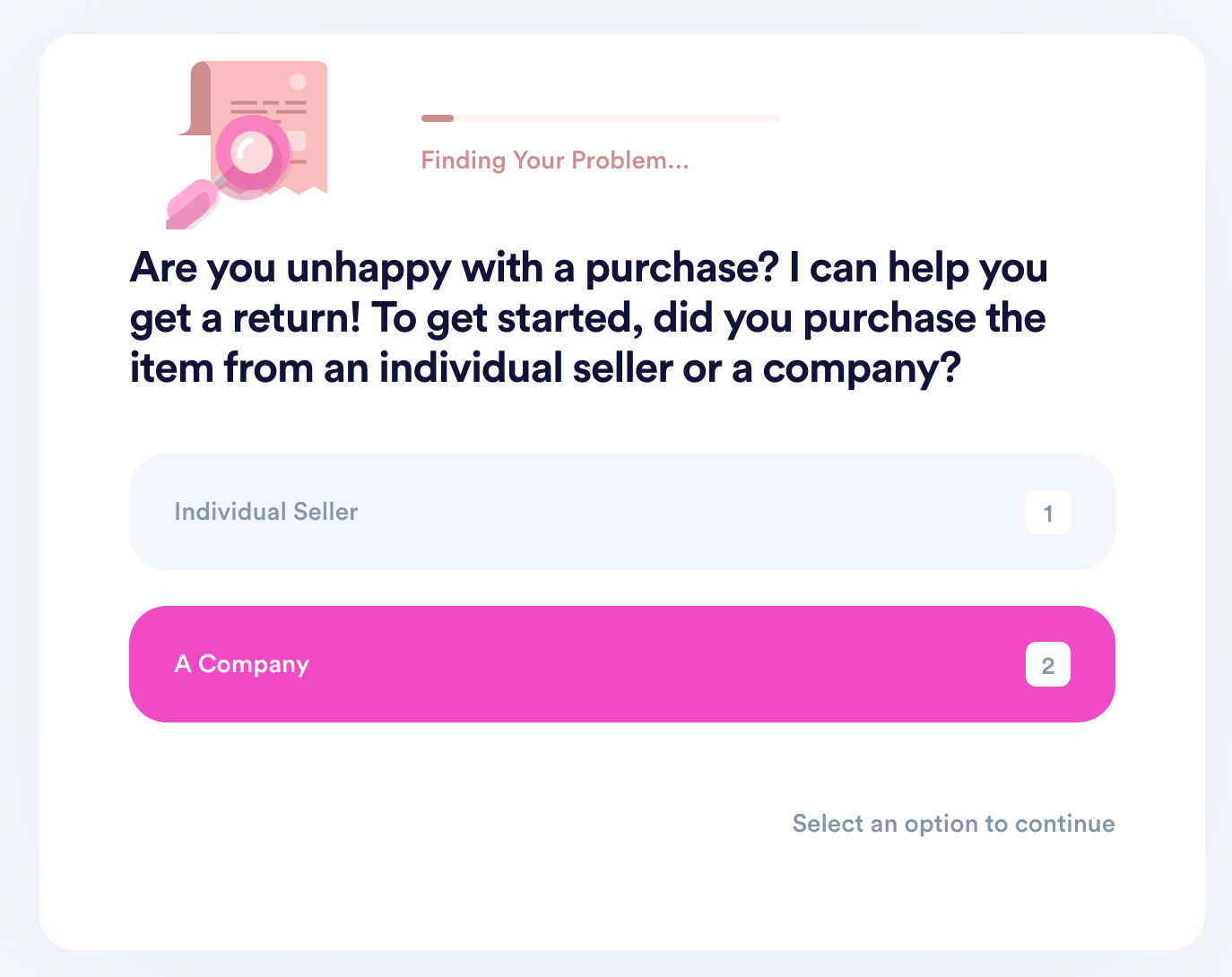 You don't have to visit a Bass Pro store or spend your time on lengthy return forms. DoNotPay offers a way to return your products quickly and efficiently from the comfort of your home:
Find our Item Return Request product and click on it
Provide crucial information, such as time of purchase, item value, the reason for your return
Attach photographic evidence if your item is faulty or damaged
After you complete all the steps, DoNotPay will:
Mail a custom return request letter to Bass Pro. The letter will include a deadline by which the company should process your request
Provide a prepaid return label if you choose to return your items by mail so you don't have to worry about shipping fees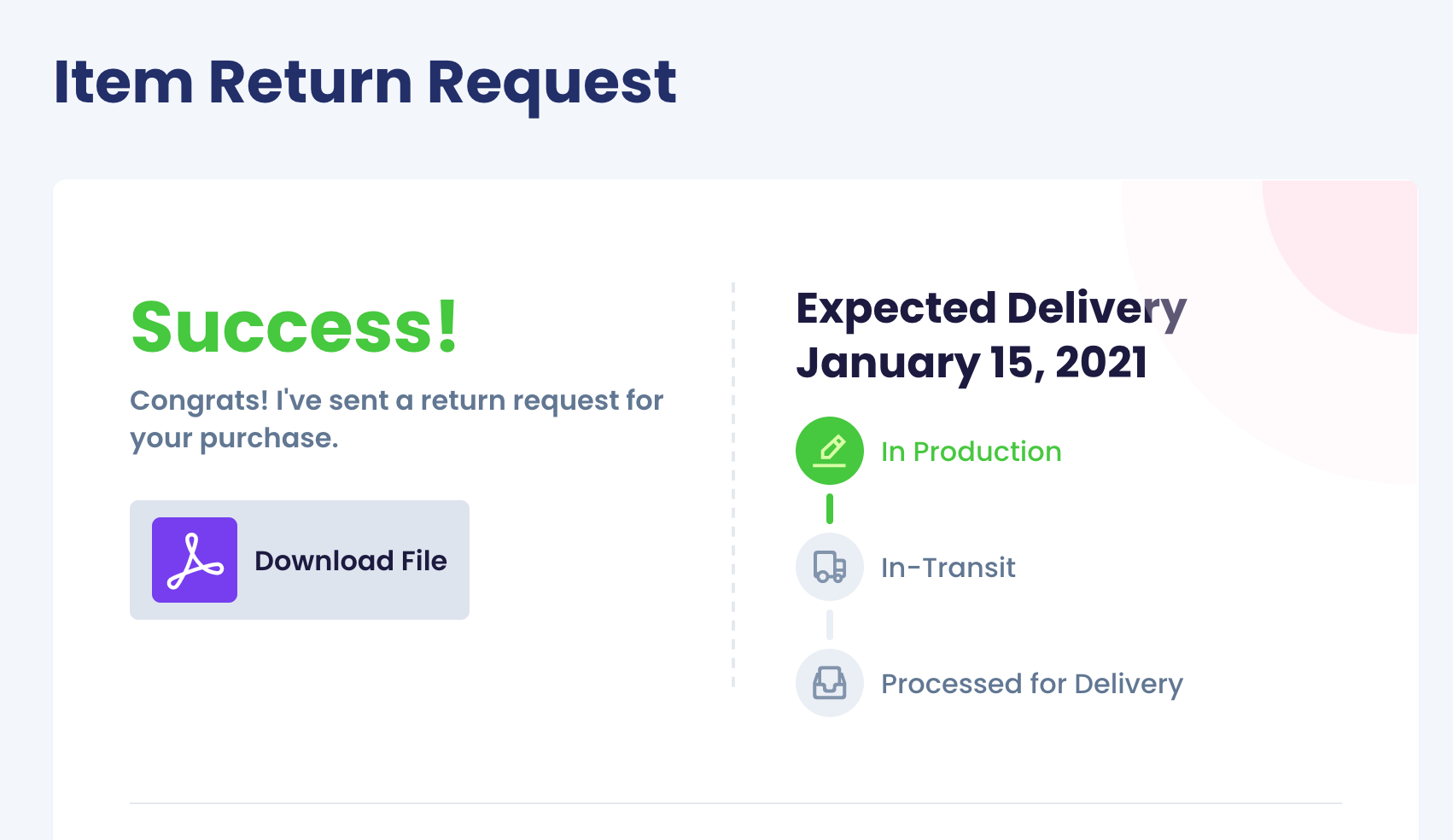 Check out more DoNotPay guides on other companies' return policies:
How Long Does It Take for Bass Pro To Issue a Refund?
Bass Pro Shops employees process your returns in store immediately. For mailed returns, processing begins as soon as the carrier scans the QR code on your package label. The company should complete the process within seven business days. If you don't get an answer by that time, contact customer support to inquire about your request status.
If Bass Pro accepts your request, it will issue a refund immediately, but allow a few days for your bank to credit the money to your account.
Demand a Quick Refund From Bass Pro Shops Using DoNotPay
After Bass Pro accepts your request, you can demand a refund in two minutes— and follow these steps:
Select our Chargeback Instantly feature
Click on the Get Protected button
Answer our chatbot's questions regarding your return request
Click on Sign and Submit
Is the Company Refusing To Cooperate? We Can Help You Get Justice
Is whatever company you're dealing with not being a good sport? Don't worry—the world's first robot lawyer is here to help. Our app can prepare all the necessary paperwork and provide guidance if you want to sue the company in small claims court.
We can also help you draw up any legal document you need for the case, have it notarized by an online notary, and fax it to anyone in a matter of minutes.
If you want to get revenge on tiresome robocalls or report a stalker or harasser, you can rely on DoNotPay.
Anything Else We Can Do for You?
Our AI-powered app is versatile—you can complete many tiresome, daunting tasks that you wouldn't want to tackle by yourself. You can use DoNotPay to:
If you want to get access to all of our nifty products, sign up now!